Hostinger

99.9% uptime guarantee
Free SSL and domain
30-day money-back guarantee

Visit Hostinger
Bluehost

All-in-one website platform
Free consultation
Marketing credit for Microsoft Advertising and Google Ads

Visit Bluehost
HostGator

Unlimited bandwidth and storage
Free domain for a year
30-day money-back guarantee

Visit HostGator
Taking out a web hosting plan makes financial sense and is a better option than hosting websites in-house. Website hosting packages grew out of the services of domain registration businesses and were providing managed services before cloud servers and managed service providers became common in other fields of IT. Find out about the best web hosting services on the market today.
Web hosting companies have refined their services to produce bundles of software and hardware that include everything that companies and individuals need to create and run websites. Replicating all of those services privately would take time, a lot of money, and a team of specialist employees.
Only the very large corporations in the world can provide the volume of work that could justify keeping a web server support team on the payroll. It makes more economic sense that the highly skilled experts needed to create and manage business websites successfully should centralize their skills in web hosting services, enabling specialist companies to provide all of the talent needed for the endeavor of eCommerce to many companies as a service.
Why you need web hosting
For most businesses, running a website is not a core activity. It is a communication channel that supports the central purpose of the company. As it is not in itself the main income generator for most businesses, it is an overhead.
Outsourcing web hosting means that each customer of the web hosting platform contributes just one part of the payments needed to cover all of the costs of running the webserver and maintaining all of the supporting software and services. The efficiency created by this specialization of a business function generates enough income for the web hosting service that it can reap a profit while still providing the web hosting service at a much lower price than any of its customers could achieve individually.
When you need web hosting
Small businesses and startups particularly benefit from the use of hosting solutions. A busy entrepreneur usually ends up having to run all aspects of the new business.
Trying to become an expert on search engine optimization (SEO), how to choose a domain name, what server resources are needed, and other server hosting issues is just too much extra work for one person. The task of setting up a hosting solution is more than a hassle; it is a diversion from the true aim of the small business and a diversion of resources away from the important activities of the enterprise.
How to choose the best web hosting
Once you have decided to take out a business hosting plan instead of running your own web server, you next need to work out the type of hosting account that is best for your needs. The cloud hosting options are:
Shared server hosting
Dedicated servers
VPS hosting (virtual private server)
Reseller hosting
WordPress hosting
Consider whether you are just going to use the business website to encourage customers to contact your business or whether you intend to actually sell goods and/or services from the website, following an eCommerce model and creating an online store.
Depending on your business plan, you will need different software and services and it is more economical to get these bundled in with a web hosting plan than trying to source all of the infrastructures that you will need piece by piece.
You will certainly need:
A domain name
A content management system (CMS), such a WordPress, Joomla, or Drupal
A shopping cart system, such as WooCommerce, or Magento
Disk space for software and record-keeping
Email accounts
Security features, such as malware protection
List your requirements before starting your search for a web hosting plan. Only consider those plans that include all of your essential requirements.
The best web hosting providers
Once you are ready to start your search. Save time by focusing on reliable web hosting providers. You need to avoid unplanned downtime by getting an uptime guarantee because you don't want to lose customers through your websites going offline. Look at the web hosting plans of our recommended web hosting services. Check off all of your must-haves and then compare those few web hosting plans that remain on the list.
For the next round of comparison, look at the price of each suitable web hosting plan and check out any cost-saving benefits, such as a free domain name or a free SSL certificate.
In the final selection stage, look to see whether there are some extra features that you don't need immediately but would help your businesses to grow without hassle. These services would include:
A content delivery network (CDN), such as Cloudflare to speed up your website's response times
A pledge of unlimited bandwidth to make sure the web hosting service can cope with increased demand
Innovative and fast hardware, such as SSD disks with unlimited storage
A good customer support team, preferably that offers chat support facilities so that you can get solutions to your problems quickly
For this web hosting review, we have researched the best web hosting providers that are capable of furnishing all of the above services. Here is our list of the eight best web hosting services.
Bluehost
HostGator
GoDaddy
Hostinger
SiteGround
DreamHost
A2 Hosting
InMotion Hosting
---
Bluehost

Bluehost offers shared hosting plans, VPS hosting, and dedicated server options. Each hosting plan has several web hosting service levels and several specialist hosting services, such as reseller hosting accounts and WordPress hosting options.
WordPress sites can be hosted on a standard shared hosting plan, or the specialist managed WordPress hosting plan. The customer doesn't need to download the CMS software from WordPress.org because the WordPress system is set up automatically by the Bluehost installer. Plugins for WordPress, such as WooCommerce, are also available directly from the Bluehost software library and will be installed on demand. Most hosting plans include the cPanel control panel for system managers.
Pros
Unlimited bandwidth except with entry-level plans
Unlimited SSD disk space with all but the basic plans
Unlimited subdomains with higher service levels
Free domain name
Free SSL certificate
Marketing credit for Microsoft Advertising and Google Ads
Free site migration for WordPress sites
24/7 customer support
99.9% uptime guarantee
WordPress hosting
30-day money-back guarantee
Cons
Email accounts are a paid addon
Cloudflare CDN is an addon and not included for free
All servers have CentOS Linux and there is no option to switch to Windows
See the full review of Bluehost here.
---
HostGator

HostGator is one of the longest-running web hosting providers in the world. Except for its VPS hosting and dedicated server packages, all of HostGator's plans include one free domain name registration, a free SSL certificate, and unlimited bandwidth. The WordPress CMS can be added to any standard hosting account automatically, and HostGator also offers specialist-managed WordPress site hosting plans. The regular shared hosting and the WordPress site hosting categories of HostGator service are offered in three plan levels. In both cases, the basic plan hosts just one website, and the two higher plans have no limit on the number of websites that can be hosted.
All hosting plans get a free domain name and a free SSL certificate. They all also have unlimited bandwidth. As well as hosting WordPress sites, any of these plans can host Drupal, Joomla, or Magento. In all of these cases, a built-in installer in the service will set up the CMS software. Servers run on Linux and support MySQL, PHP, Perl, Python, Ruby on Rails, and FFMpeg.
Pros
Free SSL certificate
Free domain name
Free site migration
Unlimited bandwidth
Unlimited secure FTP accounts
24/7 customer support
99.9% uptime guarantee
30-day money-back guarantee
Cons
Doesn't offer unlimited websites with WordPress hosting plans
See the full review of HostGator here.
---
GoDaddy

GoDaddy is the biggest web hosting company in the world. It is also the biggest domain name registrar in the world. GoDaddy's biggest volume hosting services are shared hosting plans, which customers can choose to have on servers running Windows or Linux, with four plans on each operating system. All plans include a free domain name and unlimited bandwidth. GoDaddy provides its own user-friendly control panel.
There are a couple of points in GoDaddy's shared hosting plans that fall short of the offers of its greatest competitors. The web hosting service doesn't include a free SSL certificate with its two cheapest shared hosting plans. It also doesn't provide a web interface for an email system on the domains that it sells. Instead, each hosting plan includes one year's free subscription to Office 365 for email management. While this is a very high-value productivity suite, it obliges hosting account holders to pay for the expensive Office service after the first year to continue accessing email accounts.
Pros
Free domain name
WordPress hosting plan available
Choice of Linux or Windows servers
Uptime guarantee of 99.9%
Security features
DDoS protection
24/7 customer support
Cons
Free SSL certificate not included with cheaper plans
Money-back guarantee only 48 hours
Customer have to use Office 365 to manage email accounts
See the full review of GoDaddy here.
---
Hostinger

Hostinger has been in operation since 2004. It is an employee-owned company and one of the leading competitors in the web hosting services sector. The most accessible web hosting plans from Hostinger are its shared hosting category. The company also offers VPS hosting plans for businesses. All of Hostinger's web hosting plans include a free SSL certificate and a free domain name.
WordPress sites can be hosted on any Hostinger plan. The environment includes a library of software that will be made operational on each account on demand. Within the WordPress environment, plugins can be added easily, including the WooCommerce plugin, which turns a standard WordPress account into an online store for eCommerce.
Pros
Unlimited bandwidth on all but the basic plan for shared hosting
Unlimited Email Accounts (except for the Single Web Hosting plan)
Unlimited storage space on all higher shared hosting plans and all VPS hosting services
Free SSL certificate
Free domain name
Cloudflare CDN as a paid addon
99.9% uptime guarantee
30-day money-back guarantee
24/7 customer support
Cons
The website builder costs extra
See the full review of Hostinger here.
---
SiteGround

SiteGround is a very good choice for those who want to host a WordPress site because it has a commendation from WordPress.org, which is the owner of the WordPress CMS system. SiteGround also has the WooCommerce plugin for WordPress in its library, so it is very easy to create an eCommerce online store with any SiteGround web hosting plan. WordPress with WooCommerce offers a guided site creation process. For those who aren't going to be using WordPress or woo commerce on their sites, SiteGround provides a website builder, which is the Weebly system.
The most affordable hosting options are its shared hosting plans – it has three. The basic plan hosts only one website, but the other two will allow the web hosting of an unlimited number of sites. All of these plans offer unlimited bandwidth, a free SSL certificate, a free CDN, and free email accounts.
Pros
Free SSL certificate
Free FTP accounts
Free website builder
Free CDN
Fast SSD storage
Unlimited email accounts
WordPress hosting
WooCommerce plugin available
Weebly website builder
Customer support is available around the clock
30-day money-back guarantee
99.9% uptime guarantee
Cons
Doesn't include a free domain name
See the full review of SiteGround here.
---
DreamHost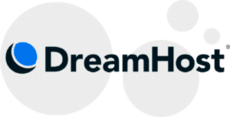 DreamHost offers a wide range of web hosting options that include shared hosting plans, WordPress site hosting, VPS hosting, and dedicated servers. The dedicated servers and VPS hosting plans can be used by resellers. The company also offers cloud server options that include the management of dedicated servers loaded with the OpenStack cloud platform. This is called DreamCompute. Another cloud hosting option from DreamHost is DreamOjects, which can be used for the storage of an object library or for general backups of all files.
The DreamHost menu of options covers all possible business needs from a web hosting service. Of these, the shared hosting plans are the web hosting provider's biggest sellers. Despite also offering specialist WordPress site hosting solutions, these shared hosting plans can also be used for WordPress sites because DreamHost makes the CMS available for automatic install on demand.
Pros
Free SSL certificate
Recommended by WordPress.org
Unlimited bandwidth
Unlimited email accounts on most plans
Unlimited MySQL databases
100% uptime guarantee
Customer support team available around the clock
97-day moneyback guarantee
Cons
---
A2 Hosting

A2 Hosting offers VPS hosting, dedicated servers, and shared hosting. As with most shared hosting services, the basic plan can only host one website and has limits on the amount of disk space, bandwidth, and other server resources allocated to it.
The remaining three shared hosting plans can all host an unlimited number of websites and have unlimited access to SSD disk space, and automatic updates.
All plans get a free SSL certificate, unlimited email accounts,  the cPanel control panel, free Cloudflare CDN and DDoS protection, malware protection, and a free website builder.
Pros
SSD disk space
Free Cloudflare CDN
Free website builder
Free SSL certificate
Free FTP accounts
Unlimited email accounts
WordPress hosting option
A no-hassle anytime money-back guarantee
99.9% uptime guarantee
24/7 customer support
Cons
No free domain name offer
See the full review of A2 Hosting here.
---
InMotion Hosting

InMotion Hosting offers shared hosting, VPS hosting, and dedicated servers as web hosting solutions. InMotion Hosting also has a specialized hosting option for WordPress sites. The shared hosting options are the more economical of these types of servers. The company offers three shared hosting plans for websites. All plans include a free domain name, a free SSL certificate, and SSH access. Unusually for shared hosting services, the entry-level plan gets unlimited email accounts, unlimited bandwidth, and malware protection the same as the higher plans.
The basic plan can only host two websites. The middle plan, which is the most popular, can host up to six sites and the top plan has no limit to the number of sites that it can host.
All plans also get a free website builder, SpamSafe protection for email accounts, free site migrations, Google Apps integration, and access to 400 free applications. The hosting platform includes an installer that can seamlessly install any of the software bin the library, including WordPress, on-demand.
Pros
Free domain name
Free website transfer
Free SSL certificate
Free FTP accounts
Free website builder
Unlimited SSD disk space
Unlimited email accounts
Unlimited bandwidth
WordPress available for free
More than 400 applications for free
99.9% uptime guarantee
24/7 customer support
90-day money-back guarantee
Cons
See the full review of InMotion here.