Based in Lithuania, Hostinger hosts more than 29 million websites around the world. As one of the world's largest web hosting services, Hostinger is worth consideration by any small business.
Hostinger overview
Hosting options

: Shared hosting plans, WordPress hosting, VPS hosting, cloud hosting

Bonuses

: Free domain name for the first year (except for single-site plan)

SSL certificate

: Free, from Let's Encrypt

Apps

: WordPress, Joomla, Drupal, PrestaShop

Customer support

: 24/7 by email, phone support, and live chat

Refund policy

: 30-day money-back guarantee

Uptime guarantee

: 99.9 percent

Control panel

: Adapted cPanel

Content delivery network (CDN)

: Cloudflare included for free

Cheapest hosting plan

: $0.99 per month, renews at $9.99 per month
Notable features
Uptime guarantee backed with refunds

Free site migrations

One-click app installer

Choice of eCommerce shopping carts

GitHub integration

LSCWP WordPress Acceleration

Free weekly or daily backups on higher plans
Pros
Single plan option with 100 GB of bandwidth

Shared hosting plans for unlimited websites with unlimited bandwidth

Unlimited email accounts and 100 subdomains higher plans

Unlimited MySQL databases and FTP accounts (except with entry-level plan)

Specialist WordPress plans available

Apps installer

SSD disk drives

WordPress one-click install on all plans

Free library of WordPress plugins including WooCommerce

PayPal and credit card payment options available
Cons
Website builder costs extra

No plan has unlimited disk space

Cloudflare CDN is only free for the first site on a multi-site hosting account

Live chat support not always available

Delivery of web pages is slow compared to rival hosts
About Hostinger
Hostinger is an employee-owned hosting provider. The company was founded in Kaunus, Lithuania in 2004 as Hosting Media, changing its name to Hostinger in 2011. The company has data centers in Brazil, Indonesia, Lithuania, The Netherlands, Singapore, the United Kingdom, and the USA. 
Hostinger shared hosting plans and pricing
There are three Hostinger plans for shared hosting:
Single Shared Hosting

Premium Shared Hosting

Business Shared Hosting
The Premium and Business Shared Hosting plans have no limit on the number of domains that each account can host. This is slightly misleading because it does not mean that each account can host an unlimited number of websites because those accounts have a limit to the amount of available storage space. 
With the Premium plan, the limit is 20 GB and with the Business plan, the limit is 100 GB. That compares unfavorably with many of the major rivals to Hostinger that offer unlimited storage – which could allow each account holder to host an unlimited number of websites.
Shared plan prices
The three service period options from Hostinger and their prices for shared plans are:
Single Shared Hosting

One Month — $9.99 + $4.99 setup fee

One Year — $35.88 ($2.99 per month)

Two Years — $38.16 ($1.59 per month)

Four Years — $47.52 ($0.99 per month)

Premium Shared Hosting

One Month — $10.99 + $4.99 setup fee

One Year — $71.88 ($5.99 per month)

Two Years — $95.76 ($3.99 per month)

Four Years — $138.72 ($2.89 per month)

Business Shared Hosting

One Month — $15.99 + $4.99 setup fee

One Year — $83.88 ($6.99 per month)

Two Years — $190.80 ($4.99 per month)

Four Years — $191.52 ($3.99 per month)
These prices include an introductory discount. 
Plan renewal prices
Unlike many rival web hosting services, the original price shown for each plan is not applied as the renewal price when the original subscription period expires. The renewal price for the four-year term with each plan is:
Single Shared Hosting

: $103.20

Premium Shared Hosting

: $167.52

Business Shared Hosting

: $381.60
Domain name registration prices
All plans include a free domain name for the first year (then it renews at the standard price). 
Plans that allow multiple website hosting include one domain name each, other domain names will have to be paid for separately.
Hostinger's charges for domain registration vary according to the top level domain (TLD) chosen (prices shown per year)::
.com — $8.99
.org — $11.99
.net — $12.99
.tech — $0.99
.online — $0.99
.xyz — $0.99
.host — $0.99

.press

— $0.99
.fun — $0.99
.uno — $0.99
.link — $5.00
.live — $3.50
.me — $6.45
.help — $9.99
.world — $3.50
.click — $5.00

.co

— $23.99
.website — $0.99
.site — $0.99
.space — $0.99
.store — $0.99
.co.uk — $6.99
.org.uk — $9.99
.info — $3.79
.us — $8.99
.biz — $15.99
.club — $2.49
International TLDs' such as .fr (France) and .in (India) cost $7.99 per year. Some international TLDs, including com.au (Australia) cost $9.00 while a .ca (Canada) TLD costs $12.99 per year.
Marketing and SEO features
Hostinger offers a marketing and SEO package for $9.99 per month as a paid extra to any shared hosting plan. This is called SEO Toolkit PRO.
Uptime
Hostinger offers an uptime guarantee of 99.9 percent of the time in each month. The company backs this pledge with the offer of a 5 percent credit on the subscription fee for that month if it fails to meet that target.
The credit is not awarded automatically – each individual customer has to contact the customer service team and claim it. The judgment over whether the company has met or failed the uptime target is solely made by the host itself. There is no mention of how Hostinger publicizes any unexpected downtime.
A credit awarded for the failure of the service to meet the uptime guarantee cannot be taken as a cash refund. Instead, it must be used towards the purchase of other Hostinger services.
Speed
To check the response time, we created a sample page of text and posted it as a WordPress page on a Hostinger-hosted site.
We tested the load time with the Google web developer diagnostic tool, PageSpeed Insights, which scores the loading speed of a page, testing for delivery to mobile devices and to desktops.
The test page was an article of 3,000 words, containing 13 images.
The PageSpeed Insight test examines a list of metrics and weights:
the time it takes for the title to appear

the time it takes for all the text to appear

the time links and images take to be visible
The performance of the delivery to a mobile device lay in the low score range. The overall Speed Index was slow at 9.9 seconds.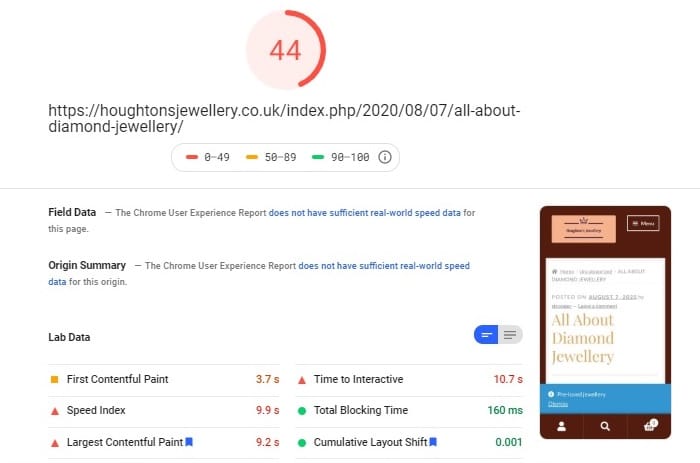 The test results for delivery of the test page from the Hostinger shared web hosting service to desktops were better.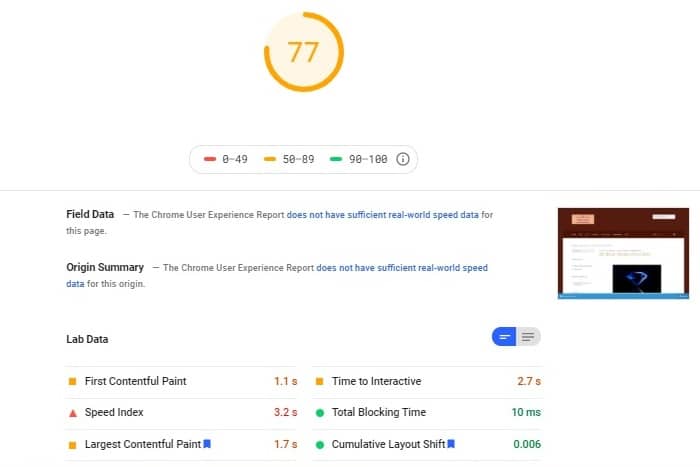 The overall score of 77 is in the middle range of performance. However, the Speed Index value of 3.2 seconds is still judged to be slow compared to Google's research into other sites and web hosting companies.
Activating the Cloudflare CDN on the Hostinger account did improve speeds slightly – the mobile score went up from 44 to 48 and the desktop score went up from 77 to 79. However, the Speed Index was still slow with a load speed of 9.3 seconds for mobile devices and 3.2 seconds for desktops.
Security features
Account security
Shared hosting plans are kept secure by the impossibility of any user getting down to the operating system. 
Hostinger has an adaptation of the popular control panel system, cPanel to provide all of the file management functions that any website administrator would otherwise need operating system access for. This is called hPanel.
Content protection
Each shared hosting plan is allocated one free SSL certificate, which is provided by the Let's Encrypt certificate authority. 
The Cloudflare content delivery network (CDN) stores copies of web pages on servers all around the world. This not only increases delivery speed but adds failover protection in case the main hosting server goes down. It also absorbs any hacker actions, such as DDoS attacks.
Business Shared Hosting customers get Cloudflare for free. Premium Shared Hosting customers get it for free for one site. All other shared hosting accounts are offered the service forever for a one-time fee of $9.95. 
The Single Shared Hosting and Premium Shared Hosting plans include weekly backups for free or upgraded to daily for $0.95 per month. On the Business Shared Hosting plan, those backups occur daily. Content backups enable websites to recover quickly from corrupting hacker attacks, such as ransomware.
Domain owner privacy
The name and address of a domain name owner have to be registered and made publicly available through the global WHOIS database. The address can be given as an email address rather than a street address. However, the owner's name still has to be made public and this can present a problem for some people. Hostinger will substitute the name of a nominee company and hide the customer's name on the WHOIS register for a fee of $5 per year per domain.
Email system protection
All email addresses set up in a Hostinger hosting account automatically have a spam filter applied to them. As a safeguard against "false positives," emails detected as spam are not blocked completely from getting to an account. Instead, they are directed to a Spam folder.
How to set up WordPress in a Hostinger account
The membership area for a Hostinger account has a number of screens to explore. Setting up WordPress is a hosting activity, so it is accessed through the Hosting screen. This is an adaptation of cPanel.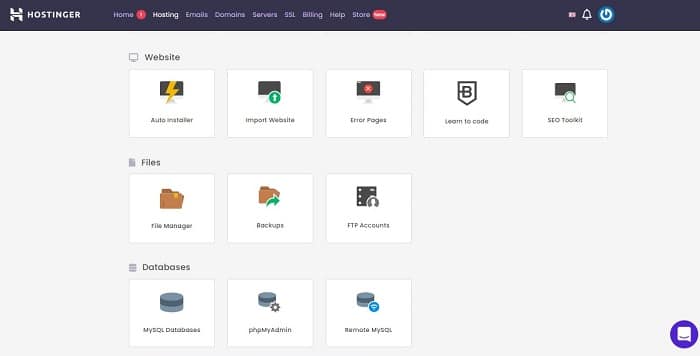 The Website section of the control panel includes an Auto Installer button. In the Auto Installer screen, the first application available for installation is WordPress.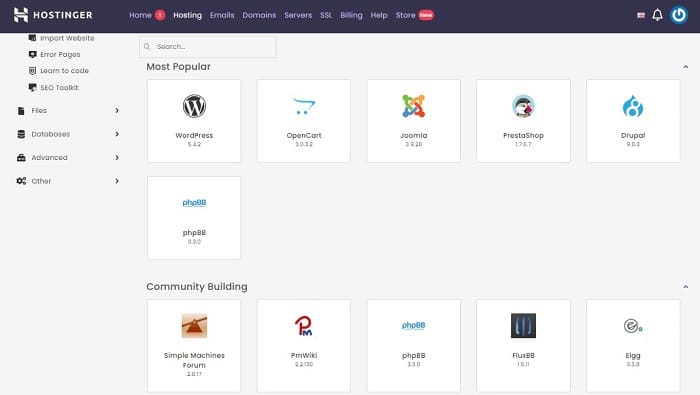 Access to WordPress
Once WordPress has been installed, direct access to it is available through a button at the top of the Hosting screen. This is in a section entitled WordPress and the button is labeled Dashboard. Next to it is a button that goes straight through to the plug-in library for WordPress.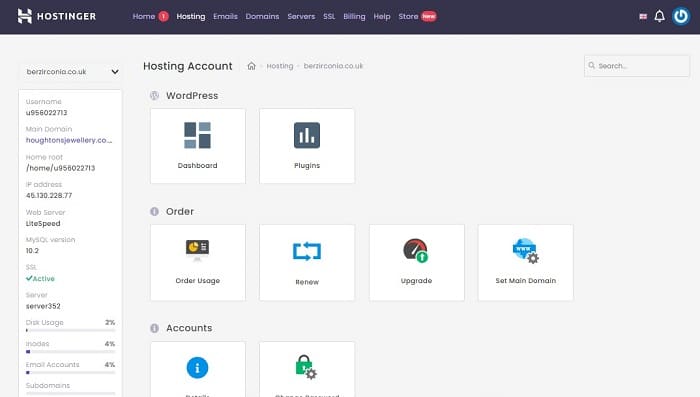 Even before the first access to the WordPress system, there will be some plug-ins that are already installed. These can be reviewed by clicking on the Plugins button and scrolling through the list of available plug-ins. An installed plug-in will be marked as active and it can be deactivated without having to uninstall it by clicking on the slider next to the plug-in name.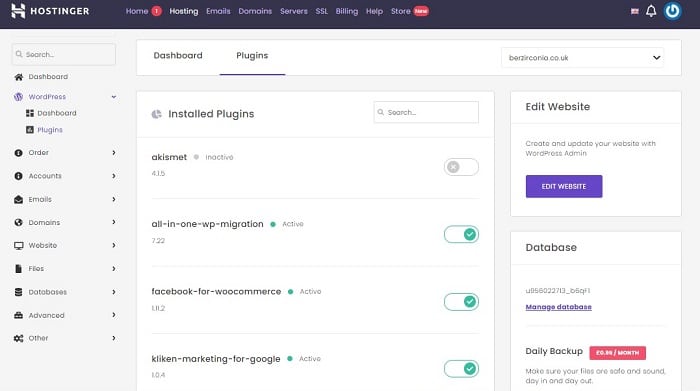 Access WordPress by clicking on either the Dashboard button or the Plugins button on the main Hosting screen. This takes the user through to the Hostinger WordPress dashboard. 
Click on the Edit Website button at the top of the right-hand column in the Dashboard screen to get into the WordPress Administrator account.
On first accessing WordPress, the user sees a button called Customize Your Site. This accesses a setup wizard that will create the templates for all of the site's pages.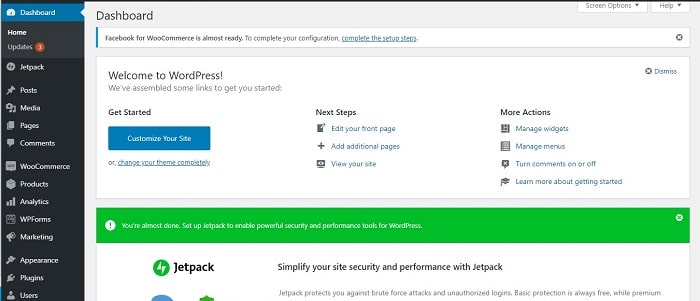 Create a staging area
A staging area is a test copy of your main site. It allows the development of pages for the site that can be seen by the creator of the site but not by the public. With a Hostinger account, a plug-in for WordPress will create the test site.
Access the plug-in WP Staging, either through the plugin library on the Hostinger WordPress dashboard or within the WordPress environment.
In WordPress, click on the Plugins entry on the left-hand menu and select Add New from the sub-menu. In the Plugins library enter WP Staging in the search field.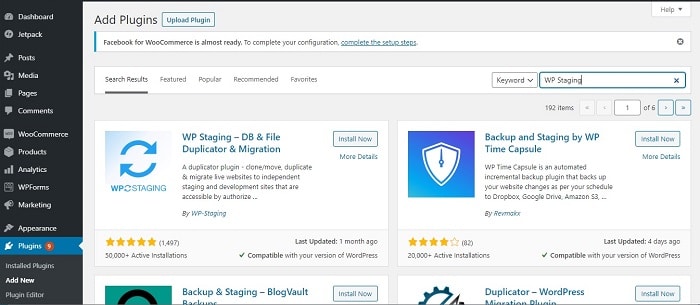 Click on the Install Now button in the WP Staging description box. Once the plugin has been installed, press the Activate button. You will be prompted to buy an enhanced version of the plugin. 
Click on the Skip – Start Cloning link to continue. 
Click on Create New Staging Site in the next screen. Give the staging site a name – this must be up to 16 characters long. 
Click on the Start Cloning button. The staging area creation process takes about six minutes.
Activate the jetpack
The home screen in WordPress for your new site includes a section in the main panel about Jetpack. This is a bundle of services and extra plugins that help you improve the security of the site and also add site performance monitoring.
Click on the Set up Jetpack button to activate the free Jetpack. You will be prompted to approve the connection.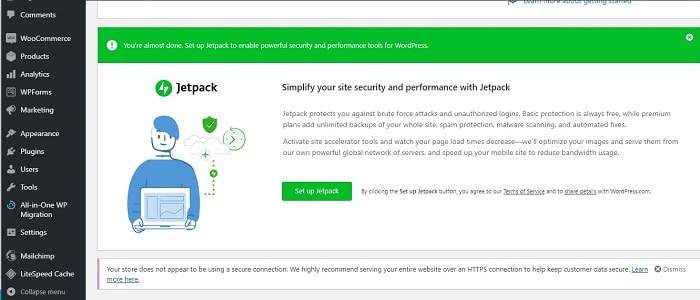 Hostinger customer support
The Hostinger Help Center can be accessed by clicking on the speech bubble icon at the bottom right of the member's area screen. The Help Center is set up as a searchable library of advice and tutorials categorized into topics. 

Hostinger knowledge base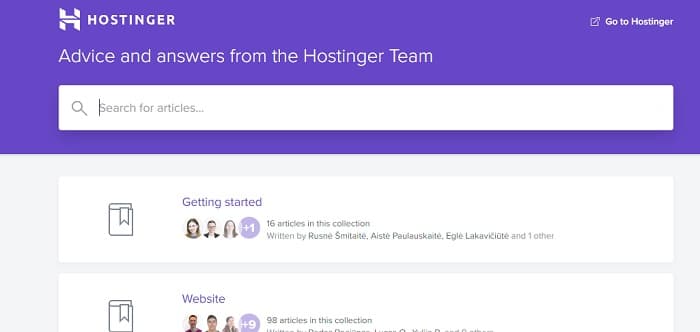 There is also a Knowledge Base support website, which can be accessed by clicking on a link in the Help Center screen. 
Hostinger customer support
The Hostinger sales page claims that the service has live chat support. However, this is rarely available. Instead, customers fill in a request form in the Help Center page in order to communicate with the customer support team.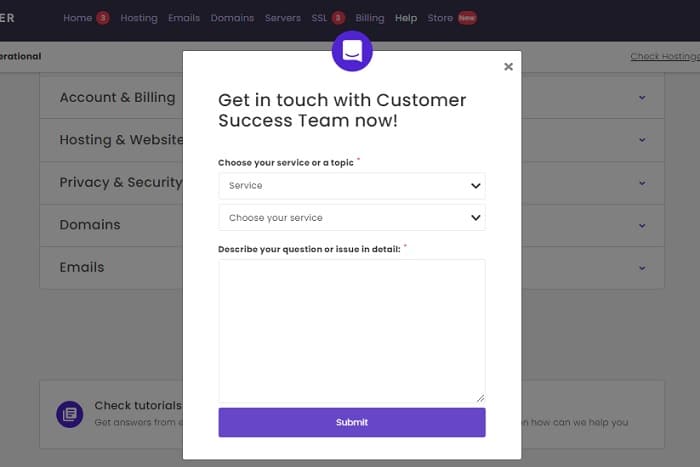 Replies are sent to the email address registered on the customer's account. Queries can take up to two hours to receive a response.