Bluehost is one of the leading website hosting providers with more than two million active websites.
Bluehost overview
Hosting options

: Shared hosting plans, VPS hosting, dedicated server, specialist WordPress hosting

Bonuses

: Free domain name for the first year, free SSL certificate

Apps

: WordPress, Drupal, Joomla

Customer support

: 24/7 live chat, email, phone support

Refund policy

: 30-day money-back guarantee

Uptime guarantee

: 99.9 percent

Control panel

: cPanel

Content delivery network (CDN)

: Cloudflare as a paid add-on

Cheapest hosting plan

: $3.95 per month, renews at $7.99 per month
Notable features
Widely used

Good delivery speed 

Excellent customer service team
Pros
Single website hosting option

Bluehost plans for unlimited websites with unlimited subdomains and unlimited disk space

Specialist WordPress plans available

Apps installer

Fast SSD storage disks

WordPress one-click install on all plans

Free library of WordPress plugins including WooCommerce

Free Weebly website builder

PayPal and credit card payment options available
Cons
Website transfers are not free

They will try to trick you into subscribing to Microsoft 365

Paid extras get slipped in and promoted regularly
About Bluehost
Bluehost is one of the largest web hosting companies in the world. Excluding infrastructure providers, such as AWS or Google Cloud, Bluehost is calculated to be either the third, fourth, or fifth largest web hosting provider in the world. GoDaddy is currently the largest web hosting provider in the world. Other major players in the industry are HostGator, DreamHost, iPage, and 1&1 Ionos.
The company was founded in 2003 and is based in Provo, Utah. Bluehost runs all of its own servers. Managing its own infrastructure creates accountability and Bluehost has more control over service quality factors such as load times, downtime, site backup and recovery, and physical access security in its data centers.
Bluehost is a division of Endurance International Group, which also owns rival web hosting companies. Other web hosting services owned by the group include Apollo Hosting, DomainHost, HostGator, HostMonster, and iPage.
Uptime
Website designers will be looking for a web host that can guarantee the timely delivery of web pages and constant availability of the site. 
Bluehost advertises an uptime guarantee of 99.9 percent availability. Unlike some rival businesses, there is no pledge of any compensation should the company fail that target. So, this declaration is an aspiration rather than a solid guarantee. 
Fortunately, industry tests show that Bluehost consistently beats its 99.9 percent availability target. However, keep in mind, there are no guarantees for uptime. The Network / Server Uptime Agreement of Bluehost states: 
"Most issues are resolved in approximately 15 minutes. However, on extreme issues, it may take more than 15 minutes to resolve. In these extremely rare circumstances, the server may require additional time to resolve the issue. This can take several hours and in very rare cases as much as a day to get your server back up and running."
Speed
In order to check the speed of a Bluehost WordPress hosting account, we created a sample page of text and posted it as a WordPress page on a site held on a Bluehost shared web hosting account.
We tested the load time of the page with the Google web developer diagnostic tool, PageSpeed Insights. This service scores the load speed of a page, testing for delivery to mobile devices and to desktops.
The test page was an article of 3,000 words, containing 13 images.
The PageSpeed Insight test examines a list of metrics and weights each, resulting in an overall score that reflects the user experience of accessing a page. Key load times to look out for are:
the time it takes for the title to appear

the time it takes for all the text to appear

the time links and images take to be visible
Scores are ranged between low, middle, and high performance.
In the test of Bluehost, the results for delivery to mobile devices lay in the middle range for performance.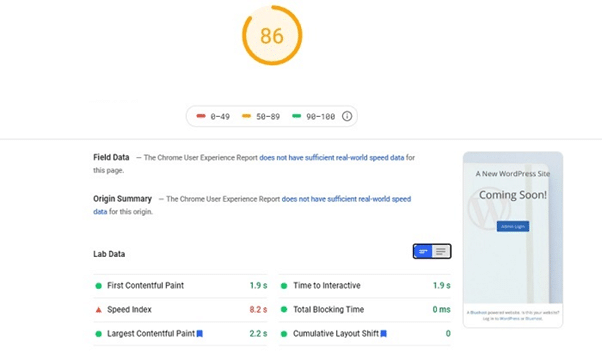 The lab data section of the results screen for page delivery to mobile devices are all good, except for the Speed Index. This factor measures the time it takes for content to become visible. 8.2 seconds is worryingly slow.
The test results for the delivery of the test page from the Bluehost shared web hosting service to desktops is better.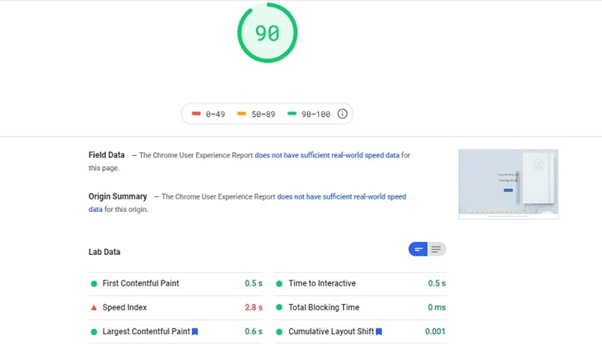 The overall score puts the delivery of this page in the top division with excellent load performance. However, the Speed Index is still indicated as below par.
The speed of 2.8 seconds to get content visible in a web browser is a lot faster than the delivery speed of the same page displayed on mobile devices. The bar is set much higher for delivery to desktops, so PageSpeed Insights still marks the delivery speed of this page as an issue that needs to be worked on.
Security features
Account security
All hosting accounts are secured with user credentials. Although shared hosting plans put several customers on the same server, no account holder can get down to the operating system in order to intrude on the file space of another customer.
Content protection
The main security feature of note for hosted websites is the free SSL certificate included in all shared hosting plans.
Other website security features offered by Bluehost are paid extras. These are:
CodeGuard Basic

: automatic daily site backups and on-demand restores. Price: $2.99 per month.

SiteLock Essential

: A malware scanning service. Price $2.99 per month for the chosen plan period and then $5.99 per month on plan renewal.
Domain owner privacy
Domain name purchases, and even the free domain name included with each hosting plan, can be made more secure by opting for an extra privacy feature. This is Domain Privacy and Protection. Domain registration requires the name and address of a domain name to be publicly available. For a fee, Bluehost will hide the buyer's identity by putting in the name and address of a nominee company instead of the details of the actual owner. This service costs $11.88 per year.
Email system protection
The free email management system in a Bluehost web hosting account includes a spam filter, called SpamAssassin. This is free to use but needs to be activated on the account. 
Bluehost shared hosting plans and pricing
There are four Bluehost plans for shared hosting. These are:
Basic – for one website

Plus

Choice Plus

Pro
All but the Basic plan will host an unlimited number of sites.
The headline price shown for each plan is the cheapest price available. However, new users have to sign up for a three-year service in order to get that rate. Although the price is shown "per month," this is a calculated price indication for advertising purposes. In reality, there are no monthly payment plans available and the user has to pay for the entire service period in one go in advance. 
Plan length prices
The three service period options and their prices for each plan are:
Basic

:

One Year — $71.40 ($5.95 per month)

Two Years — $118.80 ($4.95 per month)

Three Years — $142.20 ($3.95 per month)

Plus

:

One Year — $95.40 ($7.95 per month)

Two Years — $166.80 ($6.95 per month)

Three Years — $214.20 ($5.95 per month)

Choice Plus

:

One Year — $107.40 ($8.95 per month)

Two Years — $190.80 ($7.95 per month)

Three Years — $250.20 ($6.95 per month)

Pro

:

One Year — $203.40 ($16.95 per month)

Two Years — $310.80 ($12.95 per month)

Three Years — $502.20 ($13.95 per month)
These prices include an introductory discount. 
Bluehost plan renewal prices
When the plan service period expires, it will be renewed at the full-service price. The renewal price for the three-year term with each plan is:
Basic: $287.64
Plus:  $395.64
Choice Plus: $539.64
Pro: $863.64
Domain name registration prices
All plans include a free domain name. However, that only lasts for one year and then has to be renewed at the standard price. Plans that allow multiple website hosting only include one domain name each, so those other domain names will have to be paid for separately.
Bluehost's charges for domain names vary according to the top level domain (TLD) chosen. The price list is:
.com — $11.99 per year
.org — $8.99 per year
.net — $12.99 per year
.tech — $4.99 per year
.online — $4.99 per year
.co — $12.99 per year
.website — $1.99 per year
.site — $2.99 per year
.space — $1.99 per year
.store — $9.99 per year
.co.uk — $11.99 per year
.org.uk — $11.99 per year
.blog — $16.99 per year
.info — $11.99 per year
.us — $3.99 per year
.biz — $11.99 per year
.club — $14.99 per year
.net — $12.99 per year
International TLDs' such as .fr (France), .in (India), .ca (Canada), and .com.au (Australia) cost $11.99 per year. It is worth keeping in mind the different prices for each TLD option when signing up for a Bluehost plan because on the one hand, a .com gets you a higher value freebie than a .space, but then the costs of holding on to that web address will be higher in subsequent years.
Marketing and SEO features
All plans get a voucher for $100 of marketing credit with Microsoft Advertising and another for Google ads. The customer needs to set up an account with each of those services and the credit is only applied when the client spends at least $25 in each system. The Bluehost web hosting service also includes a guided path to get a business verified on Google My Business, which will get a site marker for the business on Google Maps.
How to set up WordPress in a Bluehost account
The console screen of the Bluehost account area for a website includes a big blue button that launches WordPress. Once the user has set up a standard shared hosting account, WordPress will be installed and operational automatically. 
Access to WordPress
To get into the WordPress CMS in order to upload images and create pages, press the blue WordPress button.

Bluehost has adapted the standard WordPress interface slightly to integrate some of its parent company's other products that it wants you to buy, such as Constant Contact for email campaigns. 
Create a staging area
There are a lot of plugins and customizations to explore and set up within the WordPress environment. However, the number one priority for a new WordPress site is to set up the staging area.
A staging site allows the WordPress site manager to create new pages, look at them, test them, and perfect them without them being accessible to the public. Once the site is running you can leave old versions of a page under redevelopment in place while you try a replacement in the staging area. This utility prevents half-finished pages from needing to be made public in order for the developer to see how the final page will appear on the site.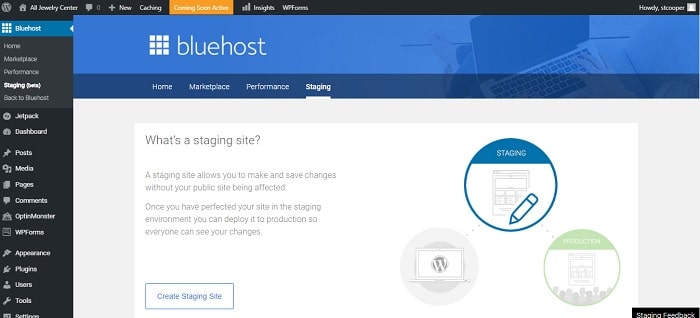 Go to the Bluehost menu item at the top of the left-hand menu. Select Staging (beta) from the left-hand menu or click on the Staging tab in the main panel of the WordPress window. Click on the Create Staging Site button on this screen.
Once the staging site has been created, it can be accessed from a button in the Staging panel.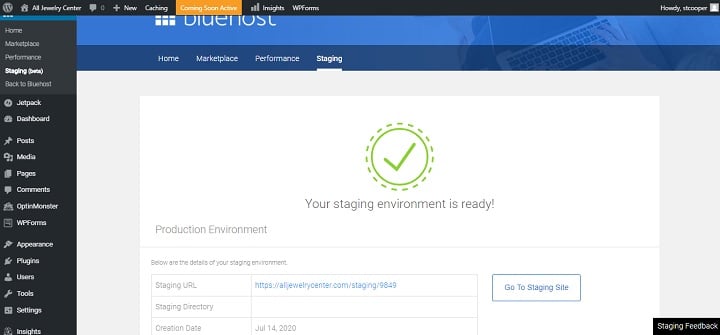 This is a shadow website that cannot be seen by the public. Elements of it will become available on the public website as you chose, page by page to publish changes.
Activate the jetpack
In order to activate your Jetpack, click on the Jetpack line in the left-hand menu. Click on the Setup Jetpack button in the Jetpack description screen. You will be prompted for a choice between a connection to a WordPress.com account or a Google account.
Bluehost customer support
The Customer Support Center of Bluehost is accessible from the website console. The link to the support services is a question mark icon in a circle.

Bluehost knowledge base
Clicking on the icon gets you through to the Customer Support home page, which is dominated by the search field for the service's knowledge base.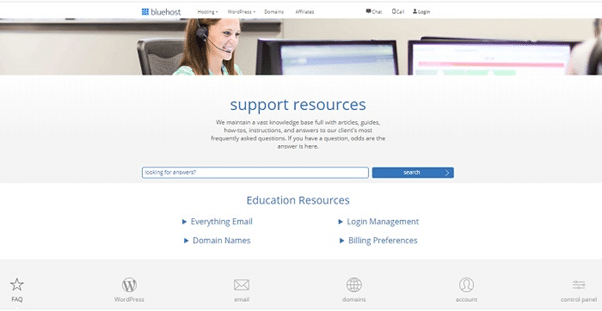 The search field is followed by a series of expandable topics, which list FAQs and articles. Each topic also gives access to a live chat window and shows the support center's telephone number. That number is only accessible from the United States. Some topics also give access to video tutorials on how to fix a problem.
Bluehost live chat support
Clicking on the chat bubble opens a popup chat window. The user first has to enter a topic and detail area and then type in a question. The chat window will first try to field the problem by supplying a list of related knowledge base articles. If that doesn't help, the user can click on a button to start a chat session.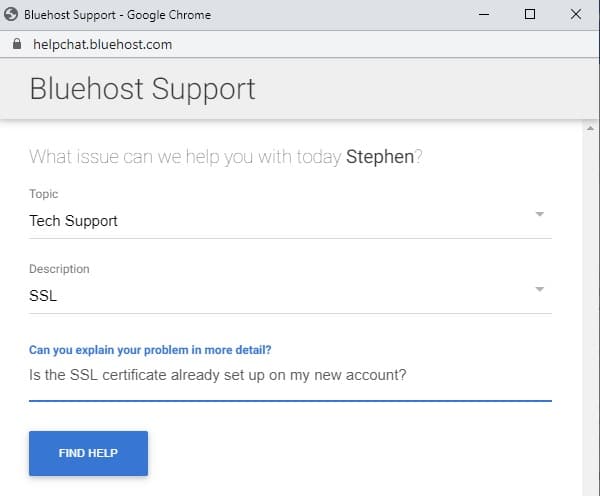 The above image shows a chat session about the SSL certificate that is included free with each account. 
The live chat support team is active around the clock. In most instances of online support, customer support doesn't have very strong technical knowledge. However, as Bluehost fields most general inquiries with its knowledge base filter before it lets anyone contact a real support operator, the user gets straight through to full technical support. This is a very impressive service. 
In our contact with the customer service team, We just wanted to know whether the SSL certificate was already set up. We expected the support operator to direct us to a knowledge base article that gave a step-by-step guide on how to perform that task. Instead, the technician set up the SSL certificate, which saved us a lot of time. 
The live chat support team of Bluehost is one of the most competent in the business. One complaint, however, is that the technician used the contact time to try to push more sales — such as subscribing to the CodeGuard paid add-on backup service.