A2 Hosting is one of the smaller web hosting providers with a market share of just 0.26 percent. In this A2 hosting review, we analyze how A2 Hosting compares to the major web hosting companies by buying a plan and setting up a WordPress site with it.
A2 Hosting overview
Hosting options

: Shared hosting plans, WordPress hosting services, VPS hosting, reseller hosting packages, cloud hosting, and dedicated servers

Bonuses

: Option of free a2hosting.com subdomain

SSL certificate

: Free SSL certificate on all shared plans

Apps

: WordPress, Joomla, Drupal, Magento, a range of shopping cart systems for eCommerce

Customer support

: Knowledge base plus 24/7 tech support (Guru Crew) via live chat, phone, email, and ticketing system

Refund policy

: 30-day money-back guarantee

Uptime guarantee

: 99.9 percent uptime

Control panel

: cPanel

Content delivery network (CDN)

: Cloudflare CDN free with WordPress hosting and shared plans

Cheapest hosting plan

: $2.99 per month, renewal price is $8.99 per month
Notable features
Month-to-month hosting plans available

Very fast disks

Choice of Linux or Windows servers
Pros
Single-site shared hosting plan available

Shared plans for unlimited domains per account

Unlimited data transfers (bandwidth) on all plans

Unlimited storage on upper hosting plans (100 GB with Startup plan)

RAID-10 SSD disks

Unlimited email accounts with free spam protection on all hosting packages

Unlimited MySQL, MariaDB, and PostgreSQL databases on upper hosting plans

Free site migration

PHP 7.4, Python 3.2, Perl 5.1, Ruby on Rails 1.8

SSH access

Softaculous app installer

Free WordPress plugin library including WooCommerce

Accepts PayPal and credit cards
Cons
No domain name included in any hosting packages

Full website builder costs extra
About A2 Hosting
A2 Hosting started operations in 2001 and is based in Ann Arbor, Michigan. They have data centers Phoenix, Arizona, Singapore, and Amsterdam.
A2 Hosting plans and pricing
The shared hosting plans include a quick installer to set up WordPress or other content management systems (CMSs). The CMS system is available for free. 
A system such as WordPress is great for people without technical skills who want to run a website. It is also easy to create an eCommerce site thanks to the WooCommerce plugin.
A2 Hosting has four shared hosting packages:
Startup

Drive

Turbo Boost

Turbo Max
The Startup plan hosts just one website but the other shared plans have no limit on the number of websites that they will host. 
Most resources are offered without limit on the upper three plans. This includes SSD disk space, email account, subdomains, and databases. 
On the startup plan, the limits are 100 GB storage and 5 databases. 
All hosting plans allow an unlimited number of email accounts.
Plan length prices
All A2 hosting plans are subscription. The whole of the selected hosting period has to be paid for upfront. 
Here are the introductory prices for each plan (followed by price per month).
Startup

1 month — $10.99 ($10.99)

12 months — $83.88 ($6.99)

24 months — $105.36 ($4.39)

36 months — $107.64 ($2.99)

Drive

1 month — $12.99 (12.99)

12 months — $107.88 ($8.99)

24 months — $167.76 ($6.99)

36 months — $179.64 ($4.99)

Turbo Boost

1 month — $20.99 ($20.99)

12 months — $179.88 ($14.99)

24 months — $311.76 ($12.99)

36 months — $359.64 ($9.99)

Turbo Max

1 month — $25.99 ($25.99)

12 months — $239.88 ($19.99)

24 months — $431.76 ($17.99)

36 months — $539.64 ($14.99)
Plan add-ons for a hosting account are:
Shared Let's Encrypt SSL Certificate

– required for secure data transfers over HTTPS; Price: Free

Essential SSL DV

— Advanced SSL Protection; Price: $71.95 USD per year billed for the first year of the plan

Dedicated IP

– Needed for higher-level SSL; Price: $5.99 USD per month billed for the entire subscription period

DropSuite Offsite Backups

– Regular backup, secure archiving, and restore, 5 GB to 200 GB per month; Price $1.99 to $44.99 per month billed for the entire subscription period

Barracuda Spam Firewall

— Email smart anti-spam protection for 1, 3, or 5, or unlimited domains; Price $3.00, $6.00, $8.00, $10.00 per month billed for the entire subscription period

A2 Website Builder

– Free, Basic, Business, and Enterprise plans; Price: $0.00, $6.00, $12.00, or $16.00 per month – only first month in initial invoice

Cloudflare Plan Basic

– Upgrade on the free Cloudflare CDN; Price: $3.00 per month billed for the entire subscription period

Auto-Install Application

– WordPress, Magento, Drupal, PrestaShop, Joomla, others; Price: Free
All prices are without tax – the sales tax charged in the buyer's location will be added to any purchase.
Plan renewal prices
The renewal prices are higher than the introductory prices charged for each customer's first subscription term. Here are the renewal prices for the three-year term of each plan (followed by per month).
Startup

: 

$323.64

($8.99)

Drive

: 

$431.64

($11.99)

Turbo Boost

: 

$719.64

($19.99)

Turbo Max

: 

$899.64

($24.99)
Plans renew automatically.
Domain registration prices
A2 Hosting doesn't include a free domain name with any of its plans, but It does offer its customers a subdomain on its own a2hosted.com domain. Unfortunately, businessname.a2hosted.com doesn't look very professional, so it's better to buy one instead. 
The last part of a domain name after the final dot (such as ".com") is called a top-level domain (TLD). The price of a domain name depends on the TLD. Unlike most domain registration services, A2 Hosting doesn't offer a discount on the first year of registration.
A2 Hosting sells more than 400 different TLDs. See the full list here.                          
.agency — $21.95
.best — $79.95

.biz

 — $17.45
.center —  $21.95

.co

— $34.95
.com — $14.95
.company — $19.95

.consulting

 —  $33.95
.expert — $46.95
.info — $14.95
.io — $49.95
.marketing —  $32.95
.net —  $14.95
.online — $49.95
.org —  $14.95

.place

 —  $29.95
.shop —  $39.95
.site —  $29.95
.space —  $10.95
.store —  $59.95
.us —  $14.95

.website

 — 

$19.95
Optional extras on domains that can be added to the bill are:
DNS Management

— external DNS hosting to speed site access; Price: Free

Email Forwarding

– set up emails on your domain name and forward them to your private email account; Price: Free

Domain ID Protection

– Hide the domain owner's details on the WHOIS database; Price $9.95 per year
Domain prices don't include sales tax, which is added to the bill according to the rate charged in the buyer's location.
Uptime
The uptime guarantee promises 99.9 percent availability of the A2 servers and services. If downtime extends to more than 0.1 percent of all the time in a month, A2 Hosting offers a service credit of 5 percent of the fee charged for that month for each hour that the website is down, beyond that initial 0.1 percent of the month.
The maximum total payable in a month is the full amount the subscriber paid for service in that month. The judgment over what counts as downtime is up to A2 Hosting. The user has to submit a customer support ticket to claim the credit.
Speed
We tested a number of hosting services with the same page of 3,000 words and 13 images into a WordPress site on each hosting service. The tests were carried out with Google PageSpeed Insights.
The performance of the delivery to a mobile device from A2 Hosting was categorized as High. The overall score at 94 was one of the best of all the hosting services that we tested.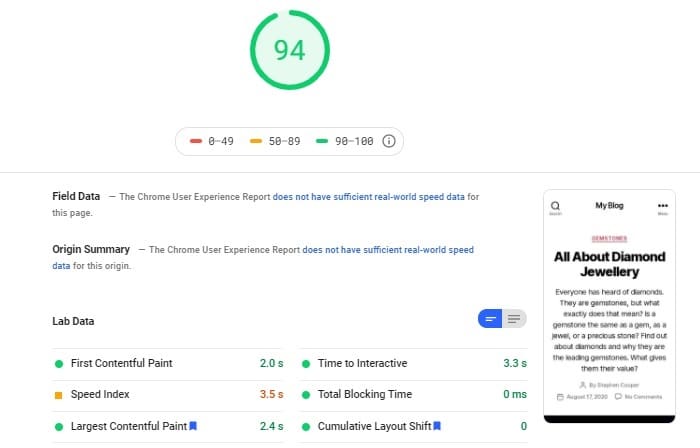 The Speed Index value given in the test results is a weighted average of a series of delivery speeds for different elements in the page under review. The Speed Index of 3.5 seconds achieved by A2 Hosting wasn't the worst.
Tests on the same page delivered from sites hosted by other major web hosting companies gave these results (in seconds):
InMotion Hosting

: 

3.0

SiteGround

: 3.1

HostGator

: 5.1 

HostMonster

: 6.4

GoDaddy

: 7.5

Bluehost

: 8.2

Hostinger

: 9.9
The response time test results when requesting the same page from a desktop were even better. The overall score, at 98, is almost perfect.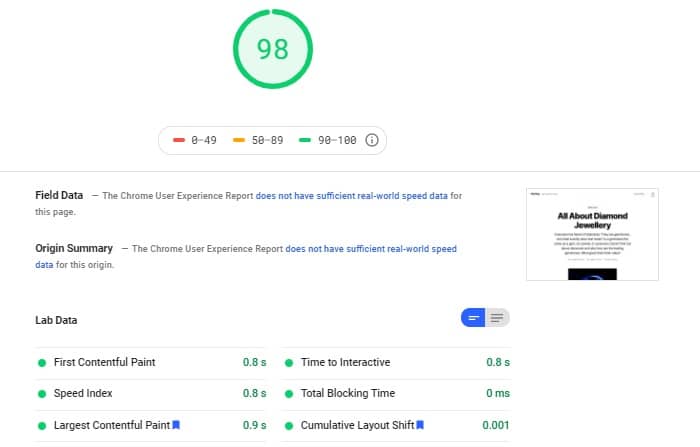 The Speed Index score of 0.8 seconds is very good. The scores of the other major web hosting providers (in seconds) were:
InMotion Hosting

: 

0.7 

SiteGround

:

1.2 

HostGator

:

1.8 

GoDaddy

: 

1.9 

HostMonster

: 

2.7 

Bluehost

: 

2.8 

Hostinger

: 

3.2 
Security features
Account security
Each hosting account's dashboard is protected by login credentials. This account security can be enhanced by two-factor authentication. A shared plan means that several customers are hosted on each server. Potentially, this could be a security risk because if a customer can get to the operating system (root access), the file areas of other accounts would be vulnerable.
The account management software is impossible to break out of, so no customer can get to the operating system. The type of functions that anyone would need operating system access for are all taken care of by the facilities in the cPanel control panel.
Content protection
All websites hosted by A2 Hosting are covered by a group SSL certificate from Let's Encrypt.
The three upper shared hosting plans include automatic backups and a restore facility. This is not included with the Startup plan, which includes a manual backup on-demand utility.
All servers are protected from malware with regular sweeps and a strong firewall. All customers can opt-into the Cloudflare CDN. This is a content delivery network, which stores copies of the included site on servers all around the world. This makes it quicker to deliver web pages to faraway places. 
The second benefit of this server is that anyone trying to attack the website and take it offline will direct their DDoS attacks at the Cloudflare server, which has a great deal of capacity – alternative servers take over if one server is taken offline.
Domain owner privacy
Ownership of a domain name is like a lease. The name and contact details of the new owner need to be registered with ICANN to indicate exclusive use. These details are then made available for free to the public via the WHOIS database. 
Many site owners don't want their details made public, so A2 Hosting will substitute their details for the owner's personal information for a fee.
How to set up WordPress with an A2 Hosting account
During the order process, nominate the application installer to automatically install WordPress with A2 optimization. When this option is selected, the screen shows the login credentials for the Administrator account of the WordPress dashboard. You need to note this username and password down because they won't be available again.
At the end of the order process, you will be prompted to create a password for your account. An account validation email will also be sent. If you don't validate your details, your domain name will be suspended.
Your account will not be available immediately. It takes about half an hour to get the domain set up and for the SSL certificate to be installed.
Log in to the WordPress dashboard with the credentials you were given by the Auto-installer during the order process.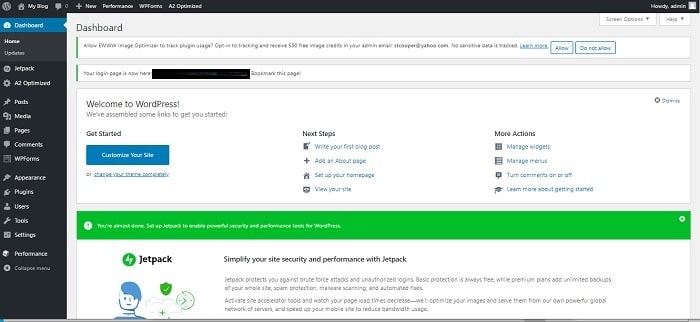 The dashboard flags tasks that need to be completed in order to customize the site, install plugins, write a post, and put the site live.
A2 Hosting customer support
The customer support team of A2 Hosting is called the Guru Crew. They can be contacted either through a web form or via live chat. Both can be accessed from the main page of the customer portal.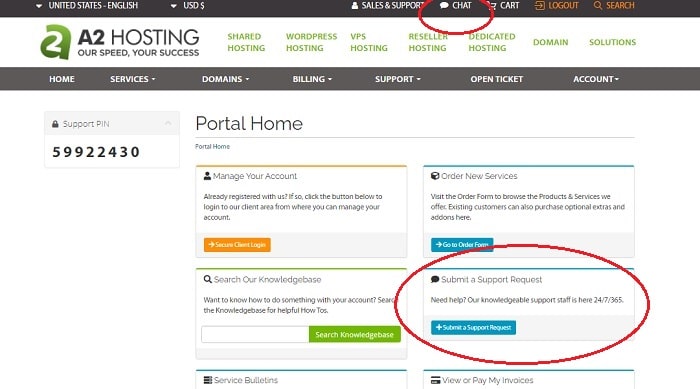 The support ticket button in the portal's home screen leads to a login page. The page this unlocks is a full Help Center. It also gives access to the A2 Hosting knowledge base.