InMotion is one of the 10 largest web hosting providers in the United States and among the top twenty web hosting companies in the world. Why should anyone choose InMotion Hosting over much larger competitors? Find out in this InMotion Hosting review.
InMotion Hosting overview
Hosting options

: Shared hosting plans, WordPress hosting, website builder plans, cloud-based VPS hosting, managed VPS plans (virtual private server), reseller hosting packages, and dedicated servers

Bonuses

: Free domain name for the first year (with annual plans)

SSL certificate

: Free SSL certificate for all hosted websites

Apps

: WordPress, Joomla, Drupal, PrestaShop, Magento, TikiWiki hosting

Customer support

: 24/7 tech support team through email, phone, and chat support

Refund policy

: 90-day money-back guarantee, 30-days for Pro plan one month term

Uptime guarantee

: None/99.999 percent for Pro plan users

Control panel

: cPanel

Content delivery network (CDN)

: None

Cheapest hosting plan

: $4.99 per month, renews at $9.99 per month
Notable features
Entry-level plan host two websites

One-click app installer and Softaculous script installer

BoldGrid website builder included free with all plans.
Pros
Shared hosting plans for unlimited domains

Unmetered bandwidth on all shared hosting plans

Unlimited email accounts on the top shared hosting plan

Unlimited subdomains on the top shared hosting plan

PHP 7, Perl, Python, and Ruby on Rails support, MySQL and PostgreSQL databases

SSD drives (solid-state drives)

Extremely fast page load times

Apps installer

Free domain transfer

Free website transfer

Free WordPress plugin library

Advertising credits and e-commerce tools

Accepts PayPal
Cons
Disk space limits

No unlimited domains account

No CDN

No EU-based data center

Uptime guarantee only offered to Pro plan account holders
About InMotion Hosting
InMotion Hosting is based in Virginia Beach, Virginia, where the company was founded in 2001. The company is small, with less than 50 employees, but entirely employee-owned. All of the InMotion Hosting servers are based in the USA. 
InMotion Hosting shared hosting plans and pricing
Small business owners would be interested in the shared web hosting plans, the website builder packages, and the WordPress hosting services of InMotion hosting. Unfortunately, none of these categories include options for unlimited website hosting on one account and all plans have storage allocation limits. But of these three service types, the shared web hosting plans are the cheapest.
InMotion Hosting has three plans in the shared web hosting category.
Launch

:

host up to two websites

Power

:

host up to 50 websites

Pro

:

designed for business; host up to 100 websites
It must be noted that these plans have storage space limits that would make it very difficult to host those volumes of sites with a single plan.
Shared web hosting plan length prices
The advertised price for each plan is shown as price per month, however, this is not the monthly subscription price, it's the price for each plan on a 2-year term when calculated on a monthly basis. There is no monthly subscription on the Launch and Power plans. Here are the prices for each plan followed by price per month.
Launch

1 year — $83.88 ($6.99)

2 years — $143.76 ($5.99)

3 years — $179.64 ($4.99)

Power

1 year — $119.80 ($9.99)

2 years — $215.76 ($8.99)

3 years — $287.64 ($7.99)

Pro

1 month — $19.99 ($19.99)

1 year — $191.88 ($15.99)

2 years  — $359.76 ($14.99)

3 years — $469.64 ($12.99)
Periodically, InMotion Hosting brings the promotional prices of the Power plan down so that they are the same as the rates offered for the Launch plan. The entire subscription period has to be paid for upfront.
Optional extras that can be added to the bill are:
One-click Auto Installer

– sets up WordPress; Price:  Free

Backup Manager

– customizable automated daily file and data backups; Price:  $24.00 pre-payment, which is used up at a rate of $2 per month for the first 10 GB and then $1 per month for each subsequent 10 GB block in a month.

Dedicated IP

– a fixed internet address, which is useful for those expecting inbound traffic; Price:  $72.00 per year

QuickStarter

– A custom-built one-page website; Price:  $23.95 for one year ($2.00 per month)

HostGator SEO Tools

– search engine optimization; Price:  $99.00
A new customer is required to choose which data center to use for the hosting service with a choice of Washington DC or Los Angeles, CA.
Sales tax is added to the invoice at the rate that applies in the buyer's place of residence.
Plan renewal prices
All of the prices shown for the InMotion Hosting have a promotional discount applied for the initial subscription. When the first subscription expires, it will be automatically renewed (with repeat billing) at a higher renewal rate. All subscription lengths for all plans renew at higher prices. 
For example, here are the renewal rates for the three-year term of each plan.
Launch

:

$359.64 ($9.99)

Power

:

$503.64 ($13.99)

Pro

:

$827.64 ($22.99)
If you take out a multi-year plan, the Backup Manager option will be charged for the full term of the subscription on the initial bill. 
However, only the first year of the Dedicated IP Address service will be applied to the bill – this option will be rebilled annually at the full renewal rate.
Domain registration prices
InMotion Hosting also offers domain name registration. InMotion Hosting acts as an agent for Tucows, Inc, which is the real registrar. Its menu of top-level domains is limited. 
A top-level domain (TLD) is the last part of a domain name, such as ".com" or ".org." InMotion Hosting only registers .com, .net, .org, .us, .biz, and .info domains. Each of these is priced at $15.99 per year. A Domain Privacy charge of $12.99 is added to the bill, but this can be unselected.
Buyers of the one, two, and three-year plans get a free domain name.
Buyers of multi-year hosting plans get the domain name for free for one year. It will be re-billed automatically at $15.99 on the anniversary of the account. If the buyer paid for Domain Privacy when selecting the domain, that amount will also be rebilled automatically annually.
Uptime
InMotion Hosting gives an uptime guarantee of 99.999 percent availability to its Pro plan customers. Subscribers to other shared hosting plans do not get a guarantee.
A Pro plan customer is allowed to ask the customer support department for an uptime report, no more than once a month. If there has been any downtime during that period, the user will be informed.
If the length of the downtime brings the uptime of the server and the Apache web server system down below a 99.999 percent availability for that month, the customer can apply for a service credit. The credit will not be awarded automatically and the user has just one week from the creation of the uptime report to apply. The service credit gives one month of hosting for free.
Speed
To test the response time (page load speed) of a WordPress site hosted on an InMotion Hosting Pro account, we loaded a sample page of text as a WordPress post on a new WordPress site.
The response time tests were performed with the Google web developer diagnostic tool, PageSpeed Insights. This service scores the load speed of a page, testing for delivery to mobile devices and to desktops. PageSpeed Insights scores are ranged between low, medium, and high performance.
The test page was an article of 3,000 words and 13 images.
The performance of the delivery to a mobile device from InMotion Hosting was categorized as Medium. The overall score was towards the top of the Medium performance range at 86.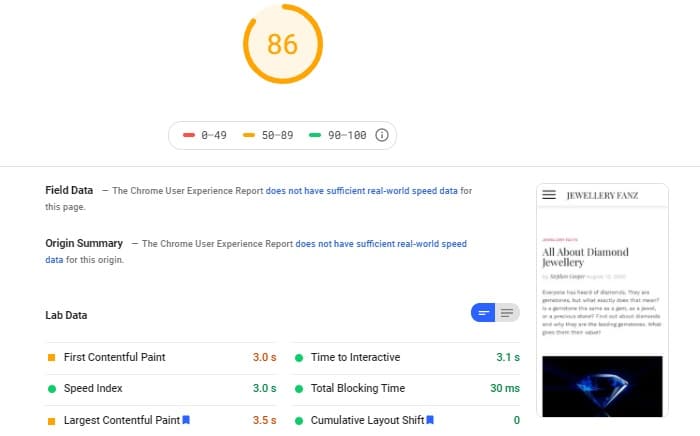 The Speed Index value given in the test results is a weighted average of a series of delivery speeds for different elements in the page under review. The Speed Index of 3 seconds achieved by InMotion Hosting is very good. Tests on the same page delivered from sites hosted by other major web hosting companies yielded the following results (in seconds):
SiteGround

:

3.1 

HostGator

:

5.1 

GoDaddy

:

7.5 

Bluehost

:

8.2 

Hostinger

:

9.9 
The test results when requesting the same page from a desktop were better. They got InMotion Hosting an overall score in the High performance category.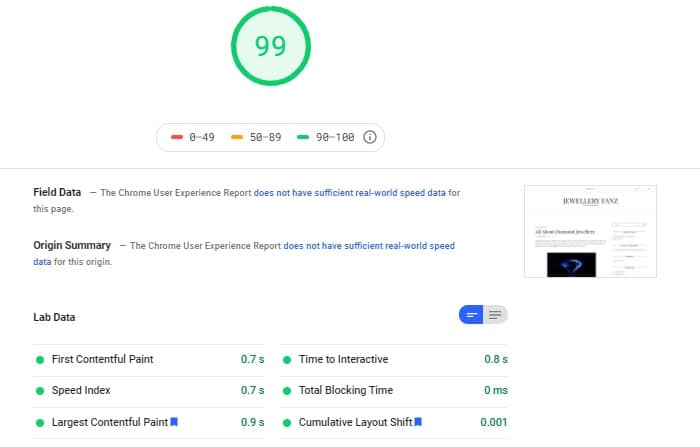 The Speed Index score of 0.7 seconds in this test was also world beating. The scores of the other major web hosting providers were (in seconds):
SiteGround

:

1.2 

HostGator

:

1.8 

GoDaddy

:

1.9 

Bluehost

:

2.8 

Hostinger

:

3.2 
Security features
Account security
Shared web hosting services give several customers space on the same server. They share an operating system, which is a potential security weakness. However, users can't break out of the account management environment and get to the operating system.
Each account is secured by login credentials.
Content protection
Each plan includes a free SSL certificate that secures all domains hosted in an account. The entire system is also protected by anti-malware. Users are able to backup all files and store them on a separate system, such as their own desktops. However, those who want an automated solution can opt for the Backup Manager account add-on.
Users can create email accounts on their domains within the control panel system of their accounts. All email accounts created in an InMotion Hosting plan are automatically protected by the Spam Experts anti-spam software.
Domain owner privacy
ICANN, the global authority of domain names, maintains a central registry of all active domains and their owners. This database is accessible by the public. Many website owners don't want their identity and contact details made public. 
InMotion Hosting offers a service that hides those details by registering itself as the owner of the domain names that it creates – for a fee. 
How to set up WordPress in an InMotion Hosting account
During the account set-up process, each customer is offered the option of an Auto Installer that will set up WordPress. If you selected this option the task of getting a WordPress page prepared will be a lot easier.
When the payment for your subscription has cleared, you will receive a receipt, which contains a link to the member's area at inmotionhosting.com. This environment is called the Account Management Panel (AMP). Your username is the email address you entered when setting up the account. 
Once in the AMP, you need to set up your SSL certificate. Scroll down to the second section of the main panel in the AMP and click on Manage Free Basic SSL.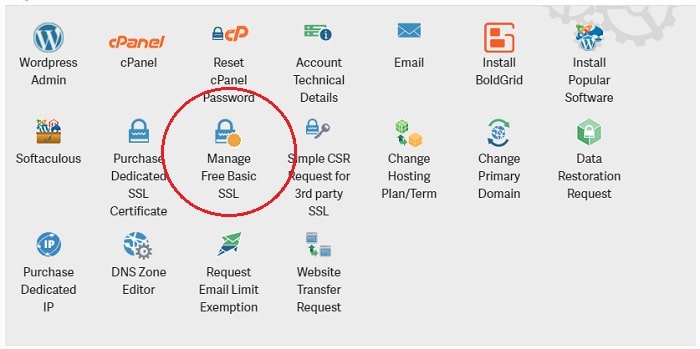 The text in the SSL screen explains that a brand new domain needs to be at least four hours old before it can have an SSL certificate applied. This is not true, it will be eligible straight away. 
In the right column of the screen, check the box next to your domain name and press the Check Eligibility button. The test should succeed. You can now move the slider in the main panel to On in order to enable the SSL certificate. 
Next, press the Run Check Now button to get the system to recognize the certificate. This procedure can take between 10 and 20 minutes to complete.
WordPress should already be set up for you and you don't need to go to the AMP to access it. The password setting email also includes a link to the WordPress dashboard for your site and the username and password that you will need to get in.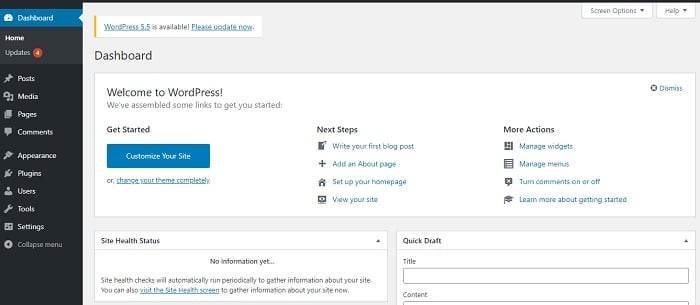 InMotion Hosting customer support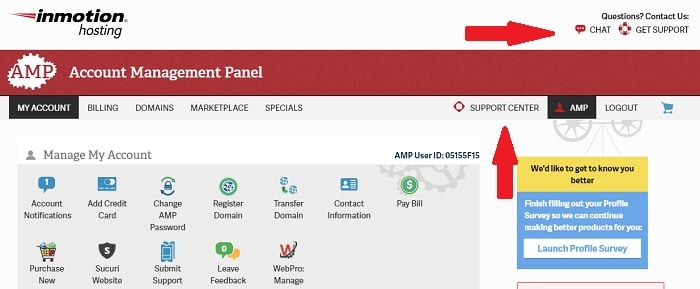 The Support Center has many channels including a library of tutorials created by the support staff and a knowledge base. There is also a community forum for help.
Links in the footer of the Support Center screen give access to the support team through phone support, email support, a support ticket or live chat with either tech support or the sales team.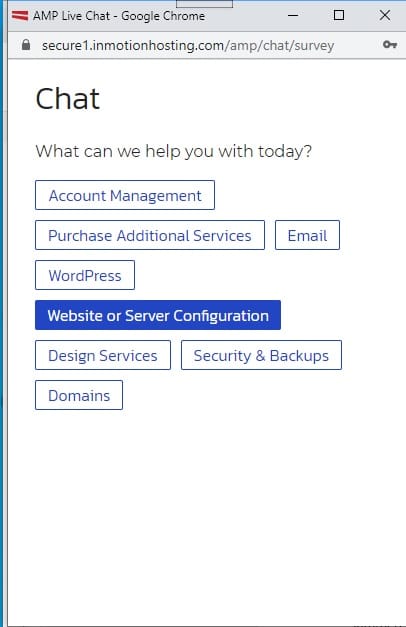 Wait time for chat support is never very long and the support team is available around the clock.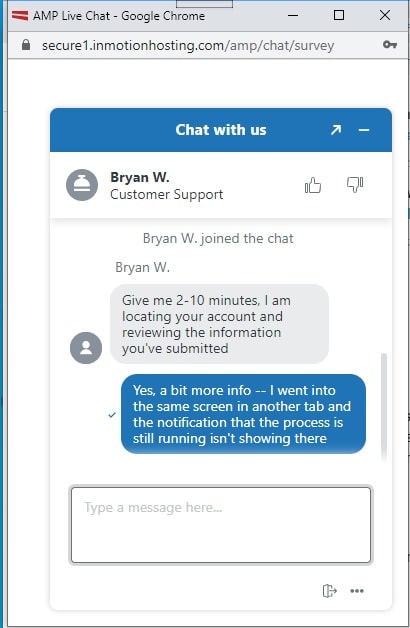 The tech support team is competent and friendly. The support staff will either give the user a link to a self-help guide or fix the problem directly.