WordPress is an open-source content management system (CMS). It contains a menu of options that enable a novice to create web pages, edit them, and publish them. WordPress is incredibly widely used and today, 35 percent of all web pages are written on this platform.
Although WordPress is easy to use, it can be very difficult to install and adapt. There are more than 55,000 plugins available for WordPress. Each of these plugins adapts the functionality of the CMS. Some are templates or WordPress themes that give web pages different appearances, others create layout features, such as tables.
A WordPress page can be automatically translated into many different languages by plugins. There are actually many different translation plugins and most of them are free. For example, Polylang is a free WordPress plugin that can translate into 100 languages. The ability to easily publish the same page in different languages gives small businesses and private bloggers the ability to reach a very large audience with each written page.
It is very easy to embed images and videos into a WordPress page and there are many plugins that provide graphics and creative fonts for any page.
Writing in WordPress has a number of restrictions and cutting and pasting text from Word can create superfluous HTML code behind the scenes. It is very easy to see the HTML that will create the text in a WordPress page, although not everyone using WordPress would have the coding skills to edit it.
Why you need managed WordPress hosting
There are two issues to cover when explaining why you need managed WordPress hosting. The first is why you need WordPress and the second is why you need a hosting package that is specifically tailored to WordPress.
WordPress is one of the most popular CMS platforms because it cuts out all of the complicated technical work of managing a website. The major part of a typical website is made up of pages of text with pictures embedded in them. This is exactly what WordPress produces. You can create a page of text as a document in a word processor, such as Word and then copy and paste that text into the WordPress editor. Once you have set up a template, all of the pages on your site will have a consistent appearance.
You can set website layouts to include menus and quick links to feature articles. The many plugins for WordPress include WooCommerce, which is free. This creates storefront pages for e-commerce sites that can also interface to your bank account or PayPal account.
WordPress makes creating a website easy but setting up the CMS and adapting it to your specific website characteristics can be difficult. There are so many technical issues involved in managing the CMS that WordPress Technician has become a job title and the need for experts with these specialist skills makes it a very lucrative career.
If you encounter problems with your WordPress installation, you will be faced with the option of either giving up or forking out a lot of money to hire a freelance WordPress expert to sort it out for you. However, if, rather than subscribing to a web hosting service, you opt for a managed WordPress hosting plan, all of those WordPress hassles will be taken care of for you.
Managed WordPress hosting services include a control panel when you can install the CMS at the click of a button and then more options to add on plugins from the host service's library. In all of these cases, the installation and adaptation take place automatically and hitch-free. In addition, a managed WordPress hosting service is pre-configured to work with the CMS and gives you a better chance of extracting the best possible performance from your website. Its compression and caching mechanisms are tweaked with WordPress in mind and can have a profound effect on the loading speeds and user experience
When you need managed WordPress hosting
If you have decided to create a website and you have no idea how computers work, you would be better off finding a CMS platform for your new site. You will need to get a hosting service for the new site. In both cases, you would be better off with WordPress as your CMS and it is a better idea to get a managed WordPress hosting plan rather than a regular hosting plan and trying to install WordPress yourself.
Another situation that a managed WordPress hosting plan would be advisable is where someone has tried to organize WordPress on a straightforward web hosting plan and got swamped by the technical issues. Most managed WordPress hosting solutions have a site migration facility that enables users to import content from other WordPress sites. That will take care of all the hassle.
How to choose a managed WordPress hosting plan
Deciding on a managed WordPress hosting plan is very straightforward. Most hosting plans that manage WordPress are pretty much the same. However, some have better plugin management systems than others.
The price of a managed WordPress hosting service and the presence of plugins in its library that cater to your needs will help you decide on which hosting company to choose. Another consideration is that you are going to need a domain name, so a hosting provider that can also provide a domain name, or even will include a free domain name in with the WordPress hosting plan, would be a good service to choose.
Make sure that the hosting provider you choose offers good security both for your account details, for the hosting environment, and for your website. The hosting platform should include malware protection and security sweeps. You will need to be able to present your site over the HTTPS protocol, which encrypts all traffic. This is because many web browsers, such as Google Chrome, now block web pages delivered by HTTP, which doesn't have any security features. So, your hosting provider should automatically provide HTTP by giving you a free SSL certificate, which is an essential part of the HTTPS system.
One more good feature to look for in your search for a hosting provider for your WordPress site is a money-back guarantee. For one thing, a money-back guarantee shows that the hosting provider is confident that it can meet high performance standards. The money-back-guarantee also gives you the peace of mind that you can change your mind and bailout without any financial losses.
The best managed WordPress hosting plans
There are many managed WordPress hosting plans available. In fact, because WordPress is so popular, just about every hosting provider presents a managed WordPress hosting package. Just picking the first option you see in search engine results, or trying to read through the descriptions of every search engine results page, take a look at the best WordPress hosting plans that we recommend.
Here is our list of the best managed WordPress hosting plans.
HostGator
DreamHost
InMotion Hosting
WordPress.com
SiteGround
You can read more about each of these options in the following sections.
---
1. HostGator
HostGator has been in operation since 2002. It is a large and reliable organization. All of its plans include one free domain name registration, a free SSL certificate, and unlimited bandwidth. The hosting service offers WordPress site hosting solutions, which are available in three plans. These are Starter, Standard, and Business, which are all shared WordPress hosting plans.
Each plan allows a hosting account holder to run one (Starter), two (Standard), or three (Business) WordPress websites. Unusually, these WordPress accounts have limits on the number of visitors each plan will accept each month. These are 100,000, 200,000, and 300,000 for Starter, Standard, and Business respectively.
The HostGator WordPress hosting accounts don't use cPanel, like the regular HostGator web hosting plans, but have a custom WordPress control panel instead. HostGator offers free site migration for WordPress Sites and secure FTP (SFTP) accounts for uploading and downloading files. Each WordPress plan includes unlimited email accounts and security features such as malware protection and daily backups. HostGator promises fast load times and almost no downtime with a 99.9 percent uptime guarantee.
Other hosting options available from Host Gator include a WP Engine Personal Plan, and a range of shared hosting, VPS hosting, and dedicated server plans.
Pros
Fast load times

Plugin installer

Unlimited SFTP accounts

Malware protection

Unlimited email accounts

Free SSL certificate

Free domain name

24/7 access to customer support team

99.9% uptime guarantee

30-day money-back guarantee
Cons
Limit on the number of visits per month

Doesn't offer unlimited websites with WordPress hosting plans
---
2. DreamHost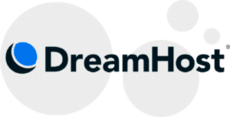 DreamHost offers three WordPress hosting plans. These are called WordPress Basic, DreamPress, and VPS for WordPress. All plans come with a 100 percent uptime guarantee, unlimited bandwidth. Unlimited STFP accounts and unlimited MySQL databases, and a free SSL certificate. DreamHost has its own custom control panel and supports PHP 7, Rails, Python, and Perl scripting. Site migration is free for WordPress Basic and DreamPress plans.
WordPress Basic
This WordPress hosting plan category is available in two options these are WordPress Starter plan, which allows one website and the WordPress Unlimited plan, which has no limit on the number of websites that can be hosted on it. Both are shared hosting plans. That means that several customers are hosted on the same server. However, each account area is protected, so other people won't be able to get at your files.
Both plans come with one free domain, and unlimited SSD storage, and WordPress already installed. The WordPress Starter plan doesn't include any email accounts but the WordPress Unlimited plan includes unlimited email accounts. These WordPress hosting plans all include a WordPress website builder, templates, and a plugin library.
DreamPress
The DreamPress category offers managed WordPress plans. There are these of these and they are all shared hosting plans. They are DreamPress, DreamPress Plus, and DreamPress Pro. These all have unlimited bandwidth but have traffic limits ranging from 100,000 to 1 million visitors per month.
The amount of SSD storage increases with higher plans as well. All plans offer on-demand and daily backups and a WordPress website builder. The two higher plans also include a free content delivery network (CDN), which stores your site content at several data centers around the world and makes delivery and load times faster.
VPS for WordPress
The VPS for WordPress category of plans in a virtual private server, which means that you are able to get down to the operating system. However, there will still be several customers on each server. There are four WordPress hosting plans in this division: VPS Basic, VPS Business, VPS Professional, and VPS Enterprise.
All of these plans allow an account to host unlimited websites and include unlimited email accounts. These are managed WordPress plans, which means that you get access to a human support team. These plans include SSD storage with higher plans having a higher space allocation.
Pros
Free SSL certificate

Recommended by WordPress.org

Unlimited bandwidth

Unlimited email accounts on most plans

Unlimited MySQL databases

100% uptime guarantee

24/7 access to customer support team

97-day moneyback guarantee

Custom control panel

WordPress pre-installed

Plugin library with installer
Cons
No mention of malware protection
---
3. InMotion Hosting

InMotion Hosting has a support team of WordPress experts to assist the customers of its managed WordPress hosting plans. The hosting platform offers four WordPress hosting solutions, all of which include a free domain name, a free SSL certificate, the BoldGrid pack of plugins and WordPress themes, unlimited email accounts, and a staging environment. The purpose of the staging environment is that it enables you to preview new pages and pass them between collaborating creators without them being seen live on the website.
The four WordPress hosting plans of InMotion Hosting are WP-1000S, WP-2000S, WP-3000S, and WP-4000S. All plans come with WordPress already installed, include a website builder, a plugin installer, and free site migration. The difference between these plans lies in the number of WordPress sites that each can run, the amount of disk space allocated, and the number of parked domains allowed. The allowance of websites per plan ranges from one with the WP-1000S plan to six with the WP-4000S plan.
InMotion Hosting also offers a VPS service called WP-VPS. With this plan, you get a cPanel control panel and you can install WordPress and plugins yourself.
All InMotion Hosting plans include a CDN with code stored at data centers around the world for faster load times and all come with malware protection.
Pros
Free domain name

Free SSL certificate

Free plugin installer

Free CDN

VPS option

100% uptime guarantee

Dedicated support team of WordPress Experts

90-day money-back guarantee

Malware protection
Cons
This is one of the more expensive WordPress hosting services
---
4. WordPress.com


WordPress.com is a hosting service for WordPress. The home site for the WordPress software is at WordPress.org. So, getting hosting in with the WordPress system at WordPress.com provides all of the infrastructure you need for your WordPress website from the originators of the WordPress platform. The CMS is available with five hosting plans.
The entry-level WordPress hosting plan at WordPress.com is Free. This doesn't include a domain name, but it has just about everything else anyone could need to run a simple website. This includes a free library of plugins. The WordPress CMS is already installed in the account and an installer will add on any plugin that you request. As there is no domain involved in this package, there aren't any email accounts with it either. The plan does come with a free SSL certificate, as do all of the WordPress hosting plans at this hosting service.
The four paid plans are Personal, Premium, Business, and eCommerce. Each of these includes a free domain name and each has progressively more storage space. The Free version gets 3 GB of disk space, the Personal plan has 6 GB, and the eCommerce plan includes 200 GB of storage space. All of the paid plans get access to customer support. The eCommerce plan includes payment processing procedures. The two higher plans also get SFTP accounts and SEO tools included.
Pros
Free domain on paid plans

Free SSL certificate

WordPress pre-installed

Plugin library and installer
Cons
No mention of a money-back guarantee

No mention of malware protection

No email accounts
---
5. SiteGround

SiteGround has a much simpler menu of WordPress hosting plans than the other hosting services in this review. There are three plans: Starter GrowBig, and GoGeek. The Starter hosting solution only allows one website but the other two plans have no limit on the number of websites you can host. All plans include a free SSL certificate, a free CDN, free unlimited email accounts, daily backups, WP-CLI command-line utilities, SSH access, and unlimited databases. There is no limit on bandwidth with these plans.
The main difference between the three plans is the amount of storage space included. The two higher plans include a staging environment and the highest plan can be used to sell on accounts to other businesses.
Pros
Free SSL certificate

Unlimited email accounts

24/7 customer support from WordPress experts

30-day money-back guarantee

WordPress pre-installed

Plugin library with installer

Free site migration
Cons
No mention of an uptime guarantee

No free domain name offer

No mention of malware protection
Other managed WordPress hosting services
If you don't feel drawn to any of the hosting providers in our list of managed WordPress hosting plans, you could maybe take a look at some of the other website hosting services that didn't quite make our list. These are:
Hostinger

Bluehost

GoDaddy

A2 Hosting
Managed WordPress hosting gets rid of most of the hassle of running your own website, so consider this option because it will enable you to focus on content and not the technical aspects of your new website.