Technology has changed the game when it comes to bookkeeping and accounting services. Just decades ago, bookkeepers and accountants had to record business transactions using hardback books called ledgers or journals. There were journals for a variety of business functions like accounts receivable (AR), accounts payable (AP), and inventory. They also had to use outside processes to deal with tasks like project management, payroll, and employee benefit deductions.
Fast forward to present times, technology has given the accounting industry many quality small business accounting software options that can save time, money, and reduce errors. Many old school professionals did calculations and journal entries by hand, which is more error-prone than streamlined software processes. Any business from a solo freelancer to a fortune 500 company can benefit from quality accounting software.
Why use accounting or bookkeeping software?
There are many reasons to use bookkeeping software as it eases data entry, prevents errors, reduces costs, makes tax time easier, and allows small business owners to generate comprehensive reports. In the past, many calculations were done by hand and it was harder to keep track of ledgers along with receipts for business transactions. This made the entire process more stressful by adding unnecessary redundancy. It also added complexity as many processes weren't automated.
Conversely, many quality tax software products have automation tools that streamline any business processes. For instance, Quickbooks Desktop users can automatically transfer their income statement to their TurboTax's Schedule C. This is also available for Quickbooks Online users and is possible as both platforms are under the Intuit umbrella. This platform along with Xero has an open API or Application Programming Interface that connects it to popular apps like Paypal and Shopify.
Generally, each small business accounting software choice charges a monthly or annual one-time fee, with some platforms locking users into a contract. Luckily, most programs have a month to month billing cycle without a contract. Also, these programs are relatively affordable with fees ranging from $10-$50 per mo. on average. Some charge more based on features along with business size. Yet, other platforms like Wave, have a free option with limited features. Online accounting software can reduce a small business's cost by preventing it from hiring more employees.
Employees will always cost more than software as they need a minimum salary, health benefits, and other perks. On top of this, employers are required to pay hefty taxes like FUTA, SUTA, and half of the FICA tax on their behalves. Online accounting software doesn't require this and can work 24/7. However, it's wise to ensure that the platform fulfills vital business needs, doesn't have a contract, and has an affordable monthly rate. Some businesses can get carried away with implementing too many pieces of software, which can break their budgets.
What to look for with accounting software?
Not every accounting program is created equal, with some being better for accounting firms and large corporations. On the other hand, some platforms are better for small businesses and self-employed sole proprietors. The first step a business owner should take when evaluating different plans is to acknowledge business size and growth. Related to this, it's prudent to consider how many users will have access to the software. Some products charge a higher monthly rate for additional users with others having more gradual fees for users. For example, Onpay has a low flat fee of $36 per month with each user costing an additional $4 per month.
Small businesses should also consider the functions they need from the software. Most plans have the fundamentals like tracking purchase orders, AR reporting, income statement, bank reconciliation, linking bank accounts, and income vs. expense tracking. Yet, many plans have advanced features like project management software, HR tools, payroll services, and tax integration tools. Thus, it makes sense to evaluate current tools vs. future needs in prospective tax software. Some businesses might already have a quality payroll system, making it unnecessary to pay extra for tax software that offers this benefit. Ease of use is another consideration, as a business's employees might not be the most tech-savvy people.
What professionals can help with accounting/HR software needs?
While accounting software can reduce the number of employees; there are still some key professionals that can assist with bookkeeping software. For example, the main two professionals are accountants and bookkeepers. Many people erroneously interchange these professionals, when they have many distinct differences. Bookkeepers usually focus on the day to day financial operations like bank reconciliations, categorizing expenses, managing AR and creating financial statements. Accountants can perform these operations as well, but usually, have a supervisory role especially when it comes to editing important financial statements like the balance sheet.
However, accountants have a 4-year degree, a CPA or an EA and are more educated than an average bookkeeper. Therefore, they can assist with complex topics like tax planning, auditing, and financial planning. If a business owner has to choose between hiring these professionals, it could be wise to hire an accountant over a bookkeeper since they can provide guidance on more topics. This article provides more clarity regarding the specific differences between these similar professionals,
Other useful professionals like insurance agents and HR companies
Besides consulting a competent accountant or bookkeeper, it's wise to consider using other professionals to assist with your accounting solution. For example, OnPay specializes in HR functions like Payroll, 401(k), and health insurance administration. It provides value by allowing small business owners to consult with qualified and licensed health insurance brokers. These brokers help employers choose the right plan based on their business needs, which is a win-win situation. Onpay also helps small business owners stay compliant with health insurance laws like COBRA, which reduces stress and saves money. Healthcare is one, if not the most important employee benefits which is why it's imperative to have proper systems.
Onpay also assists business owners with managing 401(k) plans. A 401(k) is the most common way for employees to save for retirement on a tax-deferred or Roth basis. These plans can allow employees to build a large sum of money that will help them retire. Having a 401(k) is an important employee perk as it encourages prudent investing and boosts morale. Companies that offer an employer match can also attract the best employees and help employees surpass their retirement goals
Financial advisors and 401(k) administrators are some other professionals that can assist a business with its accounting/bookkeeping needs. They can ensure that the plans are compliant with the SEC and IRS. Also, some accounting software platforms allow business owners to offer fee-free financial advice to their employees. Offering financial advice is another new employee perk that is gaining popularity and benefits the company along with the employees. Lastly, these professionals can provide guidance regarding 401(k) deductions on employee payroll.
Payroll is another important accounting concept task for any sized business. There are many processes behind payroll, which includes time tracking, ensuring employees are paid on time, and that payroll or FICA taxes are paid. Many larger software platforms offer payroll options that can help automate and streamline these procedures. However, it could be wise to collaborate with an outside payroll firm like Paychex, ADP or even an individual payroll consultant. These professionals can provide clarity about complex payroll topics and ensure that the software is correctly managing payroll.
---
QuickBooks
Intuit Quickbooks is one, if not the most well-known software options on this list. It is one of three popular services falling under the Intuit product line that also includes TurboTax and Mint.com. It's known for its user-friendly attributes, AR aging reports, and bank reconciliation processes. This platform also assists users with estimated tax filings and income statements.  It has prices ranging from $20-$160 per month based on accounting features and business size. It also helps users streamline processes by having over 40+ app integrations.
See the full review of Quickbooks here.
---
FreshBooks


Freshbooks is similar to Quickbooks, but it has better customer service, project management software, cloud accounting, and superior online invoicing options. It's invoicing options allow small business owners to automatically bill clients, set up recurring online payments, and implement payment reminders. This makes the process much easier and helps customers get paid quicker. Freshbooks is budget-friendly with plans ranging from $10- $50 per month. It's also known for it's Cisco Firewalls and partnership with RackSpace, which ensure tight security. Lastly, it has top-notch customer service and requires every new employee to work in customer service for at least one month.
See the full review of Freshbooks here.
---
Neat.com


Business owners are typically moving quickly and that can mean their financial organization goes lacking. More technology can solve the problem and that allows the small business owner more time to concentrate on growing their operations. 
Neat.com is a financial software solution that resolves problems of an overabundance of paperwork, misfiled documents, and time spent trying to sort through all the business's finances for taxes, loans, and other purposes. The heart of Neat.com is a mobile accounting system with document management and storage.
Neat.com has functionality that's best for businesses that are just starting or who are beginning to grow but don't have enough resources to hire a full accounting staff and secretaries. 
It works well with businesses that are either solo operated or who work using small teams on projects that must share financial information, such as purchase costs, revenue-generating figures, and sales. 
A 20-year veteran of the industry, Neat.com offers two primary products called NeatBooks and NeatFiles. NeatBooks is both a reconciliation and an analytical system that tracks all of the business's financial data. It allows business owners to see where cash is going in real-time and shows its total sales. It has information on trends and allows for quick uploads and categorizing of receipts within minutes. 
NeatFiles is cloud storage for financial documents, offering a way for business owners to declutter their desks and keep everything handy. Both products come with the highest level of cybersecurity with Neat.com using bank-level encryption that protects important documents from breaches. 
Both products are reasonably cost with current half-off options for six months. NeatBooks is priced at $24 a month with the special and NeatFiles is $16 a month. There is currently a special to get NetFiles Unlimited, allowing for an unlimited number of scanned documents, for $16.50 a month. Payments can be made both monthly and annually. The company also offers a free 15-day trial.
Some of the best benefits of using these systems are paired receipts, transaction filtering, quick financial overviews, real-time accounting, and guided workflow.
Users can scan receipts and upload them to automatically-categorized folders so anyone on the system can see new information in real-time on their mobile device through the neat mobile app. 
This includes an automatic pairing of receipts to expenses, saving a lot of time both in filing them and trying to find them later.
Real-time reporting includes cash flow statements, balance sheets, and profit and loss statements. Other reports can be customized.
One of the best features is the ability to filter transactions. With just a keyword, a business owner can pull up a receipt or an expense report that details transactions in that category.
This system syncs with your business bank accounts so you have all your transactions in one place. This helps you see everything at any time.
Neat.com customers get personalized support and that includes help in customizing their system to meet their exact needs. There is also a chat box to answer quick questions.
Customers brag about how much time they save using Neat.com. Some state this system reduces their office time by 30 hours a month. Most time savings come as neat automates accounting workflow. 
See the full review of Neat.com here.
---
OnPay

OnPay stands out among the 10 options as it is the only program that offers HR solutions. It assists businesses with health insurance management, 401(k) plans, and payroll on top of fundamental reporting options. These topics are vital to employee benefits and it's imperative to ensure these processes are carried out correctly. Onpay realizes this and allows business owners to consult dedicated professionals in each field. This ensures the business owner has the correct plan for his or her company and tax code compliance.
Onpay also assists with workers' compensation insurance, which can help protect against liability. It also provides protection against workplace compensation audits and offers useful tools that automatically update and calculate insurance premiums in real-time.
See the full review of OnPay here.
---
Patriot Software


Patriot Software is a powerful yet easy-to-use online platform that offers both accounting and payroll solutions. With it, small businesses can track revenue and expenses, issue invoices, run payroll, compile reports, and much more. 
Patriot's accounting software starts at just $15 per month, and there is no contract to sign or commitment to make. Payroll solutions start at just $10 per month, plus $4 per employee per month. These prices are well below the industry average. 
Who Patriot Software is best for
Patriot Software is best for business owners who want to do their own accounting, without learning a complex system. It's also a great option for budget-minded companies, as it's one of the more affordable accounting software solutions out there.
What makes Patriot Software unique
For one, Patriot offers both accounting and payroll solutions, which is unique. But as for the unique aspects of their accounting software, here are a few highlights:
Choose between cash basis or accrual basis accounting – and

easily switch between them with one click

Use the platform from virtually any internet-connected device

Never sign a contract or commitment (month-to-month)

Excellent customer support

Very easy-to-use platform
Many customers of Patriot have reported excellent experiences with the platform, and particularly enjoy the superior customer support offered by Patriot. The other highlight is the very affordable price point, as the software costs much less than many competitors. 
See the full review of Patriot Software here.
---
Xero
Xero is different from most bookkeeping options as it's one of the best accounting software solutions for larger businesses. It has the most integrations of any choice on this list as it can link with over 700+ apps. Also, users can take advantage of the over 55 reports that can be found within Xero. These reports deal with inventory management, AR management, and cash flow. Xero also has a robust social media presence which includes a podcast with over 700 episodes. This is quite useful as Xero has a higher learning curve than the other options. Businesses that are active internationally can also take advantage of the multicurrency feature available with the higher-end plans, like the Business Edition, which allows invoicing and payment receipt in over 160 world currencies.
See the full review of Xero here.
---
ZipBooks

Zipbooks has fundamental features like income statements, AR management, and bank reconciliation. Its main differentiators include the ability to color-code sections and the business score. Color coding is especially helpful for type A owners and will ensure processes are organized. The business score is found on the main dashboard and is a score out of 100. This score accounts for unpaid invoices, receivables, income, expenses and gives the business a nice high-level view of its finances.
See the full review of ZipBooks here.
---
Sage 50cloud
Sage has been around since the 1980s and is one of the more established companies in the accounting software industry. It has detailed graphs, invoicing systems, and a cash flow manager. The cash flow manager is a huge differentiator as it allows companies to run many "what if" scenarios. These scenarios can help firms project cash flow in a variety of cases. This is a good platform, but users have complained about high prices and outdated UI. In fact, some users have compared its dashboard to the antiquated Nintendo 64 gaming system. Due to its robust systems, Sage has the highest prices which go as high as approximately $1,800 per year. Also, each option has a year-long contract, which locks in users and is tough to cancel.
See the full review of Sage 50cloud here.
---
OneUp

OneUp is best for product-based businesses and smaller firms. Small business owners have really benefited from its state of the art inventory reports. These reports not only allow businesses to keep track of inventory but have alerts to prevent running out of stock. Having a healthy inventory is crucial for product-based businesses and will prevent lost sales along with impatient customers. Like Zoho, it offers users the option to use a comprehensive CRM system. This CRM system keeps track of leads, customers, and opportunities. It also has tasks that remind small business owners of important items to complete per day, week, or month.
See the full review of OneUp here.
---
Zoho Books

It was a tough decision to make, but the Zoho books option was selected as the best all-around small business software. While it's not as well known as other options, it offers many features at an affordable rate. It has 3 main plans, with the most expensive option costing just $29/mo. This is more affordable than other options like SageCloud and Account Edge Pro. While Zoho could be better for smaller firms, it does include project management software, detailed inventory reports, and comprehensive CRM. It's CRM is similar to Salesforce as it has tasks, which can help business owners organize their busy schedules. Also, this CRM integrates with its accounting software, which significantly enhances the workflows.
Zoho Books was also selected as the best all-around software due to its stellar customer service and usability. Other similar platforms have customer service options, but Zoho has speedy and knowledgeable representatives that are available via phone, email, or contact form. These professionals are very well versed in this platform and emphasize prompt efficient service. Zoho is also user-friendly as it doesn't have a steep learning curve. In fact, it has Zoho University, which has many video tutorials and organized sections to help users master the program.
See the full review of Zoho here.
---
AccountEdge Pro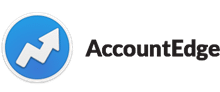 AccountEdge Pro is one of the best software options for large businesses as it has many comprehensive financial reports, detailed inventory tracking reports, automated cards, and payroll. Payroll is one of the main features that differentiate small business software vs, mid-large firm software. Account Edge Pro has payroll features that help businesses manage employee withholding, pay FICA tax among other options.
This platform is also great for large businesses that are product based like retail or e-commerce firms due to its customizable inventory reports. These reports allow users to track inventory, warranty, and manage sales tax. In fact, sales tax can be a complex topic for multistate businesses, with Account Edge Pro allowing users to easily keep track of sales tax per product and location. Its automated cards send out messages for birthdays, thank you occasions, and apology letters. These integrate with its proprietary CRM and help business owners improve customer relationships.
See the full review of AccountEdge Pro here.
---
Wave

Wave software is an industry newcomer and is a trendsetter as it offers high quality, free accounting software. Their state-of-the-art double-entry accounting software allows users to manage income and expenses, send unlimited invoices, have unlimited users, and manage receipts. Users can upload business expense receipts in the software and can sort them based on business expenses. These features are very helpful as any business would use these. More importantly, it doesn't charge additional fees for more invoices nor user access, which makes it a better choice than an accounting application that charges for these add-on services.
Wave isn't entirely free as it charges a 1% ACH fee and a 3% credit card payment processing fee. Both these fees are competitive in the industry but can add up over time. It also charges users that want to have payroll. Luckily, this option is very affordable and can be either $20 or $35 per month depending on the state. Keep in mind that It does charge an additional $4/mo. per employee or contractor. The reason it charges higher amounts for some states like Florida is that it automatically files payroll taxes in that area. The cheaper rate accounts for 44 states and it requires users to manually file and pay payroll taxes.
Wave has sufficient, but not award-winning customer service via email and phone (only for paying customers). However, it's Wave + accounting system really differentiates itself as it offers users the opportunity to consult with vetted CPAs and bookkeepers. It understands that these topics can be complex and has options for those that want personal coaching.
See the full review of Wave here.
---
Two common mistakes to avoid with accounting/tax software
1. Not checking important info like rolling over old information
Quality Tax software has changed the game by making processes quicker, less expensive, and more integrated. However, mistakes can happen from time to time, which includes bugs. Unfortunately, business owners have reported dealing with bugs when using software like Quickbooks. This can add inefficiency and increase errors, especially when customer service doesn't keep people informed.
It's also wise to check fundamental information like prior year AGI, tax payments, taxable income, and carryovers as these roll over from year to year. These can significantly alter tax liabilities or refunds. Therefore, it could be a prudent idea to consult with a CPA to ensure that the carryovers and other related information are correct. This can also prevent audits, as large carryovers can trigger IRS audits. Lastly, it's wise to ensure that each platform has good customer support to assist with these tasks.
2. Not considering using software that can accommodate multiple businesses
Many small business owners have multiple small businesses, which require several Schedule C forms. One Schedule C can be tough enough on its own, which is why it's imperative to utilize software that has options for multiple businesses. This can save money, time, and enhance processes. Many business owners especially novices, make the mistake of using too many platforms which adds unnecessary confusion by toggling back and forth between each one. This crucial mistake wastes time that could have been spent on more important purposes.
In addition, having multiple software platforms can be expensive as monthly fees add up. Some rookie business owners think that the next software or product will help make their business great and develop shiny object syndrome. This syndrome refers to people that are easily distracted and want to try the next new "it" thing without making any progress on anything. They have to realize that they need sufficient revenue to support their tools and staff, or else they will run out of business.
Cloud vs On-Premise software
Many companies in a variety of industries recognize the power of the cloud. The cloud makes sensitive data more secure and allows the users to access it anywhere with an internet connection. Many cloud-based software platforms have iPhone and Android apps and most bookkeeping platforms have these options as well. Most financial data needs to be protected and the cloud has higher security standards than On-Premise alternatives. For instance, FreshBooks has  256-bit SSL encryption as well as Cisco-powered firewalls to enhance security. It has also partnered with security cloud company RackSpace to stores its servers.
Cloud base software also helps small businesses better organize their data. For instance, it's much easier to find old invoices on the cloud than a non-cloud alternative. The cloud also prevents data from being destroyed, lost or stolen. Therefore, it's wise to ask any prospective vendor if they offer cloud-based options.
Bottom line
Luckily, technology has positively impacted many industries, especially accounting and bookkeeping. Quality software platforms have helped small businesses and accounting professionals save time, reduce expenses, grow businesses, and reduce errors. This is excellent considering that many daily business financial tasks were done by hand in old school ledgers. Other old school methods like stuffing business receipts in shoeboxes made it harder to substantiate expenses and stay organized throughout the year. Fortunately, many quality platforms like Quickbooks allow users to take pictures of receipts and properly organize them.
Regardless of business size, every small business owner should use quality bookkeeping software to keep track of his or her business finances. This will make their lives easier and more efficient. There are many factors to consider prior to purchasing a product and this post also reviewed the top 10 best accounting software options.