What is a POS System?
Generally, POS systems combine two or more of the following elements:
A cash register
A kiosk
A monitor or screen, usually touchscreen
A cash drawer
A payment processor
A receipt printer
A barcode scanner
A credit card reader
POS software
Point-of-sale systems – or POS systems – let businesses:
Close sales and take payment
Take payment
Track inventory
Connect sales from brick-and-mortar stores and online sales
Employee management
Here's our ultimate guide to selecting a POS (point-of-sale) system, complete with the right questions to ask, and summaries of the top POS system providers for different kinds of business.
What to look for in a POS system
Choosing the right POS system can be tough with so many features to consider. To make it easier, businesses can check each of the competing POS systems against the features that matter most to them.
Different companies may have different needs, so it's important for decision-makers to know which of these they care most about when evaluating the options:
User-friendliness – easier systems are faster to learn and increase efficiency
Cloud-based or local data storage – to reduce the risk of losing important information
Remote management – To be able to monitor situations and take action remotely
Reporting and analytics – to understand the needs of the business
Secure payment – to protect customer data and prevent fraud
Cost and price structure – to save money and ensure affordability
Customer support – just in case anything goes wrong
Marketing and customer loyalty programs – to boost sales
Aesthetics – to impress customers and make a good impression
Industry-specific functionality – some industries have specific needs from a POS
Which POS should new small businesses choose?
Both Square and ShopKeep offer a route for small businesses to get started accepting card payments without paying upfront.
The Square Reader is entirely free, which is a considerable advantage. However, higher payment processing fees may start to look unreasonable over the longer term.
While ShopKeep let businesses choose their own payment processors without locking them into an expensive fee structure, their hardware doesn't have a free option and is less attractive.
Since the majority of differences are cosmetic and the most substantial difference is in fee structure, we're coming down on the side of ShopKeep. which has the potential to save small businesses hundreds or thousands of dollars a year in transaction fees compared to Square.
What questions should business owners ask about POS systems before buying?
Is the POS system user-friendly?
While most POS systems today come with a broad range of advanced features, this can make them more complicated to use. A simple POS system with well thought-out software and intuitive hardware can cut down on time-sucks, like staff training, inventory checks, and data analysis.
Successful shops, restaurants, bars, and clubs are busy places that put a premium on time. If staff are busy fiddling with equipment when they could be making money and serving customers, that's money down the drain.
Small businesses, especially busy ones like high-footfall quick-service eateries like coffee shops, should consider how good a POS system is able to streamline day-to-day tasks, not just the amount of features.
Is the POS system cloud-based?
A cloud-based POS system has several advantages over a traditional POS system. These include:
Data backup
Free software upgrades
Better online security
Remote access
These features essentially protect the value of a business's investment by preventing software from becoming obsolete, protecting against evolving security threats, and ensuring against the physical loss of a single terminal by keeping important data in the cloud.
Most cloud-based POS software allows offline access, in case the internet connection drops out.
What remote management features does the POS system have?
Virtually all POS systems now feature remote management among at least one of their offerings.
There are several advantages to businesses of having remote access to the POS system and its management tools:
Run reports away from the physical terminal
Get answers about data when needed, even when away from the business location
Access back-of-house operations like payroll and staff schedules remotely
Stay informed about the health of the business, even while on vacation
Take action remotely to prevent or solve problems
The remote management features of many POS systems allow businesses to:
Check sales figures and run reports
Track inventory (some allow businesses to order inventory, too)
View their customer database
Review staff performance
Set up marketing campaigns and promotions and watch them in real-time (either through the POS software itself or third-party integrations)
Some businesses will care more about some of these features than others. A company with existing marketing software or that doesn't need marketing might not be interested in that feature. However, they might be interested in extra inventory tracking features.
Does the POS have reporting and analytics tools, and how detailed are they?
Not being able to rely on detailed reports and analysis is a huge disadvantage in a world where most businesses increasingly make use of data to improve their offerings to customers and fine-tune their operations.
Any modern POS system should offer the following reporting and analytics tools:
Sales data tracking by department, product, or menu item over different time periods
Easy-to-understand graphical representations like pie and bar charts, not just spreadsheets
Analysis of staffing levels versus revenue
Individual staff performance metrics
A dashboard to easily see the current health of the business at a glance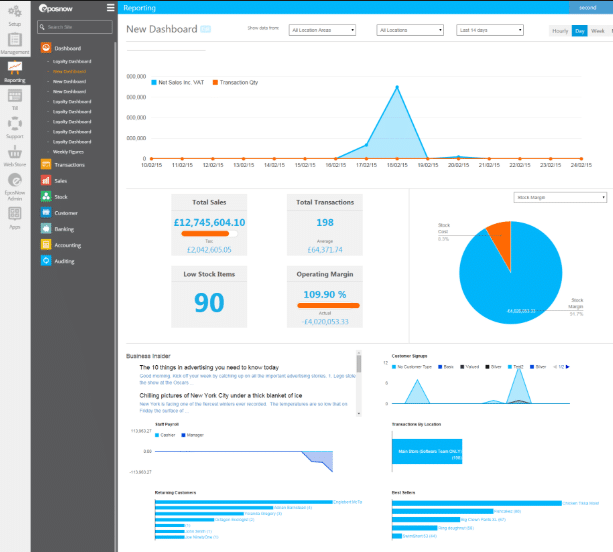 How secure are the payments?
The vast majority of payment processors take data protection extremely seriously, as do POS system providers.
While security shouldn't be an issue, businesses should check the following to help protect their customers and their business from fraud, theft, and data breaches:
If the POS system reflects the latest industry standards and government regulations, like PCI DSS compliance or EMV
If the system allows for different permission levels to access different features like the customer directory, for example
How often the POS provider updates their software to protect against the latest cyber-security threats
What the provider's policy is in the event of a serious data breach of their cloud system
What is the cost and price structure of this POS system?
POS systems are far less expensive than they used to be, usually entailing an affordable monthly payment or slightly elevated processing fees.
We estimate that businesses should only spend 2-3% of their annual revenue on their first POS system. That means that a business with annual revenues of $70,000 should pay between $1,400 and $2,100.
When calculating the cost of a POS system, remember to include the following types of payment:
Software licenses
Extra fees for added registers or users on top of plan coverage
Payment processing fees
Interest on payment plans
The cost of hardware
Not all POS system providers require businesses to incur all of these types of cost.
For example, if a business uses the Square Reader the hardware itself is free, but the payment processing fees are higher than normal. The idea cost structure will depend on the needs of a given business.
A small student-run business selling tacos at farmers markets may want to have low up-front costs and might be willing to give up a slightly higher percentage of their sales in processing fees in exchange for free or cheap hardware.
On the other hand, an established business with relatively high cash flow could handle the cost of a full POS system out of pocket but might be reluctant to pay a higher processing fee because their high volume of transactions makes it more expensive over time.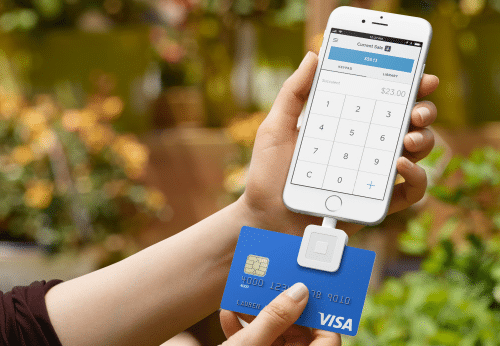 What customer support does this POS provider offer?
Some POS system providers offer 24/7 phone, email, or chat support. If there's a problem with the POS system, it's important to be able to it fixed quickly, as a non-functional POS can mean a business can't accept payment from customers, meaning lost revenue.
This is more important for some businesses than others. A small clothing boutique on the east coast will probably be okay with a POS provider whose customer service advisers are only available during extended business hours in that timezone.
However, a busy fine dining restaurant that opens on even on New Year's Eve, or a nightclub, will want 24/7 support available, including on public holidays.
How good is the customer support?
Being able to contact customer support is helpful, but not if they can't solve the problem. Be sure to check the reputation of the customer support offered by the POS provider – not just the claims they make on their website.
What marketing and customer loyalty programs come with this POS?
Most businesses depend on repeat custom for an increasing share of their sales, while the fight for new business grows ever more intense. Building a good customer relationship is vital.
Just because a business doesn't have a POS system with powerful marketing tools and customer loyalty enhancements, that doesn't mean their rivals don't.
Not every POS system comes with marketing or customer loyalty tools, and of those that do, many are third-party add-ons or integrations.
Good marketing and customer loyalty functions to look out for include:
Being able to send direct messages to customers with registered details
Being able to create and manage email or social marketing campaigns in the POS software
Exportable customer lists or directories that can be linked to outside marketing services like MailChimp
Creating and applying promotions instantly in the software, even remotely
Loyalty card programs, to incentivize repeat business and build buying habits
Gift cards Customer purchase history recording, for targeted promotions and offers
Customizable receipts
How good does the POS hardware look?
Visuals are more important to some businesses than others. However, it makes sense that if a retail store or restaurant has been meticulously designed at great expense, a POS system that looks clunky or out of place detracts from it, lessening the quality of the customer experience.
While a charity shop might be more focused on the cost of their POS hardware, a hip Brooklyn coffee shop might care a great deal about selecting the best looking iPad POS system available to impress their choosy clientele.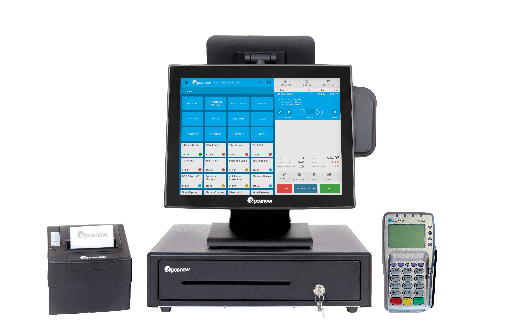 What extra features does this POS offer specific to my industry?
A generic POS system might be good, but if a business can find a POS system with features that are uniquely suited to its industry, that can be extremely valuable. Some providers specialize in a particular industry. Vend only offer systems for retail, while TouchBistro's POS is purely for hospitality. Both of these companies offer features specific to these sectors.
Other POS providers cover a range of industries but have developed specific products for each, with software that reflects the business needs of either restaurants or retailers. These companies include:
Epos Now
Lightspeed
Square
ShopKeep
An example of a feature specific to the restaurant industry is the ability to look at a floorplan of the venue and see the status of each table.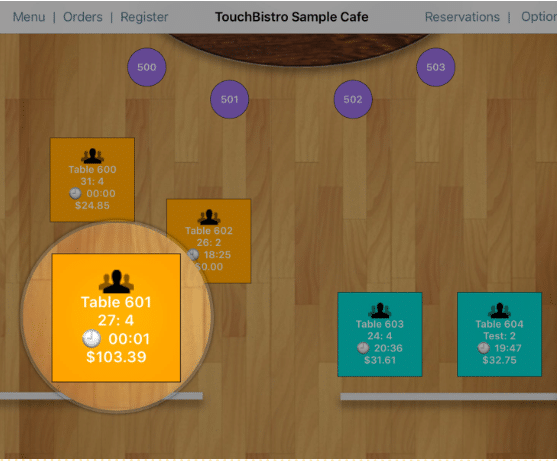 POS system FAQs
What is a payment processor?
A payment processor is a company that handles a card payment from a customer to a merchant in exchange for a fee – usually a percentage of the sale value. Examples include:
Visa
Discovery
American Express
Mastercard
Some payment processors charge different rates. American Express, for example, is often considered slightly more expensive than other options, so not all stores accept it because they don't want to pay the higher fee.
What kinds of businesses need POS systems?
POS systems are common at businesses that deal with customers and take money from them directly. For example, while an eCommerce online store like Amazon that takes payment on the wev won't need a POS system, a physical shop where customers hand over cash or pay with cards will.
Most POS system providers either specialize in either retail or hospitality or have specialist POS software for each.
Examples of businesses that use POS systems include:
Grocery stores
Opticians
Hair salons
DIY and hardware stores
Sports shops
Gyms
Bars / Nightclubs
Cafés
Hotels
Clothing stores
Daycare centers
Pet stores
Food trucks
Fast food restaurants
Electronics stores
How much do POS systems cost?
The price varies depending on the hardware and software you need. The overall cost of a POS system – including monthly service payments – might range from $300 to $2,000.
Businesses can estimate the annual cost of transaction processing fees by checking the transaction percentage charge of their payment processor and applying it to their projected annual revenue from card payments.
For example, a business paying 2.5% in card payment processing charges that gets $100,000 per year from card payments will pay $2,500 each year to their payment processor.
---
Best POS systems for new companies 
Point-of-sale systems used to be very expensive, and startups often found the prices for a POS system too costly. It wasn't unusual for a restaurant or retailer to have to pay into the five-figures, simply to be able to take card payments from customers.
Towards the end of the 2000s, companies began to emerge aiming to reduce the cost and inconvenience of POS systems, making it easier for new and small businesses to accept payments from customers without cash.
Two of the leading companies in this area still competing are Square and ShopKeep. Here's why Square and ShopKeep make sense for new businesses looking for POS systems, and their strengths and weaknesses.
---
Why is Square Point of Sale good for startups?

One of the reasons POS systems used to be so expensive was because of the costly bureaucracy that went into accepting card payments.
Square sidestepped this issue by becoming a go-between for businesses and payment processing companies, pocketing the difference between the standard payment processing fee and their own transaction costs paid by their customers.
Combined with offering quality hardware either for free – the original Square Reader – or through affordable monthly payment plans, Square has dramatically reduced the up-front cost required for businesses to take card payments.
Here's why Square is still an attractive option for new businesses looking for a POS system.
What features does Square Point of Sale offer?
Square is regarded as an affordable, yet premium provider. Their software is user-friendly, despite offering a comprehensive set of features.
Square's software features:
A customizable smartphone app with a well-designed dashboard
Compatibility with a range of common hardware, like iPads
Scaleable plans for multiple registers and outlets
Simple and effective data gathering and analysis
Detailed inventory management system
An innovative photograph feature that lets businesses make their checkout process more intuitive for staff
Built-in tipping
Electronic signatures
Employee profiles with time tracking and performance metrics
Standard security features
In-app customer management
Secure storage of customer profiles and payment details
Instant feedback
Square is known as an innovator in the industry, although many of these features are now common.
Square's unique selling points are:
The clean integration of their systems, like the Square Register
The appealing design of their hardware
Their creative use of photos to visually customize the checkout
The free Square Reader and accessible price structure
Addons like the Square Reader for contactless payment platforms like Apple Pay and Google Pay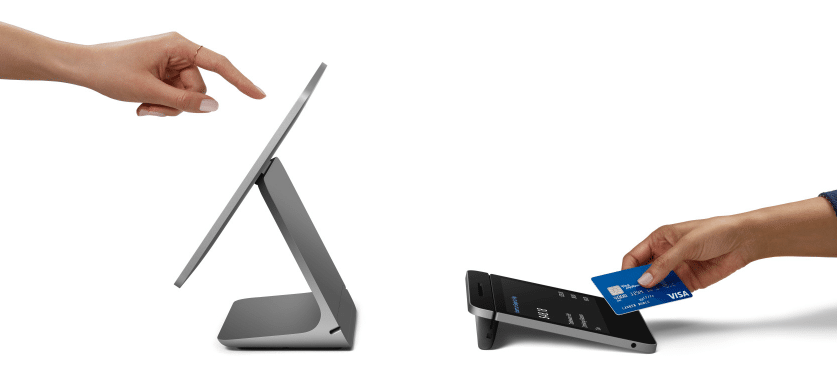 How much does Square Point of Sale cost?
POS solution prices change depending on the hardware and business type. The differences are small but worth being aware of.
Businesses usually pay the following rates:
Square Reader or Square Stand – 2.75% (charge $100, receive $97.25)
Square Terminal – 2.6% + 10¢ (charge $100, receive $97.30)
Square Register – 2.5% + 10¢ (charge $100, receive $97.40)
For businesses using Square for Restaurants with the Square Stand or Square Reader, the fees are 2.6% + 10¢ (charge $100, receive $97.30)
Retail businesses with Square for Retail using the Square Stand or Square Reader pay 2.5% + 10¢ (charge $100, receive $97.40).
What are the pros and cons of Square Point of Sale?
Square POS makes accepting card payments very accessible. Anyone with a business can request a Square Reader with no obligation and begin using it virtually immediately with no upfront cost.
This makes it great for small businesses or sole traders who want to get started on a shoestring and can't afford expensive hardware or monthly fees. However, larger businesses may want to avoid the high transaction fees without the option to switch to another payment processor.
Square may still offer the most attractive hardware on the market, yet the flexibility to use non- Square proprietary devices like iPad and Android tablets is a huge plus. The lower end of their hardware range keeps things mobile and makes it easy to interact with customers.
See the full review of Square POS here.
---
Why is ShopKeep a good POS system for new businesses?

Like Square, ShopKeep is also easy to get started with. ShopKeep also specializes in solutions for mobile devices and have built their offering around a simple and intuitive iPad-based system.
ShopKeep's pricing structure, like Square's, also means small businesses and sole traders can get started without any real upfront cost if they choose to, although some of their paid features require the paid plan.
What features does ShopKeep offer?
While many providers let businesses use Apple devices, few have special solutions for the iPad mini, but ShopKeep does. This is an advantage for businesses who like their employees to be mobile rather than stuck behind the counter.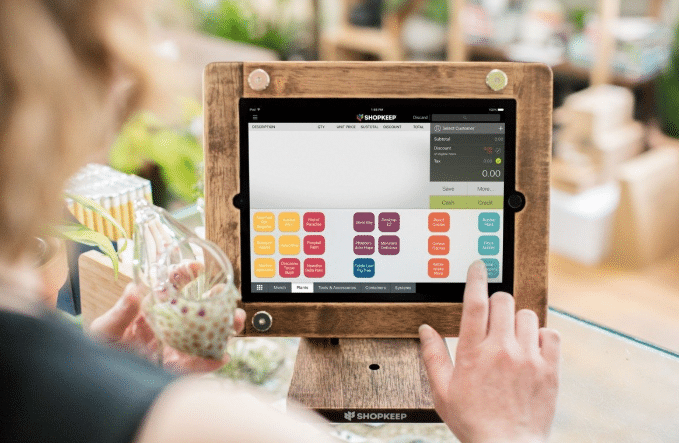 ShopKeep's POS systems are better looking than some of their competitor's. The iPad enclosures (stands holds the iPads) come in several colors and look distinctive.
That said, ShopKeep's enclosures look relatively cheap compared to the high-end feel of Lightspeed and Square's space-age-looking hardware, with the logo on the large front being potentially off-putting. This is most obvious when comparing payment terminals.
On the software side, ShopKeep offers:
A simple interface and easy-to-use mobile POS app for remote order management
Strong reporting tools with the paid plan
Back Office (their online-access system)
Inventory management tools as good as anything else available, even with the free version
Customer loyalty programs and marketing (through third-party integrations)
Staff management and performance tools (for paying clients)
How much does ShopKeep cost?
ShopKeep works out to be more affordable than Square over the long-run. Although some of Square's hardware may be free (the Square Reader) most of it isn't. For example, ShopKeep's ethernet credit card reader is $329, while Square's costs $399.
At first, a full POS from ShopKeep seems fairly expensive:
ShopKeep – The Complete Quick Service Hardware Kit for iPad: $1,369
Epos Now – iPad POS System: currently ₤549, or just over $700.
However, ShopKeep's payment plans can make this costly hardware far more manageable, with monthly payments often below $50.
ShopKeep' free plan includes:
One outlet license
One user All Inventory management features
Customer relationship management tools
E-commerce and accounting integrations
Marketing features with third-party integrations
Some analytics tools Up to $5,000 per month in transactions
Having a free plan may seem generous, and it is helpful for individual entrepreneurs. However, a successful small business will soon run up against the $5,000 per month limit and need to upgrade to the paid plan.
ShopKeep asks to contact them for a quote for the paid plan, but ShopKeep's fees usually range between $60 and $80/mo, depending on the needs of the individual business.
What are the pros and cons of ShopKeep?
As a point of comparison, while business owners can color-code buttons for different products on the till-interface with ShopKeep, they can't replace buttons with full-color photographs as in Square. Though a disadvantage, it's unlikely to be a deal-breaker.
See the full review of ShopKeep here.
---
Best POS for Bars and Restaurants
When selecting a system for a hospitality business, it's important to consider the specific requirements of the industry, such as floor plan and table management, or the management of perishable stock.
Our top three POS providers for hospitality businesses like bars and restaurants are Square for Restaurants, Epos Now, and TouchBistro.
---
Square for Restaurants
Square for Restaurants is an all-in-one technology solution for restaurants. It offers a POS and ordering system, along with many more useful features to help front of house staff, kitchen staff, and management stay on the same page. From tiny bistros to chain restaurants, Square for Restaurants is an excellent choice for any food service business. 
Main features of Square for Restaurants include:
POS systems (choice of hardware)

Advanced POS software

Order Management

Square Online website with online ordering

Integration from third party apps (food delivery apps, accounting apps and more)

Optional Kitchen Display System for in-kitchen ticket management

Team management features, like time tracking and payroll (optional)

Integration with dozens of other services from Square

Floor plan and table management

Much more
The basic feature set of Square for Restaurants is impressive in itself, covering just about everything that restaurants need to run efficiency. Plus, the technology integrates with other services from Square. Many restaurants use Square for their POS systems, but also for payroll management, employee benefit management, and even small business loans. 
Square for Restaurants also offers these unique features:
Automatic item counts for inventory management

Detailed table management with timers

Menu management with customizable layouts

Advanced discounts to manage happy hours and special sales

Live sales forecasts to make staffing decisions in the moment 

Square KDS system replaces paper tickets with advanced digital tickets

Reopen closed checks to fix issues, comp items, etc. 

Much more 
See the full review of Square for Restaurants here.
---
Epos Now

Epos Now is a generalist provider, with separate software and hardware offerings for both the hospitality industry and retail. Despite this, they have a very strong restaurant POS with features that might be expected of a specialist provider.
Epos Now's general features include:
Reporting
Back Office (their online-access system)
Security
Inventory
Customer loyalty
Staff management and performance
While these features are standard to most modern POS providers, the execution in each of these areas is impressive. However, it's their hospitality-specific functions that make Epos Now a good option to service restaurants, bars, and coffees shops.
These include:
Inventory management tools specific to hospitality, like wastage monitoring.
A robust booking service that anyone with the right permissions can access, even remotely through an app or web browser
Installation, configuring, and training
Identification of top-selling food and drink and automatic notification about stock levels
Automatic raising of purchase orders
Management of inter-location stock transfers
Management of weights and measurements of menu and stock items
Loyalty cards
These extra features make Epos Now a compelling option for restaurant and other foodservice industry owners and managers to consider.
See the full review of Epos Now here.
---
TouchBistro

TouchBistro is a hospitality-specific provider that has developed its POS platform specifically for this sector. Unlike Vend in retail, this appears to have made a significant difference to TouchBistro's offering.
The overall scope of TouchBistro's features includes:
Tableside ordering
Payment processing solutions
Mobile payment processing
Floor plan and table management
Customer relationship management (CRM)
Staff management
Reporting and analytics
Menu management
Inventory management
Third-party e-commerce integration
Support
Some of these features are fairly standard but others, like the floor plan and table management, are hard to find.
These features add to the efficiency of a restaurant, speeding up common processes like taking bookings, assigning tables, and paying staff.
TouchBistro also offers these additional features that set it apart from the competition:
Push-button item adding to let servers route orders to the kitchen immediately, or by course.
Pop-ups featuring menu items that data suggests customers might want based on their existing order or available promotions, which helps staff to upsell.
A splitting tool that cuts time spent dividing the check.
All of these features are benefits that most POS systems today don't offer restaurants, but TouchBistro does.
See the full review of TouchBistro here.
---
Best Retail POS Systems
In this category, there are three main competitors: Square for Retail, Vend, and Lightspeed.
---
Square for Retail
Square for Retail is specifically designed for retail shops. It offers powerful features, like inventory management, detailed analytics, and the ability to accept card and mobile wallet payments. Its basic plan is free (no monthly fee), and simply charges a percentage of each transaction to process credit card payments. 
Square for Retail is a subscription plan (though the basic version is free), and can be used with a variety of Square POS systems. You can purchase a range of POS systems directly from Square, or from select local retailers. 
Square for Retail offers a number of key features:
Payment Processing via chip, swipe, and contactless (+ mobile wallets)

Integration with online sales

Inventory management

Advanced analytics

Choice of various hardware – from free to $799 to purchase

Tools for multi-location businesses

Payment processing from 2.5% + $0.10 per transaction

Gift cards

Customer management tools

Custom loyalty programs
Square for Retail is a good choice for any retail operation. It's easy to operate, with an intuitive user interface, and it offers powerful tools to run and grow your business. It also integrates with all other Square services, from payroll to marketing. 
See the full review of Square for Retail here.
---
Lightspeed

While Lightspeed isn't specialists in retail, they offer comparatively strong features for retail that one might expect from a specialist company.
The Lightspeed retail package has the following features:
Detailed reports and analytics
Remote online management
Inventory tracking and management
Customer loyalty program creation and management
Staff management and performance evaluation
E-commerce support
Accounting integrations
Extensive customer support
However, Lightspeed offers better inventory management features that are worth the higher price tag.
Lightspeed's inventory management features include:
Tracking and processing work orders
Creating product variants and SKUs
Identifying individual items with unique serial numbers
Bundling items to create packages
Creating special orders
Tracking inventory levels and SKUs, even across different locations
Easy online ordering
Fulfilling special orders
Creating customized order plans to prevent running out of top-selling products
Order consolidation
Bulk price changing
Automatic discount and promotion creation
Creation of price rules
Tracking of key statistics about products, like margins and average order size
See the full review of Lightspeed here.
---
Vend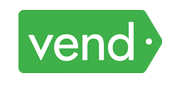 Vend specializes in retail and doesn't have an offering specifically tailored towards restaurants or other businesses in the hospitality industry. In fact, they have most of the conventional features one would come to expect.
Vend offers a range of features:
POS software
Secure cloud backup
Credit card processing
Reporting
Accounting integrations
Support for integration with the leading eCommerce platform Shopify
Quickbooks accounting software integration
Paypal integration
Customer information management and loyalty programs
Staff management and performance
Vend's software is visually appealing and has been maintained exceptionally well in comparison to others in the industry, particularly within their slice of the market.
See the full review of Vend here.