What is ShopKeep?
ShopKeep is a popular POS provider from New York used by over 23,000 businesses to accept payment from their customers. Our roundup of the top small business POS systems can be found here.
ShopKeep provides POS systems for:
Quick-service businesses

Retailers.
What are ShopKeep's features?
ShopKeep provides both hardware and POS software. We'll take a look at each of these now.
What is ShopKeep's hardware like?
ShopKeep's leading POS system is iPad-based – not uncommon – but they also provide the same functionality for the iPad mini, including a special 'enclosure' to make it look professional, which we haven't seen elsewhere.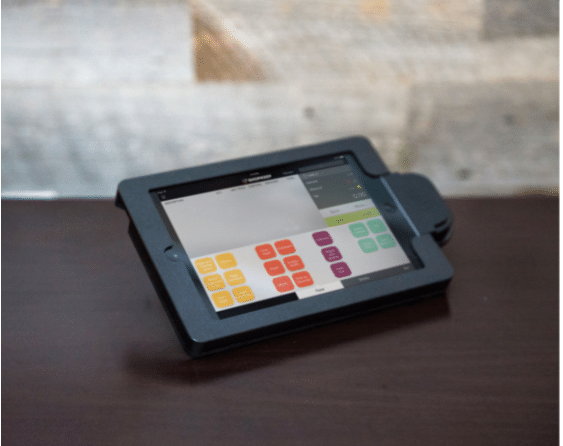 It's useful if you want to take payments on the move, out from behind the counter and interact more with your customers.
Compared to the majority of POS providers like Epos Now, ShopKeep makes their POS systems attractive. The iPad based system looks good, and the enclosures (the stands that hold the iPad) come in a range of colors suitable for different environments.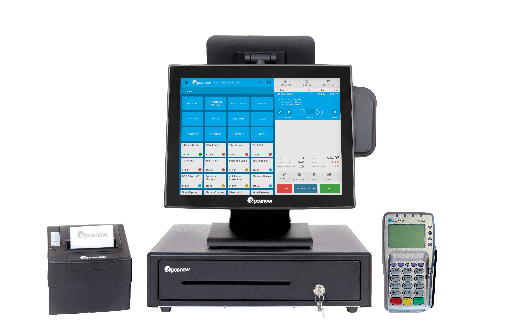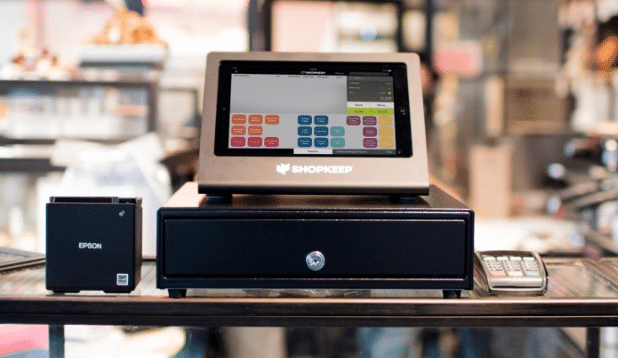 However, compared to the hardware on offer from Square and Lightspeed, ShopKeep's enclosures arguably look cheaper in quality. The ShopKeep payment terminal – where customers enter their PIN – also looks comparatively ordinary.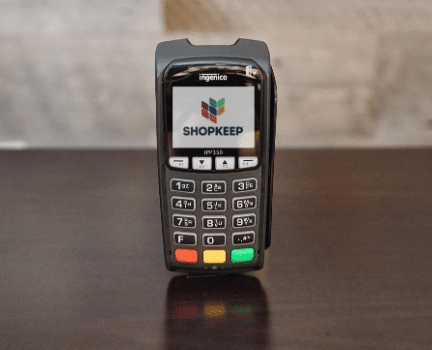 What features does ShopKeep's POS software have?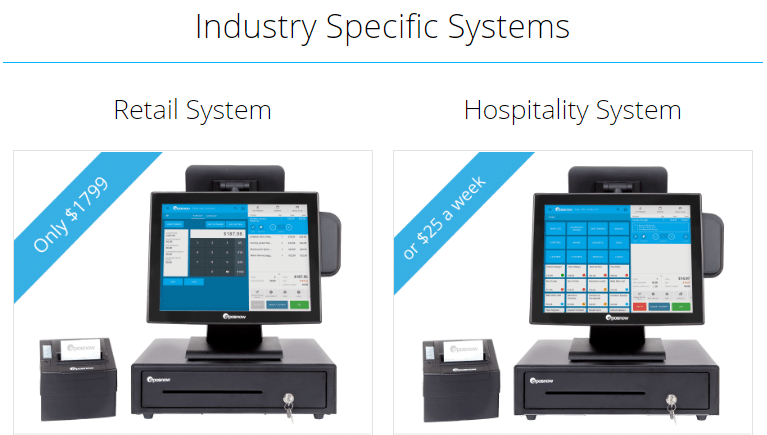 ShopKeep's POS software offers:
An easy-to-use interface

Reporting

Back Office (their online-access system)

Inventory

Customer loyalty and marketing (but only through third-party integrations)

Staff management and performance (for paid plans)

Remote management
It's unusual to only offer customer loyalty and marketing tools through third parties – Square Point of Service offer them directly. However, there's nothing to stop businesses from using these integrations, and the software is attractive and easy to use.
ShopKeep POS software has color-coded buttons, but no photo-buttons. Having photos of products in selection buttons makes staff training and checkout faster, a possible disadvantage compared to Square, though not serious.
How does ShopKeep support inventory management?
ShopKeep offers inventory management tools, even in the free plan. This makes it easier for businesses track of their inventory and spot possible shortfalls.
ShopKeep's inventory management features include:
Inventory tracking and reordering

Receiving and adjustment of inventory

Bulk management, to save time

Create item variants

Inventory sales reporting

Open priced items

Weighted average costs

Modifiers (to allow customers to customize their order)

Unit priced items

Raw goods (to track basic components of products)
ShopKeep was the only POS system we reviewed allowing open pricing of items. This may be attractive to businesses with artisanal and unique products, where prices are flexible and each item may be unique (artists, for example).
How much does ShopKeep cost?
ShopKeep offers a different price structure to Square, despite going after the same market. We'll look at how they differ on hardware, then software pricing.
Is ShopKeep's POS hardware expensive?
ShopKeep's POS hardware is slightly more affordable than their main rival, Square's. For example, ShopKeep's ethernet credit card reader costs $329, compared to Square's $399.
A full POS from ShopKeep is fairly expensive. The Complete Quick Service Hardware Kit for iPad costs $1,369. Epos Now's similar iPad POS system currently costs ₤549, or just over $700.
ShopKeep has payment plans available, making the cost easier for new or cash-strapped businesses.
How expensive is ShopKeep's POS software?
ShopKeep has free and paid plans. The free plan includes:
A single outlet license

A single user

Inventory management features

Customer management

E-commerce and accounting integrations

Marketing features via third-party integrations

Limited analytics

Up to $5,000 per month in transactions
This free POS plan may be attractive to one-person businesses just starting out.
Compared to Square – who charge higher processing fees – this free version looks good, as businesses can start without an upfront cost and only standard processing fees from their regular payment processors.
ShopKeep also offers a paid plan. For pricing, contact ShopKeep for a quote. However, ShopKeep's fees average between $60 and $80/mo, depending on need.
ShopKeep's paid plan features:
The features of the free plan, plus

No monthly transaction limit

Full access to analytics and reporting features

Staff tracking and permissions for multiple users

Access to more outlets and registers
These fees are competitive. Lightspeed charges $69-$99 (restaurant versus retail) for a comparable, premium POS service.
It's also ultimately likely to be cheaper than Square – though individual outcomes vary – because of Square's high transaction processing fees (2.5% + 10¢ and up). By the time a business is making sizeable revenue with Square, they'll also be paying a lot in transaction fees.
How is ShopKeep's customer support?
ShopKeep's customer support team is easy to reach by email or phone. However, unlike Vend and TouchBistro, they are only available 8 am to 9 pm Monday to Friday EST, and 8 am to 8 pm Saturday and Sunday.
It's unclear how public holidays affect these hours, but ShopKeep doesn't make guarantees about being open 365 days a year 24/7 in the same way as TouchBistro.
This may make hospitality companies – who may need urgent support during major events late at night or on public holidays – hesitant about ShopKeep.
Is ShopKeep value for money?
Considering the payment plans available and the low transaction fees compared to Square, ShopKeep looks like very good value for money.
The addition of the free plan suitable for sole traders – who won't be locked into using a single payment processor, unlike with Square – makes ShopKeep a great option for individual merchants or startups.
While the non-24-hour customer support may worry hospitality businesses who can consider TouchBistro as an alternative, the features available are good for that industry, if a little generic.
Overall, ShopKeep is a solid system for retailers looking for an attractive POS with the standard range of functions competing on price. We recommend it for sole traders and new startups who don't want to pay a heavy price in transaction fees once they're up-and-running.