What is TouchBistro?
Restaurants have special point-of-sale (POS) system needs different from most retailers. TouchBistro is a POS system provider for restaurants.
This review features TouchBistro. Click here to compare the different POS systems available.
TouchBistro is a Toronto-based POS service for restaurants. TouchBistro has multiple awards and appeared on Gordon Ramsey's 24hrs to Hell and Back.
Who is TouchBistro for?
TouchBistro offers POS systems for these types of businesses:
Cafés

Diners

Restaurants

Fine dining

Food trucks

Breweries

Bars

Clubs

Quick service
What are TouchBistro's features?
As a specialist POS system for restaurants, TouchBistro has the following features:
Tableside ordering

Payment processing solutions

Mobile payment processing

Floor plan and table management

Customer relationship management (CRM)

Staff management

Reporting and analytics

Menu management

Inventory management

Support
While some of these features are common among POS systems, others, like the floor plan and table management, are rarer and can only be found in specialist restaurant POS systems like TouchBistro.
These features add to the efficiency of a restaurant, speeding up common processes like taking bookings, assigning tables, and paying staff.
Does TouchBistro have tableside ordering?
Tableside ordering is a feature of POS systems meant for restaurants. TouchBistro's tableside ordering feature is well thought-through, with sub-features designed to:
Increase sales

Improve service

Help make informed decisions.
The push-button item adding lets servers send orders to the kitchen immediately, or by course.
Upselling can be improved with pop-ups featuring menu items data indicates customers are likely to want based on their order or available promotions.
TouchBistro's tableside ordering also features a splitting tool that cuts time spent dividing the check.
All of these features are benefits that most POS systems today don't offer restaurants.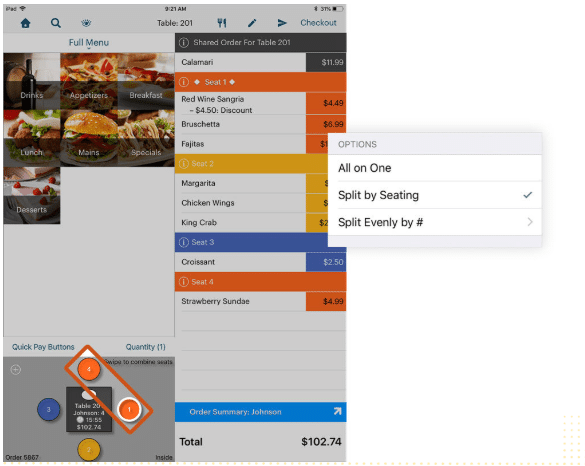 What payment processing options does TouchBistro support?
TouchBistro offers flexible payment processing options. TouchBistro lets business choose their own payment provider or use the TouchBistro Payments all-in-one solution.
TouchBistro provides pay-at-table options, increasing convenience for guests.
TouchBistro allows businesses to accept all card types, which is fairly standard.
Does TouchBistro offer mobile payment processing?
As well as allowing pay-at-table, TouchBistro enables wait staff to take a range of payments tableside, including:
Cash

Debit

Credit

Apple Pay

Android Pay

Other digital payments
While the range of payment processors compatible with TouchBistro is impressive, every POS system allows for cash, debit, and credit. However, support for other digital payment options like Apple Pay or Android Pay is rarer.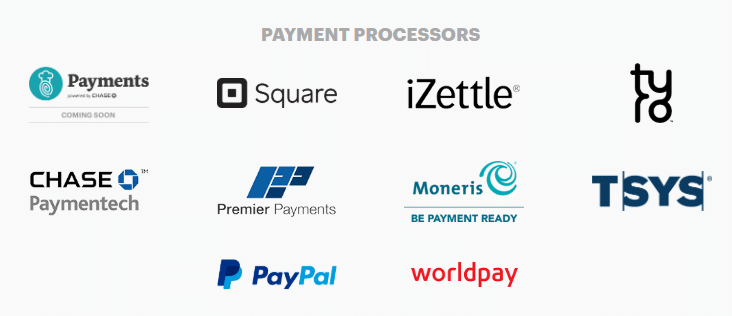 Does TouchBistro have floor plan and table management?
One advantage of a restaurant POS system like TouchBistro is the extra tools not featured in a retail POS like Vend, such as floor plan and table management. This feature helps restaurants:
Improve service

Streamline operations

Reduce errors
With this useful feature, businesses can:
Create a customized floor plan, even adding building features like walls

Monitor sections, and easily spot high-value tables

Manage parties, with easy table transfer and reservations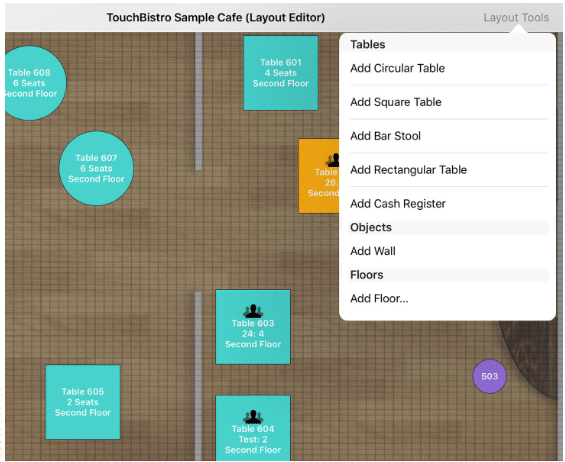 What can TouchBistro's customer relations management (CRM) do?
This feature helps to manage customer information, ensuring they receive a fantastic service. Restaurants can:
Easily create accounts, with a note system to keep track of things like customer preferences and allergies

Manage balances

Settle up through a customer account
Being able to do this through the POS software means businesses don't rely on handwritten notes and can easily find the information they need.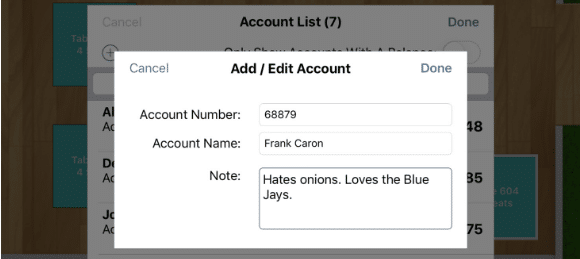 How does TouchBistro help staff management?
TouchBistro can track staff activity, like when they clock in, manage details like payroll, and make communication easy with in-app messaging.
TouchBistro also has a partnership with 7Shifts, meaning managers can use data to easily plan staff schedules. This partnership appears to be a unique advantage of TouchBistro.
What reporting and analytics does TouchBistro offer?
Restaurant managers are often busy. TouchBistro's reporting and analytics functions make getting valuable insights fast and easy.
TouchBistro offers a range of reports and information on areas like:
Staff performance

Popular menu items

Sales margins

Peek times

Time-based comparisons
These tools help businesses make evidence-led decisions to improve service and drive sales.
Users can access this information anywhere remotely with TouchBistro's smartphone app.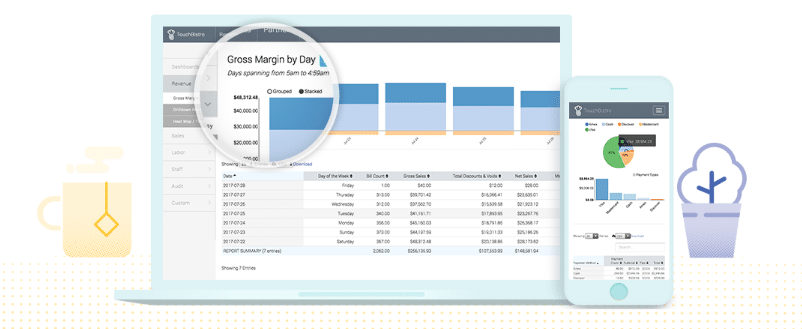 How does TouchBistro help menu management?
With TouchBistro's menu management tools, restaurants and other eateries can:
Add color pictures to help staff sell tableside

Use a touch interface to build in-app menus

Speed up staff training by automatically scheduling menus and promotions

Update the menu from any iPad, for quicker responses to emergencies like inventory alerts

Route orders directly to the kitchen

Manage table service with instant implementation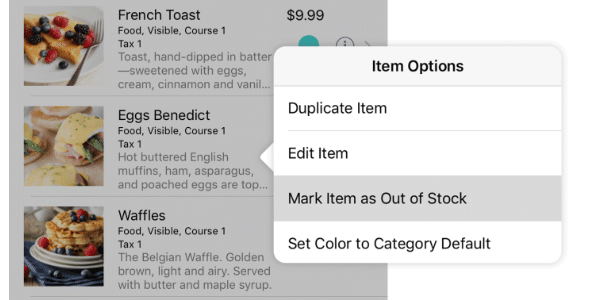 How does TouchBistro help with inventory management?
TouchBistro helps restaurateurs track inventory levels. Features include:
Tracking recipes against menu items

Using data to engineer the menu for higher margins based on factors like ingredient cost

Keeping staff updated with automatic alerts

Define and track individual ingredients

Create in-app recipes

Update multiple menu items with common features simultaneously
How much does TouchBistro cost?
TouchBistro has four different software plans and a separate set of hardware payment plans. All software plans are billed annually.
The four POS software plans are:
Solo

($69/mo) – For restaurants needing only one iPad POS
Dual ($129/mo) – Allows  for two terminals
Team ($249/mo) – Up to five terminals, good for mid-sized restaurants
Unlimited ($399/mo) – Unlimited licenses, ideal for growing businesses
Does TouchBistro need a retail terminal?
TouchBistro's software is designed for iPads, and businesses don't need a special terminal to use it. TouchBistro can provide POS hardware, like:
Impact printers

Thermal printers

Cash drawers

Barcode scanners

Various internet routers and cables

Computer hardware
Payment plans for a suite of TouchBistro-compatible hardware start at $44 per month.
How is TouchBistro's customer support?
TouchBistro has won multiple customer service awards. Support is available year round, even on public holidays like New Year's Eve.
Is TouchBistro value for money?
TouchBistro is an excellent specialist hospitality POS built for restaurateurs. Uniquely, TouchBistro offers specialist solutions for food trucks and breweries. The combination of features designed specifically not just for restaurants, but different kinds of restaurants, sets TouchBistro apart from the competition. The POS system is affordable and easily scalable. The features are tailored to the needs of busy restaurants and the analytics tools add a lot of value. However, TouchBistro won't be of interest to retailers.