What is Epos Now?
Epos Now is a point-of-sale system (POS) suitable for customer-facing small businesses of different industries.
We reviewed Epos Now as part of our search for the best POS systems for small businesses. Our roundup of the different choices can be found here.
Epos Now is a POS used by 30,000+ businesses, recommended by 98% of their customers.
They have a modular system, allowing custom combinations of features. For example, a business might already have a register but might want Epos Now's software because it's better than their current software.
This means its suitable for growing businesses, who can add different modules when needed.
What are Epos Now's features?
Epos Now offers specific systems for retail or hospitality. Shops, boutiques, hotels, bars, and restaurants all use Epos Now.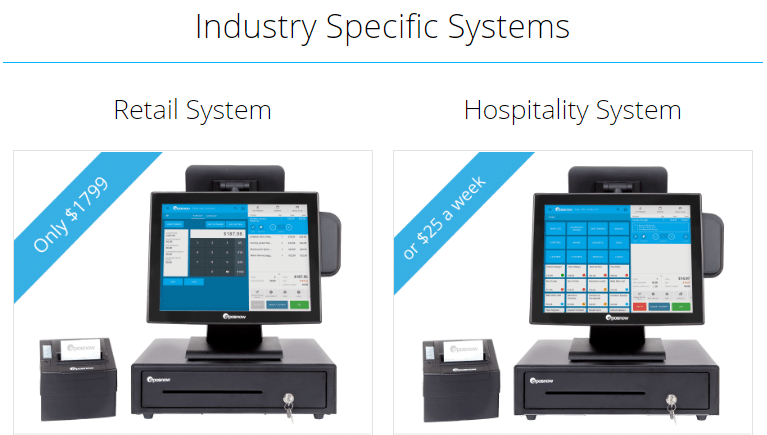 Epos Now's features fall into the following areas:
Reporting

Back Office (their online-access system)

Security

Inventory

Customer loyalty

Staff management and performance
While these features are standard to most modern POS providers, the execution in each of these areas is impressive.
Does Epos Now have a good reporting feature?
Epos Now gathers real-time data on:
Sales figures

Employee performance

Stock levels
The dashboard is customizable with stats each business cares about.
A bike retailer, for example, worried about inventory levels for a particular part can add a widget to track it.
Employers interested in improving employee performance can track sales figures their, too.
As a result, Epos Now is great for keeping track of KPIs.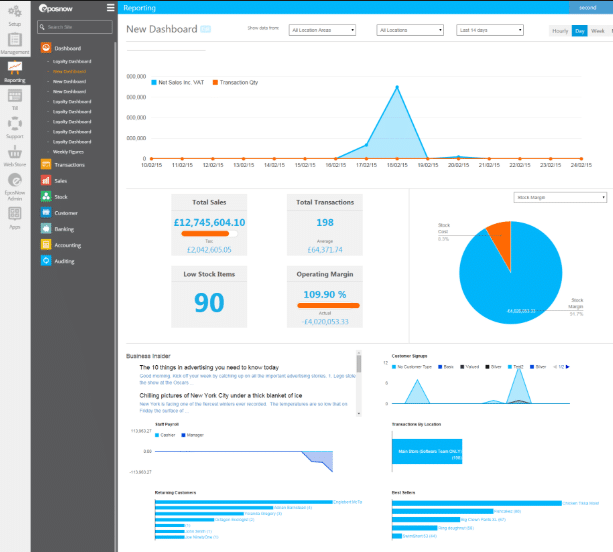 What is Epos Now's back office and is it useful?
Back Office is Epos Now's name for the back-end online management system that comes with their product.
Back Office allows users to:
Make live changes to the POS software configuration, like:

Adding or removing products remotely

Launch promotions from any desktop or mobile device
This can be useful in a range of situations.
For example, a retailer alerted to a defect can remove the affected line and notify their staff to stop selling it.

If a business owner wakes up on Veterans' Day and realizes they haven't introduced a special sale, they can quickly create one. Not many POS systems offer this.
Users can also access Epos Now's AppStore to get access to useful extra features and add-ons to help manage their business.
What are Epos Now's security features like?
Epos Now offers an unusual range of choices in security features. For example, to get access to the POS on the shop floor, staff can use:
A PIN number

Password

Swipe cards.
Passwords and pins are standard across the industry. However, no other POS system we reviewed offered the swipe card feature.
Epos Now lets businesses set different permission levels, so only trusted staff can do sensitive tasks like:
Void sales

Give refunds

Alter promotions

Provide discounts.
All this helps prevent fraud or mistakes, protecting revenue. However, this is a common feature among POS providers.
Does Epos Now manage inventory?
Not having enough stock means fewer sales. Like many POS systems, Epos Now keeps users updated with live stock levels.
A number of competitors like Square also have this feature and it's quickly becoming common.
Users can monitor:
Wastage (food industry)

Shrinkage or damage (fashion/retail)
Purchase orders are raised automatically to keep inventory fully supplied, which we didn't find in other POS systems.
Can Epos Now help customer loyalty?
Epos Now's POS software lets users quickly implement loyalty programs. Even without any extra modules, the standard retail POS can do the following:
Deliver invoices

Give customer credit

Collect email addresses

Get phone numbers
The loyalty module offers branded loyalty cards for customers to collect points, further encouraging repeat business.
While the customer loyalty programs are common offerings from POS providers, we only found one other offer loyalty cards (Vend).
Does Epos Now support staff management and performance tracking?
Epos Now lets workers clock-in and out directly through the POS software, automatically calculating hours and pay.
The Epos Now POS software also links sales figures to staff profiles, showing how staff are performing. Other detailed information includes which staff members do best selling particular products.
An upside of Epos Now is the ease of onboarding staff. Epos Now claim it takes no more than 15 minutes to get a staff member set up and trained on the system.
How much does Epos Now cost?
Epos Now point-of-sale software comes in two packages:
Standard ($39/Mo + $24 per extra register) – Featuring unlimited products, cloud reporting, email support, and help with setup

Premium

($69/Mo + $45 per extra register) – Featuring unlimited products, cloud reporting, telephone support, help with setup, and account management
Businesses can usually try either with a 30-day free trial.
What are Epos Now's POS systems?
Epos Now offer two POS systems; one for retail, and one for the hospitality industry (like restaurants, hotels, and bars). Here are their prices and features:
1. Retail POS System
The Epos Now Retail POS System is suitable for any busy retail environment. It is suitable for small businesses with fixed locations. It features:
The Epos Now Pro-C15 terminal (which has a water-resistant touch screen and solid state drive

The Epos Now retail POS software

An 80mm Epos Now Pro receipt printer

A secure full-metal cash drawer

Installation, configuration, and training included

Regular price:

$2,399.45
Sale price: $1,799
An advantage of Epos Now's POS is scalability. Businesses can start with one terminal and add more without difficulty.
2. Hospitality POS System
At the same price, Epos Now's Hospitality POS Solution comes with the same features as their retail POS, but with the hospitality software.
The hospitality software comes with a robust booking system accessible to anyone with the right permissions across multiple devices.
Does Epos Now need a retail terminal?
Epos Now's software doesn't need one of their terminals to run. It can work on most common devices, like an iPad or Android tablet.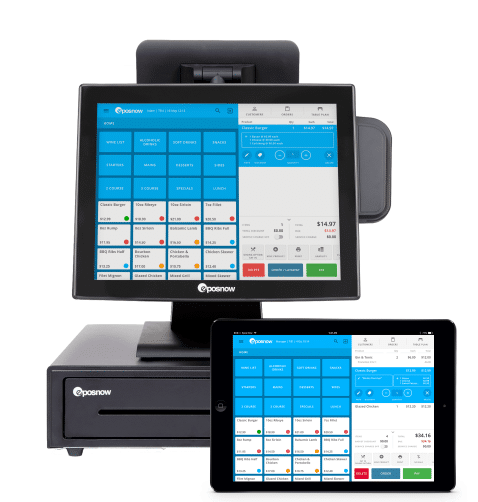 Is Epos Now value for money?
Epos Now offers user-friendly POS software on a high-quality physical platform, working well with all payment types, including payment by phone or smartwatch.
The quality of the different features combined with its affordability places Epos Now as among the respectable group of mid-priced POS systems for small businesses in the retail and hospitality industries.
Epos Now may be better suited to restaurants, where the wastage tracking feature is something of a unique selling point.
However, most of its features are shared by several other retailers, including Square Point of Service, TouchBistro, and Vend. So, while it may not be that unique, Epos Now is a quality offering at a sensible price.