Employers put a lot of work into finding the right candidate for a job opening. The posting is shared on a number of job boards, prospective employee applications are reviewed, interviews and aptitude tests are conducted, and references are contacted.
Unfortunately, in some cases, this vetting process still isn't enough since all of these steps may fail to reveal the true history of the potential hire being considered, which may result in a new employee who hasn't been entirely forthcoming about their past. While doing a Google search to check a potential hire's social media pages can give some background information on the person, it barely scratches the surface compared to what a great background check service is able to do.
Many businesses may want to hire someone with a clean criminal background report since it demonstrates trustworthiness. And in some industries, like those that work closely with children, background checks may even be a mandatory part of the hiring process.
Background check reports cover more than just criminal history, however. They are also very helpful in verifying all of the details about a potential new employee's past, including work history, credit history, and even driving history. All of these factors can shed insight on important details to help you better understand who someone is before you extend an official job offer.  Even if a background check simply verifies what a potential employee has revealed, it can provide a measure of confidence for you as an employer as you onboard them to your team.
Whether you operate in an industry where background checks are mandatory, or you simply want to improve your hiring process, there are a number of background check companies that can help you dig beyond the information in a potential new hire's cover letter.
It's important to note, however, that not all background screening services are the same. Some go well beyond a basic criminal background check, while others are more simplistic in nature and cater to businesses that want to cross-reference court records to ensure employees have clean criminal records.
This article breaks down what to look for when choosing a background check company, the various features and add-ons offered, and how to make an educated decision when considering which background check company to work with.
Why you need a background check company
There are three main reasons why businesses use background screening companies. Obviously, as the name suggests, these services look into the background of potential employees and can help to verify that the information provided by the employee is true and accurate.
But the background check process is about much more than just getting to the truth.
One of the main reasons to run a background screening is if a business operates in a sensitive industry. For example, businesses that work with children, like daycare providers, need to be absolutely sure that the people they are hiring have clean criminal records, and do not belong to the sex offender registry. A background check quickly makes management aware of situations where an applicant has broken the law, has committed abuse against children, or is a registered sex offender.
It's important to note, however, that not all background checks in sensitive industries are looking for just criminal records. Financial businesses that work with cash or client's money need to be able to trust that their employees won't be tempted to steal from the business or their clients. Checking someone's background for financial crimes, as well as credit history, helps ensure that new hires are trustworthy and that funds stay safe.
The second reason a company may need employment screening is to remain in compliance with their own hiring policies. There are many industries that are not "sensitive" industries that don't necessarily need to run background checks on job candidates.  But they do so anyway to ensure safety in the workplace, as well as validate that what someone is saying is actually true. So, in situations like this, background checks essentially provide peace of mind.
Many people instantly think of criminal checks when they think of a traditional background check. But there's typically a lot of information included than that alone.  One common thing that potential employees are often tempted to exaggerate about during their hiring process is their level of experience or work history. A background check is a fast and easy way to verify work history. It may also reveal omissions from someone's application which could indicate that this person was fired or relieved of their duties, and unwilling to share that part of their work history.
What's more, some businesses have employees who operate motor vehicles and/or heavy equipment. As part of their insurance policy agreement, there may be a need for both license verification and confirmation of a clean driving record. And in some cases, an employer may conduct pre-employment screening simply to verify that their new employees do not have a history of theft or other petty crimes that may indicate they are more likely to steal products or supplies.
Finally, some businesses perform background checks on existing employees as part of their policies or when they choose to update policies. A background check during the initial hiring process may not reveal any red flags, but that doesn't necessarily mean that someone may not run into trouble while working for the company. Many employers perform regular online background checks to ensure that the person working for them is still in good standing and has not encountered any issues that could compromise their ability to complete their job or be a positive asset for the business.
When you need a comprehensive background check company
The most common time to run a background search is during the hiring process. This can be a very valuable tool to assist human resources when vetting candidates. And for small businesses without a dedicated HR team, a background check can make the hiring process easier.
Usually, a background check is not the first part of the hiring process, since applicants must consent to the screening process. Not to mention, checking every applicant could prove to be costly if there is no intention of hiring them or even interviewing them. Typically, a background check is performed after an interview when a final shortlist of candidates has been identified. This helps keep costs low since you're only performing background checks on applicants who have a chance of being hired.
Another common time that companies will perform a background check is when they are adding employees to their insurance policy or changing insurance policies altogether. Insurers need to know the driving records of all employees who will be listed on the policy. Major driving infractions could mean drastic increases in policy premiums and, depending on the severity of the infraction, that an employee is ineligible to be added to the company insurance policy altogether.
There are occasionally some situations where an employee background check may be needed after a new employee has already been hired. For example, if there are questions that an employee lied on their application to get the job, then a background check may be one of the fastest, easiest, and most accurate ways to verify whether the employee has been truthful or not. Policy changes that require background checks could also apply to previously hired employees.
How to choose a background check company – and what to look for
Background check companies all offer a basic service which typically includes a public records check for criminal history. They also typically include things like phone numbers, real estate and address history, marriages and divorces, bankruptcies, and sometimes even family members.  Some may dig deeper into employment history, while others check consumer reporting agencies for credit history. And some may even include drug testing.
There are a number of factors to consider when choosing an employment background check company.
Features
The best background check services offer a range of different features and options. As such, it's important to identify the background check items that are most important to your specific hiring needs.
On the most basic level, most background check providers can run criminal background checks in the United States. But for many businesses, this simply isn't enough.  Additional information may include:
Driving history checks that identify employees with serious driving infractions. For businesses with employees who operate vehicles on a company insurance policy, this is a very important feature to consider.
Employment history verification checks to identify potential issues where an employee may have lied about their experience or omitted an employer from their application altogether. This can also help when it comes to reference checks.
Cross-referencing names against watch lists. While these potential new hires may not have committed a crime, being on a watch list could affect their ability to travel for work.
Multiple country searches, which expand background checks beyond just the borders of the United States. For employers that hire from around the world or operate in multiple countries, this type of background check is necessary as basic checks typically only look into records available in the United States.
Verification of education. This feature gives employers a way to confirm that a potential new hire has attended the institution they claim to and, in addition, that they actually graduated. This is extremely important for businesses where a certain level of education or degree is necessary, like accounting, architecture, and engineering.
Credit history and bankruptcy information, which is critical for employees who will be working with large sums of money and/or expensive items.  While some businesses may feel uncomfortable about running a credit check on a potential employee, a poor credit situation is a good indicator of financial hardship, which may make someone more tempted to steal. The Fair Credit Reporting Act of 1970 ensures that the information found during a credit check is accurate, which should assuage fears that a check will bring up false or misleading information.
The speed at which a background check is delivered is also a key consideration to think about, particularly if you work in a competitive industry where top talent is hired quickly.  Just keep in mind that the more comprehensive a background check is, the longer it's going to take to receive it since different searches sometimes take longer than others.
Pricing
Due to the wide range of features offered by background check companies, there is an equally wide range of pricing options available. Some services are free, while others can run as high as $79.99 per background check.
While staying within a budget is important, running an adequate background check is equally important. For businesses with basic background check needs, using a free background check website may prove to be enough. Collecting information from countries other than the United States, watch list cross-referencing, and background checks for high-level executives are typically only available from paid background check providers.
As with many things in life, you get what you pay for when it comes to background checks, and how much you pay will ultimately come down to your unique hiring needs.
Ease of use
A background check is an important part of the hiring process, and if you're like most people, you would probably prefer it if the process of requiring and analyzing a background check was seamless. As such, ease of use is an important feature to consider when evaluating background check providers.
As a general rule of thumb, free services require much more involvement from users. While the service itself will list out records for employees and/or potential hires, you'll still be on the hook for following the links and sifting through all of the information yourself, which is often a time-consuming process. Paid services, on the other hand, provide a much more user-friendly experience. In some cases, the background check company will even deliver a high-level summary so that you don't have to sort through all the nitty-gritty details.
The user interface is also important. Many of the records returned in a background check can be complicated to analyze. Using a service that breaks things down in a manner that's easy to read and digest is a useful feature that makes reviewing background checks quick and easy.
Customer service
Having access to customer service after requesting a background check is essential, since some results may generate more questions than answers. Quality customer service can walk you through issues, as well as answer your questions so that you can make sense of the information you're looking at.  Thankfully, in addition to trained customer service representatives, many of the best services maintain extensive FAQ databases and tutorials as well.
Keeping all of these things in mind, here are our top 4 picks for the best background check companies.
Top 4 best background check companies for employers
---
TransUnion ShareAble for Hires – Best for employers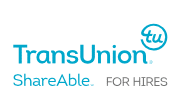 Designed specifically for the small business owner, ShareAble for Hires delivers accurate information fast so you can minimize turnover time and stay profitable.  ShareAble helps small business owners make better hiring decisions by providing an online, self-service solution that delivers fast, reliable, and easy-to-perform employment background checks, that include criminal records across state and federal databases.
TransUnion ShareAble for Hires makes employment screening fast and easy.  It helps small businesses vet job candidates quicker and make that important hire faster and with more confidence. With less effort required to screen applicants, your time is free to spend on other important tasks, like running your business.
---
AccurateNow – Best for application verification


For many employers, the level of education and experience their potential hires have is an important consideration. After all, without an adequate level of experience, a new hire may be ineligible for the job. This can lead some applicants to exaggerate or falsify their history. With AccurateNow, employers can easily verify education and employment history, in addition to running things like criminal records checks. Best of all, AccurateNow offers some of the fastest turnaround times in the industry. So, if you're looking to fill a position quickly, AccurateNow may be one of the best options to quickly and accurately verify the information a potential hire has provided.
See the full review of AccurateNow here.
---
GoodHire – Best for multiple hires

For businesses that need to hire multiple employees at the same time, and those that are regularly adding to their teams, GoodHire is a fantastic option for background checks. For starters, their automated processes mean that information only needs to be added to the system once.
For future checks, these steps are easily duplicated, which expedites the process and frees up time to focus on more meaningful tasks. What's more, their customer service is second-to-none, with in-house HR advisers on standby to help employers maintain compliance. Plus, once a background check is complete, employers receive automatic updates to ensure nothing is missed. While GoodHire is the most expensive background check company on this list, it does offer a level of service that most other providers do not match.
See the full review of GoodHire here.
---
HireRight – Best for multinational businesses

As the Internet makes it easier for businesses to "go global," it's not uncommon for businesses to hire employees in multiple locations outside of the United States. This can make running background checks difficult, if not impossible since it often becomes necessary to find a local service in each county where the hiring will take place.
HireRight helps alleviate this stress by offering background checks on individuals living in the United States, as well as abroad. Despite this level of service, and the complexities that often arise when trying to collect information from overseas entities, HireRight still offers exceptional turnaround times for background checks. Many are delivered within two days, and the user interface is incredibly friendly to use for both employers and employees. One notable downside of choosing HireRight is that their customer service is lackluster in comparison to many other major players in the industry.  It's important to note, however, that there are few other services that offer a global reach like HireRight.
See the full review of HireRight here.