AccurateNow is an extremely popular background check and employee screening service that's accredited by the National Association of Professional Background Screeners (NAPBS). The company touts itself as providing the fastest turnaround times on background checks in the industry, so if speed-to-hire is important, AccurateNow may be your best option to snag top talent before your competitors do.  While features are limited, especially in comparison to larger companies that offer similar services, it has mass appeal because of its simplicity, pricing structure, and ease of use.
We might receive compensation from the companies whose products we review. We are independently owned and the opinions here are our own.
AccurateNow is best suited to small and medium businesses with limited hiring needs that are better served by paying one-off fees than recurring monthly subscriptions. Pricing is based on the number of background checks ordered and businesses are only required to pay in accordance with usage. What's more, reports lack comprehensive candidate data, making this service unsuitable to the hiring needs of most larger-scale organizations.
For people who aren't tech savvy, customer service representatives are on standby to approve accounts, assist with set-up, and resolve issues that arise throughout the process.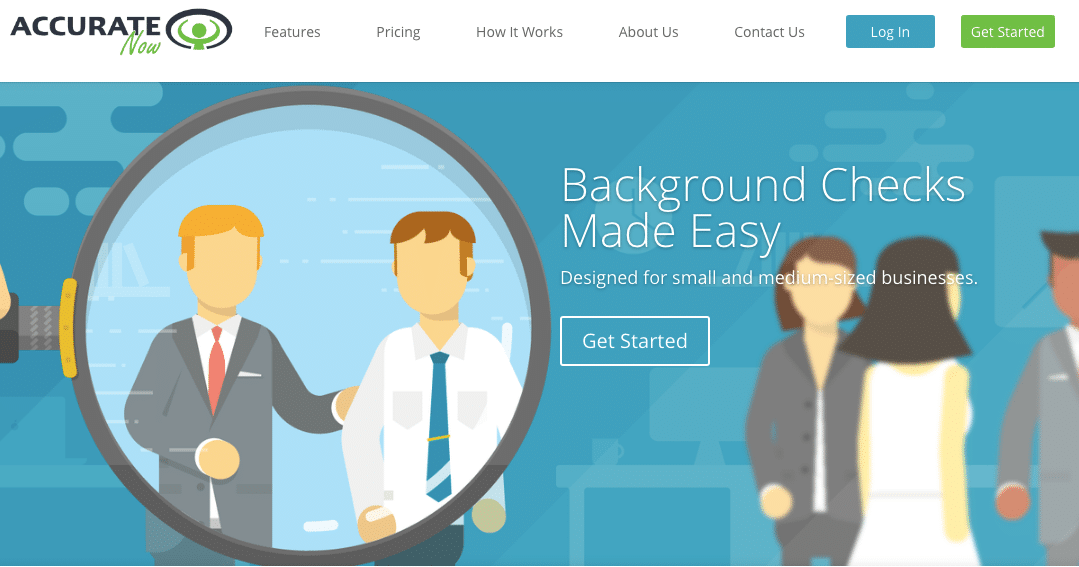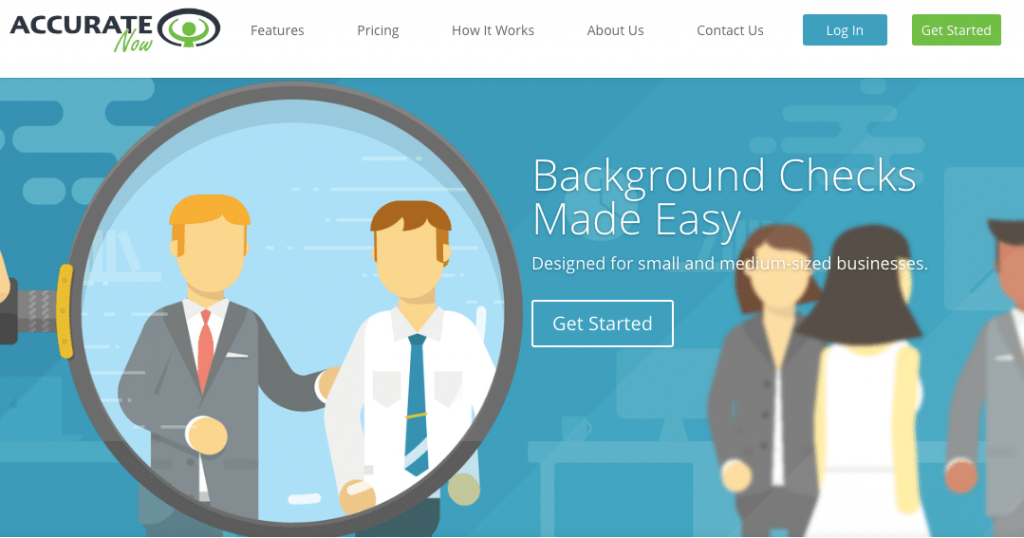 Check out our roundup of the Best Background Check Companies for Employers
Features
AccurateNow is one of the fastest growing companies in the background services providing industry, and for good reason:
Turn times are fast since background checks are automated. AccurateNow simply checks a given name's credentials and details against national databases and registries in the United States. This lends itself to faster turnaround times than other background service providers that offer additional features like physical examinations, which are more thorough and subsequently more time-consuming.

The process is quick and easy. Once you provide a candidate's name and details, your work is done. AccurateNow does everything from getting the candidate to sign-off on the background check to creating a detailed report with green checks to easily identify clear records and flagged information.

All reports are accurate and compliant with the Fair Credit Reporting Act (FCRA) and statutory regulations for different states.
Pricing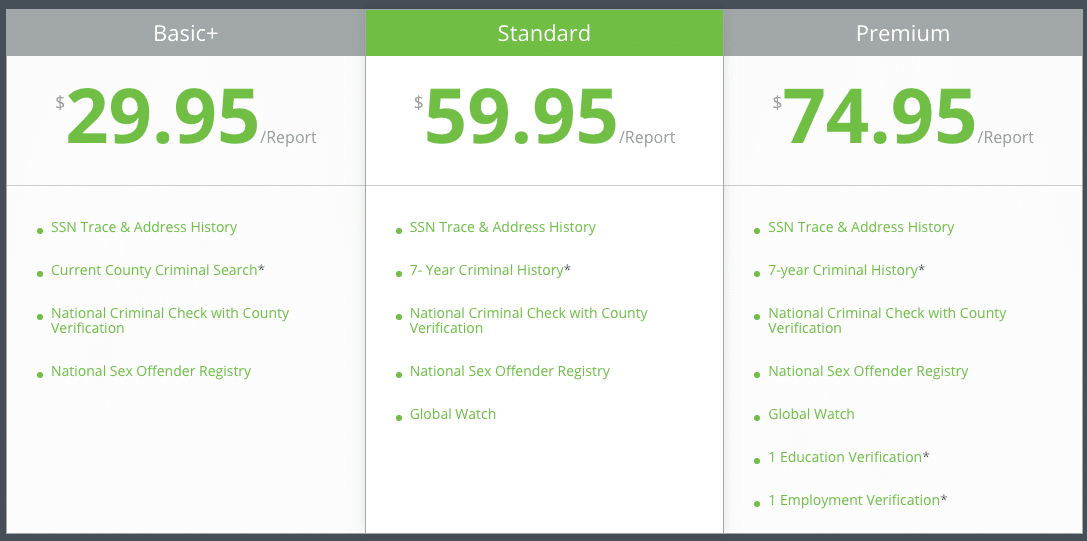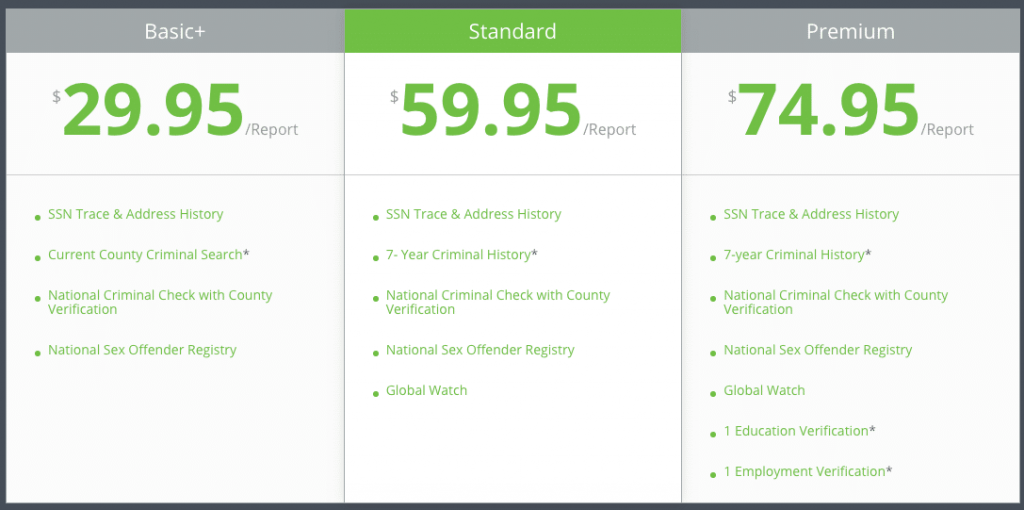 To get started, businesses must pay a one-time fee of $25 to create an account with AccurateNow and set up a verified business profile. Once approved, three pricing packages are available:
Basic+

– These reports cost $29.95 each, and include a social security number trace and address verification, as well as checks against county criminal records, national criminal records, and the Sex Offender Registry.

Standard

– These reports clock in at $59.95/report, and include a Global Watch Option to check for compliance with the USA Patriot Act, Office of Foreign Assets Control (OFAC) Act, and other international embargoed and sanctioned official US lists.

Premium

– Premium reports are $74.95 each and include education and employment verification.
In addition to the set-up and report fees, additional charges may be incurred if access to third-party databases is required.
For example, add-on services like Motor Vehicle Reports, Professional License Verifications, and additional employment and educational records verifications, cost an additional $9.95 per feature. Drug screening services, while not publicly stated on the website, are also available for $49.95 per report.
Customer support
AccurateNow has a cooperative customer support team that is based in the US and available during normal US business hours. Phone and email are the quickest and easiest ways to reach their customer service team.  CSR's are quick and thorough in their responses, and patient when it comes to troubleshooting more complex issues.
They are also active on social media and interact with clients at conferences and seminars.
Pros
Quickest turnaround times in the industry, which can substantially shorten the hiring process, as well as prevent top talent from taking positions with your competitors

There are no recurring monthly fees. You simply pay as you go, and as needed.  

There's a simple UI that provides neat lists of reports under different categories with clear check marks to indicate verification successes and flag negative data
Cons
There are a limited number of features.  AccurateNow only provides basic background data. Advanced screenings for hiring in sensitive industries is not available.

Electronic Pre-Adverse and Adverse Action Letter distribution is free on other platforms. AccurateNow charges $5 for each notice sent.

The Premium Package only includes one education and one employment record verification per report. Additional charges are also assessed for things like international educational records verification, as well as accessing third-party databases.
Rating breakdown
Overall: 

4.65

Features: 

4.0

Price: 

4.5

Ease of Use: 

5

Customer Service: 

5