GoodHire is a US-based background check company that helps businesses expedite their hiring processes by providing quick background scans and verification of a potential new employees' education, criminal records, work history, and more. In addition to the company's basic package, add-on features include checks against global terrorist watch-lists, vehicle records databases, county court records, healthcare sanctions, and international employment and educational records checks for US-based candidates. GoodHire's international background checks are only applicable to candidates who will potentially be employed and/or live in the US.
We might receive compensation from the companies whose products we review. We are independently owned and the opinions here are our own.
The company offers flexible pricing packages that can be customized to meet the needs of small businesses and large enterprises alike. It's important to note, however, that while the basic package is cheap, it includes very few features and add-ons can start to get pricey, which may be cost prohibitive to businesses on a strict budget.
GoodHire is best suited for companies that need to run simple background checks against existing criminal, healthcare, medical, and legal records in the US.


Check out our roundup of the Best Background Check Companies for Employers
Features
GoodHire offers fast turnaround times for background checks against national databases and has a clean and simple UI that looks fresh and invites confidence. The company also has low dispute rates of <0.1%, which inspires trust in the services they offer.
Other standout features include:
Ongoing Alerts so that you can monitor progress in real-time. The service regularly runs and updates background information in the database, and alerts employers of issues as they arise.
All reports are Fair Credit Reporting Act (FCRA) compliant. E-consent forms make it easy for people in remote areas to complete forms from the comfort of their own homes.
You can customize packages to meet your specific employment requirements. You can also set up candidate requirements on the platform and then run it against a database of available candidates to pull up a list of people who match your criteria.
Automated workflows save time and cut down on repetitive tasks. Pre-built and custom integrations facilitate easy hiring and data transfer. Compliance regulations can also be integrated into automated workflows, which lessens the potential for legal liabilities.
Pricing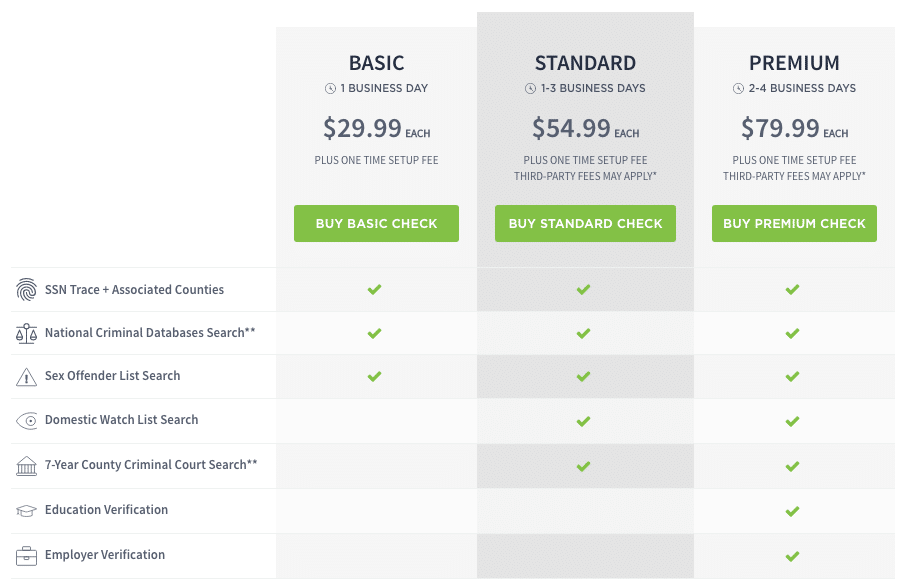 For small businesses with limited requirements of up to 50 background checks per year, three different packages are available:
Basic – $29.99
Standard – $54.99
Premium – $79.99
These fees are not inclusive of the one-time set-up fee required to create an account. Standard and Premium packages also incur additional charges whenever a third party database is accessed, and do not have any upper limit on the number of candidates that can be vetted.
Other services are charged separately. For example:
A National Criminal Database Search is $9.99 per candidate
A Federal Criminal Databases Search costs $14.99 per candidate
If you need to hire more than 50 candidates annually, you'll need to get a custom quote. A dedicated team in San Diego will then assist you in setting up this premium account.
Customer support
GoodHire has a phenomenal customer support team that's available via live chat, email, and telephone. Live chat queries garner quick responses, and CSR's are diligent about providing frequent updates and ETAs for problem resolutions, downtime issues, and following up on troubleshooting timelines. They're also active on social media and online review forums, respond to both positive as well as negative reviews with equal grace, and are generally easy to approach, quick to respond, and offer helpful advice.
Pros
Quality background checks with thoroughly vetted information and quick turn times
An excellent customer service team that's engaging, helpful, and knowledgeable about the in and outs of the features and services offered
A simple, easy-to-use interface
An in-house team of experts trained in US-based compliance regulations offer advice to keep HR managers up-to-date with new developments
Cons
Sneaky billing practices – customers have been over-billed on occasion, yet there's no refund policy.
Convoluted pricing packages for different services and add-on services on top of first level background checks significantly increase costs.
The limited scope of background check services offered. For example, only basic drug screening is available, which doesn't make it a viable option for most product design and manufacturing positions, as well as those that require the operation of heavy machinery.
Rating breakdown
Overall:

4.25

Features:

4.0

Price:

3.5

Ease of Use:

4.5

Customer Service:

5