How often do you procrastinate? Often times, we don't dive headfirst into daunting tasks because we don't look forward to the challenges that come along with them. So, is this the real reason why you haven't started using QuickBooks as your accounting software yet? If so, we're here to help. Whether you've opted for QuickBooks Online or QuickBooks Self-Employed, the following steps will help you get up and running… fast.
Setting Up QuickBooks Online
Step 1: Enter Your Business Details
Once you sign up, you'll immediately be taken to the Set-Up Wizard.
The first screen will prompt you to add your company's basic information, including name, address, and phone number.  Be sure to double-check this information, since it's what will be displayed on all of your invoices.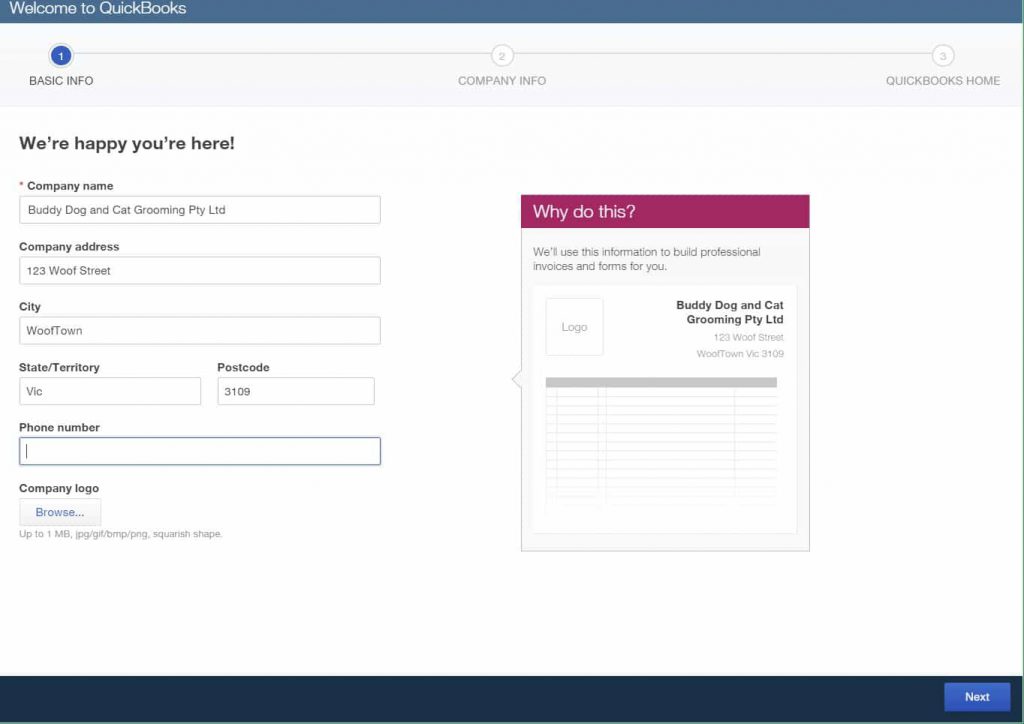 You can also add a logo if it's in a square format, which we highly recommend for brand awareness purposes.
As you keep clicking Next you'll add in things like:
Industry type

Company type

Payroll details
What you select will help to customize options and settings for your niche.
In addition to all of the aforementioned information, you'll also be asked if you want to import data from another QuickBooks version.
Handy Tip: You have the option of allowing QuickBooks to send you marketing material from time to time. You can opt out of this if you want.
Step 2: Set Up Your Chart of Accounts
Have your chart of accounts ready on a piece of paper or in a different window, to ensure you don't miss anything. It should include:
Bank accounts

Credit card accounts

Assets

Liabilities

Income

Cost of goods

Expenses
Pressing on the Accounting tab will open your Chart of Accounts. This gives you a pre-filled version to work with. You can easily change or delete whatever is necessary so that it matches your list.
After clicking on New you'll adjust the following details:
Category type

Name

Description

Subaccount

Balance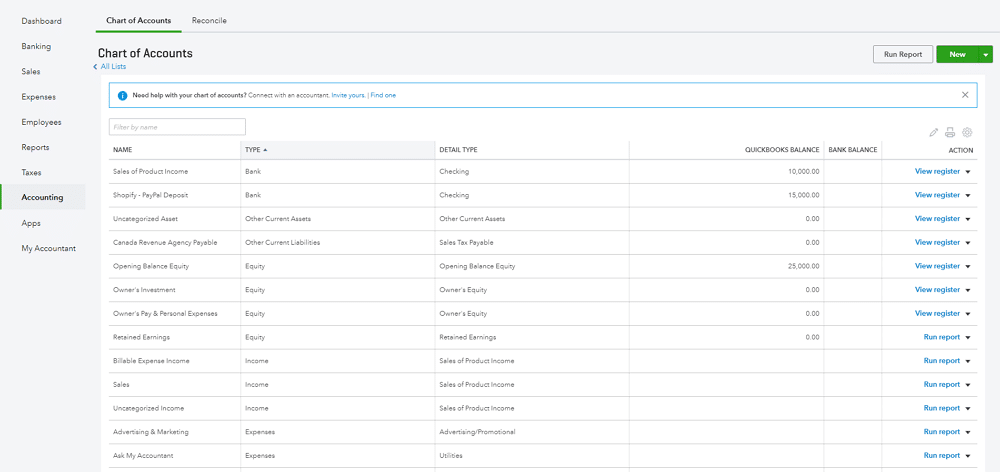 Be sure to double check that everything is correct before clicking Save.
Step 3: Connect Your Bank Accounts
This feature is quickly accessible via the link on the far right of your dashboard:
Click on

Connect Accounts
Pick your bank from the list (or you can type in a URL)
Pick which accounts you want to connect (remember to only use accounts that are related you your business)
Match each one to what you created on your chart of accounts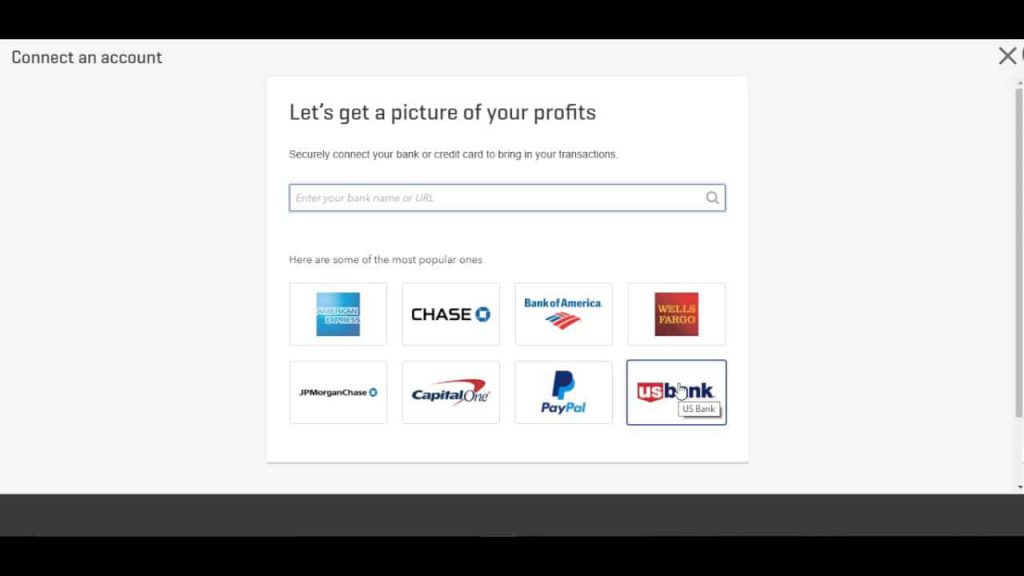 A Quick Note on Importing Transaction History – QuickBooks Online has an automatic feature of importing 90 days of accounts. If your business has been operating longer than this you need the information in your books. You'll have to add them manually or via an Excel (csv) file.
Step 4: Create Your Invoice Template(s)
For true professionalism, you should customize your paperwork. Access this via Custom Form Styles, which can be found under Company in Settings.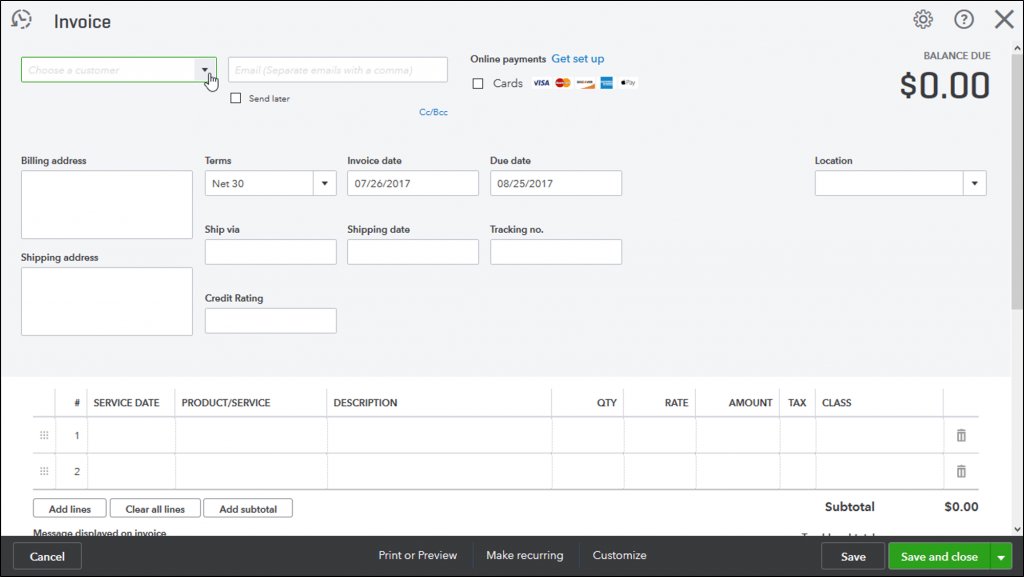 Quickbooks Online provides you with templates you can edit in terms of:
Logo

Color scheme

Font

Margins for printing

Content

Headers

Activity section

Footer section

Information to accompany an emailed invoice, or reminder email
If you want to use more than one invoice design, Quickbooks Online gives you the ability to add and customize multiple different versions.
Step 5: Add Your Products and Services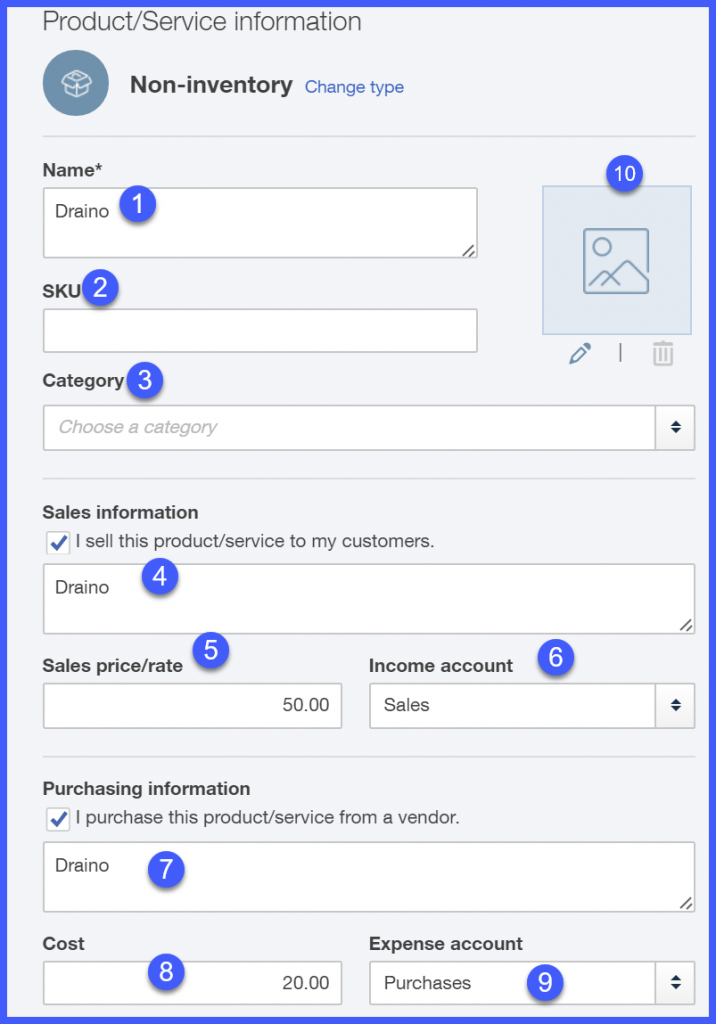 This step is extremely important since it forms the foundational backbone of how you'll organize your business.  It's also what customers will see on documentation like your invoices. As such, take your time as you're setting everything up.  Checking for spelling mistakes, so that everything looks professional.
Add your products or services via the Lists feature under Settings.  Add more by using New, and then insert the following details:
Type of product/service

Name

SKU

Photo

Category

Sales information

Income account
Remember to hit Save for each one.
You need to go through the following steps for each one, which you'll see after clicking on the Sales Button:
Turn on the

Show Column on Sales & Purchase Forms

if you want Quickbooks Online to add the information to billing documents

If you use SKUs, you can activate the

Show SKU Column on Quickbooks Online Products & Service Forms

. It's unnecessary if you use other methods.

If you use Quickbooks Online to track inventory, turn on the

Quantity and Price Tracking

feature

You can have Quickbooks Online track available stock by switching on the

Track inventory Quantity

tab
Step 6: Set Up Customers and Vendors
Note that QuickBooks has an Import function. If you have multiple customers or vendors to add, you can place this information in an Excel spreadsheet. Then use the Import Features option found in the drop-down menu. This function will even help you map the data so that the Excel columns' data is allocated correctly.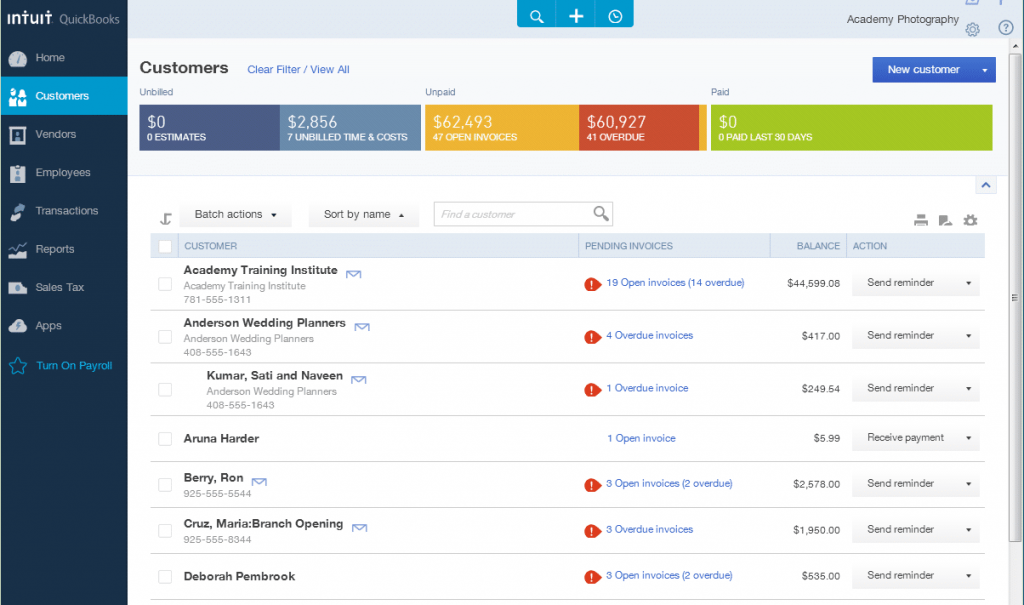 If you're doing this manually, navigate to the relevant tab, which can be found under Home on the menu on the left of your dashboard. Whether you're working with Customers or Vendors, the steps are similar:
Choose to add a new item

Populate the various fields QBO provides

Customer or Vendor details

Billing information for customers

Payment methods of customers

Review everything before saving it
Handy Tips: You need a tax ID number in order to generate 1099 forms and if you add credit card details of customers, make sure it's accessible by trusted employees only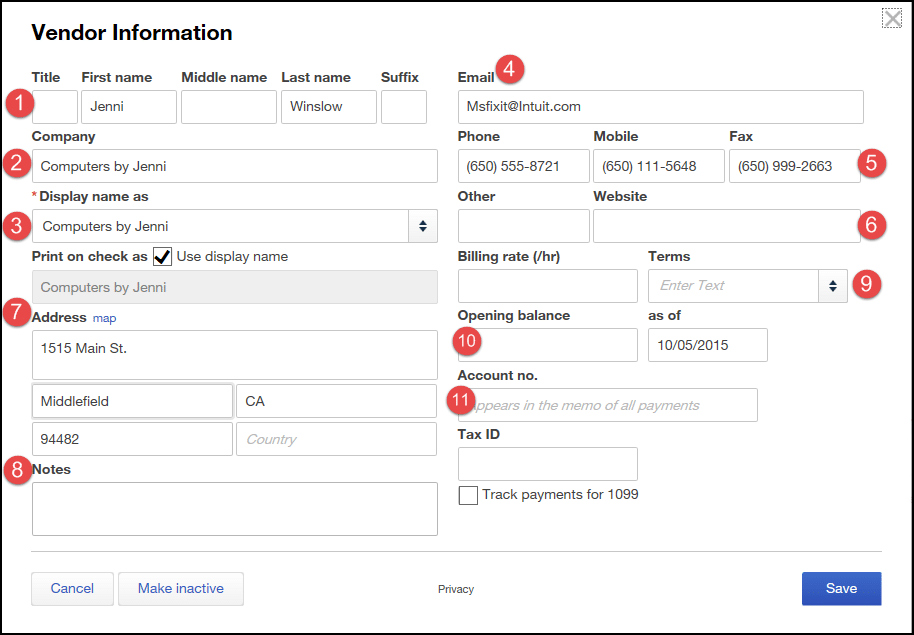 Step 7: Create Your Statements
The Statements feature helps you improve cash flow as you'll provide customers with overviews of outstanding payments. The QuickBooks system offers three options of displaying the data:
Each transaction can be on a single line, mostly stating invoice totals

You can list transactions and detail lines, containing data of what was purchased

You can show an aging table, which will appear at the bottom of the page. You can even add this to your invoices.
Step 8: Learn About Additional Features
The versatility of QuickBooks brings you handy extras worth getting to know.
Messaging
Accounting isn't only about managing finances, but managing relationships with vendors and customers. Adding a personal touch is important, which makes it vital to customize the messages that will accompany emailed invoices or other documents.
Quickbooks Online provides easy to use tables to enter relevant information, including:
Greetings

Sales forms the specific message should be used for

Subjects

The messages themselves

Which addresses should be included when they're sent
Multiple Users
You're not the only one who will benefit from QuickBooks – it will make it easier for employees and your accountant to manage tasks too. But you must add them to the system first via the Manage Users button.
Invite your accountant simply by using his or her email address and selecting the Invite Accountant button. They can then create their own user IDs and will have the rights of Company Administrator so they can do things like close your books.
Other users in your company can be added by using the New button. You can then allocate responsibilities like:
Regular or custom user

Company administrator

Reports only

Time tracking only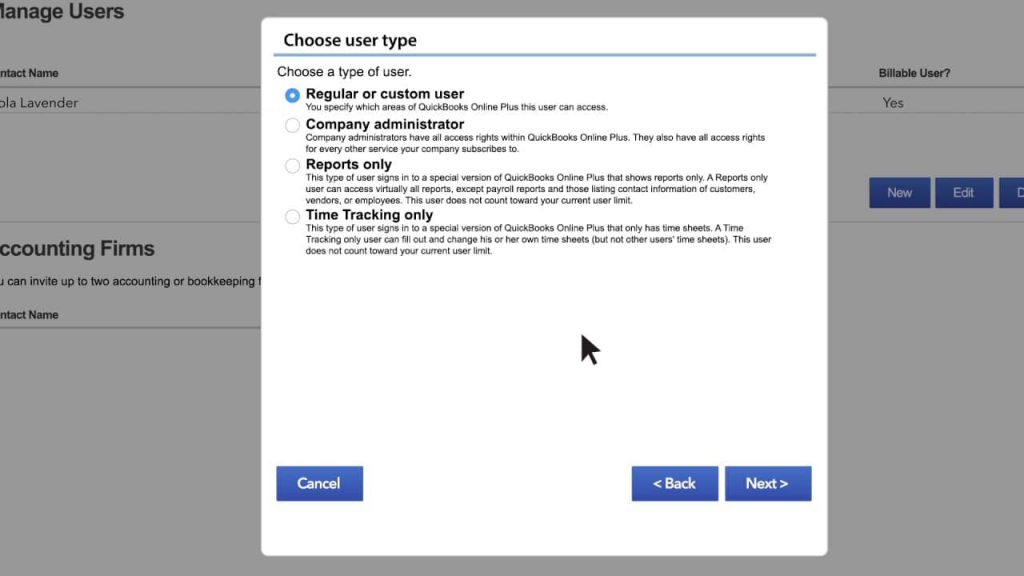 You can also pick a type and set individual user parameters:
Access rights

Administrative rights
Once again, you'll invite people via their email address.  
Setting Up QuickBooks Self-Employed
Since most people using Quickbooks Self-Employed don't have personal accountants, setting things up is quick and easy.  
Step 1: Sync Your Bank Accounts
You'll access the bank portal on the Connect Your Banks and Credit Cards screen. Log in and then Quickbooks Self-Employed will automatically download 90 days of transactions for you.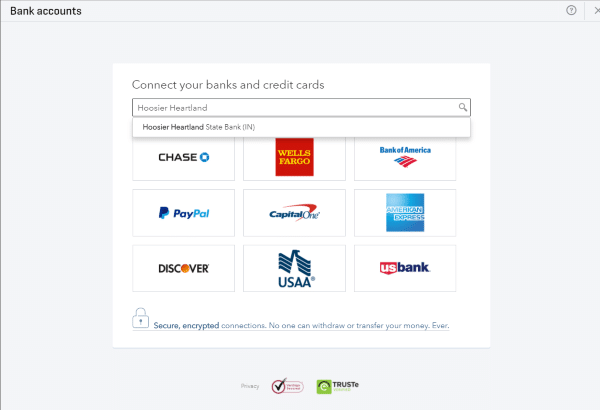 A Quick Note on Importing Transaction History – If you've been in business longer than three months, simply download your transactions in a CSV file from your bank. You'll see an Import Transactions option, which will guide you through the steps you need to take to include those transactions in with the rest of your accounting data.
Step 2: Set Up Categories and Rules
Now you make it easy to allocate each transaction by creating categories and rules. It's important to note that you can opt to keep certain items as Personal so they don't affect your business accounts.
You'll find an Add Rule button next to each transaction. Pick the appropriate Income or Expense category, which the software will then apply to future similar transactions.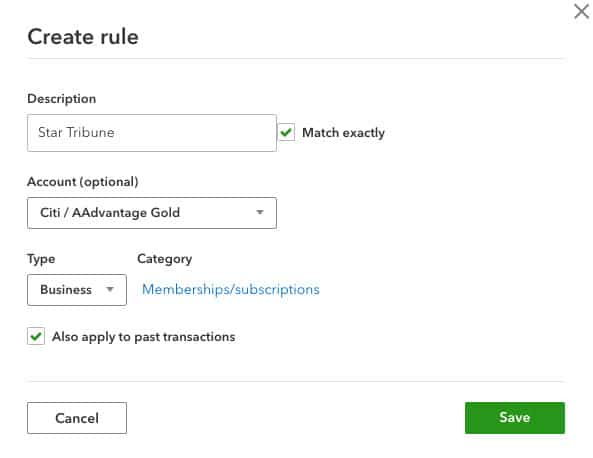 When setting this up, be sure to check the box next to Also Apply to Past Transactions. Now Quickbooks Self-Employed will apply this to all your imported, historical transactions so that you don't have to do it manually.
How to Create a Category in QuickBooks
You can't create or customize a new category in Quickbooks Self-Employed, but it does come standard with relevant options already loaded. These align with IRS Schedule C requirements, which makes it easier to keep track of eventual tax payments:
Business income for all money earned

Business expenses which can be allocated to accounts including:

Rent and lease

Vehicle repairs

Business loan

Wash and road services

Personal spending
There's also a user-friendly search tool to help you find the right account for each expense on your bank statement.
How to Split Transactions
The software has a split feature so you can break up one transaction and allocate it to separate accounts. This helps if one purchase included items for personal and business use. This is super practical since you can type in specific amounts or use the percentage function.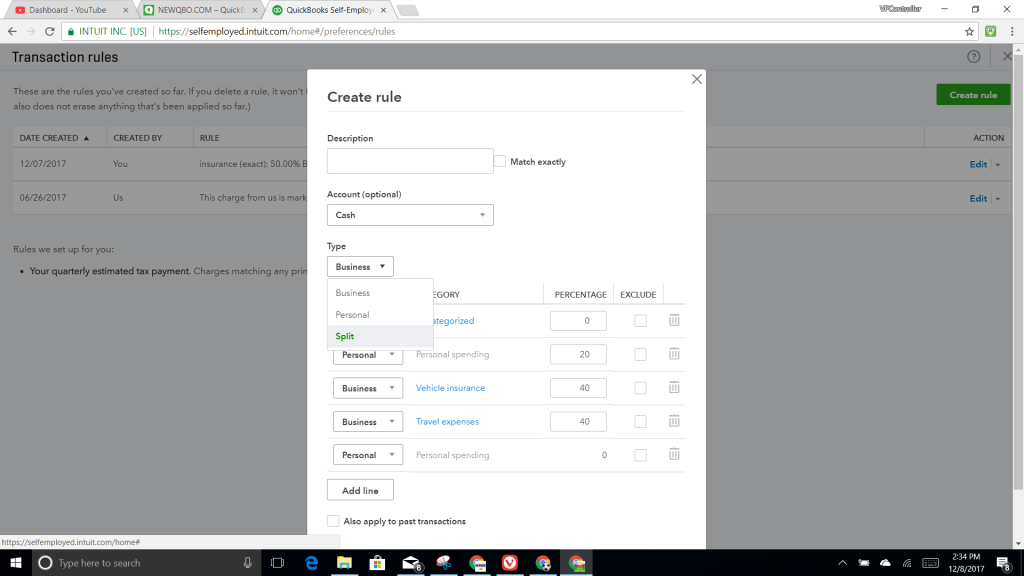 Step 3: Activate Your QuickBooks Self Employed App
Download the app onto your smartphone so you can manage almost everything from there.  This is of particular importance if you need to track mileage.
Step 4: Manage Your Miles
In conjunction with the app, you can easily manage trips related to your business. This is why Quickbooks Self-Employed is such a handy accounting setup for Uber drivers. On each trip, simply select whether it's for business or personal use. The app will then track your trip distances.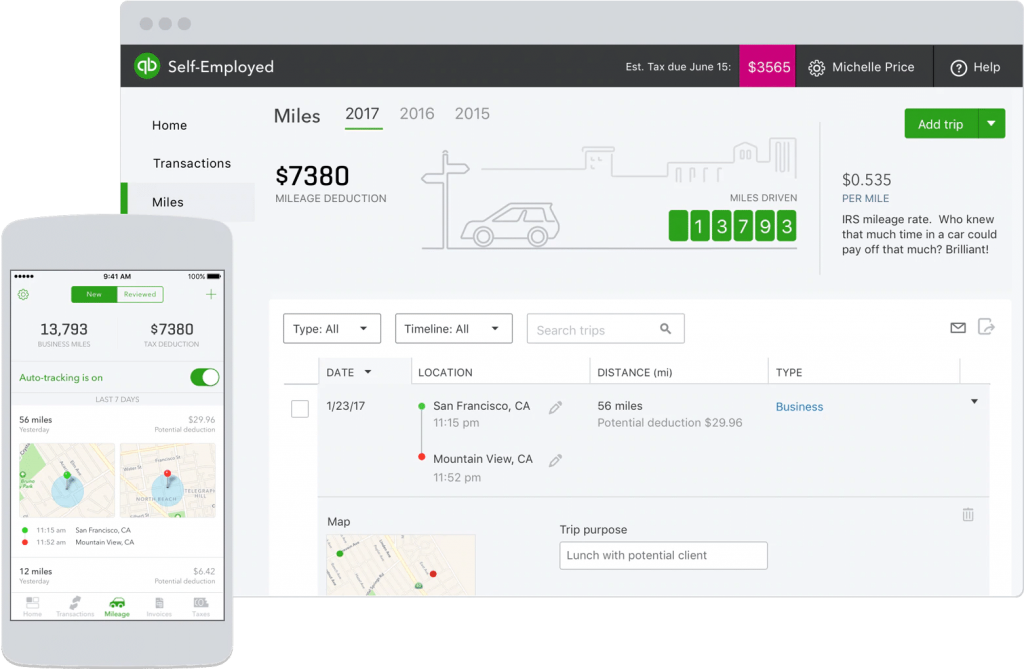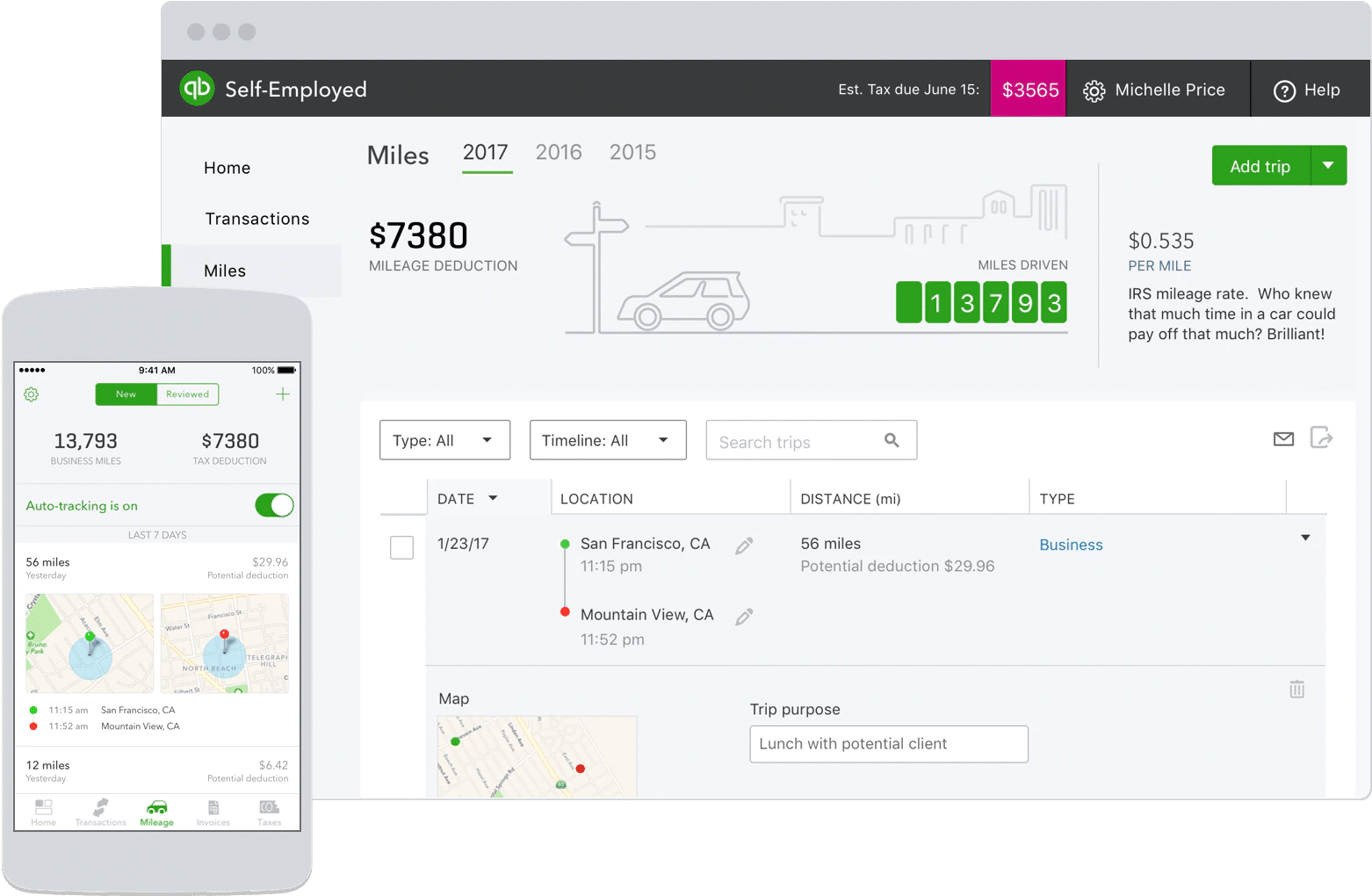 You can also enter mileage details manually if you prefer.
Step 5: Stay on Top of Your Taxes
Quickbooks Online is designed to help you monitor your tax payments. As you allocate income and expenses, the dashboard shows you what your estimated tax payment will be. You'll always be able to find this total in the top right corner.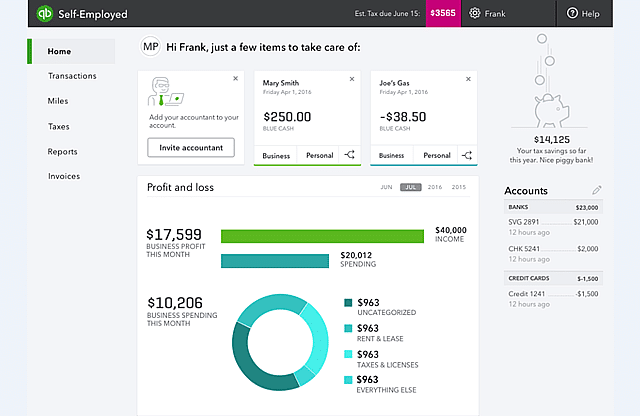 During setup, Quickbooks Self-Employed will ask relevant personal details to calculate your tax liability, such as marital status and tax-free allowances.
Step 6: Invoices
Quickbooks Self-Employed allows you to send invoices to clients, if necessary. Simply use the Create Invoice tab. For first time, clients you'll have to enter details manually, but the software will have autofill features for those that are recurring.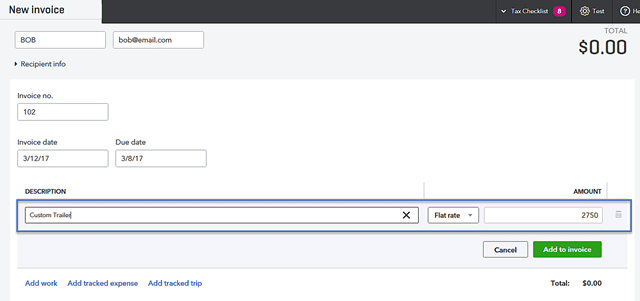 Important Note: You can mark an invoice as paid, but this won't automatically be allocated to your Profit and Loss statement. You must still add the transaction manually.