LionDesk is a fully integrated CRM platform for sales and business professionals. The company provides outstanding services to real estate professionals who are comfortable with technology, as the program provides seamless integration and features that allow real estate professionals to take advantage of technology at their fingertips.
The company is geared directly toward the real estate industry, and provides a lot of features that brokers and agents would like especially.
Features
One of the best aspects of LionDesk is the CRM program's full integration and ease-of-use with mobile technology. In addition to typical features such as contact management and the ability to work with third-party lead import programs (such as Zillow and Trulia), LionDesk also has quick and easy click-to-call and text-to-sell features. These allow real estate professionals to connect with their prospects quickly without having to exit the CRM program.
Some of the other top features include:
Property management tracking for listings and closings

Drip email campaign management

Video email and video texting

Scheduled emails and tasks

Lead distribution, for brokers who need to give leads to agents

Enhanced reports on leads for brokers and ability to "push" tasks to agents

Document management for presentations, CMAs

Direct mail letters by uploading PDFs
Pricing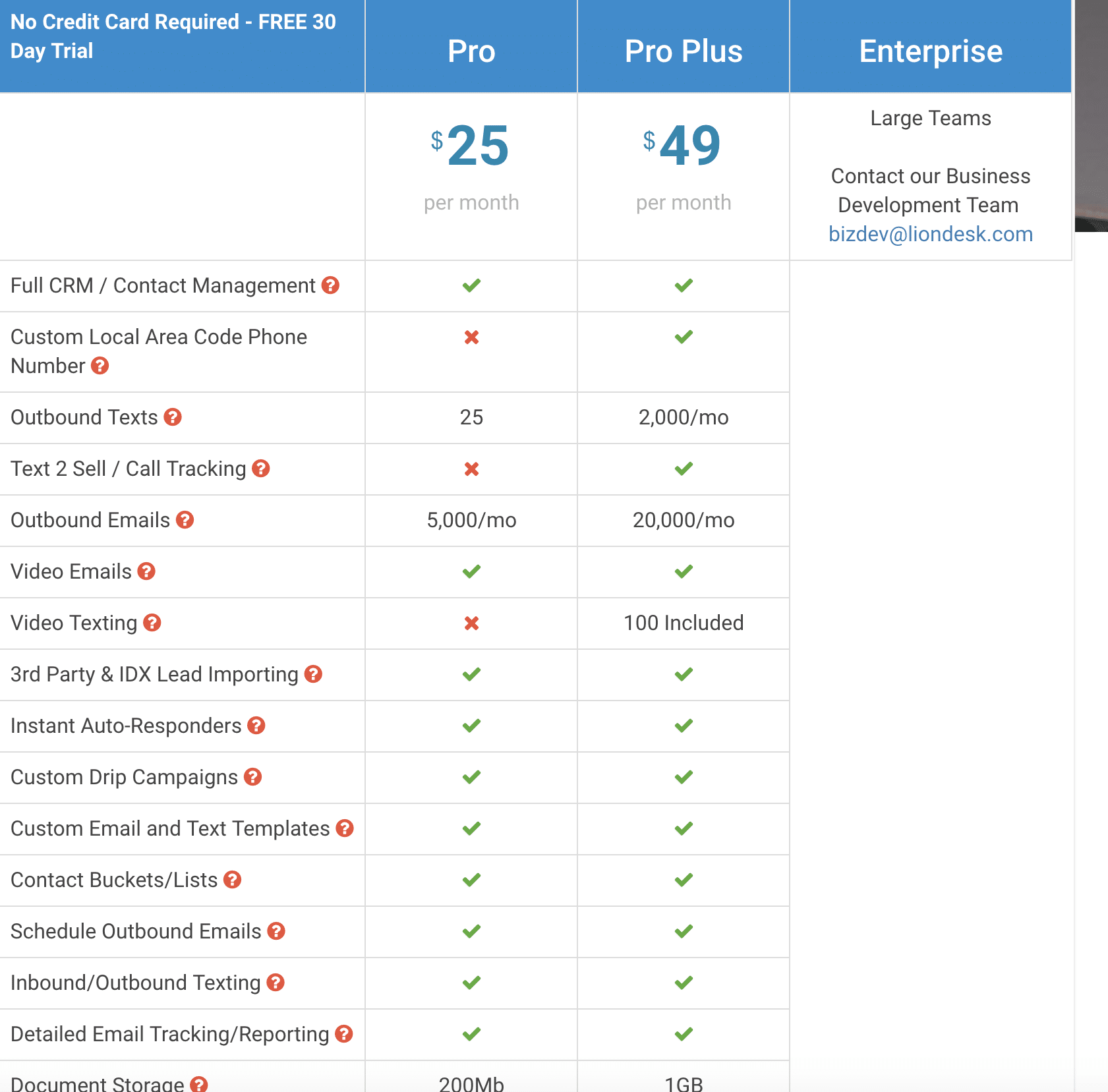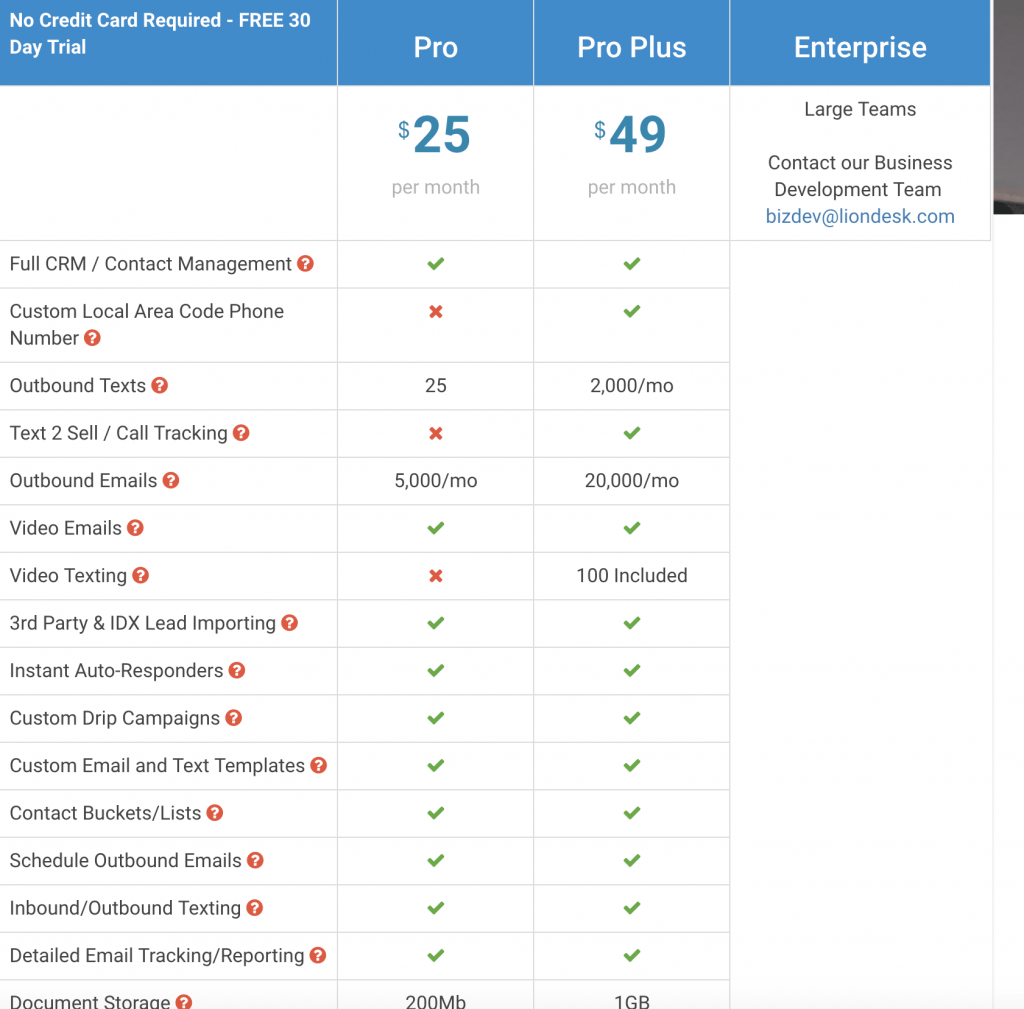 LionDesk offers two levels of services – a Pro plan for $25 per month per user, and a Pro Plus plan for $49 per month per user. The Pro Plus plan adds:
Custom local area code phone number

A higher limit of monthly outbound texts (2,000 instead of 25)

Text 2 Sell feature

100 video texts

Increased document storage (1 GB instead of 200 MB)
Each plan comes with a free 30-day trial that doesn't require you to enter in any credit card information. This is a nice feature, giving you the ability to try it with no risks to see if it's a good fit for you.
For very large teams, LionDesk also offers an Enterprise plan that can add customizable features. This also comes with customizable pricing, as well. You have to contact the LionDesk business development team via email ([email protected]) for more information on the Enterprise plan.
To sign up for the free trial, and ultimately become a LionDesk customer, you can visit the pricing page on the LionDesk website, and click Signup Free near the bottom.
Customer support
LionDesk ranks high in the area of customer support. The company provides personalized customer services for all of their clients via email and phone. They also are easy to connect with on social media channels such as Facebook, Twitter, YouTube and Instagram, and they provide mobile apps for both iOS and Android.
In addition, LionDesk goes the extra mile by providing a free onboarding call for all new customers. This gives all your real estate agents and brokers a chance to see the CRM first-hand and ask any questions upfront before they even start using it.
What's lacking
One of the downfalls of LionDesk's real estate CRM program is that it isn't very simple to use right from the beginning. Instead, the program takes a little bit of customization in order to get it up and running perfectly for your company. This means that you and your team will have to spend some time configuring the program specifically for your needs before you can jump in and start taking advantage of all the program has to offer.
LionDesk does provide one-on-one support for doing so, though, with its onboarding phone call, so that eases this pain point a little. Also, the company provides great customer service and support throughout your relationship with them, in case you are having difficulties after launching.
Pros
Great fit for real estate teams that love technology

Two affordable pricing models, based on the features you desire

Full integration with third-party real estate lead sources

Ability to manage and distribute leads easily

Great customer service, including personalized onboarding call

Free 30-day trial with no credit card required to start
Cons
Not easy to use out of the box

Requires a lot of configuration to set up properly and start using

Lower Pro plan might not provide enough features for your firm

Larger teams would need to build a customized Enterprise plan
Rating breakdown
Overall:

4.6

Pricing:

4.2

Features:

4.4

Customer Support:

4.8

Ease of Use:

4.3