AWeber has been providing its email marketing software for quite a long time. In fact, they are one of the longest-running providers in the industry. AWeber prides itself on being easy to use, which makes them very attractive for small- and medium-sized businesses. They also offer a plethora of options, features, integrations, and customization.
Like most other email marketing software providers, AWeber provides easy-to-use email marketing templates, autoresponders, list management, and email tracking with well-built-out reporting tools. AWeber separates themselves from the competition, though, by providing seamless integration with popular publishing tools such as WordPress and by how easy it is to get started with them.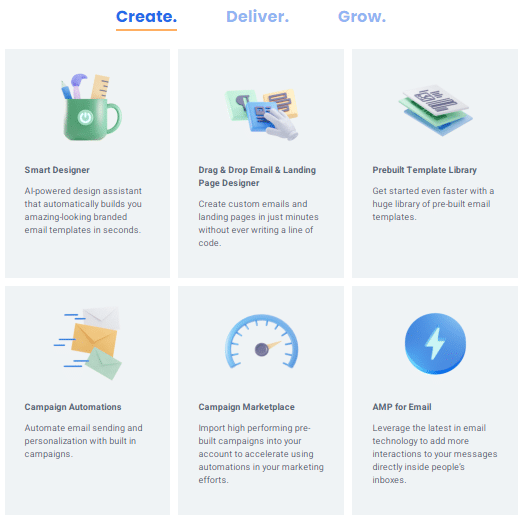 How it's different
AWeber was designed for small- to medium-sized businesses and entrepreneurs with one goal in mind – to drive real results with powerful, targeted email automation. The company had busy, smaller business operators in mind when they started the company, and they continue to focus on that segment by making their features easy to use and worry-free.
With AWeber, businesses can create impressive-looking signup and pop-up forms on their website, social media accounts and mobile offerings that allow them to collect email addresses for lists. You can also tag your subscribers based on what emails they open and what links they click within the emails, allowing you to drill down even deeper in your targeting efforts.
AWeber's email building platform is easy to use and creates visually-pleasing messages. But the goodness doesn't stop there.  The company also provides customers with a stock photo library of more than 6,000 images. This makes creating email campaigns that are nice to look at extremely simple from one platform.
Who it's best for
AWeber is tailored for small- to medium-sized businesses and entrepreneurs who desire advanced functionality that targeted email marketing and list building software can offer, without the need to use a complex interface. The company designed its all-in-one platform to make it extremely easy to do everything you would need to do in one place, rather than performing the multiple functions of email marketing in different places.
The integration with WordPress and other publishing tools is an attractive feature, especially for those looking to build out their email lists with landing pages, forms or pop-ups on their website. At the same time, AWeber still provides the ability to send email campaigns to very large lists, something other programs that cater to smaller businesses don't offer.
Pricing
AWeber offers five main plans that are based solely around the number of subscribers your business has. The nice part about their plans is all of the features they offer are available for every plan from day one.
These features include unlimited emails, automation, segmenting, analytics, customer solutions, sign up forms, integrations, image hosting, more than 6,000 stock photos, more than 700 templates and even education resources such as blogs, videos, and guides.
The pricing breaks down as follows:
0-500 subscribers: $19 per month
501-2,500 subscribers: $29 per month
2,501-5,000 subscribers: $49 per month
5,001-10,000 subscribers: $69 per month
10,001-25,000 subscribers: $149 per month
Companies with lists of more than 25,000 subscribers need to contact AWeber directly to get customized pricing. The company also offers discounts for quarterly and annual billing and a free 30-day trial so you can get a taste for what the software offers before committing to it.
Customer support
AWeber provides 24/7 customer support through a live chat function on their website. They also offer email support through a ticketing system, with a form you can fill out on their website for support requests. Their live phone support is available Monday through Friday from 8 a.m. to 8 p.m. Eastern Standard Time.
In addition to the direct customer support, AWeber offers a lot of resources, demos and guides directly on their website. This includes an impressive blog that provides not just information about how to use their program, but also general tips and tricks for getting the most out of email marketing.
Pros
Great fit for small- and medium-sized businesses

One of the first providers of email marketing software

Easy setup and integration

Powerful tools to build lists and tag subscribers

Sliding scale of pricing based on list size

Integrates with WordPress
Cons
Live phone support limited to just 8 a.m. to 8 p.m. EST on weekdays

Many not have as many advanced functions as competitors

Companies with very large lists might not be a good fit
Rating breakdown
Overall

:

4.6
Features:

4.7

Price:

4.5

Ease of Use:

4.8

Customer Service:

4.4