A company will cease to exist when they are unable to make sales. As competition increases, and thousands of new businesses being founded each year, companies need to ensure that their sales process and customer management procedures are well-organized to assure they gain new customers while retaining their existing ones.
There are many techniques and technologies that can be used for these purposes, with Customer Relationship Management, also known as CRM, topping the list. CRM's help manage everything related to their customers, often from the time the customer becomes a lead, up to when they make a sale – and sometimes much, much further.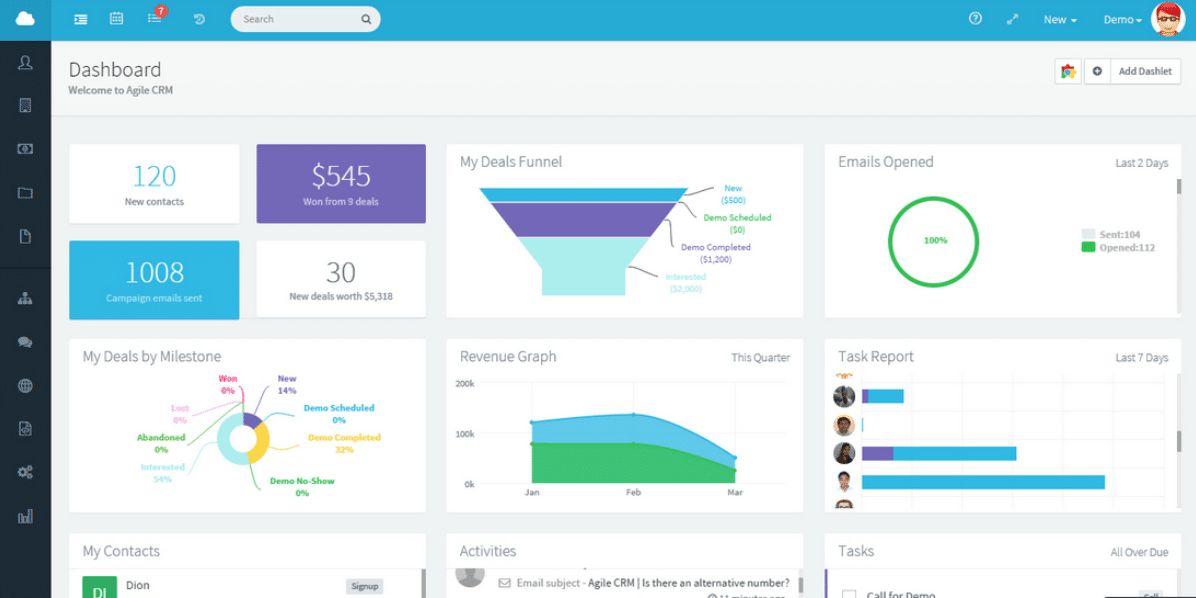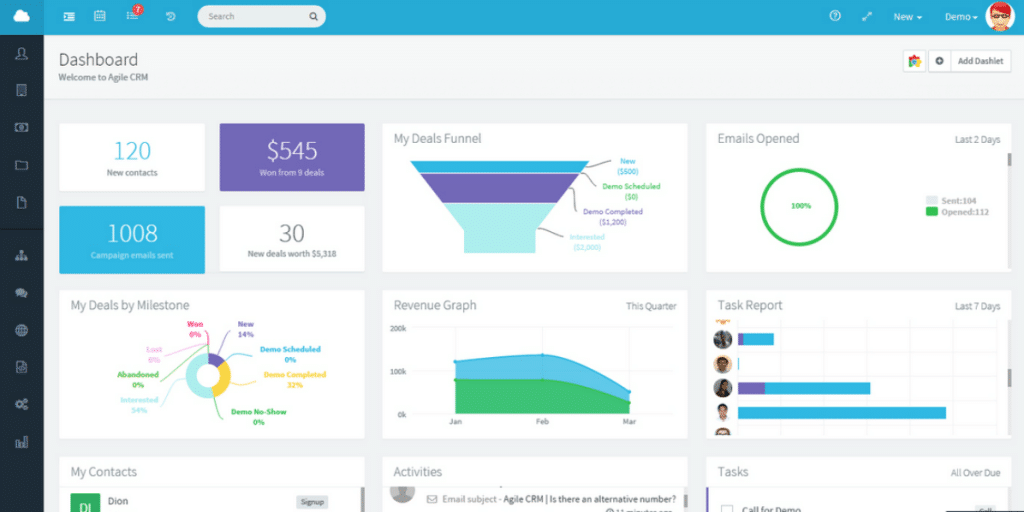 Agile CRM is a top-rated platform that provides three essential functions that all businesses depend on. This includes solutions to help drive the sales process, improve marketing efforts and, of course, to help the company offer valuable customer service to their clients. Let's explore this CRM and look at whether it is a good option.
Agile CRM pricing
Agile CRM is an advanced piece of SaaS software solution that offers companies of all sizes an opportunity to manage their business without having to make any significant investment when they first get started. The basic product comes with a free plan that offers up to 10 user accounts under one company name.
This free plan comes with 1,000 contacts, custom data fields, lead scoring, unlimited deals, and appointment scheduling.
Once a company needs to add more users or require further features, upgraded plans are available at prices that are more affordable than most alternative CRM options.


Starter

($8.99 per month) – 10,000 contacts, 2-way email integration, email tracking, custom deal milestones, email campaigns, 5,000 branded emails, web-to-lead platform, helpdesk, and three plugins.

Regular

($29.99 per month) – 50,000 contacts, custom deals track, 2-way telephony, 5,000 branded emails, social monitoring, service views and activities, and advanced reporting system.
Enterprise ($47.99 per month) – Unlimited contacts and users, with lead scoring, custom deal milestones, unlimited tasks, document library, post-call automation, call recording, automated voicemails, Sendgrid integration, social monitoring, and more.
Features of Agile CRM
Agile CRM is a feature-rich platform that acts as a three-in-one solution to help customers grow sales and ultimately find a way to manage better and satisfy their customers. The features of this program start with its useful contact and company management solution, allowing you to set up accounts for each customer. Customers can be captured as a lead, after which the lead can be converted to a sale.
The platform gives you the ability to capture deals and even schedule appointments. You can set up accounts for your team members and then create tasks, which can be assigned to appropriate user accounts.
The software also helps you manage the way you deal with your customers. When a customer has a question or needs support, they can get in touch with you – the system will then log their email or even their call, as well as your response. This gives you not only access to their profile and what products or services they have purchased from you, but also gives you an idea of what particular issues the customer has had in the past, and how happy the client is with your business.
Agile CRM also comes with several reporting tools that help you get in-depth details on projects and deals, as well as to see how well your team is converting captures leads into loyal customers. You also get access to a lead scoring system, ensuring you know which leads are the most promising ones that you should follow up with first.
Other features include:
Form builder and web engagement module

Email campaigns

Email integration

Marketing automation.

Social monitoring module

Campaign workflows

Groups and labels

Syncing with Google Apps

Shopify and Stripe integration

Access control features
Customer support
Customer support is often an issue, as most CRM solutions require either a fee to be paid by customers who require support, or that the customer subscribes to the higher plans if they wish to gain access to personalized customer support. With Agile CRM, things are different. When a customer subscribes to any paid plan on the agile CRM platform, even the starter plan, which costs less than $10 per month, they gain access to the support from the company. Agile CRM offers support through both email and phone, making it convenient for companies to quickly gain answers to questions, as well as advise on how they can best use the software to help them grow their business.
What's missing in Agile CRM?
While this software does offer several integration modules, customers need to subscribe to more expensive plans if they truly wish to experience a fully integrated solution. Additionally, we also found that the platform is still missing some useful integration modules that could help make the software more useful for companies that are already using different types of solutions to help them manage conversations with customers and other aspects that are involved in their sales process.
In short
For modern-day companies, adopting technological advancements in their business operations is crucial. CRM systems, in particular, can be very helpful in improving the way business deals with their customers, how they manage sales, and how they offer their clients support on the products and services they offer. Agile CRM is an excellent option for any business that's in the market for an effective Customer Relationship Management suite that also provides assistance in the management of sales, marketing, and even customer support. What's more, it is free to get started, and customers can upgrade to paid plans only when they need more advanced features or need to register more users.