Line2

East to use and setup
Low cost
Professional virtual receptionist

Visit Line2
RingCentral

Use on any device
Easy to set up, use, and manage
Secure and reliable

Visit RingCentral
Phone.com

Affordable
Fast and simple setup
Pre-configured phone

Phone.com
One expense that can quickly add up for any business is communication costs. Between internet charges, phone plans, mobile devices, and professional email services, you could be spending hundreds of dollars each month. Luckily, there is a way for you to cut back on communication costs without giving up service quality.
VOIP is rapidly becoming a popular way for businesses and personal users alike to enjoy crystal clear calling services at a fraction of the cost of a traditional landline. VOIP, which stands for "voice over Internet protocol," uses the Internet to manage business phone calls unlike a PBX phone system, which uses a traditional phone line.
While cost is one of the main benefits, there are a number of reasons you should consider VOIP for your small business.
With VOIP, you can keep your business connected with a phone line, and people who are calling your business or receiving calls won't notice a difference in terms of call quality. From the standpoint of your customers, a VOIP line is no different than a landline. In fact, using a VOIP line may give you the opportunity to become even more connected through mobile devices and laptops, which means your landline number can become mobile and make your business even more accessible.
This article will break down the advantages of choosing a VOIP provider for your small business communications, what to look for when shopping for a provider, the costs you can expect by choosing VOIP, and some of the best companies in the industry.
Why do businesses need VoIP?
Like faxing, landlines are quickly becoming outdated technology.
After all, the features offered by landlines are limited, and communications companies continue to increase pricing. Every cost increase eats into your bottom line as a small business owner, and if you're like many savvy business owners, you're always looking for ways to save money. VOIP has all of the features you've come to expect from a landline at a more reasonable price point.  Being easier to manage is just an added bonus.
The value of a VOIP line is also significant, as most VOIP providers pack in a ton of additional features for a low cost, like being able to access your voicemail through a dashboard in your browser.  
This makes a VOIP line much more convenient, especially for business owners on the go. Instead of forwarding calls when out of the office, many VOIP providers offer smartphone apps or browser extensions that can make and manage calls wherever you have an Internet connection.  This means that business doesn't have to come to a halt just because you left the store or office. Wherever there is an Internet connection, you will have access to your calls and all of the features that your VOIP provider offers.
In most cases, landlines would cost exponentially more for the same set of features.  In some cases, a landline phone system may simply not be able to match the feature set and value of a VOIP line, regardless of cost.
If you have found yourself looking at your small businesses' phone bills lately and wondering what you can do to lower the cost, VOIP might be the answer.
The best VoIP for small business
Now that you know what to look for in business VOIP providers, here are some of the top options to consider if you're ready to replace your existing small business phone system.
---
---
---
---
Line2

Line2 is a VoIP or business voice-over IP that allows small businesses to communicate with prospects and customers within one app. (The app can be downloaded from the App Store).
It provides customers a cross-platform messaging and VoIP service that enables you to turn your cell phone, laptop, or tablet into a business-grade phone system.
With Line2, you can take your small business to the next level in terms of communication, making your small firm appear more professional and legitimate in the eyes of your customer. Instead of using your personal iPhone number as your business number, Line2 allows you to use your computer or mobile phone as a 2nd toll-free line that you and your employees can use to communicate with each other or with customers. Line2 enables you to communicate with your customers anytime, anywhere, and from any device.
RingCentral


RingCentral is one of the top names in VOIP for business. Their cloud-based solution gives users the trusted connectivity of a traditional phone line, with the mobility of whatever device they choose to work from on the go like a laptop or smartphone. The company offers subscribers a variety of toll-free numbers so customers can call from anywhere–including from long-distance–free of charge. Video calling helps add another form of connection to suit your business as well. At $19.99 per month, per user, RingCentral is competitively priced with its peers.
Where RingCentral sets itself apart is its vast array of third-party integrations. You can integrate CRM software or make use of RingCentral's AI to better provide service in one simple interface. Users can access their admin panel from any device to make or receive calls, monitor voicemail, set their call forwarding settings, and more.
The mobile app available for iOS and Android also makes staying connected a breeze when users are away from their desk phones. On top of all that, 24/7 customer support is included with even the most basic plans.
Phone.com

For a fast and simple setup, look no further than Phone.com. With one of the lowest cost offerings on this list, Phone.com offers great value to small businesses with many of the advanced features that the more expensive companies have as well.
At $9.99 per user, Phone.com immediately impresses with the price tag. The user-friendly interface and mobile apps make staying connected easier than ever from any device. You don't even have to set up your own desk phone as Phone.com will sell you a pre-configured phone from trusted manufacturers that make set up as simple as plugging in the phone.
Ooma Office
Ooma Office is one of the most affordable VOIP phone solutions on the market today. To get set up, you simply have to buy the Ooma hub and then plug it into a modem. After that, you can enjoy VOIP calling and many basic features like voicemail, call forwarding, call recording, caller ID, and more.
All you have to pay is the mandated government 911 fee in your area. For most people, this amounts to less than $5 per month. Ooma has been around for many years and users report exceptional service stability which is essential if you plan to use this for your main business line. You can even port in your existing phone number so that you don't experience any missed calls as a result of switching.
Where Ooma falls behind some of the competition is with its lack of advanced features. However, for basic phone service, Ooma checks off all the boxes.
Nextiva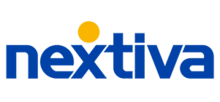 Nextiva is a cloud-based VOIP solution that brings a number of different products into one streamlined communication product. Users can enjoy basic VOIP calling functionality starting at just $20 per user. Where Nextiva set itself apart from some of the competition is the additional features like auto-attendant and included video and text chat right inside the platform. Users can also make use of Nextiva's CRM solution which eliminates the need (and cost) for a separate solution. Plus, there is no work needed to integrate all these services as they are built right into the Nextiva platform.  With the desktop panel, you can manage your calls and services from anywhere that has an internet connection. And, when users can't be available to take a call, their voicemail is translated to text and emailed to them for fast review and follow-up. Your business can even customize the calling experience by adding hold music.
Grasshopper

Grasshopper is another popular choice for VOIP providers and is available both in the US and Canada. Their solution is geared more towards business users which, is why it appeals to many small business owners looking to reduce communication costs. Their base plan starts at $29 per month, which includes 1 number and 3 extensions. With that price, you can also enjoy features like voicemail, custom business greetings, call forwarding, as well as their mobile and desktop apps.
With Grasshopper, you can stay connected anywhere using whatever device you feel most comfortable with, especially if you enable international calling. Setup is simple and easy so there should be minimal downtime after making the switch. Services like Skype can be integrated to add video chatting as well and help make Grasshopper an effective all-in-one solution.
Vonage Business

You may know Vonage as a leader in residential VOIP solutions, but the company also has a great small business offering as well that comes packed with features at a fair price. The $19.99 per user monthly charge is competitive with other VOIP providers.
Included with that are all of the basic features you would expect from a VOIP service like voicemail and call display. The collection of third-party integrations is where Vonage truly shines, however. Popular services like Google G-Suite or Microsoft Office 365 can be integrated for free and paid services like SalesForce also have support from Vonage. The mobile app and desktop admin panel are clean and well-designed which make managing calls, voicemail, and settings feel simple no matter where you are or what device you're using.
Jive
Jive may not have the household name recognition of some other companies but that doesn't mean they should be ignored when shopping for small business VOIP services.
This plug-and-play solution provides businesses with pre-configured phone and VOIP access at just $19.99 per user, per month. Jive includes all of the standard phone features you expect from a VOIP service but takes things up a notch with a professional mobile app as well as a desktop admin panel.
Plus, your business can enjoy a free subscription to GoToMeeting when you sign up for Jive. GoToMeeting is one of the top-rated video conferencing/conference calling services on the market and having both services for your business gives you world-class communication options.
1-VoIP
1-VoIP is a service designed to be simple and affordable without some of the bells and whistles that other providers offer. For some, this should be a welcome offering. For others who want a more advanced, feature-rich offering, 1-VOIP may fall short of expectations.
The service starts at under $10 per month and provides all basic phone services including voicemail, caller ID, call waiting, and more. However, there is no mobile app or desktop interface to take your calling on the go. Essentially, your business can save on phone costs and give up the mobility features offered by competitors. Plus, the setup is amongst the easiest of all the providers on this list. For simplicity and low cost, 1-VOIP checks off all the boxes.
When do businesses need VoIP?
There are a few scenarios where you may feel the need to make a change to VOIP for your telephone communications needs. The most common is when you simply look at your phone bill and are shocked by how high prices have gone for your landline.
Another reason you may consider a VOIP phone system for your business is because of changing business needs. You may find your traditional landline no longer meets your needs. Perhaps your business is becoming more mobile or you find you are traveling a lot, but still need to manage phone calls for your business.  VOIP can use call routing to forward incoming calls to your mobile phone.
A landline-based business phone system is fixed to your location and severely hinders your ability to communicate, whereas a VOIP line can allow you to communicate like you are sitting right beside your desk phone, wherever you may be. As long as you have an Internet connection, your business is connected. The increased mobility is one of the top reasons many business owners choose to switch to a VOIP provider.
New businesses are another top candidate for VOIP systems. If you are just launching a small business then you know how tight a budget can be as you start building a base of loyal clients. Extra, unnecessary costs can be a quick way to deplete your new businesses' limited finances. Instead of choosing a phone line for your new business, you should at least consider VOIP as a more affordable alternative. Plus, as a new business owner, you will likely be taking on many different roles which may not allow you to be available beside your desk phone at all times. With VOIP, you can continue to do everything you need to do with your business, wherever that may be, and accept calls on a number of different devices like your smartphone or laptop.
Another good example of a time your business may need to seriously think about VOIP business phone services is if your team is expanding. As your business adds new employees, you may need to also add additional phone lines at a significant cost. With VOIP services, new lines can be added at a much lower cost.
In addition, your new employees can enjoy all of the other features and benefits like increased mobility while still being able to make and accept calls from their business line. This is especially helpful if you have employees that work remotely using a smartphone or laptop.
How to choose a VoIP provider for your business
If you think that VOIP may be the right solution for your business, then it's time to start looking at the various options on the market. Cost is obviously going to be a top concern.
With cost, it's important to know how much you will pay for each user, and the features included with that amount. You'll want to identify your own unique telecommunications needs, and then find the right fit based on those needs, as opposed to simply reviewing the options on the market.
Most VOIP phone service providers have several tiers of plans available for businesses to choose from, all with unlimited calling. The most basic feature that you will need to consider when looking at plans is the number of lines included with each plan or the per-user cost.
Some providers may cap the number of allowed lines on their basic plan, for example. This should be easy for you to compare, as you will know how many users you need to connect. If more employees join in the future, then it's typically very easy to increase your subscription to the next plan tier and enable more users. Some providers may simply charge an additional fee for each user as you add them to the plan.
Another thing to consider when choosing a VOIP service is the third-party plugins that are available for your team to use. Many businesses make use of services like ZenDesk or SalesForce, and there are a number of VOIP providers that offer easy integration with these services. If your business uses CRM tools for managing clients or service requests, having a VOIP provider that offers simple interconnectivity means you can create a customized, seamless solution for all of the important programs that you use.
Customer service is another important feature you should look for when shopping around. While VOIP providers are generally very reliable, no service is 100% perfect. If you run into an issue with your service, it's important to get back up and running as fast as possible. After all, every minute that your phones are unavailable is a minute where potential customers can't get through to you. This could mean missed sales or poor service quality.
Look for providers with 24/7 customer support either through phone, live chat, and/or email. Being able to submit a ticket is nice for non-emergency issues, but when a major issue arises, it's always handy to have responsive support available.
How does VoIP pricing work?
In general, VOIP providers offer various tiers of services that are designed to meet the needs of businesses of all sizes. The main feature to look for is the number of users included with each plan to ensure that you get enough lines to ensure all of your employees are connected. Most of the time, prices are quoted on a per-user basis with a minimum and a maximum number of users allowed for each plan.
Within the tier structure, you may also find that certain features, like third-party software integration, are only offered within pricing certain tiers. If this kind of integration is important to you and your business, then you will want to ensure you choose the right tier that meets your needs. In situations where businesses need to connect a large number of users, VOIP providers may connect you with a product advisor who can develop a custom quote and package to meet your needs.
As far as pricing goes, costs will vary from provider to provider. Some basic VOIP plans only require users to pay government-mandated 911 fees, which helps keep costs low. Of course, as with most things in life, you get what you pay for. Basic VOIP plans may not include many of the advanced features that you're looking for. The good news is that most VOIP providers offer clear, transparent pricing on their website with each tier displaying the features it holds. This makes shopping and comparing very easy.