As a rule, every homeowner needs to have homeowners' insurance. This crucial insurance covers property owners in case of unforeseen incidents. For instance, a fire could break out in the garage, or a terrible storm damages the roof. However, homeowners insurance only provides coverage in case of accidental loss or damage to the policyholder's property. It doesn't cover costs to repair or replace appliances like home systems which have simply worn out.  Some companies like Mercury have separate policies for these tools.
Why you need a home warranty
Simply put, a home warranty is a service contract covering the repair or replacement of certain home appliances and systems. Normally the homeowner would need to pay these repair or replacement expenses directly out of pocket. For example, an air conditioner, dishwasher, or plumbing system repair could cost hundreds if not thousands of dollars.
There are other advantages as well, besides the cost of repairs. There's also the hassle of finding an affordable, trustworthy contractor to come out and take a look. All of the companies listed here have networks of reliable contractors, removing this burden from the homeowner. Many of them also promise to send a contractor out in under 48 hours with their home service contracts.
When you need a home warranty
Many people first come into contact with home warranties when buying a new home or purchasing other types of real estate. like condos. Although the coverage is often less expensive before the closing, a home warranty can indeed be purchased at any time.
Depending on the coverage selected, a home warranty normally costs well under $1,000 per year. This small investment can provide great protection against monster-sized bills, especially for older homes with older appliances,
How to choose a home warranty provider
Because there are many home warranty providers, choosing the right one can be a challenge. Although many offer similar coverages, there are a few critical factors to consider:
Is coverage available for this location? Not all companies operate in every state.
Is this a trusted provider with good reviews? Is it accredited by a rating company such as the Better Business Bureau (BBB)? Does it have good reviews on Trustpilot?
Are the most critical appliances covered by a standard package or is additional coverage necessary? For example, a homeowner with central air conditioning might want to find a provider with AC coverage as part of a standard package.
Below is an overview of the top ten home warranty companies.
---
Complete Protection
Company overview
Complete Protection has been in business since 1998. The company is family-owned and strives to offer great service.
Complete Protection offers protection through four levels of coverage packages, plus a wide range of optional coverage. They charge no deductibles or service call fees and offer 24/7 live support, provided by internal, full-time employees – no temps during peak seasons.
The service is available in 47 states and 6 Canadian provinces. Customers can choose their own repair provider, but Complete Protection has over 12,000 partner service providers in their network.
Additionally, Complete Protection is BBB  accredited and has won awards from Angie's List, Kudzu and Homewarrantyreviews.com.
Fees
Complete Protection offers four tiers of coverage: Essential: $45/month, Advanced: $55/month, comprehensive: $65/month and Ultimate $75/month. Service runs month to month and can be canceled at any time. There is no discount for paying annually.
All tiers include free service calls and all but the Essential package covers preventative maintenance every other year.
Pros
Cons
The $1k liability cap for septic, well pump, plumbing, and electrical systems could easily be met and exceeded.
Doubled items need additional coverage. For example, a second refrigerator or a home with two air conditioners would need to add specific coverage.
---
2-10 Home Buyers Warranty 

Company overview
Over the company's 40 years of industry experience, they've covered over 6 million homes. They also say they've paid 97.5% of customer claims.
A 2-10 warranty can be purchased to cover existing homes, major appliances, HVAC water heater, garbage disposal, electric & plumbing, etc. For new homes, 2-10 also offers a structural warranty benefitting both the builder and the homeowner. A structural warranty for new construction can cover the workmanship, distribution systems, and structural defects.
Fees
Fees vary by location but they start at $33.10 per month for both HVAC & water heater and major appliances. Everything together covers everything under the first two coverages as well as additional coverage for garage door openers, some plumbing issues, and costs $54.99-$64.99. Services fees cost between $85-125, depending on location.
Pros
Monthly premiums are low – just over $33 per month for many locations.
A rating from the BBB.
Cons
Custom coverage options are only available after one year at the first renewal, not immediately.
Relatively high service fees ($85-125).
2-10 offers no workmanship guarantee. If the same item breaks shortly after being repaired, the policyholder will need to pay for the service call again.
---
Home Warranty of America

Company overview
Home Warranty of America is headquartered in Lincolnshire, IL, and has been around since 1996. Homeowners, buyers, and sellers can choose from HWA's four available plans. In essence, there are two plans, Premium and Premium Plus, and each is available with a service fee of $75 or $100.
All plans cover 23 systems and appliances, and the Premium Plus Plan offers additional coverage for the cooling system. HWA offers environmentally conscious customers GreenPlus, an add-on allowing certain appliances that cannot be repaired to be replaced with EnergyStar qualified products. For example, a broken hot water heater could be replaced with a tankless model or an old furnace with a 90% efficiency heater.
Fees
The Premier Plan with $100 TCF (service fee) costs about $41 per month while the Premier Plus Plan ($100) runs about $50 per month. When the service fee is reduced to $75 per call, the Premier Plan increases to about $45/month and the Premier Plus Plan goes to $53 per month. Additional a la carte coverage is available for homeowners needing a bit more.
Pros
The coverage of 23 appliances and systems is guaranteed. Homeowners can also purchase extra coverage for home repairs on pools & spas, freezers, and septic pumps.
The GreenPlus option (for less than $6 per month) helps homeowners to upgrade their home's efficiency when certain appliances or systems need to be replaced.
Cons
HWA's pricing and limitations are not very transparent. Details regarding home and location must be entered before pricing is visible, and clients must sign up to view coverage limitations and exclusions.
Coverage is not available month-to-month or on a quarterly basis. Customers must sign a one-year contract.
---
Choice Home Warranty
Company overview
Choice Home Warranty is headquartered in New Jersey and was established in 2008. Currently, the company is BBB rated "B-", due to a large number of complaints filed against the business. However, customers have also given Choice Home Warranty 4 stars on Trustpilot.
Choice gives customers two packages to choose from, as well as many options for additional coverage. The basic plan covers 14 appliances and systems, while the total plan adds coverage to the air conditioner, refrigerator, clothes washer, and dryer for a total of 18 systems and appliances.
When signing a one-year contract, the first month is free. Choice also waives the $85 Service fee if the repair or replacement goes bad.
Fees
The home warranty plans cost $41/month for the basic plan with the total plan running $50/month.  Choice Home Warranty charges an $85 service fee each time a technician comes out to the property.
Pros
The home warranty cost is free for the first month.
Choice offers a 90-day workmanship guarantee on parts and 30 days on labor.
Cons
Pricing is only available after entering personal information.
Pending consumer fraud lawsuit in Arizona.
Choice can refuse repair or replacement at will. Loopholes cause certain components like seals or water heater tanks to be excluded from home warranty coverage.
---
American Residential Warranty
Company overview
American Residential Warranty was founded in 2009. Its corporate offices are located in Boca Raton, FL, and the company serves customers in all 50 states.
It offers customers a comprehensive selection of coverage for home appliances and systems. On top of the standard home warranty options, clients can also select Ultimate Electronics Protection to cover the breakage of computers or flat-screen TVs.
Fees
Customers requiring coverage for major kitchen appliances like an ice maker can choose ARW's Kitchen Plus for $34.99 per month. Coverage for only the Heating & Cooling systems is available for: $39.99/month. American Residential Warranty's Platinum plan costs $49.99 and covers a combination of electrical and HVAC systems, plus the most common home appliances.
Termed the company's most popular and most comprehensive plan, Platinum Premier costs $59.99 and is a more deluxe version of the Platinum Plan. This plan includes a more robust selection of appliances and systems. Additionally available are their 3-in-1 plan for $109.99, which includes Platinum Premier + Deluxe Advantage + Ultimate Electronics Protection.
The 4-in-1 adds water and sewer lines and goes for $124.99 per month. ARW charges a low service fee of $55.
Pros
A+ rating with the BBB,
Comprehensive coverage plans as well as additional coverage for home electronics.
Cons
Some coverage is not available in California, Florida, Iowa, Texas, Virginia, and Washington.
30 day waiting period before coverage takes effect.
---
Amazon Home Warranty
Company overview
Amazon Home Warranty is headquartered in Columbus, OH. The company is BBB accredited and currently has a B+ rating on the site. It has no relation to Amazon.com. It has several coverage packages and a great selection of add-on options. Some of these additional coverages are especially beneficial for homes with higher-end appliances or custom features.  The first month is free and customers get access to their huge selection of 40k in-network service providers.
Fees
The Appliances plan costs $42 per month and covers 8 common appliances around the home. The Systems plan also runs $42 per month and covers HVAC, plumbing, garage doors openers, hot water & electrical.
The Combo plan covers 23 systems and appliances (everything in the Appliances and Systems plans) plus ceiling fan, attic fans & exhaust fans for $52/month.
Pros
BBB rated B+
Low monthly premiums and a good selection of additional optional home insurance coverage
Cons
Coverage is not available in California, Florida & Washington
Exact pricing is only available after submitting personal information
---
First American Home Warranty
Company overview
First American Home Warranty has been around since 1984 and is one of the USA's largest home warranty companies. Nearly two-thirds of their 600,000 customers file at least one claim per year.
One of the most interesting optional coverages offered by First American is First Class Upgrade for $9/month. This add-on covers policyholders for cosmetic damage to appliances, covers crane expenses required for installation, and appliance removal expenses.
Fees
First American's Basic plan covers standard appliances and costs $32 per month. In addition to the Basic plan, the Premier plan also covers heating and ductwork, plumbing, and water heater and costs $46.50 per month.
Service fees range from $75-100 depending on the property's location. Coverage for air conditioners is not included in any plan and must be purchased separately. Customers can save $3 per month by paying annually, upfront.
Pros
Premiums are low and service fees are reasonable, although not the lowest available.
Broad coverage, including for improperly installed appliances and systems.
Service and claims are available 24/7, 365 days per year.
Cons
Coverage is only available in 35 states.
No coverage for air conditioning in any of the plans, it must be purchased extra.
A 30-day workmanship guarantee is less than some home warranty providers.
---
Select Home Warranty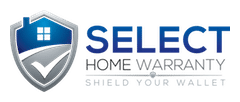 Company overview
Select Home Warranty has been in operation since 2012 and provides coverage to policyholders in 45 states. Currently, the company has a B rating at the BBB. Select offers three simple plans to cover a home's systems and appliances.
When paying annually and upfront, Select gives customers the first two months free. Additionally, all plans offer free coverage for roof leaks.
Fees
Bronze Care is $52 per month and covers 8 of the most breakable appliances. Gold Care is also $52 per month and covers systems, including HVAC, water heater, plumbing, and electrical.
Select's most popular plan is their Platinum Care plan. At $58 per month – the items from Bronze and Gold are covered, plus ceiling fan & garage door opener. The average service fee runs $60-75 and there is optional coverage available for pools, sump pump sprinkler systems, among others.
Pros
Low premiums (when factoring in the two free months) and low service fees.
90-day workmanship guarantee.
Free roof coverage for leaks.
Cons
Low payout caps ($150) on appliances without proof of regular maintenance before coverage.
Service fee must be paid for each service call, even if the item in question has already been looked at.
---
Cinch
Company overview
Cinch has been around for over 40 years and offers coverage in 47 states, excluding Texas, Alaska & Hawaii. While there are specific caps for each appliance and system, there is a $10,000 maximum liability cap over all claims. This is higher than the standard for the industry.
Cinch also covers unknown pre-existing conditions, as well as some coverage for rust and corrosion. Neither of which are commonly covered by other home warranty plans.
Fees
Cinch's Appliances only plan runs $39.99-49.99 monthly depending on deductible and location. The Built-in Systems plan costs $44.99-56.99 per month.
The Complete Home plan is $54.99-66.99 and covers both appliances and built-in systems, for a total of 29 systems and appliances.
Pros
Liability caps are generous and they offer rust and corrosion coverage.
180-day workmanship guarantee.
Cons
Pricing can vary depending on location.
Customers can end up paying for multiple trade service calls, one for each broken item repaired in one visit.
---
American Home Shield
Company overview
American Home Shield is the home warranty industry pioneer. They've been around since 1971 and are headquartered in Memphis, Tennessee. Currently, AHS has about 1,600 employees, serves 1.8 million customers, and has a B rating from the BBB.
AHS allows you to build your own plan.  This feature makes it much more customizable than other competitors. Also, customers can also book an electronics extended warranty as additional coverage.
Fees
American Home Shield's Appliances Plan covers appliances and garage door openers for between $34.99-49.99 per month, depending on deductible and location. Built-in Systems are covered by their Systems Plan, which costs $34.99-49.99.
The Combo Plan is their most popular and costs $44.99-59.99, covering 21 systems and appliances. AHS's Build Your Own Plan allows policyholders to pick and choose 10 items valued most of the 21 appliances and systems available and costs $39.99-54.99 per month. Customers can choose from three options for service calls, $75, $100, or $125. Selection affects the monthly fees.
Pros
Build your own plan option – only pay for what's needed.
15,000 contractors nationwide.
Pricing flexible, the tradeoff for higher service fees or higher monthly premiums.
Cons
Multiple service fees per visit are possible.
As part of the flexible pricing agreements, the service fees can be high.
Bottom line
There are a lot of choices out there when it comes to picking a home warranty service provider. The important thing is to select a trustworthy provider offering the most essential coverages. A home warranty is a worthwhile investment (similar to a life insurance policy), and is designed to protect the homeowner from the financial burden of repairing or replacing broken appliances out of pocket.