Line2

East to use and setup
Low cost
Professional virtual receptionist

Visit Line2
RingCentral

Use on any device
Easy to set up, use, and manage
Secure and reliable

Visit RingCentral
Phone.com

Affordable
Fast and simple setup
Pre-configured phone

Phone.com
As a small business owner, you're undoubtedly aware that being able to communicate with your customers is a crucial part of keeping the lights on.
In addition to providing troubleshooting advice and answering general questions, clear and accessible lines of communication are necessary for your customers to feel like they can get in touch with the company that provides the product or service they're using.
Additionally, keeping the phone lines clear is necessary to attract new clients.
Unfortunately, many companies these days find themselves overrun with other aspects of the daily grind, which can make it difficult to reply to every single call that comes in in a timely manner.
The good news is that there are technologies and 3rd party services designed to solve this exact problem. Third-party answering services and virtual receptionists perform a range of tasks to help keep things running smoothly, without demanding too much of your busy employees' time.
In addition to obvious benefits like saving money on labor costs by setting up things like automated responses to frequently asked questions, answering services free up time that can be spent on more meaningful tasks, as well as offering a range of other features to help streamline operations.
Why do small businesses need answering services?
When you have frequently asked questions
One of the biggest problems many small businesses face is an influx of commonly asked questions. Having to deal with the same questions day-in and day-out can get tiring, and will eventually wear down the employees tasked with handling them. By setting up a telephone answering service and programming it with general responses to basic questions, you can safely divert time currently spent on these types of tasks to work that will be much more profitable to your business.
When there's a long queue to speak to someone
Nobody likes being put on hold, especially for extended periods of time. Similarly, most people don't like hearing a robotic voice on the other end of the line, nor having to call back in to try and talk to a live person. Repeated instances of both could result in a very dissatisfied customer base, which is never good for business.
Answering services can solve both of these issues in one fell swoop, by providing a warm, human voice for your customers to listen to, as well as reducing the amount of time any one customer must spend on hold. This will improve customer experience, which in turn, will increase their loyalty to your company.
When you need help with high call volume
Live answering services can address this problem for you, which ensures all incoming calls are handled in a timely and professional manner. Some answering services provide the ability to customize the scripts they use, meaning that no matter how technical or complex the issue your customer is calling about is, the problem is guaranteed to be handled in the manner you choose.
When you want to generate new leads
In addition, depending on the company you work with, some answering services can even be used to help generate new leads. How? By making follow-up calls to existing customers, as well as past prospects.
When you need help with scheduling
Scheduling is another administrative task that many virtual receptionist services can handle, which is an excellent way to outsource one of the most important elements of many businesses. All you'll need to do is give the answering service your schedule, and they'll be able to schedule appointments in accordance with that so you can be sure that there are never any scheduling conflicts.
When you'd like help re-routing calls
In addition to directing callers to specific departments or employees in your company during normal business hours, they can also re-route after-hours service calls to the appropriate person within your organization, as well as urgent calls to relevant emergency services. This is especially useful for organizations like medical practices that often receive urgent calls that require immediate attention.  I
t's equally important for companies that are extremely mobile – like plumbers, electricians, and locksmiths – where timing is everything. Many small business answering services are available 24/7, which means you can rest easy knowing that your company's reliability will never come into question.
Overflow calling support is another important way answering services can help. Sales reps, for example, can't afford to miss out on important calls just because they're in a meeting. Answering services can handle calls that come in while they're busy, which means that important calls won't go unanswered.
When do small businesses need answering services?
When your employees are wasting their time
When your employees start to complain about the amount of time they're spending answering low-level, repetitive questions.
Any customer service department can find their workload greatly reduced once a 3rd-party answering service is introduced into the equation. If they're not yet unhappy with the situation but are instead gradually becoming more and more buried by the sheer number of calls, this a surefire sign that it's time to invest in one of these services.
When you need a reliable person to sub in
Another scenario is if one of your dedicated customer service employees suddenly needs to take an extended period of time off of work. While that person may have been able to handle the volume of incoming calls with ease, there's no guarantee that whoever is hired to replace them will be able to do the same. This could result in considerable disruptions to your business.
When you anticipate high call volume
If the volume of calls your business receives starts to drastically change – due to the roll-out of a new feature on a product or a big promo you're running – it may be time to consider hiring some outside help.
When you receive complaints about wait times
One surefire way to tell if it's time to invest in an outside 3rd-party answering service is if your customers are starting to complain about how long they've been on hold. If you're getting feedback that messages aren't being returned in a timely manner, this is another sign that it may be time to explore your options.
Line2

Line2 is a VoIP or business voice-over IP that allows small businesses to communicate with prospects and customers within one app. (The app can be downloaded from the App Store).
It provides customers a cross-platform messaging and VoIP service that enables you to turn your cell phone, laptop, or tablet into a business-grade phone system.
With Line2, you can take your small business to the next level in terms of communication, making your small firm appear more professional and legitimate in the eyes of your customer. Instead of using your personal iPhone number as your business number,
Line2 allows you to use your computer or mobile phone as a 2nd toll-free line that you and your employees can use to communicate with each other or with customers.  Line2 enables you to communicate with your customers anytime, anywhere, and from any device.
RingCentral

RingCentral is one of the biggest names in the industry, and their answering service doesn't disappoint. While they don't provide a live receptionist to answer phone calls, their automated receptionist includes a customizable greeting, as well as call re-routing functionality.
Higher tiers of service provide features like call recording, multiple-location re-routing, voicemail transcription, and varying amounts of toll-free calling minutes, depending on need and budget. RingCentral offers an Essentials plan ($29.99/use /month for 100 minutes), a Standard plan ($34.99/user/month for 1,000 minutes),and a Premium plan ($44.99/user/month for 2500 minutes).
Ruby Receptionists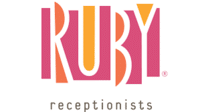 In addition to a live receptionist service that can greet callers, take messages, and route calls to different numbers, Ruby Receptionists offers customizable FAQ and intake forms, as well as the potential to incorporate your own hold music (for a fee), should you find yourself dissatisfied with the seven standard options. Ruby Receptionists also provides a local business phone number for you to use and can handle calls from 5 am to 9 pm Monday through Friday, and 6 am to 6 pm on the weekends.  Prices start at $299/month, which is on the higher side, but all plans come standard with bilingual receptionists, and a free trial is available.
---
VoiceNation
VoiceNation is one of only a handful of call answering services that's available 24/7. In addition to live receptionists who can answer calls and forward phone messages by email, voicemail, or SMS, the company also offers simple order processing, scheduling services, call patching, and customizable scripting, which can be used lead generation purposes. Customer support is provided via telephone, live chat, and web-based ticketing. Plans range from pay-as-you-go, which start at $79/month plus $1.50/minute, to flat-rates of varying amounts of minutes every month.  There's also a message-only plan with 40 minutes included for $49/month.
---
Map Communications
Map Communications has live receptionists who provide 24/7/365 support for answering phone calls, troubleshooting with highly customized scripts, scheduling appointments, screening callers, processing payments, taking messages, and call re-routing, Call overflow comes standard with all of their plans, which can be used to handle calls that come in when all of your existing lines are occupied.  This feature can also be configured to pick up after a specified number of rings. The Standard plan is $39/month and $1.15 per minute, the Business plan is $149/month for 125 minutes (with additional minutes billed at $1.09/minute), and the Executive plan costs $249/month for 225 minutes (with each additional minute billed at $1.07/minute).
---
Abby Connect

Abby Connect provides a dedicated account manager and a bilingual team of five receptionists who work from 8 am to 5 pm Monday through Friday, and 6 am to 6 pm on weekends. Round-the-clock service is available for an additional fee. Additional paid features include voicemail to email transcription functionality and customizable call transfer music. Unfortunately, customizable scripts and scheduling services are not currently features that are offered. Call overflow handling, however, comes standard on every plan, which range from $279/month for 100 minutes to $1,089/month for 500 minutes.  Abby Connect's call operators are known industry-wide for being friendly, knowledgeable, and patient, and can be employed part-time as well as full-time.
Davinci

Davinci provides live call answering and routing services, as well as outbound calls – made by Davinci employees – which is perfect for generating leads and closing sales. Their Business Plan is $99/month for 50 minutes or $249/month for 100 minutes, while the Premium plan costs $249/month for 50 minutes or $319/month for 100 minutes. Premium plans include appointment scheduling, outbound calling, order processing, bilingual receptionists, and specialized call flows, as well as administrative tasks. In addition, Davinci offers call forwarding & screening, voicemail management, call re-routing, and online faxing services. Unfortunately, there is no call overflow feature available.
What should you look for in an answering service?
There are an overwhelming amount of features to consider when it comes to answering services. All services have very basic features, while others have an extensive suite of them. But which are the most important boxes to tick to ensure your final choice doesn't let you down?
One of the most basic things to consider is whether 24/7 service is available.  Your customers don't live 9 to 5, which means your company should be able to handle questions outside of regular working hours.
You'll also want to check for whether they provide a record of every call that is taken. It's important to be able to check exactly what was said in any given conversation—after all, this is your company, and at the end of the day, you're responsible. If you have no way of checking things like this, by definition you have no way of making sure that they're representing your small business to your standards.
How they handle confidential information is more important than ever, and it's unacceptable for your customer's personal data to be handled in a way that doesn't conform to industry-standard privacy protocols. Be sure to check all the fine print to ensure that the way information will be handled meets your standards.
Equally important is what fail-safes are in place for unexpected events, like power outages. You should always try to work with a company that has a back-up plan in place. Otherwise, you risk absorbing their downtime onto the shoulders of your business.
Call overflow is a feature to consider if you're planning on using an answering service to handle a higher volume of calls than is typical for your business.  This ensures that customers aren't stuck waiting on hold for extended periods of time, and your customer support representatives aren't feeling the need to rush through calls.
Some services offer bilingual representatives who speak both English and Spanish, which will be helpful depending on your customer demographic. Others have representatives who can re-route inbound calls, transcribe voicemails and forward them on to the appropriate person, and even answer standard calls themselves.
Scripting is an important feature to consider, especially if your product and/or service is more technical in nature. By designing standard troubleshooting scripts (bear in mind that some services allow for much greater levels of customizability than others), you'll make your life – and your customer's lives – a lot easier.
Last, but certainly not least, you'll want to make sure that the people employed by the answering service in question are people you'd actually want to talk to yourself. And there's no better way to check this out than by talking to them personally.  One thing you'll quickly discover by going through this exercise is that even if a company is based in the United States, their employees might not be, and language barriers could be an issue.
When speaking with company representatives, prepare a few curveball questions in advance – you could even consider pretending to be a bit irate or impatient – so that you can judge how they handle unexpected situations. The best services will employ representatives who remain cordial and helpful, regardless of the scenario.
How does answering service pricing work?
The exact way that answering services calculate their service costs varies from company to company, but there are 2 main industry standards you should be aware of: per-call billing and per-minute billing.
One very important thing to note with pay-per-call is that the definition of a call varies greatly in the industry.  For example, with some company's, a wrong number might incur the same charge as a standard call. The same thing goes for faxes.
Per-minute pricing is usually a more accurate reflection of the time actually spent working on your behalf, although this too can vary from service to service. While some companies may only charge for time they're on the phone, others may include time they spend on auxiliary work, like looking up information or sending emails.
Most answering services either offer a pay-as-you-go plan, which typically includes either a standard monthly fee and a charge per minute, or a certain amount of minutes per month. The latter is also priced at a monthly rate but tends to be less expensive per minute than a pay-as-you-go-plan. There also tends to be a discount the more volume you purchase upfront.
Additional fees are charged for supplemental work, like scheduling appointments, sending and/or receiving emails, and secure (i.e. HIPAA-compliant) messaging services. Of course, there's no need to pay for these extra features unless you need them, and if all you're looking for is a real live person to answer calls on behalf of your business, a no-frills, basic plan is all you really need.
Depending on what you need, most phone answering services offer custom quotes as well. Just keep in mind that this added level of customizability tends to come with an increased cost.