Merritt Bookkeeping provides professional remote bookkeeping services to small businesses located anywhere across the US. The company was established in 2009 and has its headquarters in San Diego, California. Renowned for its unrivaled service, Merritt Bookkeeping offers streamlined accounting and bookkeeping solutions to its clients.


Is Merritt Bookkeeping right for my business?
Merritt Bookkeeping is essentially for small businesses with basic financial needs. Inherently, it is important for small businesses to keep track of their finances not only for tax purposes but also for resolving any cash flow or legal obstacles. Merritt provides an effective solution for business owners to streamline their record-keeping practices and increase productivity. The company provides a cost-effective solution to keep your books organized so that you can focus entirely on the growth and development of your business.
What features does Merritt offer?
Hassle-free collection of your bank statements each month through automated software.
Seamless integration with QuickBooks Online, which is a highly popular accounting software among small business owners. With the integration, it becomes easy for you and your bookkeeping company to organize and manage your information.
Simple and user-friendly web interface for easy reviewing and modification of your reports. Once you have signed up, you simply connect your accounts and let Merritt Bookkeeping update your books on a monthly basis and categorize all your financial transactions.
An interactive dashboard that allows you to check your balance sheet, monthly or yearly profit statements, and income and expense graphs.
Comprehensive coverage anywhere in the US.
Simplified issuance of 1099's that reports all your income earned through self-employment, sales proceeds or any type of interests and dividends.
How much does Merritt Bookkeeping cost?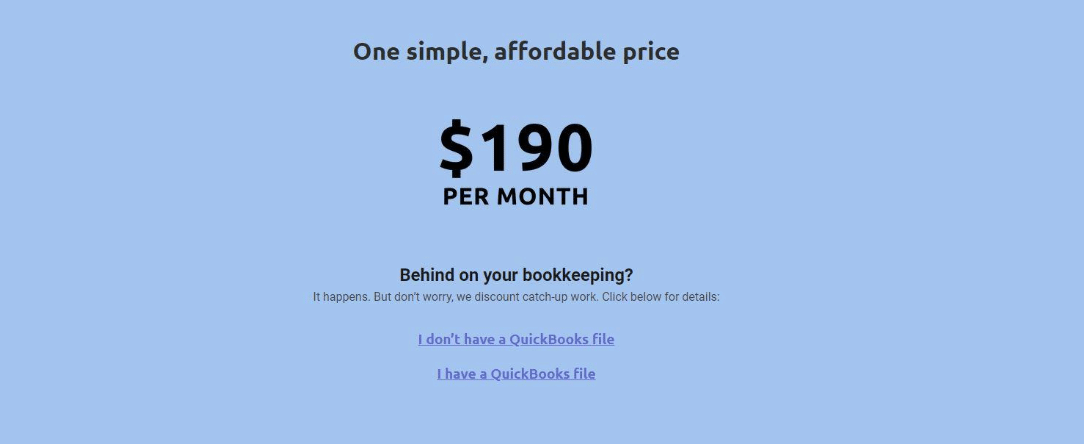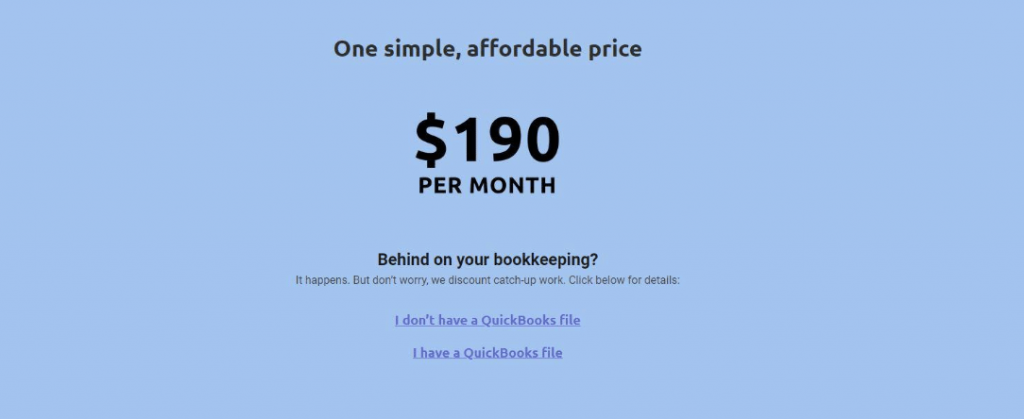 Merritt Bookkeeping provides its services at $190/month. However, the company offers different plans depending on the status of your QuickBooks file:
If you don't have a QuickBooks file then you will be offered a discounted price of $140/, which includes a QuickBooks file being created and updated for you.
If you already have a QuickBooks file, then you will have two options available:

$95/month if more than half of the transactions are already entered
$140/month if less than half of the transactions are already entered
Pros of using Merritt
Convenient, professional and personalized bookkeeping services that are tailor-made for small businesses
Completely risk-free operability. The company provides a 100% money back guarantee if you're not satisfied with the services.
Fast setup and initiation process. All it takes is a 15-minute phone call to resolve all your bookkeeping issues.
Proven track record with five-star user reviews on Yelp, Facebook, and Google+
Budget-friendly pricing that puts no dent in your wallet. The company bills no setup charges and provides free bookkeeping services to charitable and non-profit organizations.
Cons of using Merritt
Merritt Bookkeeping only provides bookkeeping services. The company doesn't manage payroll, taxes, or invoices.