For many years, small business owners relied on the services of accountants for their bookkeeping and financial upkeep. These accountants offered expertise but were often stretched across multiple clients, churning out tax forms and other reports while business owners had to fill in the gaps.
We might receive compensation from the companies whose products we review. We are independently owned and the opinions here are our own.
Xendoo aims to apply fintech innovations to the small business online accounting space. The holistic and cloud-based approach is designed to take the burden off business owners so they can focus on growth, knowing their finances are being handled well.
Xendoo focuses on online accounting services for small businesses, but it is a complex tool, so it's not right for every company.
Read on to understand what Xendoo is and see if it offers the right online accounting services for your small business.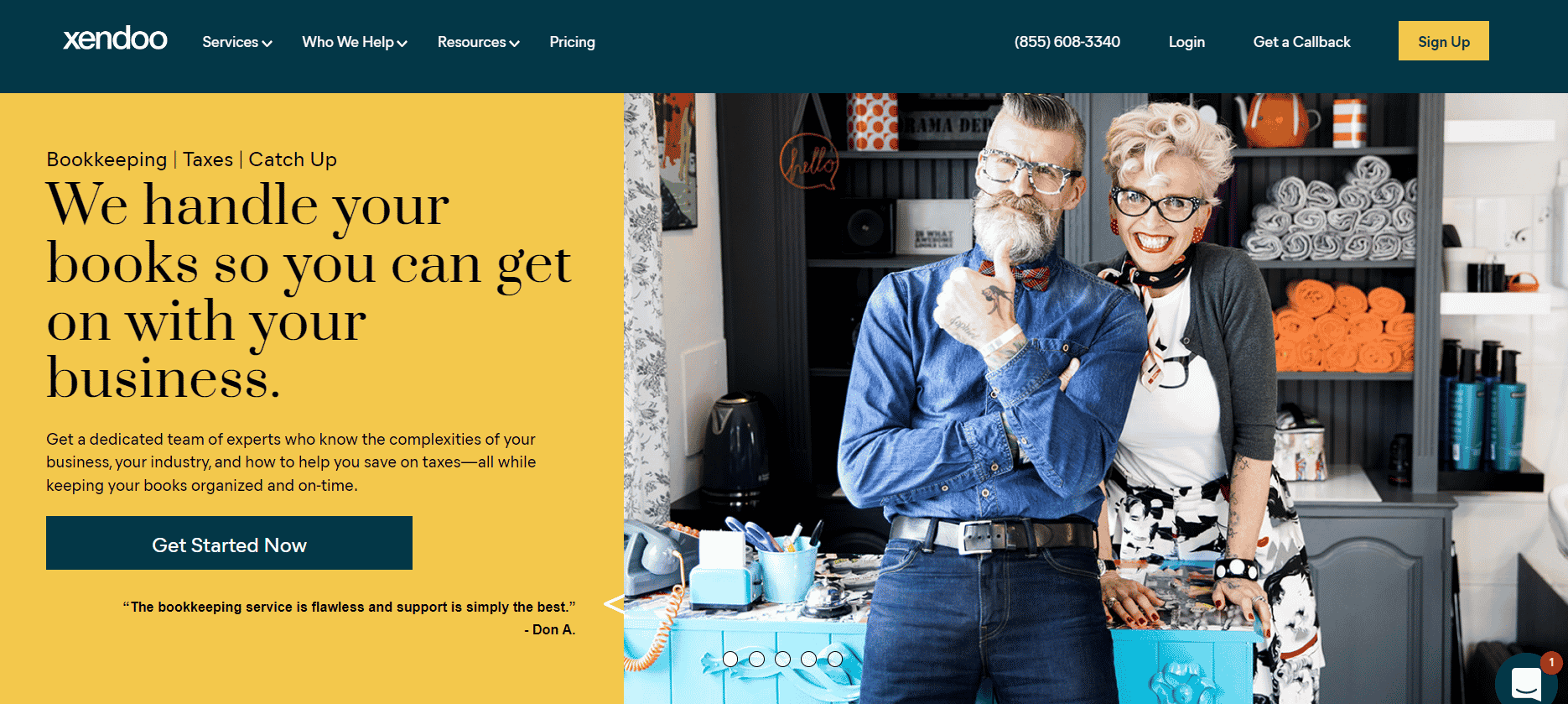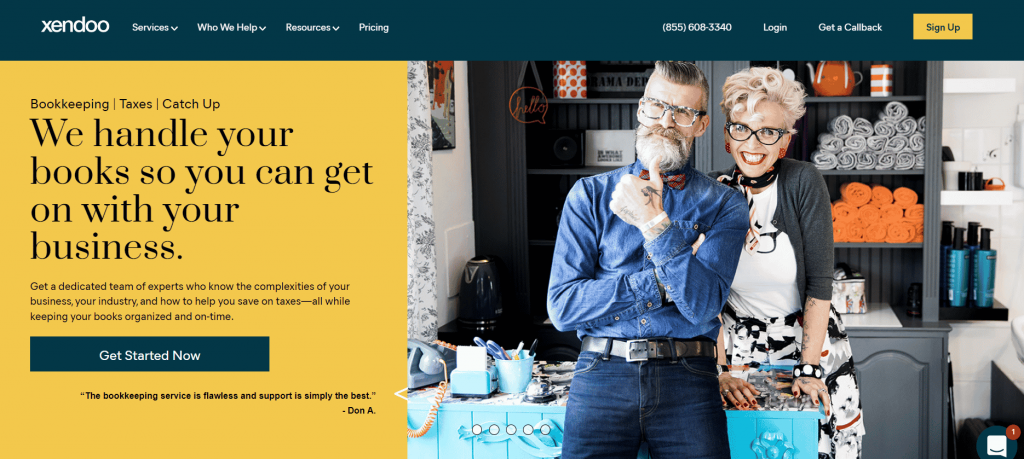 Check out our roundup of the Best Online Bookkeeping Services
What is Xendoo?
Rather than focusing on large organizations, Xendoo is specifically focused on helping individuals, small startups, and small to medium businesses. These clients can choose from a range of expert bookkeeping and accounting services that help clients monitor their finances in real-time and take action as needed.
Xendoo is powered by proprietary software, integration with Xero, and an extensive team of consulting CPAs.
The primary focus is on accurate online bookkeeping and financial reconciliation, with each client having a dedicated bookkeeper in charge of these tasks. There is also a team of the best online bookkeepers behind the scenes to ensure every line item is accounted for and reconciled. This is carried through to a focus on tax compliance, as the tool helps to ensure everything is ready for tax time.
While Xendoo does not cover every service you'd find at an accounting firm, it has a wide range of integrations. Major eCommerce platforms, payroll tools, inventory management, and accounting software like Quickbooks and Xero can all be used with Xendoo for a holistic accounting solution.
Xendoo features
Each Xendoo client can choose which online accounting services they're interested in, ranging from basic bookkeeping to an end-to-end accounting solution.
The core offerings available through Xendoo span a few areas:
Bookkeeping
Every Xendoo customer is given a dedicated bookkeeper and access to bookkeeping software that makes it easy to keep track of finances and ensure everything is recorded. Books are reconciled weekly, and financial reports are regularly delivered to a secure portal. Every bank and credit card transaction is recorded and reconciled, so taxes and accurate financials are never questioned.
Tax services
Xendoo treats taxes as a year-round task rather than one large filing in April. Consistent monthly bookkeeping leads to simple tax preparation and filings, which are included with a plan. Unlimited access to a CPA also makes it easy to ask tax questions, stay ahead of deadlines, and have peace of mind. Not only does Xendoo do tax filing for any business structure, but they can also help with personal taxes.
Catch up
If a business is behind on its bookkeeping, Xendoo offers its services retroactively so that it is easier to catch up on overdue tasks.
Within these plans, Xendoo has a range of features and add-ons that can help with specific scenarios. Some of these services include:
Sales tax preparation
In addition to income and corporate taxes, Xendoo experts can also help with the periodic filing of sales taxes and helping to ensure you have available funds.
Payroll integration
Some payroll tools, like Gusto, have integration available with Xendoo. Employee benefits and deductions can be tracked easily, and tax forms like W-2s will be easy to process and manage.
Franchise support
Franchise owners have specific benefits with Xendoo, as their reporting offers customized charts of accounts, support for multiple currencies, and roll-up dashboards. Group benefits and training sessions are also designed for these business owners.
Multiple company support
Entrepreneurs with more than one business can easily manage both within a single Xendoo account, so all finances are managed and reconciled easily.
E-commerce integrations
Xendoo integrates with various popular e-commerce platforms, like Amazon, eBay, Shopify, Walmart, Etsy, WooCommerce, and BigCommerce.
Fractional CFO
For companies without a full-time CFO, a Xendoo expert can be hired to offer insight and strategy guidance for growth.
Reporting
Xendoo's software has several monthly reports, including monthly profit and revenue trend graphs and interactive heat maps. All dashboards are also available in a mobile app for easy access. Depending on your plan, reports can be available as early as the 5th day each month.
Mobile app
All Xendoo clients will have access to a mobile app that allows them to send and receive documents, communicate with their team, and keep up with notices. The app offers access to monthly balance sheets, P&L statements, tax returns, and payroll returns. Push notifications can be used for reminders as well.
Cost for Xendoo
Xendoo clients can choose one of three plans based on their expense volume and needs.
Essential
The Essential package is available for clients who need bookkeeping for up to $50,000 in monthly expenses. For $395 a month, this plan includes the following:
Up to four bank or credit card accounts
Weekly bookkeeping
A dedicated bookkeeping team
Cash basis
One integration
Growth
The most popular plan is designed for businesses with up to $75,000 in monthly expenses. The cost for this plan is $695 a month, which encompasses the following:
Up to six bank or credit card accounts
Cash or modified accrual
Semi-annual tax consultations
Two integrations
Scale
For up to $125,000 in monthly expenses, the Scale plan is $995 per month. The offering includes:
Up to 12 bank or credit card accounts
Custom Chart of Accounts
Deferred schedules
Up to four integrations
For businesses with more than $125,000 in monthly expenses, custom plans are available via the Xendoo website. Discounts are available if fees are paid on an annual basis rather than monthly, though there are no annual contracts that prevent cancellation.
In addition to core plans, any Xendoo client can choose from various add-ons.
Tax Guidance plus Annual Federal and State Tax Returns: For $1200 a year, CPA Tax experts are available to maximize tax savings and file all necessary returns. This package includes year-round tax support and year-end financial packages for all business structures.
Catch-Up Bookkeeping: Starting at $295 a month, Xendoo will do bookkeeping for past-due taxes and reconciliation to help catch up.
Fractional CFO: Starting at $1,500 a month, Xendoo clients can use a Fractional CFO through the service for expert advice and strategy guidance.
Personal tax returns: For $495 per year, Xendoo will also tackle your personal tax returns, whether they include your business data or not.
How Xendoo works
Xendoo prides itself on a simple and fast onboarding process, with the sign-up process promised to take under an hour. Once you enter your company information and choose a plan, you can schedule a short onboarding call with a dedicated specialist. This call will involve you sending a year-to-date balance sheet, profit and loss statement, and introductions.
From there, your dedicated online bookkeeper sets everything up, including connecting all your relevant accounts. Your portal is then accessible 24/7, including on a mobile app. Reports will be delivered regularly – weekly for reconciliation and monthly for financial reports – and you can communicate with your team whenever needed.
Dedicated bookkeepers are available via phone, email, or live chat during standard business hours and may be willing to set up after-hours calls. Online bookkeepers are also available if you need urgent information when your usual contact is unavailable. Xendoo also offers access to a library of resources like FAQs, calculators, and eBooks about financial planning.
If you ever choose to leave Xendoo, you will be given a file that includes all of your data, which can be given to a new bookkeeper or exported into another software.
Advantages and disadvantages of Xendoo
Some of the pros of Xendoo include the following:
Money-back guarantee: Customers have 30 days to decide if they are satisfied with their bookkeeping. If the desired results aren't achieved, Xendoo will refund the first month of fees. There are some requirements for this – onboarding must be completed, and services must go live within a week of the start date – but it is always nice to see a company back up its value this way.
Integrations: While Xendoo isn't a complete accounting solution, it has integrations with most of the tools a business would use. This includes Xero and Quickbooks, as well as a range of e-commerce platforms and payroll software. Businesses won't need to switch off their current platforms to use Xendoo.
Mobile app: Financial reports and dashboards are available on a mobile application, which business owners appreciate if they aren't at their computers. The app is available for iOS and Android, with push notifications you can turn on or off.
End-to-end services: Xendoo covers all areas of bookkeeping and taxes, making it a holistic solution. Things are less likely to fall through the cracks if they are covered in one plan.
Access to experts: In addition to a dedicated team of bookkeepers, Xendoo offers access to CPAs and tax experts. This is a great way to gain knowledge as an alternative to having accountants on staff.
Catch-up option: For businesses that are behind, the ability to "catch up" through Xendoo can be a huge relief and make it less daunting to get started.
Easy to get started: The process of starting with Xendoo is very simple, and you could be up and running within an hour. The intuitive UI means there is not much of a learning curve either.
Xendoo has its downsides as well. Some gaps include:
Not all services available: Things like invoices and bill pay aren't included in any Xendoo plan, so there are accounting functions that may still need to be performed.
Tiered plans: Things like accrual-based accounting aren't available at the Essential plan level, and certain charts and benefits only come with the most expensive option. Because these are based on expense amounts, a business may have needs in a tier different than its designated one.
Made for simple accounting: Xendoo is not aimed at complex accounting issues or large enterprise organizations. As such, there may be use cases that do not make sense with the service.
Who is Xendoo right for?
Xendoo is a service aimed at smaller businesses and certain structures or industries. They separate their targets into four categories.
eCommerce
Integrations make eCommerce businesses a great fit for Xendoo, whether the business uses one platform or sells across multiple. Support for multiple currencies, 24/7 support, and inventory tracking integrations are all other benefits in this category.
Franchises
Xendoo has specific teams dedicated to franchise support to meet the unique accounting needs in this space. Custom charts of accounts, roll-up reporting, currency translation support, and group benefits aim to support franchisees and franchisors.
Professional services
Professional services tend to be smaller businesses or even sole proprietorships, and the task can be overwhelming if their expertise isn't accounting. Xendoo focuses on bookkeeping for these businesses and tailors tax returns to each business structure and specific regulations.
Small businesses
Any small business is a good fit for Xendoo. Most of their clients have less than $125,000 in monthly expenses, which is a sweet spot for the company.
Xendoo may not be the best choice for large and complex organizations or those with unique accounting needs. But most small businesses will find themselves in need of basic bookkeeping, in which Xendoo excels. Xendoo feels these businesses are the most overlooked by traditional accountants and has set out to serve them better regarding bookkeeping so that owners can focus on growing their businesses.