Our picks for best bookkeeping services
Xendoo

All-in-one bookkeeping and taxes
For small businesses
Integrates with Quickbooks Online and Xero

Visit Xendoo
QuickBooks Live

Ease of use
Personalized service and video chat
Monthly financial reports

Visit QuickBooks Live
As more and more businesses turn to the cloud for everything from document sharing and file storage to database management and project administration, it should come as no surprise that online accounting and bookkeeping sites are replacing native software applications like QuickBooks.  After all, most are user-friendly, convenient, and affordable.
While the decision to outsource bookkeeping–rather than employ a part-time or full-time house bookkeeper–presents an additional expense, the benefits typically outweigh the negatives.
Online bookkeepers help firms take care of many of their business needs, from preparing balance sheets and monthly financial statements, to handling a company's chart of accounts. In addition, many virtual bookkeeping services offer extras like tax preparation and payroll processing, if you are willing to pay for them.
At the end of the day, however, not all online bookkeeping platforms are created equal, which is why we have compiled this list of our top 5 favorite virtual bookkeepers.
How we evaluated each platform 
Our research involved a detailed analysis of a number of online bookkeeping service providers. Each one was evaluated based on the following criteria:
Who It's Best For
Ease of Use and Versatility
Services Offered
Affordability
Customer Service
Value for the Money
Our goal was to be fair and objective, while also recognizing that:
Different types of businesses have different types of needs
Larger businesses have more advanced bookkeeping tasks than mom-and-pop shops and businesses that are just starting out
Difficult to navigate user interfaces present considerable challenges for people who aren't tech-savvy
Having access to customer service plays a key role in operational efficiency
Price often plays a considerable role in the decision-making process
---
Xendoo

Xendoo is an online accounting service designed for small businesses. With dedicated bookkeepers for each company, the goal is to let business owners focus on their business while knowing their finances are handled. Bookkeeping services can be paired with various other options, including tax filings, catch-up accounting, or fractional CFO offerings.
Who it's best for
Small businesses with less than $125,000 in monthly expenses
Owners of one or more franchise businesses
Sole proprietors and LLCs in the professional service space
Businesses that use eCommerce platforms and need eCommerce bookkeeping
Any business without accounting expertise and resources
Ease of use and versatility
Xendoo guarantees it will take an hour or less to set up, a process mostly done through an onboarding call.
The software interaction is intuitive and primarily in the form of easy-to-read reports.
Reporting and communication are available via the web or a mobile application.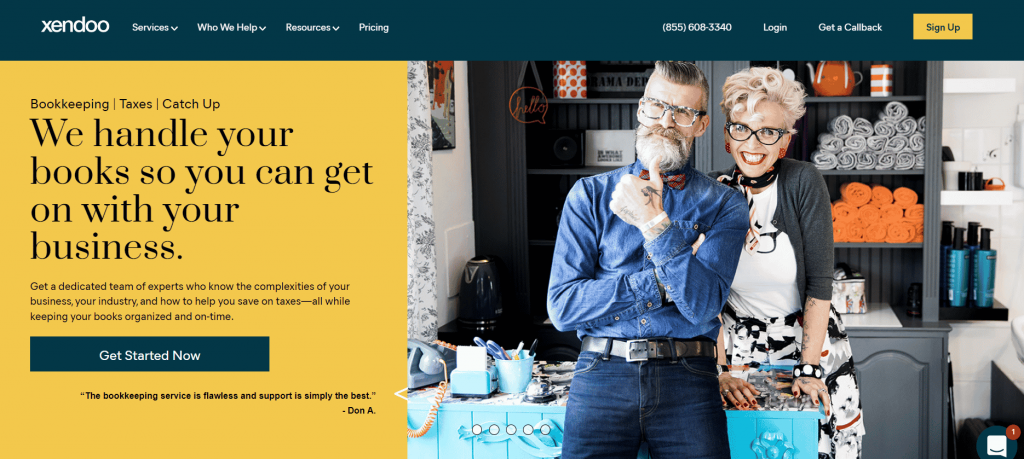 Services offered
All Xendoo plans include a dedicated bookkeeper and a team of experts, weekly reconciliation, and monthly financial reporting.
Tax services, including filing, can be purchased as an add-on.
Fractional CFO services are available.
Catch-up bookkeeping to make up for any months where accounting activity did not occur.
Full access to relevant experts, like bookkeepers and CPAs.
Affordability
Xendoo is sold based on tiered categories, with three plans available. Add-ons and custom plans are also options.
Essential (up to $50,000 in expenses per month): $395 per month
Growth (up to $75,000 in expenses per month): $695 per month
Scale (up to $125,000 in expenses per month): $995 per month
Tax services start at $1,200 a month, and Fractional CFO services at $1,500 per month. Catch-up bookkeeping starts at $295 per month. Custom plans can also be created based on a business's needs or pay annually for discounted pricing. There is a 30-day money-back guarantee.
Customer service
Xendoo clients are assigned a dedicated bookkeeper who manages their accounts and is backed by a team of other bookkeepers. Communication can happen over the phone, email, or live chat during normal business hours or be scheduled for other times. If the dedicated person is not available, another bookkeeper will be connected. Xendoo also has a large library of FAQs, eBooks, and other assets designed to help business owners with the tool and financial wellness.
See the full review of Xendoo here.
---
QuickBooks Live
Quickbooks Live is an optional add-on to Quickbooks Online. It builds on the success of the Quickbooks platform by giving you one-on-one access to a professional bookkeeper. Your personal virtual bookkeeper will organize receipts, categorize expenses, and prepare monthly reports for you. If you need help, you can hop on a video chat with your personal bookkeeper during normal business hours.
Who it's best for
QuickBooks Live is best for small businesses who already use QuickBooks, and who want personalized, one-on-one help.
It provides direct access to a professional bookkeeper to organize your books, and answer any questions you have.
Ease of use and versatility
QuickBooks Live is a part of the existing QuickBooks Online system, which is well-designed and offers a user-friendly interface.
Everything is done remotely, so you can access your books or chat with your bookkeeper from anywhere in the world.
Services offered
QuickBooks Live requires QuickBooks Online (sold separately), so you'll get all the same features as are offered in QuickBooks Online (see above).
One-on-one bookkeeping with a certified bookkeeper (average of 15+ years of experience)
Live video chatting with your personal bookkeeper
Live and personalized help with QuickBooks setup
Ongoing bookkeeping, expense categorization, and more
Monthly preparation of detailed financial reports
Affordability
QuickBooks Live is an optional add-on to QuickBooks Online (priced separately). The cost of QuickBooks Live depends on the size of your business, measured in your average monthly expenses:
Low-volume bookkeeping (up to $25,000/mo in expenses) – $200/mo
Medium-volume bookkeeping (up to $150,000/mo in expenses) – $400/mo
High-volume bookkeeping (over $150,000/mo in expenses – $600/mo
Customer service
QuickBooks Live subscribers will have direct access to their personal virtual bookkeeper to ask questions and have video check-ins. This service is offered during normal business hours. And, as a QuickBooks subscriber, QB Live subscribers will also have access to the standard QuickBooks Online support staff. QB Online support can be reached via email or phone, and response times are typically under 48 hours.
See the full review of QuickBooks Live here.
---
QuickBooks Online
QuickBooks Online is the online, cloud-based version of QuickBooks. It's the most popular online accounting service by a good measure, serving millions of small business customers. It's known for its user-friendly interface and can be accessed on computers as well as mobile devices – without any software needed. Plus, it's regularly updated with new features and is backed by QuickBooks' reliable customer support.
Who it's best for
Any small to medium-sized business
Those who want to be able to access their books from anywhere, on many different devices
Ease of use and versatility
QuickBooks is known for its slick, colorful, and highly interactive user interface
While the learning curve can seem steep at first, QuickBooks is intuitive overall, and there are tons of learning resources available for beginners
Its web- and mobile app-based interface means you can access it from anywhere in the world
Most accounting professionals are familiar with QuickBooks, making it easy to share data with CPAs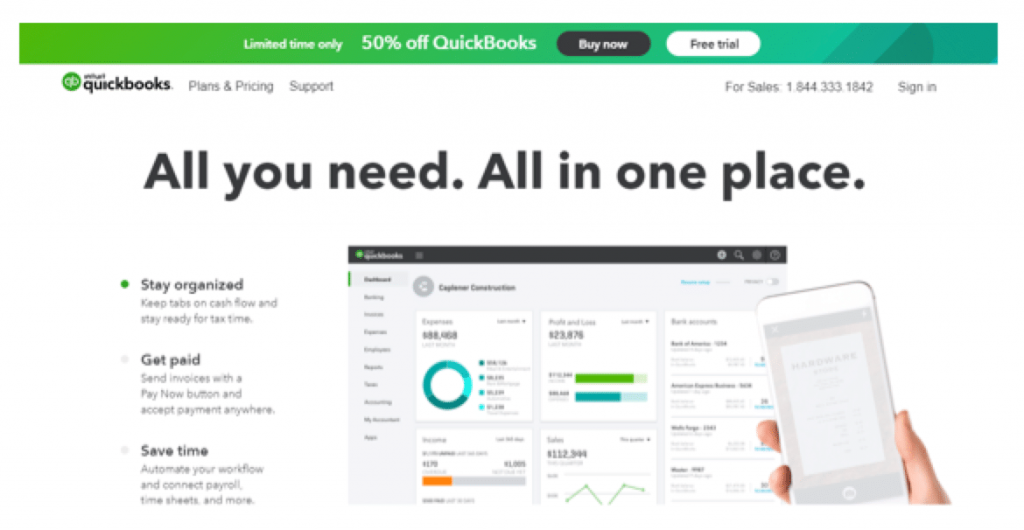 Services offered
Efficient and organized tracking of expenses and income
Creation of advanced financial reports
Track time, issue invoices, and receive payments
Easy integration with other software, including tax-prep software
Affordability
QuickBooks Online has three plans, each targeted to suit the needs of different-sized businesses. For many companies, the Plus plan is the sweet-spot balancing features and cost.
Simple Start – $25/mo ($12.50/mo for the first 3 months)

Basic accounting features
Limited to 1 user

Plus – $70/mo ($35/mo for the first 3 months)

Advanced accounting features, like time and inventory tracking
Up to 5 users

Advanced – $150/mo ($75/mo for the first 3 months)

Advanced accounting features, like batch invoices/expenses, and business analytics
Up to 25 users
Customer service
QuickBooks Online is owned by Intuit, which is typically known for good customer support. You can reach customer service agents by phone, email, or chat, and response times are generally quick. The Advanced plan offers a dedicated account team, for even better service. And if you want more hands-on guidance, QuickBooks Live (optional, sold separately) pairs you 1:1 with a trained bookkeeping expert to keep your books and provide live guidance via video chat!
See the full review of QuickBooks Online here.
---
Wave

Wave is free cloud-based accounting software that allows you to conveniently create impressive invoices, receipts, and estimates. The company was established in 2009 in Toronto and serves over 2.5 million clients worldwide.
Who it's best for
Wave works best for small businesses and freelancers who need simplified accounting tools to create invoices, track expenses, and process online payments
It also serves sole-traders who require automating billing and invoicing to simplify their business finances
Ease of use and versatility
The user-interface is subtle and allows you a great level of interactivity
Most users feel the Wave platform is flexible and user-friendly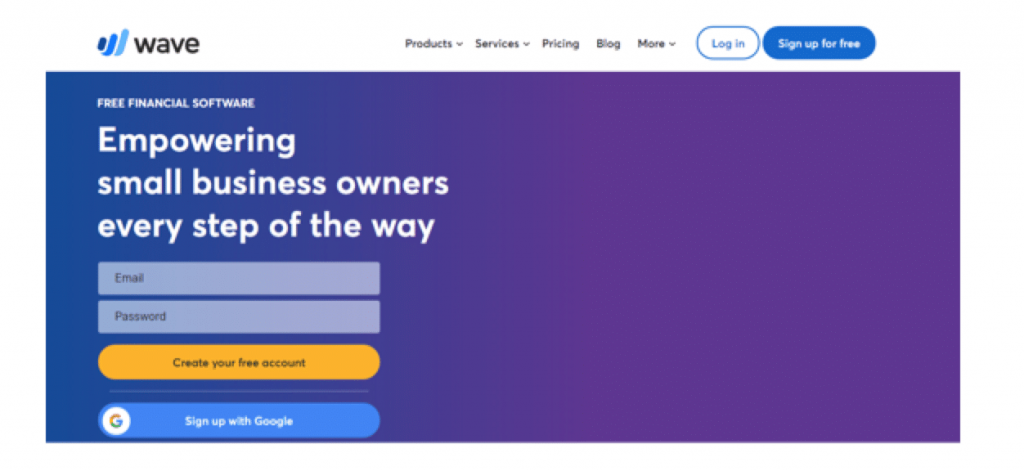 Services offered
Automatic invoicing and monitoring – users can craft eloquent invoices, and other accounting documents using the platform
Wave also lets you monitor your invoices and payment status, whenever required
Easy income and expense tracking is standard
An interactive receipt scanning tool allows you to scan any manual receipts with a click-of-a-button
A handy payment system means you can pay your team from anywhere in the world
Has an add-on tax service in 14 states that can help you file your federal and state tax returns
Affordability
Wave is free, which means it's affordable for any business. The range of features offered puts it miles ahead of the competition. It's important to note, however, that there are some extra features available in select countries that are chargeable.
Customer service
Customer service is the only place where Wave lags behind other service providers. The only way to communicate about an issue is through email, and it may take weeks before you receive a response. Live chat and phone call options are only available for premium users.
See the full review of Wave here.
---
Kashoo

Kashoo is a simplified accounting solution for freelancers and small business owners. The company is based in Toronto and provides service to clients in 180 different countries. It is run by a small bookkeeping team of 20 employees who are constantly engaged in developing better financial tools for customers.
Who it's best for
The company provides distinctive accounting services to small business owners and freelancers
Their philosophy is to simplify accounting functions for small businesses and budding entrepreneurs
Ease of use and versatility
Kashoo is known for its simple and minimal design
Comprehensive accounting solutions are offered through an interactive and effortless user-interface
The easy-to-use accounting system lets you share your accounting information with anyone across the world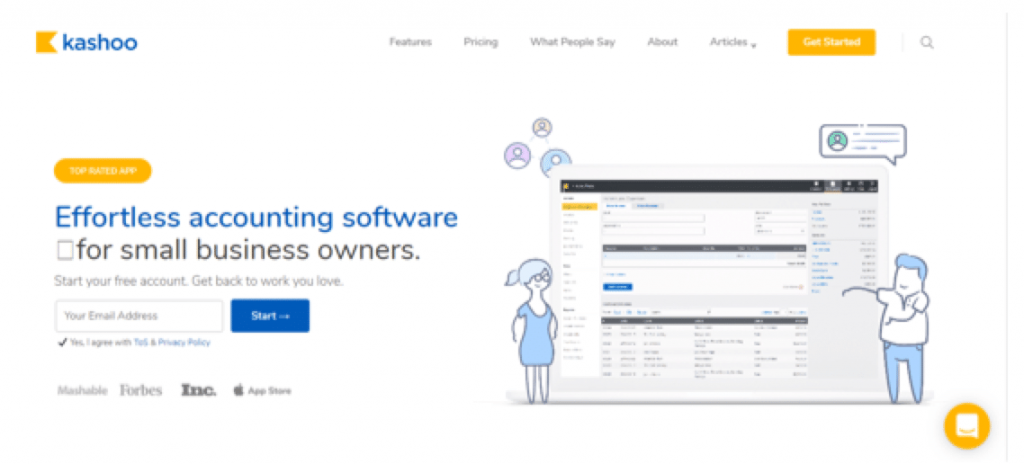 Services offered
Time-saving tools – Kashoo provides a number of important accounting tools that save time and resources, including:

Easy invoicing
Seamless tracking of accounts payable and accounts receivable
Mobile app for iOS devices
Easy third-party integration
Picture sharing on-the-go

Interactive tools – Kashoo also provides a list of interactive and resourceful tools to customize, and enhance your business productivity, which includes:

Seven different templates, with logo and footer customization to create impressive invoices
Ability to run different types of reports
No number of users limit per account
Affordability
Kashoo offers two pricing plans to its customers. It offers comprehensive accounting solutions in the first plan and additional bookkeeping and tax services in the second:
The software-only plan is $16.65/month
Software plus bookkeeping and tax services are $199/month
Kashoo allows you to try before you by, offering a free 14-day trial to potential customers, with no credit card required.
Customer service
Kashoo offers amazing customer support to clients. What's more, it's free and allows you to interact through chat, email, and phone. Customer representatives are extremely knowledgeable about the platform.
See the full review of Kashoo here.
---
Merritt Bookkeeping
Merritt Bookkeeping is one of the most recognized online bookkeeping and accounting services. While the company doesn't offer extras like payroll services and tax filing as many competitors do, Merritt is excellent for bookkeeping. The company is based in San Diego, California, and serves businesses across the United States.
Who it's best for
Merritt Bookkeeping specializes in providing tailor-made accounting and booking solutions to small companies located across the US
It is ideal for self-employed individuals since budget-friendly pricing is available
Ease of use and versatility
Merritt Bookkeeping is recognized for its professionally designed interface and customization options
There are direct, to-the-point function that allows you to save both time and resources
The signup process is quick and easy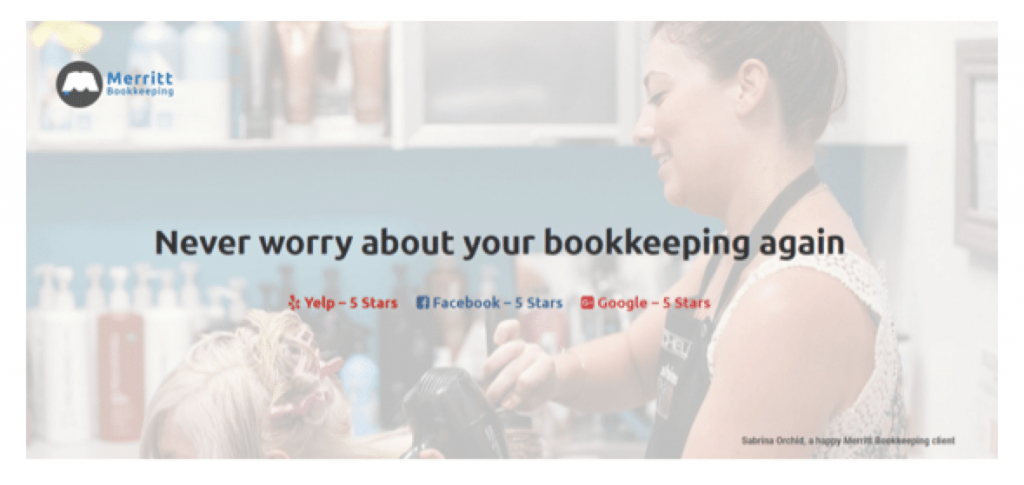 Services offered
Automatic bank statement collection – Merritt Bookkeeping uses an automated bank statement retrieval software tool to access your statements from all your company bank accounts, which saves you the hassle of sending them manually
Accurate year-end financial report generation is well-organized and easy to understand Comprehensive QuickBooks integration ensures seamless data import/export
There's a 90-day full money-back guarantee if you're not impressed with their services
Affordability
Merritt Bookkeeping offers affordable bookkeeping plans to its clients. Depending on your QuickBooks file, the company charges:
$140/month if you don't have a QuickBooks file or it is less than 50% complete.
$95/ month if your QuickBooks file is more than 50% complete
Customer service
The company offers outstanding customer service which is direct, thorough, and interactive. All the customer service representatives are fluent in English and provide comprehensive troubleshooting solutions. You can connect with customer service via email or telephone. Most importantly, your email is responded to within 48 hours.
See the full review of Merritt Bookkeeping here.
---
Invoicera
Invoicera claims to be the world's most powerful invoicing and billing software. It was established in 2006 and headquartered in New Delhi, India. The company provides a number of distinctive features to automate business processes.
Who it's best for
It's best for small businesses, and freelancers to troubleshoot various invoicing issues
It also serves to improve the communication between suppliers and vendors
Ease of use and versatility
Invoicera specializes in invoicing and provides one of the best user-interfaces for invoice creation
If offers smooth navigation and organization, but can be a bit buggy at times
Though the software lacks a bit in responsiveness, the overall user experience is highly positive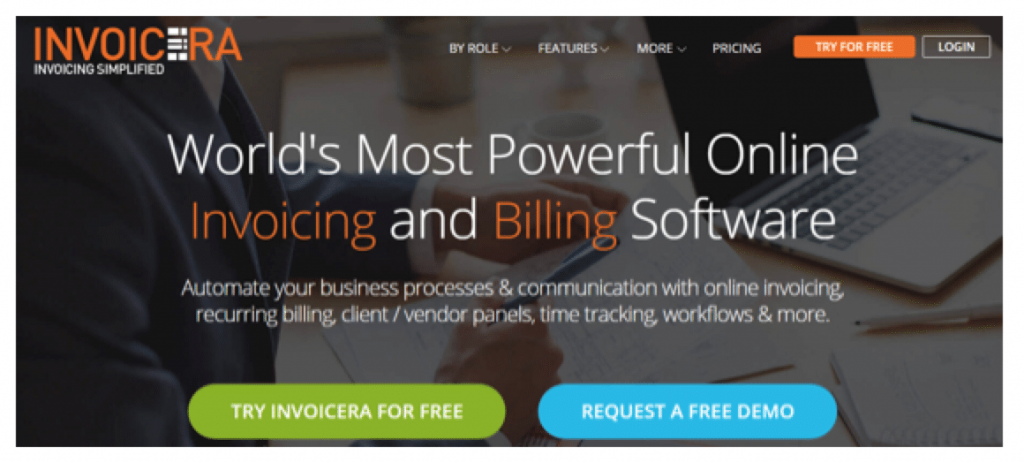 Services offered
All-in-one-platform – Invoicera provides a comprehensive invoicing solution that incorporates efficient management, tracking, cash flow statements, payment processing, and report generation in a single platform
It provides a wide range of language support so that it can be used in countries where English is not the primary language
There's mobile app integration so you can manage your account from the palm of your hand
Affordability
Invoicera offers three distinctive plans, all of which are affordable for small business owners.
Starter Plan: free, but limited to 3 active clients
Pro Plan: $15/month, with up to 100 active clients plus additional features
Infinite Plan: $149/ month, which includes everything from the Pro Plan plus additional features
Customer service 
Invoicera has faced criticism for its poor customer support. CSR's are friendly and cordial but can take anywhere from hours to weeks to respond to a single query. Customer support can be reached by call or email, but since there is no US-based phone number, it's oftentimes difficult for US-based customers to reach out.
See the full review of Invoicera here.