Toptal is an online crowdsourcing platform with a heavy focus on services that require subject matter expertise and experience. The site is home to a highly skilled talent base that typically holds positions in the upper echelons of management and operations. Senior level jobs like Product Managers, Project Engineers, and Finance Experts are just a few of the types of opportunities typically listed on Toptal.
We might receive compensation from the companies whose products we review. We are independently owned and the opinions here are our own.
Toptal takes the concept of the gig economy to the next level by providing a platform where businesses are able to connect with more advanced workers. Hourly rates, on average, range from $60 to $210, which is too expensive for most small businesses. This is a platform that caters to large-scale businesses that can afford to pay top dollar. Businesses can hire individuals and teams, and even create and manage an entire virtual workforce of experts on the platform.

Check out our roundup of the Best Sites to Hire Freelancers Online
Toptal pricing
Businesses must pay a $500 upfront fee upon making the first hire. A risk-free trial period then begins, during which businesses are billed as per the freelancers' hourly rates. If satisfied with the quality of work, the payment is processed and work continues. If not, the money is refunded in full and another candidate is suggested for the project. It's important to note that this isn't a 'Free Trial' of services, however.  It's moreso a good faith gesture extended to companies so they can find the right talent for their work.
When it comes to paying freelancers, it can be done by the hour, per contract, as full-time employees, or biweekly.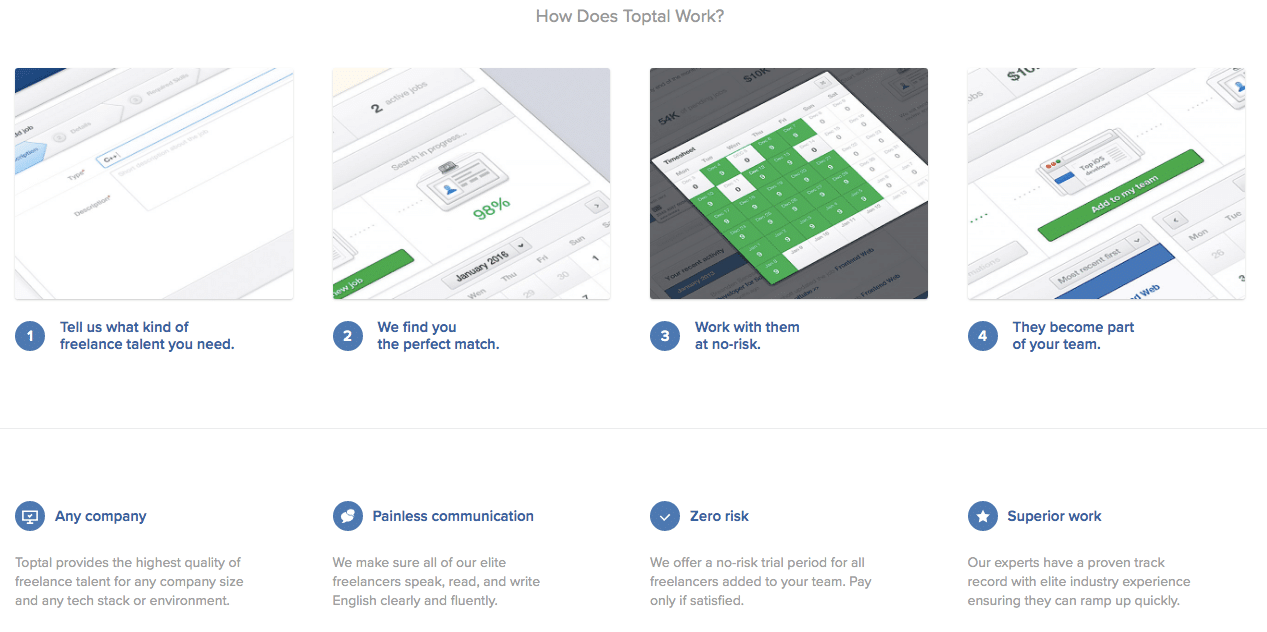 Toptal customer support
Toptal's customer support team studies all job requirements and helps with talent matching suggestions until the right candidate is found. One of the platforms biggest draws is that there's a team available to assist with hiring qualified and vetted talent to ensure the best fit on both sides of the table.
Toptal usability
With Toptal, once a job is posted, the entire hiring process is taken care of by their team. From matching candidates to requirements to project commencement, the process requires minimal input from employers. What's more, the Toptracker tool helps with managing everything.  The biggest knock is that there are only a limited number of categories of talent available.
Pros
Freelancers are thoroughly vetted by the Toptal team before being added into the talent pool

The site provides tools and features to manage an entire workforce remotely

Vetting and matching option saves time when evaluating candidates

Talent is matched with jobs within 24 hours
Cons
Domain expertise and professional services do not come cheap and are too expensive for most small businesses

Services are only available in 5 categories, which is severely limited in scope in comparison to other freelancer hiring platforms

If a talent match isn't found within 24 hours, it can take up to 3 weeks to find the right candidate for the job
Rating breakdown
Overall Rating:

4.5

Features:

4

Price:

4

Ease of Use:

5

Customer Service:

5