Namecheap is a domain name registrar that also offers web hosting plans. The two divisions are responsible for 10 million domains and have 11 million users.
We might receive compensation from the companies whose products we review. We are independently owned and the opinions here are our own.
Namecheap overview
Hosting options

: Shared hosting plans, email hosting plans, WordPress hosting services, VPS hosting, reseller hosting packages, and dedicated servers

Bonuses

: Free domain name for the first year (with Stellar Business plan)

SSL certificate

: Free SSL certificate for the first year for all hosted websites

Apps

: WordPress, Joomla, Drupal, Zen Cart, Magento for eCommerce

Customer support

: 24/7 tech support team through email, chat, and web form

Refund policy

: 30-day money-back guarantee

Uptime guarantee

: 100 percent for shared hosting, business plans and dedicated servers / 99.9 percent for VPS and reseller accounts

Control panel

: cPanel

Content delivery network (CDN)

: Inhouse system

Cheapest hosting plan

: $1.24 per month, the renewal price is $2.79 per month
Check out our roundup of the Best Web Hosting Services
Notable features
Entry-level plan hosts three websites

Free website builder

Free domain privacy

Discounts for hosting and domain name registration packages
Pros
Shared hosting plans for unlimited domains

Unmetered bandwidth on all shared hosting plans

Unlimited email accounts on Stellar Plus and Stellar Business plans

Unlimited subdomains on Stellar Plus and Stellar Business plans

Unlimited MySQL and PostgreSQL databases on Stellar Plus and Stellar Business plans

PHP MyAdmin

SSH access

Softaculous app installer

Private IP address option (paid add-on)

Free domain transfer

Free website transfer

Free WordPress plugin library

SSD disks

Accepts PayPal

Bitcoin payment option
Cons
Disk space limits (except for Stellar Plus plan)

Free CDN has a traffic limit of 50 GB per month
About Namecheap
Namecheap was started up in 2000. The headquarters and data center are in Phoenix, Arizona. Namecheap has a second data center in Nottingham, UK.
The business, as its name suggests, was originally just a domain registration service with an aim to be one of the cheapest domain registrars in the world. The company soon added on web hosting services as well.
Namecheap shared hosting plans and pricing
Small business owners and individuals hoping to start up a blog or an eCommerce website want an easy way to create their own sites. This means they need a website builder or an easy-to-setup content management system, such as WordPress. Namecheap offers three managed WordPress plans, called EasyWP Starter, EasyWP Turbo, and EasyWP Supersonic.
The standard shared hosting plans from Namecheap also include WordPress for free and these plans are cheaper than the EasyWP plans. So, those looking for a good deal would be better off choosing the shared hosting options. The WordPress system can be easily installed by the Spectaculous app installer and these plans also include access to a free website builder.
The three Namecheap shared hosting plans are:
Stellar

:

three websites; 20 GB of SSD disk space

Stellar Plus

:

unlimited websites; 50 GB of SSD disk space

Stellar Business

:

unlimited websites; unlimited SSD disk space
Shared hosting plan length prices
All three shared hosting plans can be subscribed to for one month at a time, one year, or two years. New customers get big discounts on their first plan purchase, so the longer that first subscription term is, the more the customer saves. 
Here are the initial plan terms and their prices per month.
Stellar

1 month — $2.88 ($2.88 per month)

1 year — $17.28 ($1.44)

2 years — $29.76 ($1.24)

Stellar Plus

1 month — $4.88 ($4.88 per month)

1 year — $29.28 ($2.44)

2 years — $53.76 ($2.24)

Stellar Business

1 month — $8.88 ($8.88 per month)

1 year — $53.28 ($4.44)

2 years — $93.12 ($3.88)
The entire subscription period has to be paid for upfront. Choosing the UK data center gets $1 for each month of the plan added to the bill.
Plan add-ons for a hosting account are:
SSL upgrade

– a single-site SSL certificate; Price: $3.88 per year

Email hosting

– this is in addition to the free email account included with the plan; Price: Free trial for two months then $9.50 for Starter, $27.10 for Pro, or $4.70 for Ultimate per year

VPN

– for personal use, protects internet connections; Price: $12.00 per year
Plan renewal prices
All subscription lengths for all plans renew at higher prices. For example, here are the renewal rates for the two-year term of each plan.
Stellar

: 

$69.12

($2.88 per month)

Stellar Plus

: 

$117.12

($4.88 per month)

Stellar Business

: 

$213.12

($8.88 per month)
Buyers of two-year plans are only charged for account add-ons for a year, so those get renewed on the anniversary of the account creation rather than when the subscription period for the hosting account expires.
Domain registration prices
The last part of a domain name, such as ".com" is called the top-level domain (TLD). Namecheap has a long list of TLDs and they are offered at discount prices for the first year of registration. 
Here is a list of the TLDs available from Namecheap. Prices are for the first year followed by the renewal price.
.app — 

$14.98 first year, renewal price $16.98

.best — 

$2.80, $21.88

.biz — 

$4.88, $16.88

.blog — 

$6.88, $25.88

.cc —

$5.88, $13.88

.co — 

$7.98, $25.98

.com — 

$8.88, $12.98

.inc — 

$2,098, $2,1098

.info — 

$3.88, $14.98

.io — 

$28.88, $34.88

.net — 

$11.98, $14.98

.org — 

$12.98, $14.98

.pro —

$2.88, $15.88

.shop — 

$2.88, $36.88

.store — 

$2.88, $25.88

.tech — 

$4.99, $28.88

.us — 

$3.88, $10.48

.website —

$1.88, $9.88
The central authority for domain names charges 18 cents per year as a fee for most TLDs. This is added to the prices shown above.
Optional extras on domains that can be added to the bill are:
WhoisGuard

– hides the buyer's identity in the domain name register; Price: Free

PremiumDNS

– a system that guarantees domain name to IP address referencing; Price: $4.98 per year
Before preparing the final invoice, the billing system gives the buyer the option of whether to automatically recharge all selected services when they expire.
Uptime
Downtime is logged in the Support Center's Status Update section. Namecheap offers an uptime guarantee of 100 percent availability for shared hosting, business plans, and dedicated servers. The guarantee is 99.9 percent availability for VPS and reseller accounts.
The uptime guarantee operates on a monthly basis. If the service fails to meet its target in a month, the affected customers are entitled to an extension of their plan that is one day's free service for every hour of downtime.
Speed
To test the response time (page load speed) of a WordPress site hosted on a Namecheap Stellar plan by loading a sample page of text into a new WordPress site.
The response time tests were performed with the Google web developer diagnostic tool, PageSpeed Insights. This service scores the load speed of a page, testing for delivery to mobile devices and to desktops. PageSpeed Insights scores are ranged between low, medium, and high performance.
The test page was an article of 3,000 words and 13 images.
The performance of the delivery to a mobile device from Namecheap was categorized as Medium. The overall score was in the middle of the Medium performance at 67.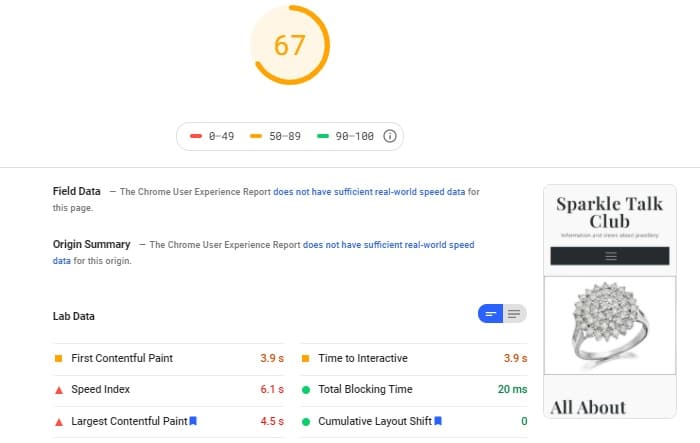 The Speed Index value given in the test results is a weighted average of a series of delivery speeds for different elements in the page under review. The Speed Index of 6.1 seconds achieved by Namecheap is pretty average for the industry.
Tests on the same page delivered from sites hosted by other major web hosting companies gave these results (in seconds):
SiteGround

:

3.1 

HostGator

:

5.1 

GoDaddy

:

7.5 

Bluehost

:

8.2 

Hostinger

:

9.9 
The test results when requesting the same page from a desktop were better. Namecheap's overall score towards the top of the Medium performance category.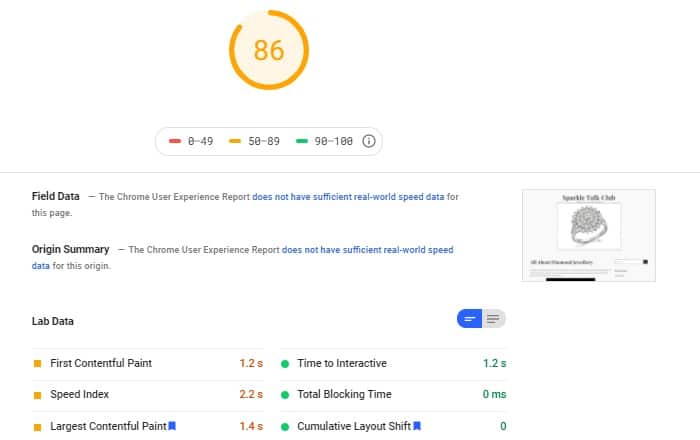 A score of 86 is respectable. Among the other test subjects, SiteGround got a score of 99 and GoDaddy's score was 58.
The Speed Index score of 2.2 seconds sits in the middle of the league table. The scores of the other major web hosting providers were (in seconds):
SiteGround

:

1.2 

HostGator

:

1.8 

GoDaddy

:

1.9

Bluehost

:

2.8 

Hostinger

:

3.2
Security features
Account security
Each shared web hosting account has login credentials to stop strangers from breaking in. The security service can be enhanced by applying two-factor authentication.
Content protection
All websites are covered by a group SSL certificate from Comodo up to 50 sites per account. Website owners can upgrade to an individual SSL certificate for each site.
The entire Namecheap system and all account data get backed up twice a week and the two higher plans get access to an AutoBackup schedule for daily backups.
Namecheap runs its own content distribution network, called Supersonic CDN. This distributes copies of the website onto other servers around the world making it quicker to deliver to faraway browsers. The service also absorbs DDoS attacks. The free CDN available to all shared hosting plans has a data throughput limit of 50 GB per month. CDN plans can be upgraded to extend that limit up to 1,000 GB per month.
Domain owner privacy
The owners of all domain names in the world have to be registered on a public database that also holds their contact details. Most domain name registrars offer a privacy service that substitutes the details of a nominee company. While almost all domain registrars charge a substantial annual fee for that privacy service, Namecheap includes it for free with a service called WhoisGuard.
How to set up WordPress in a Namecheap account
Once your payment has cleared, your account will be set up. A link to the account dashboard at the namecheap.com website is included in the welcome email.
You will need to set up an email account on your domain in order to get WordPress installed.
Scroll down in the dashboard to the Software section and click on Email Account. This will open the Email Account Manager. Click on the Create button above the list of current email accounts.
Create an account called admin on your domain name. Create a password for the account or click to generate one. Press the Create button on this second screen to get the new email account set up.

This opens up a new tab for the Softaculous app installer. Click on the Install Now button to get WordPress installed on your domain name. Go back to the Software section of the account dashboard and
Click on the WordPress icon.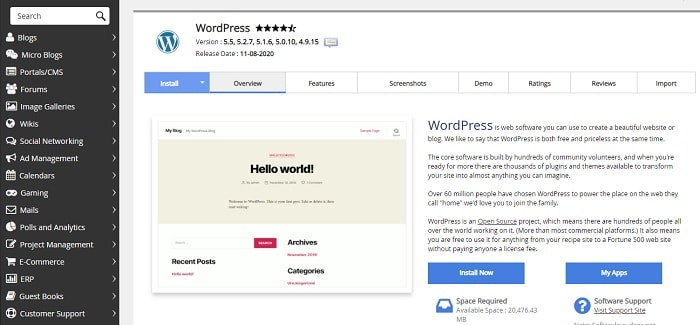 In the WordPress Settings screen, click on the Quick Install button.
Type in a title and description for your site. Give the email address you just created as the Admin Email. Scroll down and select a theme for the new site then press the Install button.
Once the installation process completes, you can access the WordPress dashboard of your site at the wp-admin directory of your domain – such as yourdomain.com/wp-admin.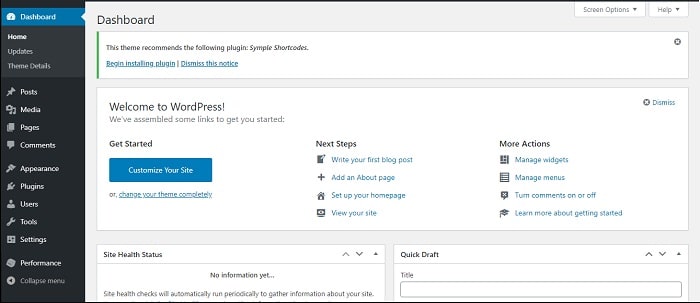 Namecheap customer support
Namecheap support is available in the form of:
A knowledge base

Live chat support

A support ticketing system

A support email address
Access to these services is available on every page of namecheap.com and is equally accessible to subscribers and members of the public.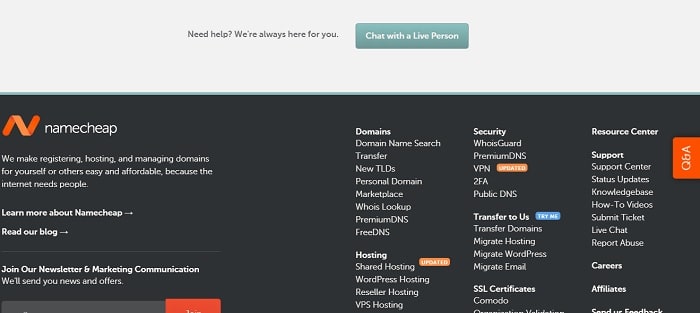 The Support Center option in both the dropdown menu and the footer of every page at the Namecheap site is just a page that ties access to all of the support access channels together.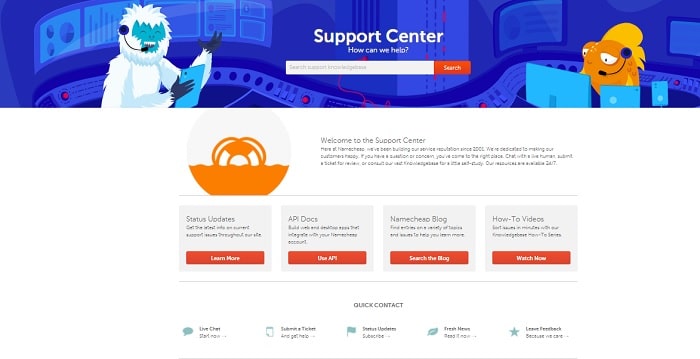 The top feature in the Support Center is a search facility to get self-help guides from the knowledge base. The Namecheap support team doesn't operate a phone helpline.