Amazon's Mechanical Turk, or MTurk, is a crowdsourcing, micro-tasks platform that enables business owners to post their tasks to a queue. These are tasks that can be automated but require a little manual assistance for proper completion. Freelancers working on the platform assign themselves these Human Intelligence Tasks (HITs) to their queues, which are then completed within a specified time period. Tasks not finished within the specified time duration are returned to the queue.
Payment for tasks is minuscule.  Since there's no bidding on projects, business owners aren't subjected to the rigors of a hiring process. Simply post a task and wait for it to be completed at the specified price.
This platform is ideal for individuals and businesses operating on stringent budgets with work that doesn't require much expertise, but a lot of time.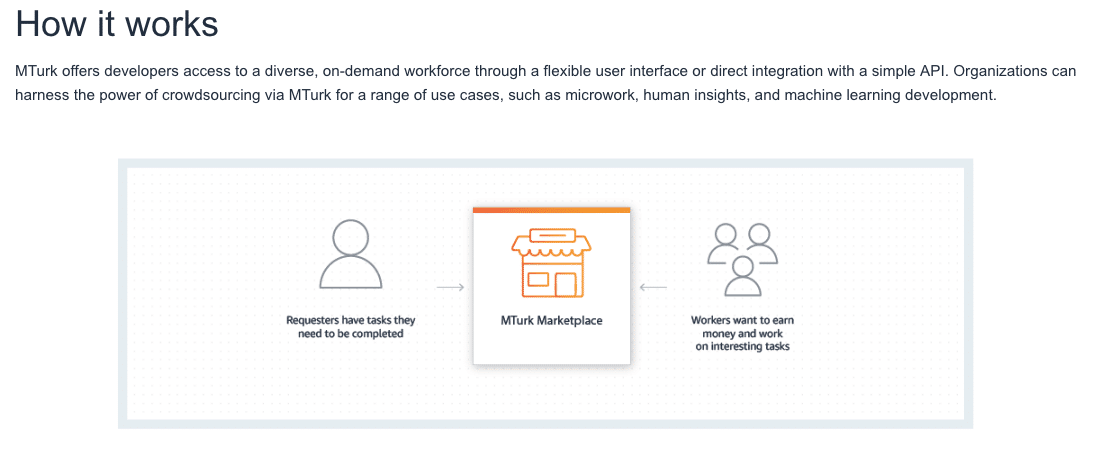 Mturk pricing
Mturk fees consist of two main components: worker fees + service charges.
The regular plan assesses a service charge of 20%, or $0.01, whichever is higher, on the amount of money (including bonuses) offered per job. An additional 20% charge is assessed on HITs with more than 10 assignments.

Requesting Workers with Master Qualifications – Hiring workers with an established record of quality output requires an additional charge of 5%.

Requesting Workers with Premium Qualifications – Hiring the best of Amazon MTurk with industry expertise and experience invites additional charges based on the industry vertical, type of job, and country of residence.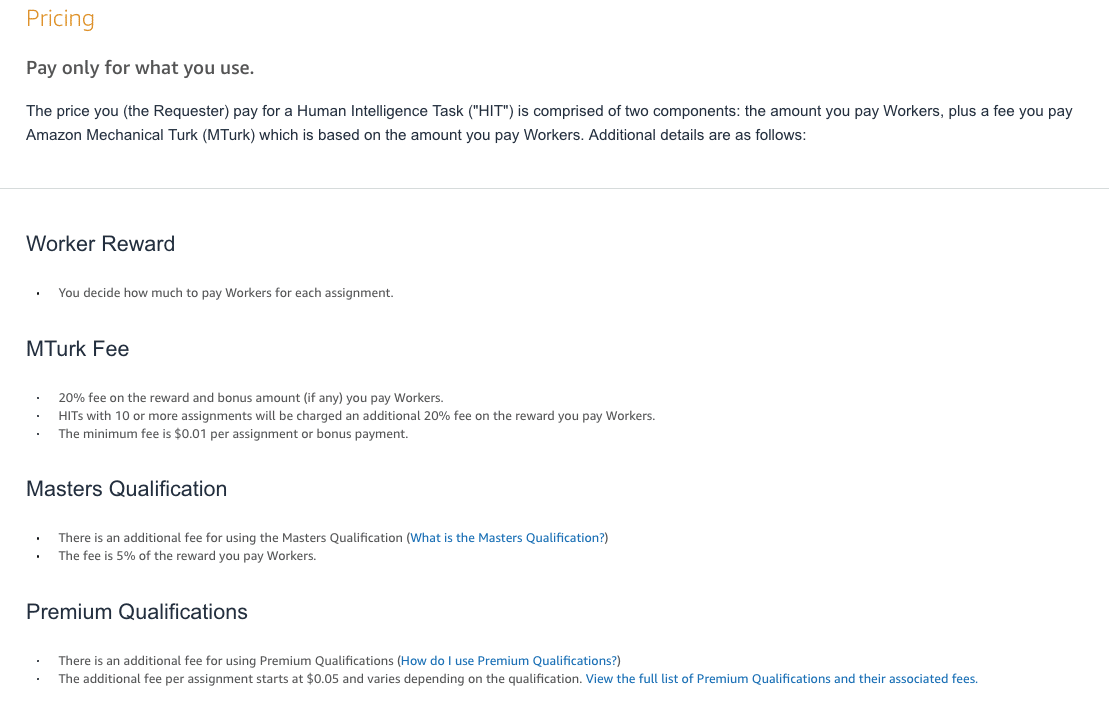 Mturk customer support
MTurk customer support is helpful, reliable, and supportive unless terms and conditions are breached. When this occurs, banned accounts will not be reinstated. Payment records and completed tasks are also deleted.
Mturk usability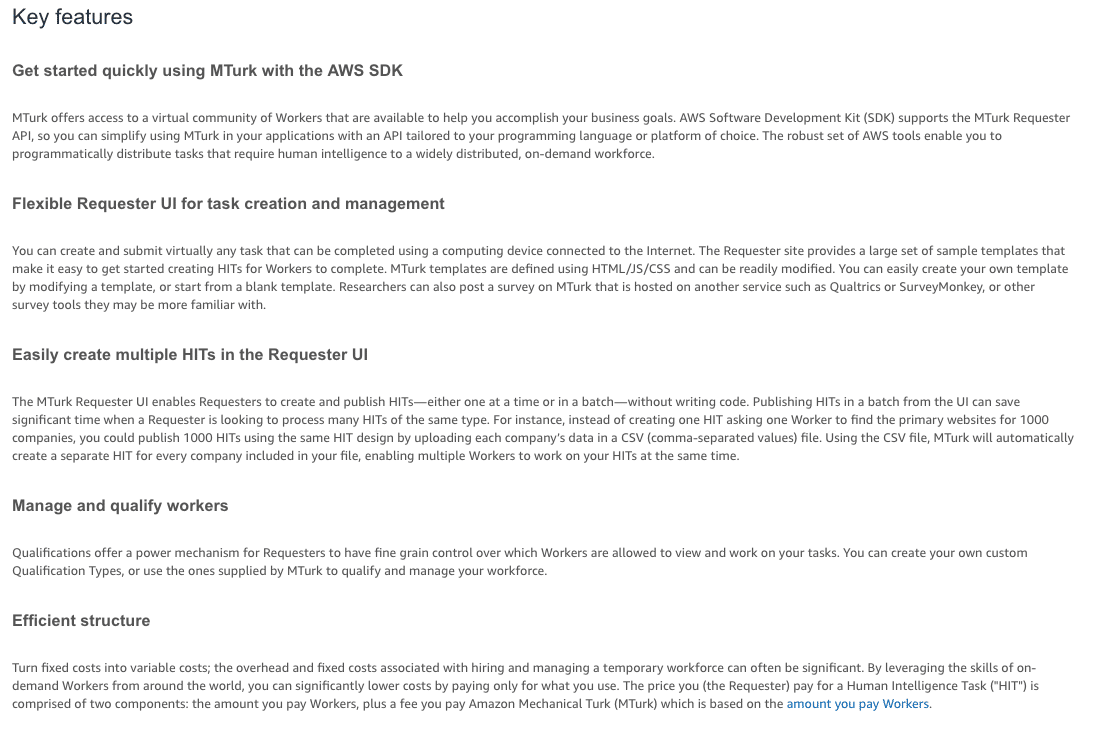 Mturk has a very simple user interface. Business owners simply need to create an account – separate from their regular Amazon account, add a task – specify the price, time duration, and other job requirements – and publish it. Once the task is completed, review the submitted task for quality before accepting or declining the work. It's a three-step process, quite easily done.

Pros
Get tasks done at the lowest rates offered by any crowdsourcing marketplace online.

No need to look for specific freelancers. Just post a task and let someone pick it up for completion.

Outsource tasks that are simple and repetitive, minimize business expenditures and save time.
Cons
Skilled workers are rare, as the platform does not attract top talent because pay rates are low. In addition, quality of work can be poor at times, which needs to be rejected and the task resent back to the queue.

Turn times can be extremely slow since there are no set deadlines for tasks until someone picks them up.

Accounts can – and often are – suspended for the weirdest reasons and the money therein forfeited with no option to recover it.
Rating breakdown
Overall Rating:

4.5

Features:

4

Price:

5

Ease of Use:

5

Customer Service:

4