Hosting more than one million websites, iPage is a significant web hosting provider, but not one of the top ten. Find out about iPage's hosting plans and how to use one to start up a WordPress website for your small business in this review.
We might receive compensation from the companies whose products we review. We are independently owned and the opinions here are our own.
iPage overview
Hosting options

: Shared hosting plans, WordPress hosting services, VPS hosting, reseller hosting packages, and dedicated servers

Bonuses

: Free domain name on all shared hosting plans

SSL certificate

: Free SSL certificate on all shared plans

Apps

: WordPress, Joomla, Drupal, and a range of shopping cart systems for ecommerce

Customer support

: 24/7 live chat support and knowledge base

Refund policy

: 30-day money-back guarantee

Uptime guarantee

: None

Control panel

: vDeck control panel

Content delivery network (CDN)

: None

Cheapest hosting plan

: $1.99 per month, renewal price is $7.99 per month
Check out our roundup of the Best Web Hosting Services
Notable features
Free drag-and-drop website builder (Weebly)

Month-to-month WordPress hosting plans available.

vDeck control panel 
Pros
All plans allow unlimited domains per account

Unlimited bandwidth on all plans

Unlimited disk space with all iPage plans

One shared hosting plan, two WordPress CMS plans

Unlimited email accounts and secure FTP with all hosting packages

Unlimited MySQL databases on all hosting plans

PHP 7.1

SSH access

Bing and Google advertising credits

App installer to add free hosting features

Free WordPress plugin library plus premium themes through Mojo Marketplace

Accepts PayPal and credit cards
Cons
Only has data centers in the USA
About iPage
iPage was founded in 1998 and is now owned by Endurance International Group (EIG). (EIG owns many other web hosting providers, including Bluehost, HostGator, and HostGator.) The web hosting company also operates a domain registration service. 
iPage Hosting plans and pricing
Small business owners and private individuals won't be interested in the VPS hosting packages or dedicated server hosting services of iPage. The best options for a small online store or a blog are the shared web hosting plan (WordPress included) or two managed WordPress plans. 
The three plans for non-technical website owners are:
Go
WP Starter
WP Essential
The Go plan is the one and only shared hosting package offered by iPage. The WP Starter and WP Essential plans are the Go plan with some WordPress extras added on. All accounts are hosted on Linux servers.
Plan length prices
All hosting plans are charged for by subscription. The buyer has to pay for the entire term up front. 
Here are their prices (followed by price per month):
Go

12 months — $35.88 ($2.99)

24 months — $59.76 ($2.49)

36 months — $71.64 ($1.99)

WP Starter

1 month — $3.75   ($3.75)

12 months — $45.00 ($3.75)

24 months — $90.00 ($3.75)

36 months — $135.00 ($3.75)

WP Essential

 

1 month — $6.95 ($6.95)

12 months — $83.40 ($6.95)

24 months — $166.80 ($6.95)

36 months — $250.20 ($6.95)
All prices are without tax – the sales tax charged in the buyer's location will be added to any purchase.
Plan add-ons for a hosting account are:
SiteLock Security: Essential plan

– malware scanner with automated malware removal; Price: $1.99 per month (billed as $23.88 per year)

WordPress optimization

– premium WordPress features; Price: $3.00 per month (billed as $36.00 per year)

Site Backup & Restore

– daily automated backups; Price: $0.99 per month (billed to end of hosting term)

Google G Suite

– cloud-based productivity tools; Price: $6.00 per month
Plan renewal prices
Plans renew automatically. The renewal prices are higher than the introductory prices charged for each customer's first subscription term. 
Here are the renewal prices for the three-year term of each plan:
Go

: 

$287.64

($7.99 per month)

WP Starter

: 

$269.64

($12.49)

WP Essential

: 

$377.64

($10.49)
Domain registration prices
Domain names have different endings after the final dot ("."). This is called the top-level domain (TLD). The prices of domain names offered by iPage depend on its TLD. 
The free domain name included with each plan only lasts for one year and must be renewed. In order to host more than one website, an account holder will need to buy more domain names. Domains can also be bought at ipage.com by those who don't have a web hosting package with iPage.
The first year of a domain name is discounted; the renewal price is higher. The free domain names have to be paid for at the renewal rate when extended.
Here are the prices of domain names from iPage (per year followed by the renewal price):
.agency — 

$21.99 

.best —

$113.99           

.biz —

$16.99 

.blog — 

$29.99 

.club — 

$13.99, $15.99

.co — 

$26.99, $28.99

.com — 

$10.99, $17.99

.company — 

$21.99 

.consulting — 

$33.99

.digital — 

$37.99 

.expert — 

$58.99 

.info — 

$16.99 

.io — 

$60.99, $62.99

.me — 

$16.95 

.net — 

$11.99, $16.99

.online — 

$5.99, $12.99

.org — 

$16.99  

.place — 

$37.99 

.shop — 

$34.99

.site — 

$4.99, $12.99

.space — 

$2.99, $12.99

.store — 

$9.99 

.us — 

$12.99, $16.99

.website — 

$3.99, $12.99
Optional extras on domains that can be added to the bill are:
Domain Privacy

– hides the identity of a domain's owner; Price: $9.88 first year, renews at $12.88 per year
Uptime
iPage does not offer an uptime guarantee, so there is no compensation for any unplanned downtime of a hosting server that takes hosted websites offline.
Speed
We tested a number of hosting services with the same page of 3,000 words, and 13 images into a WordPress site on each hosting service.
Bluehost, HostGator, and HostMonster, which are stablemates of iPage, were also tested. All four of these web hosting services share a data center. So, it should be reasonable to expect that all four would have very similar response time performance — but they don't and unfortunately, iPage is the worst performer of the four.
The performance of the delivery to a mobile device from iPage was categorized as Medium. The overall score was at the lower end of the Medium performance range at 54.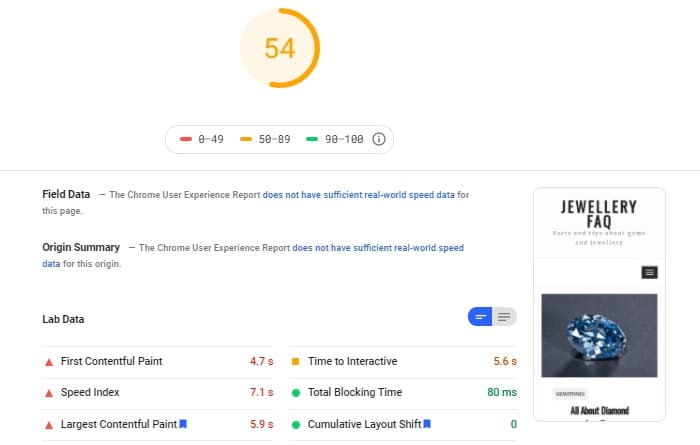 The Speed Index value is a weighted average of a series of delivery speeds for different elements in the page under review. The Speed Index of 7.1 seconds wasn't the worst of all the EIG companies – Bluehost was slower.
Tests on the same page by other major web hosting companies gave these results (in seconds):
SiteGround

: 3.1

HostGator

: 5.1 

HostMonster

: 

6.4 

GoDaddy

: 7.5

Bluehost

: 8.2

Hostinger

: 9.9
The test results from a desktop were better. The overall score, at 78, is closer towards the top of the Medium performance category.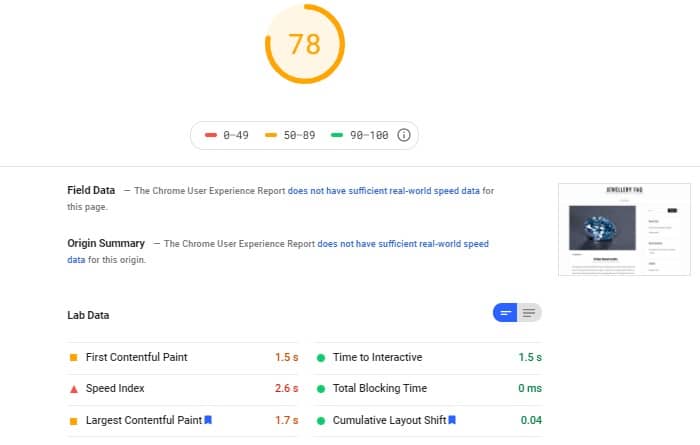 The Speed Index score of 2.6 seconds is a little slow but close to the Speed Index measurements of HostGator and Bluehost. The scores of the other major web hosting providers were (in seconds):
SiteGround

: 1.2

HostGator

: 1.8

GoDaddy

: 1.9 

HostMonster

: 

2.7 

Bluehost

: 2.8

Hostinger

: 3.2
Security features
Account security
The underlying structure of the iPage WordPress plans is a shared hosting service, just like the Go plan. Shared hosting plans get their name because a server provides hosting for several user accounts. 
A shared operating system creates a weakness because anyone who can get to it is able to run scripts and navigate to the file space of other users. The iPage account management software blocks access to the operating system.
Content protection
All websites hosted by iPage are covered by a group SSL certificate from Let's Encrypt.
All files can be backed up on demand. One of the plan add-ons implements automated daily backups. 
Domain owner privacy
The name and contact details of each domain name owner have to be passed to ICANN, the world's central authority for domain names. These details are entered into a database that anyone can access free of charge. 
Many website owners don't want their details made public. For this reason, iPage offers a domain privacy service, which substitutes iPage's details for the name and contact details of the real domain name owner – for a fee.
How to set up WordPress with an iPage account
Once the account t has been set up, you will see a Login to Dashboard button.
(You will receive an email asking you to validate your contact details for your domain name. If you don't complete this step, your domain name will be disabled.)
As soon as your domain is assigned it will have SSL protection applied and HTTPS will be forced, which means that people can only get to your site through the secure HTTPS system.
In the account dashboard, look in the Site Builder section of the left-hand menu and click on WordPress.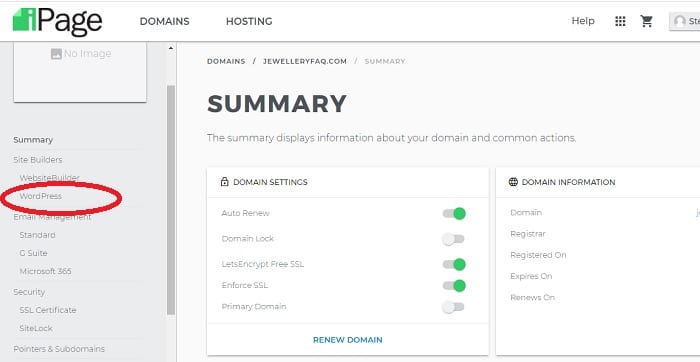 Enter a name for your website. Enter a username, email address, and password for the WordPress administrator account for your site. You can now access your site to customize it. 
Click on Manage Site in the WordPress Settings page of the iPage dashboard. From now on, you can also access the dashboard of your WordPress site with the address <yoursiteaddress>/wp-admin/. 
For example, if your domain name is dryreggy.com, the dashboard can be accessed at dryreggy.com/wp-admin/.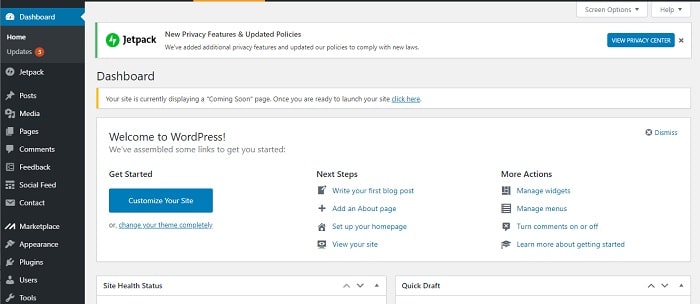 iPage customer support
The iPage Customer Support Center can be accessed through a link at the top of the account dashboard.

The iPage support team is available on live chat around the clock with tech support being particularly in demand.
The system tries to filter out easily answered questions by presenting a list of guides that seems to contain keywords that were in the user's question.