HostMonster is one of the smaller web hosting providers in the world. Find out how this web hosting service stacks up against the big hosting companies in this review.
We might receive compensation from the companies whose products we review. We are independently owned and the opinions here are our own.
HostMonster overview
Hosting options

: Shared hosting plans, WordPress hosting services, VPS hosting (cloud hosting), reseller hosting packages, and dedicated servers

Bonuses

: Free domain name on all shared hosting plans

SSL certificate

: Free SSL certificate on all shared hosting plans

Apps

: WordPress, Joomla, Drupal, and a range of shopping cart systems

Customer support

: 24/7 tech support team through email, phone and chat support

Refund policy

: 30-day money-back guarantee

Uptime guarantee

: None

Control panel

: cPanel

Content delivery network (CDN)

: Cloudflare CDN for on all web hosting packages

Cheapest hosting plan

: $4.95 per month, renewal price is $9.49 per month
Check out our roundup of the Best Web Hosting Services
Notable features
Free drag-and-drop website builder (Weebly)
Pros
Single-site web hosting package available

Shared hosting plans for unlimited domains

Unlimited bandwidth on all shared hosting plans

Unmetered disk space for all shared hosting plans (except for Basic plan)

Unlimited email accounts on all shared hosting plans (except for Basic plan)

Unlimited subdomains on all shared hosting plans (except for Basic plan)

Unlimited MySQL databases on all shared hosting plans (except for Basic plan)

PHP 5, Perl 5, Python, and Ruby on Rails supported

SSH access

App installer

Free WordPress plugin library plus premium themes through Mojo Marketplace

Accepts PayPal and credit cards
Cons
No month to month subscription plans

Prices are high

Only has data centers in the USA

Knowledge base articles are out of date
About HostMonster
HostMonster, active since 1996, is one of the longest-serving web hosting providers in the world. The business is based in Tempe, Arizona and is owned by Endurance International Group (EIG).
EIG owns some of the largest hosting providers in the world, including Bluehost, HostGator, and iPage along with a collection of smaller hosting companies, such as JustHost, CirtexHosting, and HostNine.
HostMonster shared hosting plans and pricing
The easiest way to create a website is either with WordPress or with a user-friendly website builder. HostMonster offers both on its shared hosting plans (its website builder is called Weebly). 
HostMonster hosting is available in three formats: 
Shared hosting plans (the cheapest and easiest option)

VPS hosting

Dedicated servers
The four types of shared hosting plans available:
Basic plan

Plus plan

Choice Plus plan

Business Pro plan
All hosting accounts are held on Linux servers. The Basic plan can host just one website, but the other three hosting packages have no limit on the number of hosted websites. 
The Basic plan has other resource limits that are not present on the other plans. These include a limit of 50 GB of disk space and a limit of five email accounts per domain.
All shared hosting plans get a free SSL certificate, but the Business Pro plan includes a premium SSL certificate for each hosted domain name.
Shared hosting plan prices
All shared hosting plans are subscription services with the entire period paid for upfront. The first subscription period is discounted. 
It is only when the buyer gets to the plan purchase page that it becomes clear that there is no monthly plan. The advertised price for each plan is the charge for a three-year subscription divided by 36. All prices are without tax – the sales tax charged in the buyer's location will be added to any purchase.
Prices shown upfront (followed by per month):
Basic

1 year  — $83.40 ($6.95)

2 years — $142.80 ($5.95)

3 years — $178.20 ($4.95)

Plus

1 year  — $107.40 ($8.95)

2 years — $190.80 ($7.95)

3 years — $250.20 ($6.95)

Choice Plus

1 year  — $113.40 ($9.45)

2 years — $202.80 ($8.45)

3 years — $250.20 ($6.95)

Business Pro

1 year  — $239.40 ($19.95)

2 years — $406.80 ($16.95)

3 years — $538.20 ($14.95)
Plan add-ons for a hosting account are:
CodeGuard Basic

– A daily site backup plan, $2.99 per month (billed to the end of hosting term), free with a Business Pro account

SEO Tools Start

– Digital marketing tools, $23.88 per year ($1.99 per month), billed annually

Site Backup Pro

– A file backup service that downloads all files onto the site owners PC or cloud storage, $2.99 per month (billed to end of hosting term)

SiteLock Security – Essential

– Malware and hacker attack protection, $24.99 per year ($2.08 per month)
Some of the plan add-ons are only charged for per year, so the initial bill won't include all charges for the entire term of the subscription.
Hosting plan renewal prices
All subscription lengths for all plans renew at higher prices. Here are the renewal rates for the three-year term of each plan (followed by per month).
Basic

: 

$341.64

($9.49)

Plus

: 

$449.64

($12.49)

Choice Plus

: 

$539.64

($14.99)

Business Pro

: 

$917.64

($25.49)
All subscriptions, including the plan add-ons, will automatically renew at the end of the selected service period.
Domain registration prices
The price charged by HostMonster for domain names depends on the top-level domain (TLD) of the domain. The TLD is the last part of the domain name, such as ".com." 
Each plan includes one free domain name, however, that domain name ownership is a one-year lease, not a permanent purchase. The domain name will have to be renewed after a year, at the renewal price.
HostMonster customers can add more websites to a shared hosting account (except for the Basic plan) but that requires the purchase of one or more extra domain names.
Here is a list of the TLDs available from HostMonster with their offer prices for the first year followed by their renewal prices. See the full list here. 
.agency — $24.99, $27.99
.associates — $39.99, $42.99
.biz –$11.99
.co — $12.99, $24.99
.com — $11.99, $17.99
.company — $24.99, $27.99
.consulting — $39.99, $42.99
.enterprises — $39.99, $42.99
.expert — $69.99, $72.99
.info — $11.99, $15.99
.limited — $39.99, $42.99
.marketing — $39.99, $42.99
.me — $11.99, $17.99
.net — $12.99, $18.99
.online — $4.99, $12.99
.org — $8.99, $17.99
.services — $39.99, $42.99
.site — $2.99, $12.99
.space — $1.99, $12.99
.store — $9.99, $34.99
.tech — $4.99, $19.99
.us — $8.99, $15.99
.website — $1.99, $12.99
Optional extras on domains that can be added to the bill are:
Domain Privacy + Protection

– Hides the identity of a domain's owner. Price is $11.88 first year ($0.99 per month), renews at $14.88. Free with the Business Pro plan.
A customer who lets a domain name expire hasn't lost it immediately. HostMonster will hold the expired domain for 30 days, awaiting renewal – this is called the "redemption period." During that time, the domain won't work and it can't be registered elsewhere. It also can't be redirected elsewhere. A buyer who decides to renew an "in redemption" domain name will have to pay a fee of $70 in addition to the renewal price.
Customers who wish to buy the same domain name from another domain registration service will have to allow the web address to be inactive for 30 days – this means that the associated website will be inaccessible. 
(So, a domain name bought from HostMonster can only be renewed through HostMonster in order to have continuity of service on the website.)
Uptime
HostMonster does not offer an uptime guarantee but it aspires to an uptime rate of 99 percent. This is lower than the aims of other web hosting services, which usually have an uptime goal of 99.9 percent to 100 percent. There is no compensation offered for downtime.
Speed
We tested a number of hosting services with the same page of 3,000 words and 13 images into a WordPress site on each hosting service.
The overall score was in the middle of the Medium performance range at 69.
The performance of the delivery to a mobile device from HostMonster was categorized as Medium.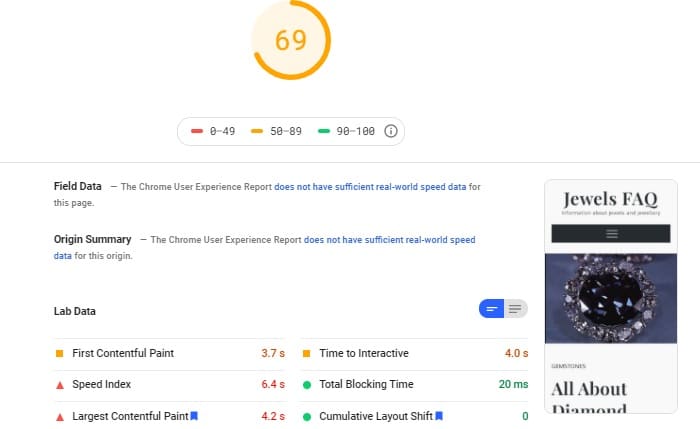 The Speed Index value given in the test results is a weighted average of a series of delivery speeds for different elements in the page under review. The Speed Index of 6.4 seconds is typical for the industry.
Tests on the same page delivered from sites hosted by other major web hosting companies gave these results:
SiteGround

: 3.1 seconds

HostGator

: 5.1 seconds

GoDaddy

: 7.5 seconds

Bluehost

: 8.2 seconds

Hostinger

: 9.9 seconds
The test results when requesting the same page from a desktop were better.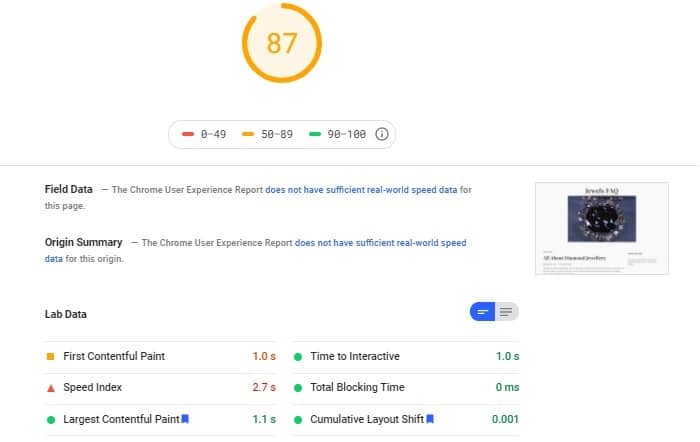 A score of 87 puts HostMonster's performance in the middle of the performance of all the major web hosting providers.
The Speed Index score of 2.7 seconds is a little slow. The scores of the other major web hosting providers were:
SiteGround

: 1.2 seconds

HostGator

: 1.8 seconds

GoDaddy

: 1.9 seconds

Bluehost

: 2.8 seconds

Hostinger

: 3.2 seconds
Security features
Account security
The term "shared web hosting" means that several accounts are held on each server. The server has an operating system – Linux – and anyone who can get down to the operating system can launch scripts and switch to the folders that hold the websites of other account holders.
HostMonster protects the file space used by members through rigid account management software that a user cannot break out of, making it impossible for anyone to get down to the operating system.
Content protection
All websites hosted by HostMonster are covered by a group SSL certificate from Let's Encrypt. 
Business Pro customers get individual SSL certificates for each site for free. Buyers of other plans can add that higher level of SSL certificate for a fee.
All files can be backed up on demand and HostMonster offers two automated backup systems as plan add-ons.
All HostMonster accounts are protected by the Cloudflare content delivery network (CDN). This hosts copies of all sites on many servers around the world. This makes sites easier to deliver to browsers in different locations on the globe and also protects the main site from hacker attacks, such as DDoS attacks.
Domain owner privacy
Ownership of a domain is implemented by registering the details of the owner of a domain name on a central registry. This database is accessible by anyone. In order to hide the true owner details, domain name buyers can take out privacy protection for an extra fee.
How to set up WordPress in a HostMonster account
After paying for your hosting package, you need to set up a password. The username for the account is the primary domain name that you selected.
Unfortunately, all of the guides in the help system of HostMonster are out of date. The account management screens are all different from the system explained in those guides.
HostMonster will set up WordPress as soon as you log in for the first time. However, if your domain name hasn't been activated, it will set up the site on a temporary address, which complicates matters. Wait an hour after opening your account before logging in to give the domain time to be ready.
In the meantime, verify your domain information. This requires confirmation of the email address you used to create the HostMonster account. Check your Inbox for an email about WHOIS verification. Click on the link in the email. That's all you need to do in order to verify your domain.
As soon as you log into your account for the first time, the WordPress setup process begins. First, you will be prompted to select a theme for the site.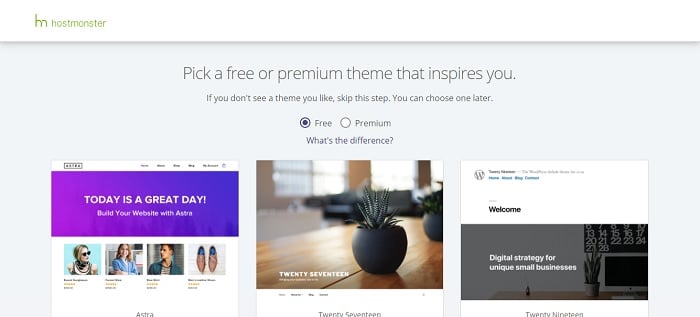 The system will set up the WordPress site. Once the process completes, press the Start Building button in the creation success message screen to customize the site. This takes you to the WordPress dashboard.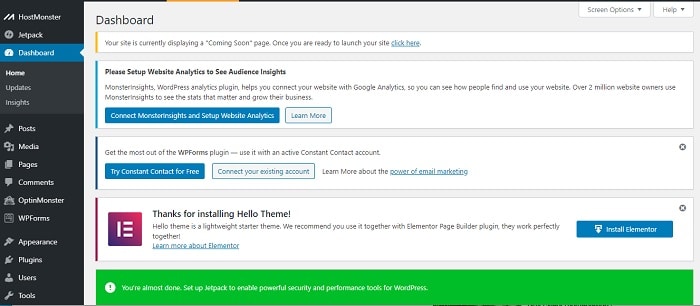 Open a new tab and go to the hostmonster.com website. Click on the Control Panel Login button at the top right of the web page.

In the account dashboard, select Advanced in the left-hand menu to get to the cPanel control panel. Scroll down to the Security section and click on SSL/TLS Security.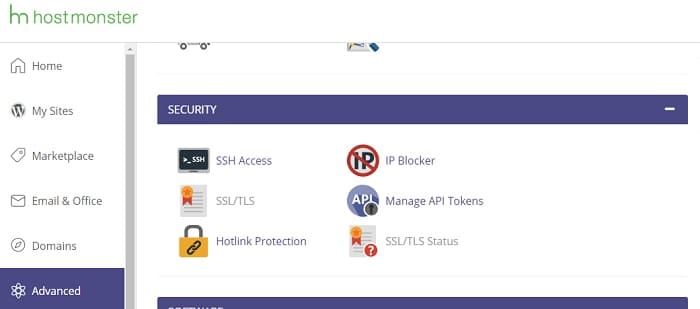 In the SSL/TLS Status page, click on Run AutoSSL. The process can take up to 20 minutes to complete.
Force HTTPS access on your site. Go to the main account dashboard and click on Domains in the left-hand menu. More options appear on the menu. Click on Redirects.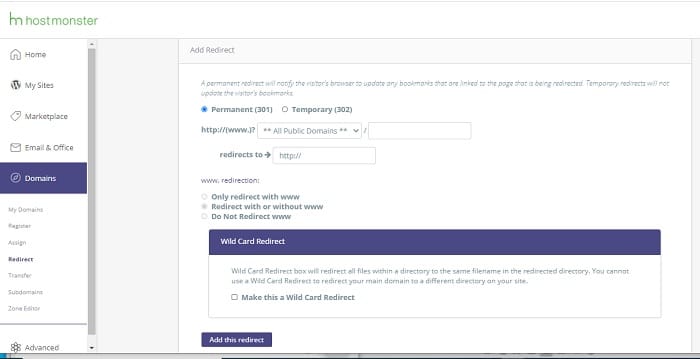 In the first domain field, select your domain name from the drop-down list. In the redirects to field, change http to https and type your domain name into the field, without www. on the front. Check the wildcard redirect box and click on the Add this redirect button.
HostMonster customer support
Get to the HostMonster Help Center by clicking on the question mark in a circle at the top of the account dashboard.

The Help Center's home page has a list of help documents, which constitutes the knowledge base. All of the help guides refer to a previous version of the account dashboard and are not much help.

Chat support can be accessed through a link in the header of the screen. This opens a pop-up window. Tech support is available 24/7 and a better source of guidance than the knowledge base.