Format is a drag and drop website builder that will help you build a stunning portfolio website. It's beginner-friendly and has unique features that'll not only let you build a great portfolio but sell your creative work as well. 
We might receive compensation from the companies whose products we review. We are independently owned and the opinions here are our own.
This builder can be a great choice for anyone looking to build a modern, mobile-friendly portfolio, to showcase to clients or potential employers. Plus, you get a free custom domain name and hosting with your plan.
It's a very great choice for photographers, as there's a ton of image options, like watermarking, image proofing, and integrations with photography tools like Adobe Lightroom, and Capture One.
Additionally Format can be a great choice for:
Videographers

Designers

Models

Artists
This builder is known for:
Bold and minimalist themes

User-friendly eCommerce integration

Quick and easy portfolio site creation 
In this Format review, you'll learn about the pros and cons of this tool, some of the features that make it unique, and the types of sites you can build, so you can determine if it's the best portfolio website builder for you.
Check out our roundup of the Best Website Builders
Pros
Mobile-optimized theme selection
The themes offered by Format are all minimalist, modern, and mobile-friendly. No matter which theme you choose you'll end up with a stunning portfolio website. 
As you make changes to your website, you can view both the mobile and desktop versions. 
When you select a theme it'll be pre-built with the necessary gallery pages, an about page, contact page, and social media buttons (just add your links). 
You can even add blogging functionality, a client gallery, or a store to your site with the click of a button. 
Integrates with top photography tools
Two of the most popular photography tools include Adobe Lightroom and Capture One. Adobe Lightroom has simple editing tools, plus great gallery management features. You can import your images and galleries directly into your website, without having to leave the Adobe Lightroom app.
Capture one is powerful photo editing software, you can install a Format plugin that allows you to upload images directly from this editing tool to your website. Similar to Adobe Lightroom above, you can create new galleries for yourself or your clients and upload them directly to your photography website. However, this feature is only available for iOS and isn't currently available for PC.
Can switch themes without losing changes
You've spent hours customizing your theme, but then you find a theme that's even better suited to your website goals. With other builders, you'll have to start all over again.
Format makes changing themes simple. At any point during the design process, you can change themes and all of your changes and content will transfer over to the new theme. 
eCommerce integration
If you want to sell prints, photos, or other goods, you can easily do so with this builder. Even on the basic plan, you can sell up to 3 products.
It's equipped with standard eCommerce features like:
Shipping rates

Product stock and availability

Currency options

Product images/descriptions

Discounts

And more
Even though it's primarily an eCommerce builder, this is a great option to have and can help you earn additional income from your website. 
Cons
User interface can be confusing
One of the main reasons to choose a website builder is because of the ease of use and they're well-suited for beginners. 
Format isn't inherently difficult to use, but it does take time to get used to and find the features you need. For example, adding blog posts to your site is an incredibly easy process, so is adding eCommerce functionality to your site. You won't be able to create a blog like WordPress, but you can create a basic blog with a couple of clicks. 
However, when you're making site customizations it can take a while to find the right features and customization options you're looking for. Still, no coding know how is required to build your site. 
Limited to creating portfolio-style websites
A lot of website builders cater to a more diverse audience, like Squarespace. As a result, there theme and template selection supports a range of different niches and types of websites. 
However, Format focuses on a very specific section of the site builder market, photographers, and visually-oriented creatives.
You can create a stunning portfolio website, but that's it. If you want to create any other style of website you're better off choosing a different website builder, like Squarespace, Wix, or Weebly. 
What makes Format unique?
Modern & mobile-friendly themes
Getting started designing your site is a pretty straightforward experience. Once you answer a few onboarding questions about the type of site you're building you'll have a selection of five different website templates to choose from.
Every theme is mobile-friendly and places a focus on your images, whether that's photos, art, or illustrations.
Every theme is designed with a mobile-first audience in mind. So, when your visitors view your site on their smartphones, it'll load fast and look just as good as the desktop version. Plus, any additional features you've added, like eCommerce functionality or client-only portals will work perfectly across mobile devices. 
Finally, you're not stuck with the theme you choose at the start. With a lot of popular website builders, like Squarespace, you'll lose all of your changes if you choose to switch themes at any point, but with Format you can switch themes and all the changes you've made will transfer over to the new theme. 
eCommerce tools
Beyond having a beautiful website that displays your work you can also sell your prints directly from your website and create a beautiful online store. You can sell physical and digital products, prints, and even package your work together. 
Plus, Format doesn't earn directly from your fees, so you'll get to keep 100% of your revenue. 
The basic plan (Enthusiast) allows you to create and sell three different products. So, if you have a large number of products you want to sell, you'll need to upgrade to a larger plan. 
High-quality imagery supported
As a photographer the quality of your images is important. But, a lot of website optimization best practices involve reducing image size, quality, and compression. All of which can reduce the overall quality.
But, with Format, you'll get high-quality image rendering which means you can upload high-quality images, while still having fast loading speeds. 
Integrated support for your small business
One of the more unique features of Format is how dedicated they are to your success as a creative business owner. Since they're so niche-focused you'll find a variety of tutorials and online masterclasses.
Your user dashboard will have a variety of different tutorials and even existing member sites you can use as inspiration.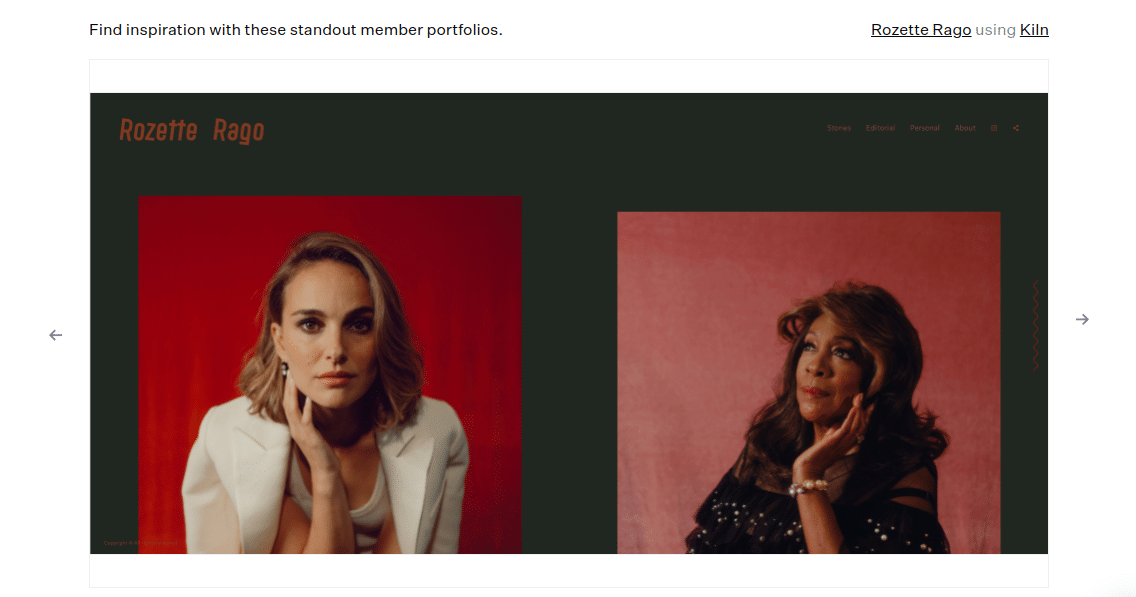 The tutorials that show up in your user dashboard will depend upon the niche you chose during the onboarding sequence.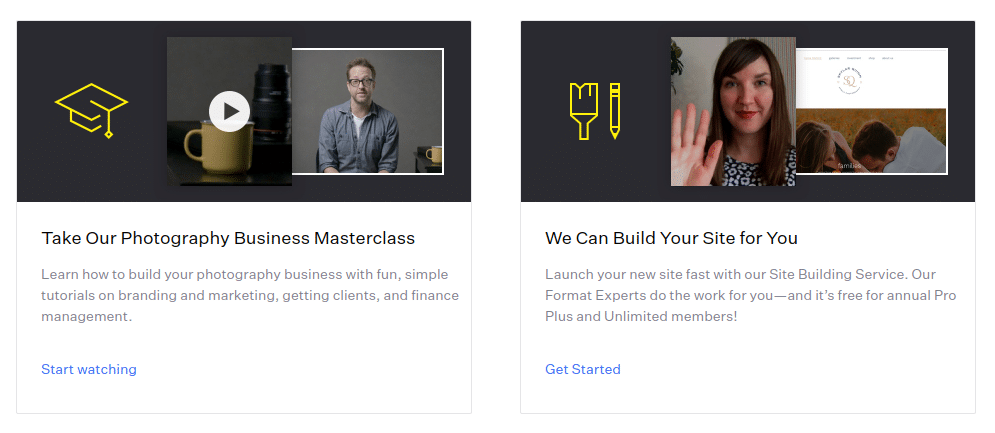 Instagram integration
Instagram is one of the best platforms for visually-oriented creators. Whether you're a photographer, designer, or even a model. Chances are you have a visually-stunning array of images you'd like to integrate into your website. 
With Format, you can add your Instagram feed to any page on your site, or even create a separate page completely dedicated to displaying your feed. You can change the number of images that display per row, and how many rows in total you want to display. 
Client-proofing system
Freelance photographers need a way to showcase client work in a private manner that creates separation between the portfolio and other web pages. 
Format includes a bundled client-proofing system that allows you to create completely private password-protected client galleries. From these galleries, your clients can view images, offer feedback and comment on specific images, and download images.
You have full control over the images sizes available to download or restrict your images to specific dimensions. 
You can even use the built-in watermarking tool to copyright your work to prevent unauthorized downloads. 
What can you use Format for?
Matt Holydak
Matt Holydak is a portrait photographer whose work has been featured in publications like GQ, Vanity Fair, Rolling Stone, and more.
He uses the Format website builder to create a simple, yet stunning online portfolio, that places all the focus on the imagery.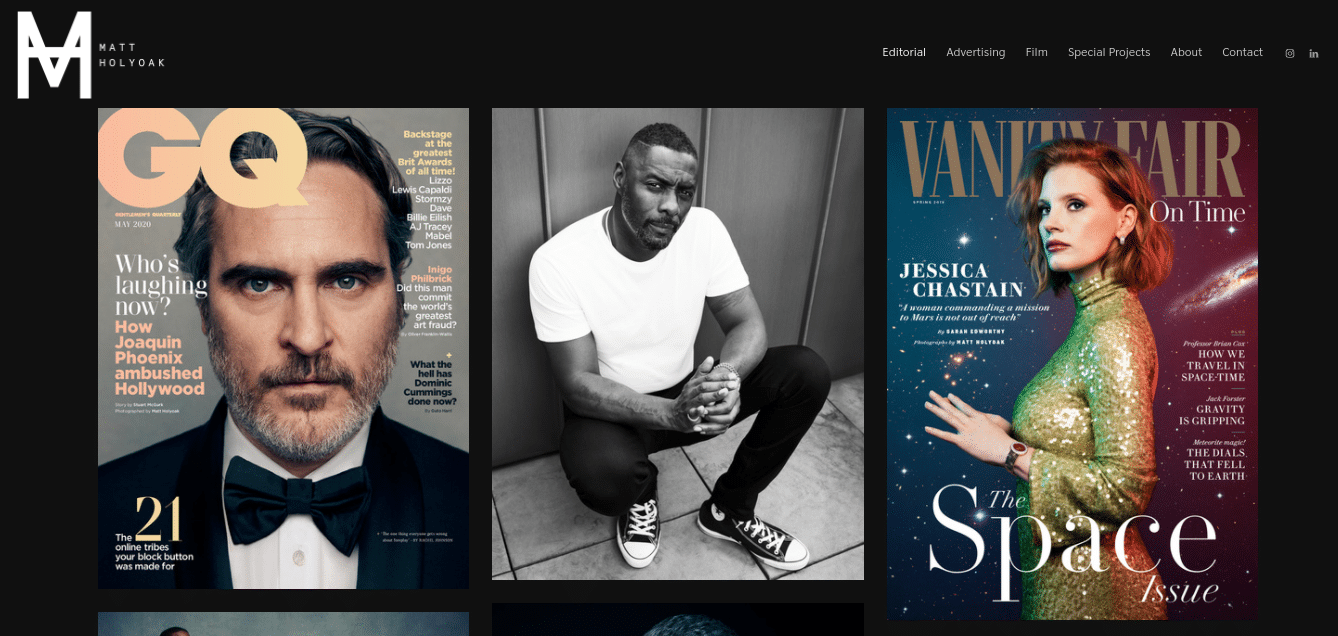 You'll also find a variety of different gallery pages, broken down by the type of photography portfolio. 
Isabel Wedekind
Isabel Wedekind is an aspiring artist who uses Format to showcase her latest work.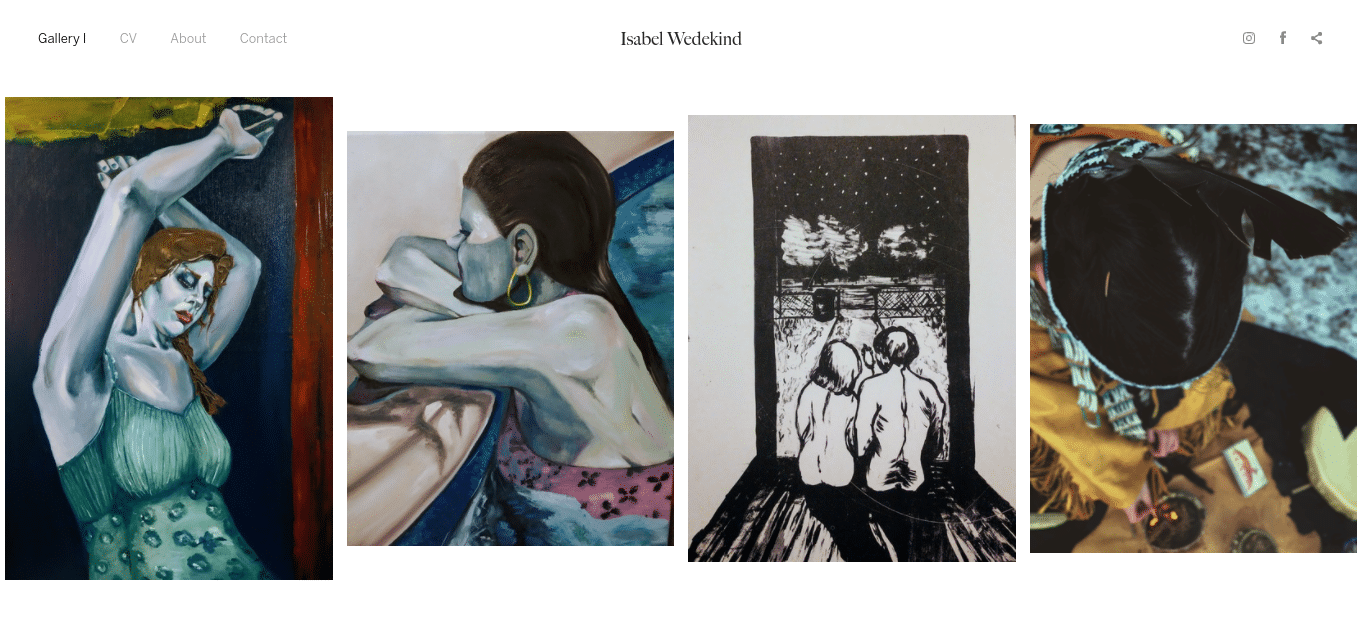 The website is very simple but puts a large focus on an engaging image gallery. When you click on any of the photos it'll display in a full-screen view.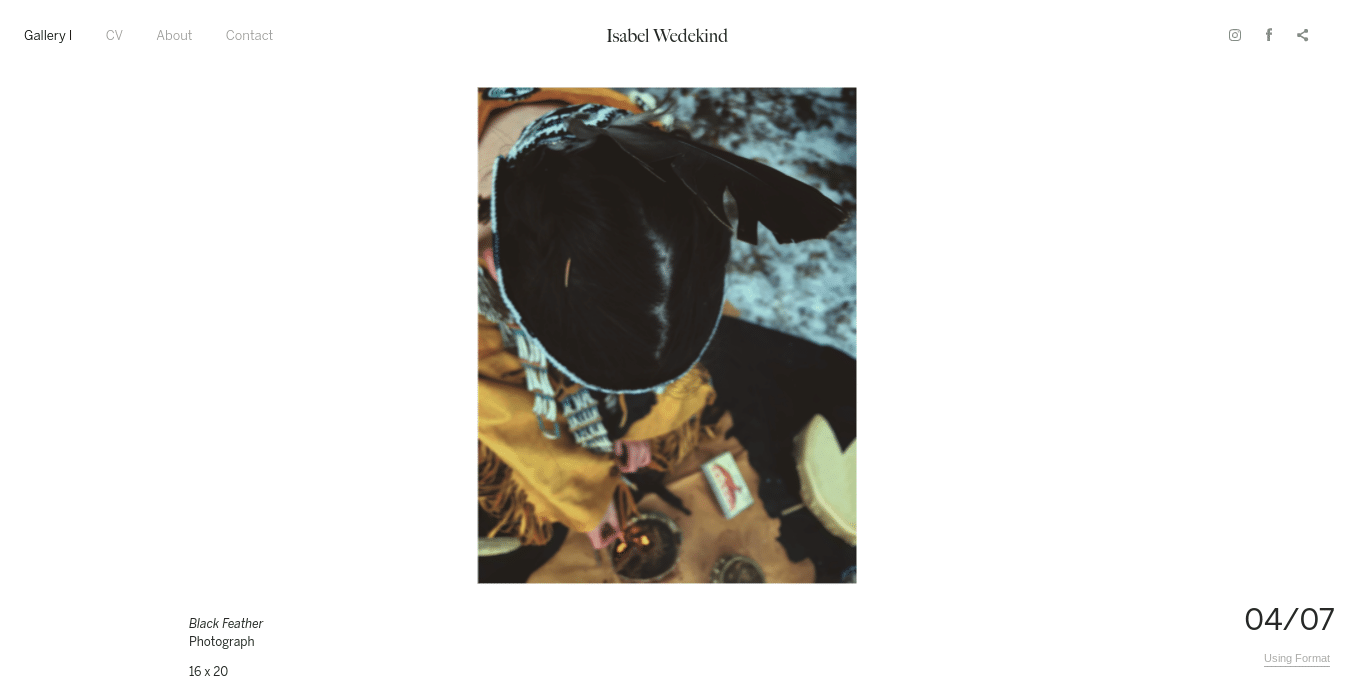 Fatima Bravo
Fatima Bravo is a Spain-based illustrator and graphic designer who uses Format to showcase her portfolio, plus sell products.
The homepage features a colorful portfolio. When you click on an illustration you'll be taken to another page that gives you a larger view, while still showing the rest of the portfolio.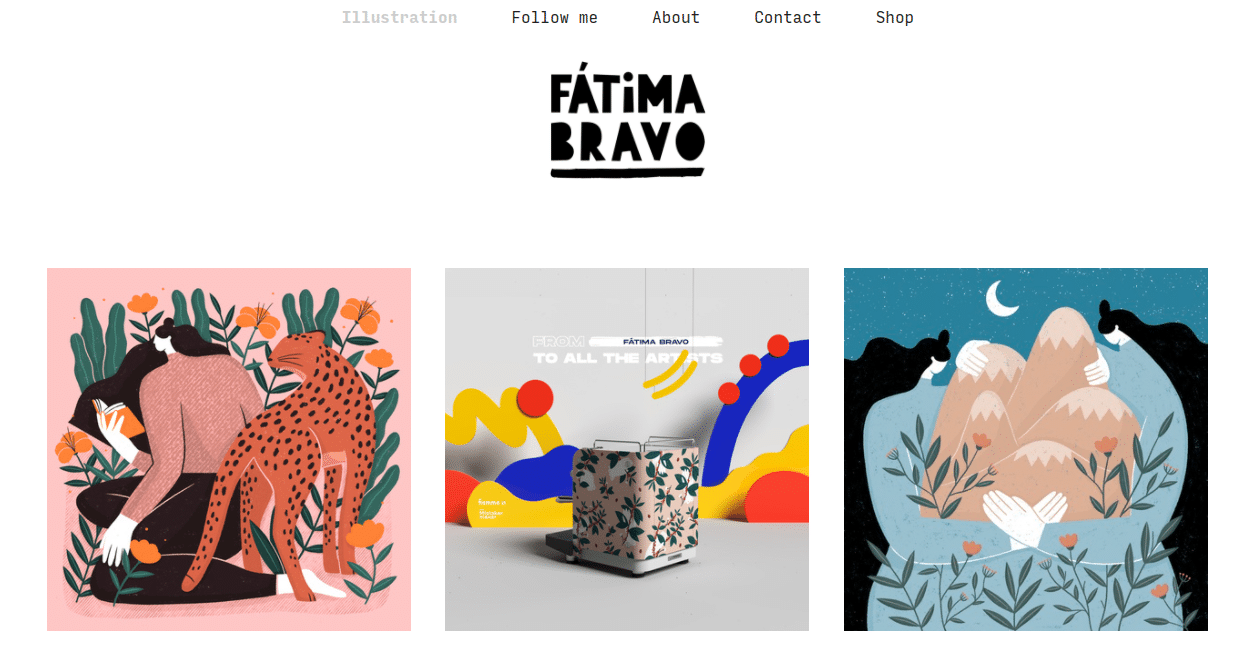 The shop page is clean and simple, but lets users purchase designs they love with the click of a button.

The Format editor
The main ways you'll be customizing your Format website are through the theme you choose and the built-in customization options. The good news is that you can switch themes at any time and the changes you made will transfer over to your new theme. They might not be perfect, but it can save you a ton of time, so you don't have to start from scratch. 
To edit any aspect of your theme, just click on the area you want to edit and you'll have a pop-up list of customizable options.
For example, when you click on the 'Design' tab in the left-hand sidebar you can change your website title and logo, color scheme, typography, and even use the code editor to make custom CSS and HTML changes.
If you click on 'Website Title and Logo' you can rename your site, change the font size, color, or even upload your logo.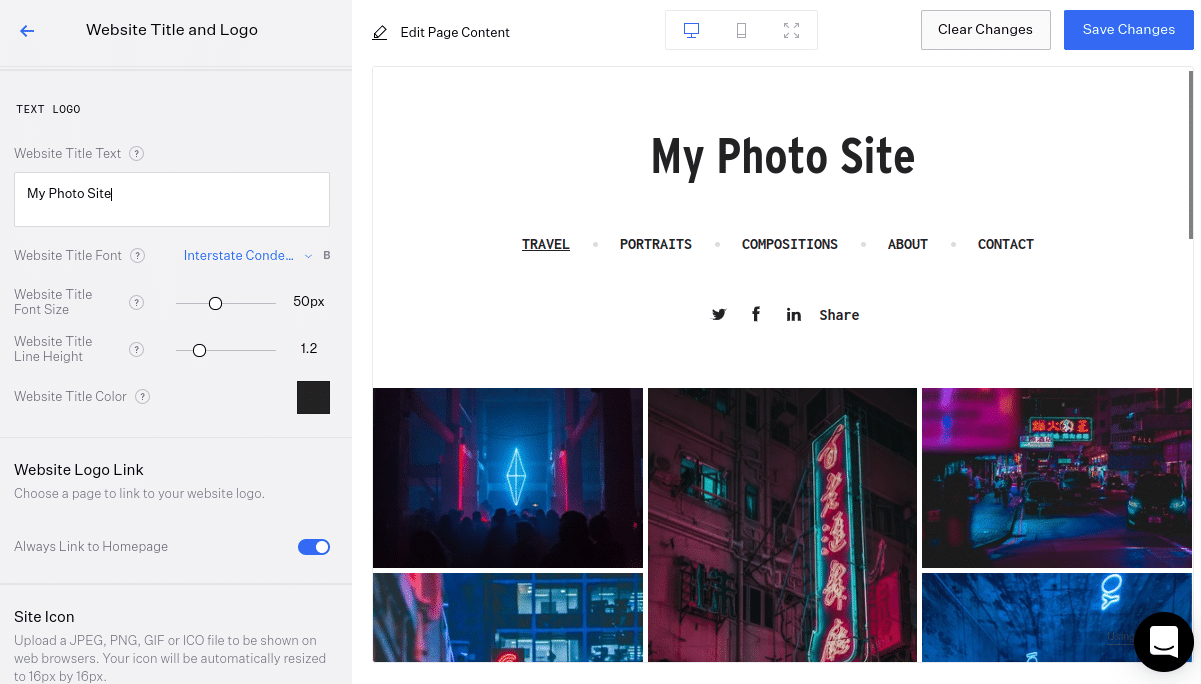 To customize the gallery pages and add your images/content navigate to the page you want to edit and click on 'Add Item', then select the type of content from the drop-down menu.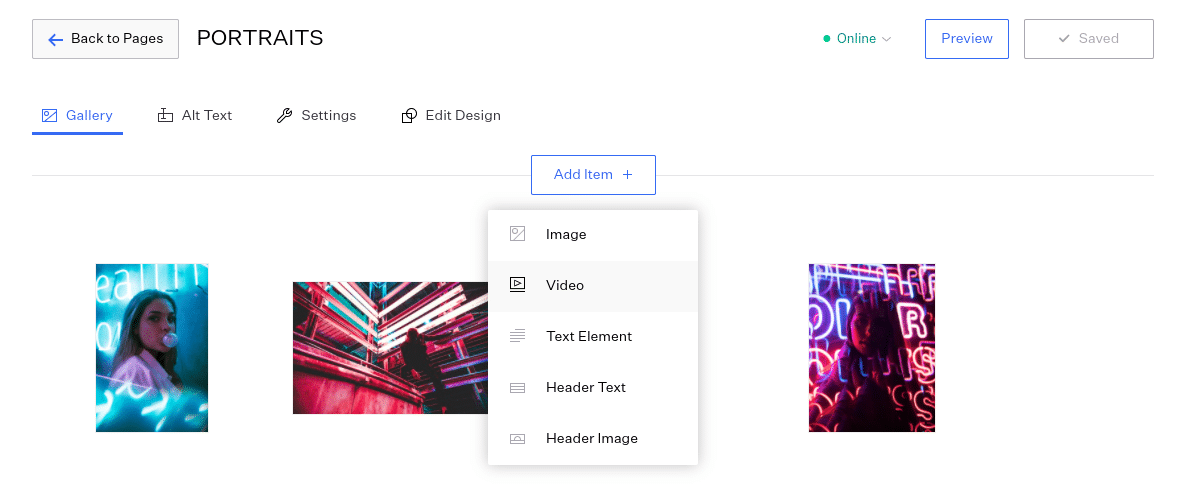 Overall, making changes to your site's theme involves clicking on the elements you want to change and selecting a new option from the drop-down menu that appears. It might take a little time to get used to, but soon you'll have a portfolio website that's ready for the world. 
Email and online marketing tools
Built-in search engine optimization tools
Most website builders aren't the best at SEO. Format doesn't give you the most advanced SEO features, but it's enough to get by, especially for a portfolio site.
All of Format's templates are built with SEO best practices in mind, including mobile-optimization. The on-page optimization features are a little limited, but you can control page titles, meta descriptions, and image alt tags.
You can also easily integrate your site with Google Analytics and Google Webmaster Tools, without adding any additional code to your site. These tools will help you monitor your site's search engine performance and notify you of any errors that are killing your rankings. 
Format iOS app
Format has a unique iOS app that lets you accomplish almost every website management task that you could accomplish from the web app. 
Once your website is built-out you can use the iOS app to fully manage your website and accomplish tasks like:
Create and manage your gallery pages

Edits your collection and client-collection pages

Create a blog and publish posts on the go

Ask support questions
Sadly, there's currently no Android app available. So, if you don't have an iPhone or iPad you'll be stuck using your computer to edit and manage your website. 
Adobe Lightroom integration
One of the most useful integrations is Adobe Lightroom. This tool is a more lightweight version of Photoshop and is a preferred tool for managing your photo galleries.
With the Adobe Lightroom integration, you can create and upload client galleries directly from the application. This can help to save a ton of time and make client gallery management much easier. 
Pricing
Format keeps pricing simple with three different plans to choose from.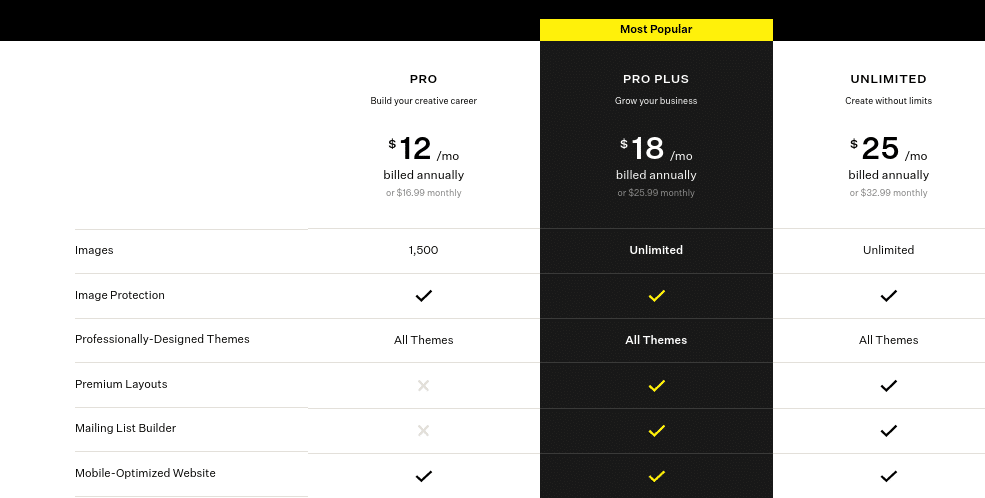 The biggest difference between each plan is the number of images you can host on your site and the number of products you can sell. 
The higher-level plans also include the 'Format Site Building Service' where a team of experts will build your site for you. Even though it's a bit more expensive this might be a great option for site owners who are less tech-savvy and don't want to spend time creating their sites. 
Pro Plan

.

$12/mo billed annually, or $16.99 monthly.

Pro Plus

.

$18/mo billed annually, or $25.99 monthly.

Unlimited

.

$25/mo billed annually, or $32.99 monthly.
There is no free plan, but there is a 14-day trial you can take advantage of. 
Customer support
The customer support options offered by Format are a bit limited. You do get access to 24/7 live chat support. But no other support channels are available. 
With live chat, their team has one business day to respond to your requests, but the support times are much faster, usually within a few minutes.
If you prefer to solve technical issues on your own you can use the searchable knowledgebase and FAQ section. Here you'll find introduction videos and walkthroughs, expert tips, and a ton of other educational materials. 
Finally, if you want expert help in setting up your website, then opt for either the Pro Plus or Unlimited plans, as you'll get access to an expert web design team who can build your site for you.