ConvertKit is an effective email marketing software platform targeted to help people, especially bloggers, connect with their audience. The software is designed to help you grow your audience through email marketing, with various options available to customize each aspect of your campaigns.
ConvertKit allows you the functionality of easily embedding forms on your website so that you can turn casual readers of your blog into subscribers. If you don't have a website, you can even easily build landing pages through the software that can help you acquire recipients for your email marketing.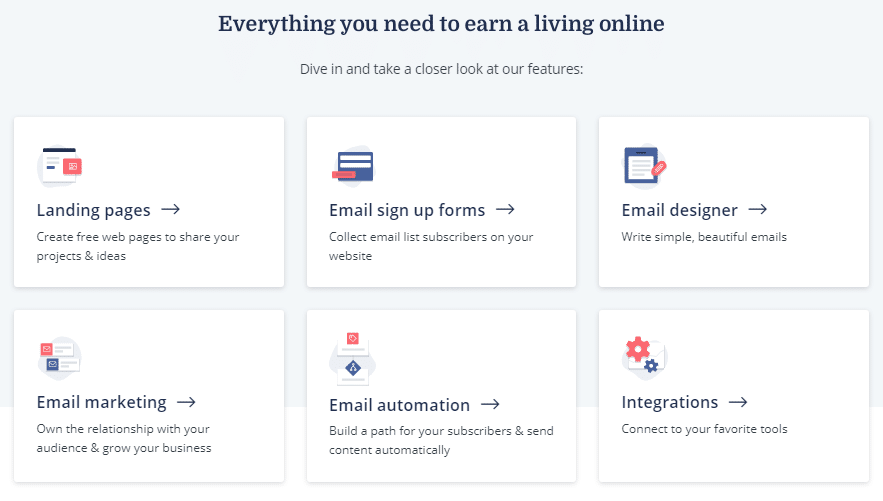 How it's different
One of the best aspects of ConvertKit is it was designed to be not only very simple to use but also very simple and familiar to readers who receive emails from them. The company doesn't offer a wide variety of email templates to use, but the templates they do have are designed to make the emails look more like a message you'd receive from a friend rather than a message from an email blast. This aspect actually could make your read and conversation rates higher than with some more intricate setups.
ConvertKit not only allows for simple email creation, but they also offer custom automation and sequences that help you send well-timed emails to the people who have signed up to be a part of your list. In the back-end, you can easily view your engagement and other data points so you can adjust your work on the front-end to drive more conversions.
Who it's best for
ConvertKit is a really great fit for small businesses that publish a lot of content (or bloggers). It doesn't matter whether you are experienced in email marketing or are just getting started, because ConvertKit is designed to make the process very simple and easy to understand.
The software does lack some design features that some of their competitors offer, but that's because the software was designed specifically for people or small businesses who are in the beginning stages of email marketing, and who don't have large lists.
Ultimately, ConvertKit is best fit for publishers of content and not other types of businesses that wish to perform marketing through email marketing software.
Pricing


ConvertKit bases their pricing solely around the number of subscribers you have on your list. This pricing model is nice, especially since the lowest level allows you to have 1,000 subscribers. The other benefit ConvertKit also offers all of its features for each tier of pricing. In other words, you don't have to have a huge list to get all of the features they offer.
Each pricing level includes visual automation, unlimited customizable forms, unlimited email sends, subscriber tagging, reporting, more than 70 integrations, and an API, to name a few features.
For up to 1,000 subscribers, ConvertKit charges $29 per month if paid on a monthly basis, or $24 per month if paid for annually. The other tiers breakdown as follows:
1,000-3,000 subscribers: $49 per month (or the equivalent of $41/month if paid annually)
3,000-5,000 subscribers: $79 per month (or the equivalent of $64/month if paid annually)
5,000-8,000 subscribers: $99 per month (or the equivalent of $83/month if paid annually)
Businesses with larger lists will need to contact ConvertKit for more custom pricing.
ConvertKit provides a free 14-day trial that allows you to take a walk through the product without making a commitment.
Customer support
ConvertKit offers email and live chat support for all of its customers, which is a nice feature. The potential issue with this, though, is the company only offers this support from 8 a.m. to 8 p.m. Eastern Standard Time on weekdays, with limited support on evenings and weekends. They don't specify what that limited support is, either.
These support hours might be good enough for most people in the country, though, as they do cover even the normal end of the workday for people in Pacific Standard Time.
Pros
Great fit for single-person bloggers or small business content publishers

Easy to use

Provides easy integration with website or landing page forms

Emails designed to look like a message from a friend and not marketing material

Sliding scale of pricing based on the number of subscribers
Cons
Not as many options for templates and design as some competitors

Not a great fit for companies that have very large subscriber lists

Doesn't provide customer support around the clock

Need to have knowledge of HTML or CSS to use the software
Rating breakdown
Overall:

4.05

Features:

3.8

Price:

4.3

Ease of Use:

4.4

Customer Service:

3.7