Constant Contact is a powerful email marketing software developed to help SMBs, nonprofits, and associations connect with their audiences, nurture relationships, and grow their customer base. The platform has been in the market for more than 20 years and is renowned as one of the big names in the highly competitive email marketing niche.
Constant Contact doesn't have the flair that some of its competitors – like AWeber and MailChimp – do, but it still does a lot to cement its position as a top player in the space. The platform provides a suite of intuitive, easy-to-use marketing solutions that empower SMBs to become more adept in creating effective drip campaigns.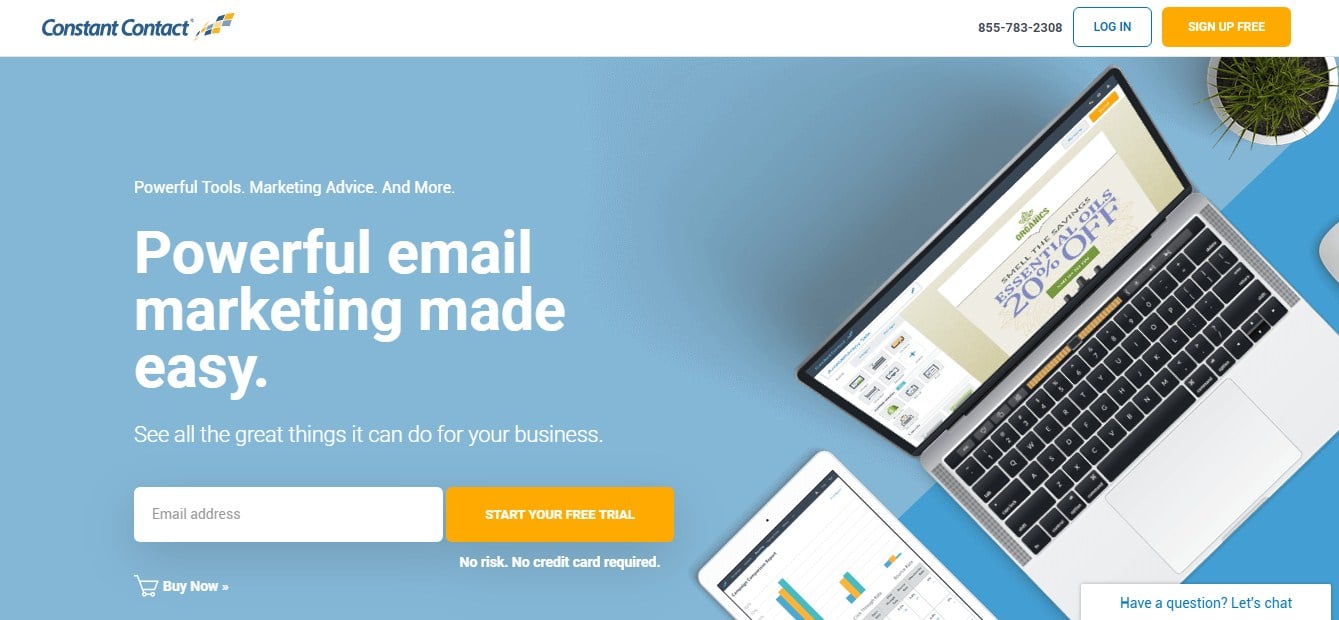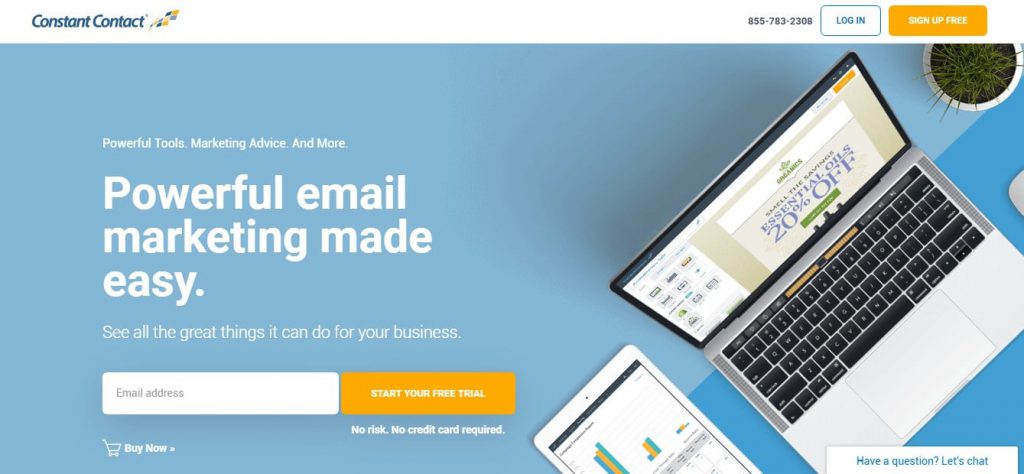 How it's different
What makes Constant Contact special is that, over the years, the platform has added some unique features that none of its competitors have. And although there has been a notable decline in popularity, the platform continues to enjoy a massive following of over 650K customers.
Here are a few reasons why businesses stick by Constant Contact:
Flexibility

–

Constant Contact provides an extensive suite of features that include survey management, email marketing, offer management, social campaigns, and email automation tools. These tools can be combined in an integrated toolkit or used independently. This flexibility is quite impressive for businesses looking to start small, then scale up as their operations grow. 

Easy to Use –

Constant Contact has a responsive email editor built-in. This intuitive editor delivers a seamless, drag-and-drop experience. There's also a set of easy-to-use editing tools that take the hassle out of the entire email creation process. Users can effortlessly preview designs so that they can send emails with confidence.

Extensive Integrations and Apps –

Constant Contact provides support for 446 apps and integrations. To put this into perspective, one of Constant Contact's main competitors, MailChimp, supports less than 200 integrations. Constant Contact apps enhance marketing efforts and allow users to achieve more with less effort. What's more, Constant Contact integrations allow users to connect with the business tools they already use to streamline contact management and boost email marketing.
Who it's best for
Initially, Constant Contact was designed to serve small businesses only. The company has since scaled up operations over the years to handle the needs of medium businesses and large enterprises in multiple verticals.
Today, Constant Contact is a great fit for marketing professionals in industries including finance and accounting, education, arts and culture, fitness and nutrition, health, publishing, real estate, retail, and travel.
Constant Contact is one of the few solutions that feature robust event management capabilities. As a result, the software is recommended for users looking to manage different aspects of an event such as registration, ticketing, and invitations.
Pricing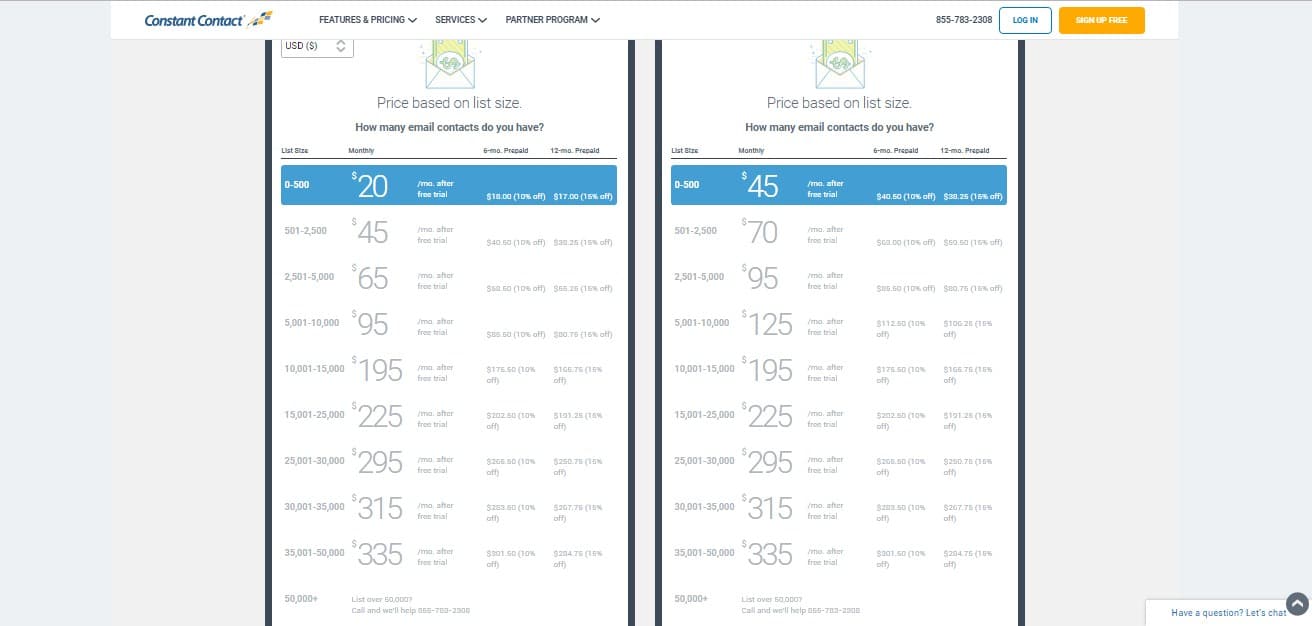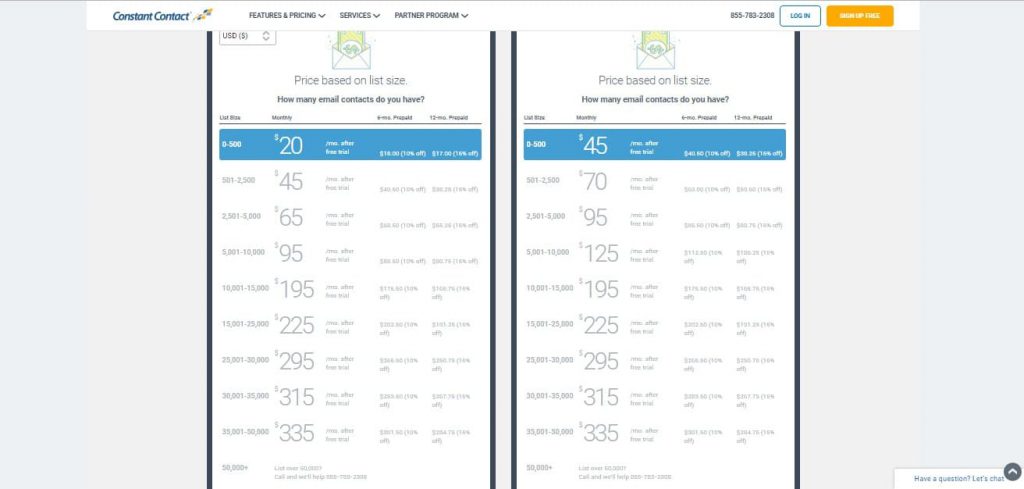 Like most cloud-based email marketing platforms, Constant Contact bases its pricing around list size. A free trial is available for the first 60 days, during which time users have access to all Constant Contact's features. Once the free trial expires, users must pay for either Email or Email Plus plans.
The Email plan provides all the features you need to come up with professional-looking emails, drive sales, and find new customers. Prices for this plan range between $20/month for 500 subscribers and $335 for 50,000 subscribers.
The Email Plus Plan includes all Email Plan features, plus advanced add-ons to help you effectively interact with your target audience. Prices for this plan range between $45 for 500 subscribers and $335 for 50,000 subscribers.
If you manage an email list that is bigger than 50,000 subscribers, you'll need to contact Constant Contact directly for a rate quote.
It's important to note that Constant Contact offers pricing perks.  For example, users who prepay for 6 months will receive a 10% discount, while those prepaying for 12 months are eligible for a 15% discount.
Customer support
In terms of Customer support, Constant Contact provides robust resources which include:
Multiple video tutorials

A knowledge base

Numerous education events

A well-versed service team
Support can be accessed through live chat, phone, and social media accounts. There's also a robust Help Center, where users can get help from a community with over 600K active members.
Pros
An extensive library of premade email templates

An easy-to-use, drag-and-drop email builder

Support for 400+ apps and integrations

Support for autoresponder sequences

An effective opt-in forms builder
Cons
Cumbersome approval process

Expensive