Carrd is a simple and easy to use drag and drop website builder that will help you build a one-page website. This is one of the easiest to use builders on the market.
Not only because you'll be building a simple one-page site, but also because the tool has been designed for complete beginners from the ground up.
We might receive compensation from the companies whose products we review. We are independently owned and the opinions here are our own.
If you're looking for a pared-down website builder that lets you create a single-page site, then this builder might be worth checking out. It doesn't offer you the same creative freedom as a tool like Wix, Weebly, or WordPress, but it excels at helping you create a simple site in record time.
The builder excels at:
Helping you build a one-page website as fast as possible

Offering a solid landing page builder experience

Giving you the freedom to customize your site, with zero coding experience
Carrd is a great choice for:
First-time website builders

Photographers and those who want to build a portfolio-People who want to test an app idea

Website owners who want to create a form and run creative surveys
In this Carrd review, you'll learn about the pros and cons of this website builder, who this tool is perfect for, and the kinds of websites you can build, so you can figure out if it's the right tool for your new website or project.
Check out our roundup of the Best Website Builders
Pros
Easy to understand and use
When it comes to ease of use Carrd gets high ranks. If this is your very first time building a website you could have it live on the internet in a couple of hours.
The user interface is clean and simple, without making it difficult to find customization options. A lot of builders are minimalist to a fault and make it hard to find the options you're looking for, but not Carrd.
Every option is clearly labeled and the terminology is very clear. Even if you've never built a website before.
Solid template selection
There are over 70 different templates to choose from. All of these templates are beautiful, modern, and mobile-friendly. They're about on par with the templates offered by Squarespace.
Just pick a template, add your content, and you're done.
These templates aren't enough to build a feature-rich website, but for something very simple like a landing page, quick portfolio, or online business card they're incredibly high-quality and will get the job done.
Great free features
The free version of Carrd will allow you to build a fully functional and beautiful one-page website. You won't be able to collect email subscribers or sell a product, but for a basic business card website, it'll be more than enough.
Having a free version (plus a free trial of the Pro version) allows you to fully explore the tool before you decide if you want to invest.  
Cons
Limited customization options
The goal of Carrd is to help you build a website as fast as possible. As a result, the customization options available to you are limited.
You can add a variety of content sections, change colors, images, text, and fonts. But, don't expect to build a fully custom website.
However, these design and customization limitations do speed up the website building process and make it easy for beginners to create a professional website.
Lack of additional marketing tools
A lot of website builders include additional tools to help your website get more traction.
Carrd is better suited for website owners who already have some sort of audience. There are very basic SEO features and the ability to add social sharing to your site.
But, these alone won't be enough to help you build a successful website from scratch. Plus, you won't find any blogging or CMS features here.
Can only create a one-page site
Carrd only lets you create a one-page website. In the age of endless scrolling, this might be all you need, but some users might require the ability to build a site with multiple pages.
It's better suited for small test projects, landing pages, and online business-card style sites.
If you need to create a full-fledged website you're better off using a tool like Squarespace, Wix, or Weebly.
Bare bones eCommerce tools
Carrd does allow you to create an eCommerce website, but it's pretty bare-bones. Since it's a one-page site you'll probably only want to feature a single product. It is easy enough to set up and integrates with PayPal and Stripe, but doesn't pack the online store features offered by other tools.
If you want to create an eCommerce website that features multiple products and comes equipped with advanced selling features, you're better off using a tool like Shopify.
What makes Carrd unique?
Very intuitive and easy to use builder
A lot of website builders boast that they're easy to use, but the learning curve can still be a little steep for people who've never built a website before.
Carrd fulfills the promise of being easy to use and beginner-friendly.
You can probably figure out how to use the builder and create your very first website without having to consult any of the tutorials or in-depth guides.
Purpose-based template selection
A lot of website builders will give you hundreds of different templates to choose from. Having a lot of choices can be nice, but it can lead to overwhelm, especially when there are dozens of templates that serve the same purpose.
Carrd offers a decent number of templates but also breaks each template down into a very specific purpose.
For example, you'll find templates that are great for landing pages, large images for events (like a virtual movie poster), a simple business card style website, or even a template designed to collect user feedback.
The templates are broken down into the following sections:
Landing

.

Create a simple landing page designed to show off your new product, or service.

Form

.

Create a compelling sign-up form, or survey to collect visitor data. You can also integrate Stripe and PayPal to sell a product. 

Portfolio

.

Create a compelling one-page portfolio to showcase your work. 

Profile

.

Create an online business card to share your skills and small business experience.

Sectioned

.

Link together multiple single-page websites to give your site a multiple-page feel as users scroll down the page.
If you're creating a web page that has a very specific goal, i.e., build a simple site that acts as a virtual resume, then Carrd has you covered.
Built-in animations
A lot of simple site builders lack advanced features. Carrd includes a handful of useful features that are typically reserved for more advanced (and higher-priced) website builders.
For example, there's a collection of built-in animations you can include in your design.
This can help to make your simple website more engaging, while drawing attention to important areas, like your CTA buttons.
Download site code
Most website builders make it very difficult to leave the platform once you've built a website.
However, if you're on one of the premium versions you can download your site, or multiple sites, and take them with you.
You won't be able to download the backend server-side code, but you can download your HTML, CSS, and JS files, plus all of the images.
What can you use Carrd for?
Carrd is a pretty flexible website builder, the examples below are just a few directions you can take with this tool.
Creative portfolio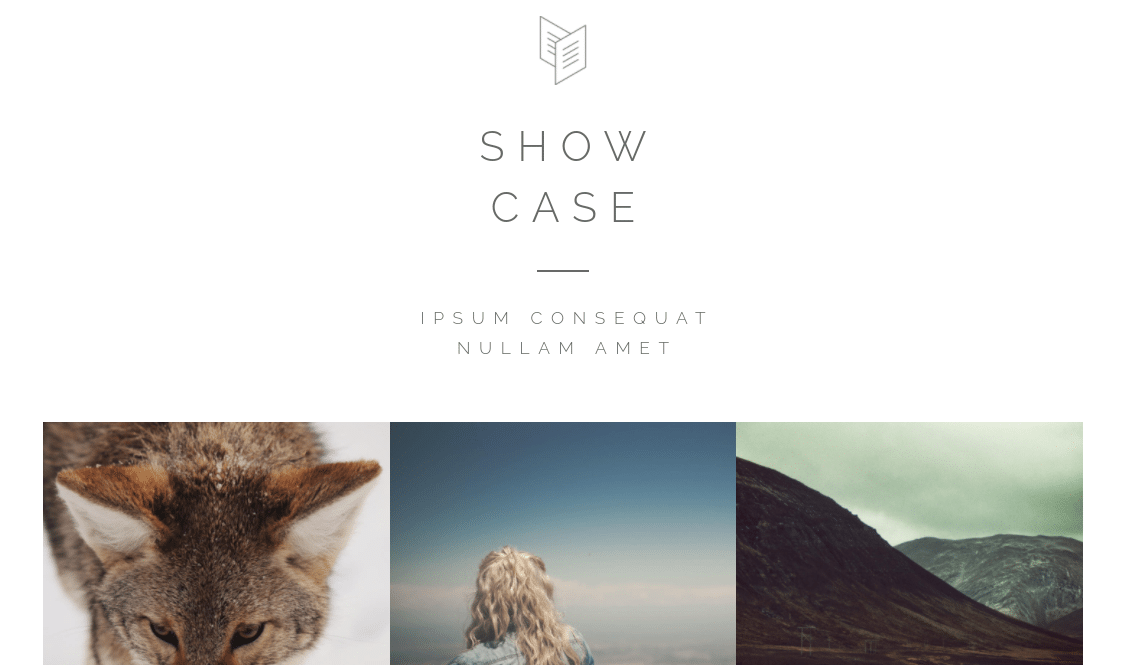 Showcase your creative work with the world, whether you're a photographer, designer, illustrator, or artist, with a simple portfolio page.
You can upload your logo and images, and include links to all of your social profiles.  
App download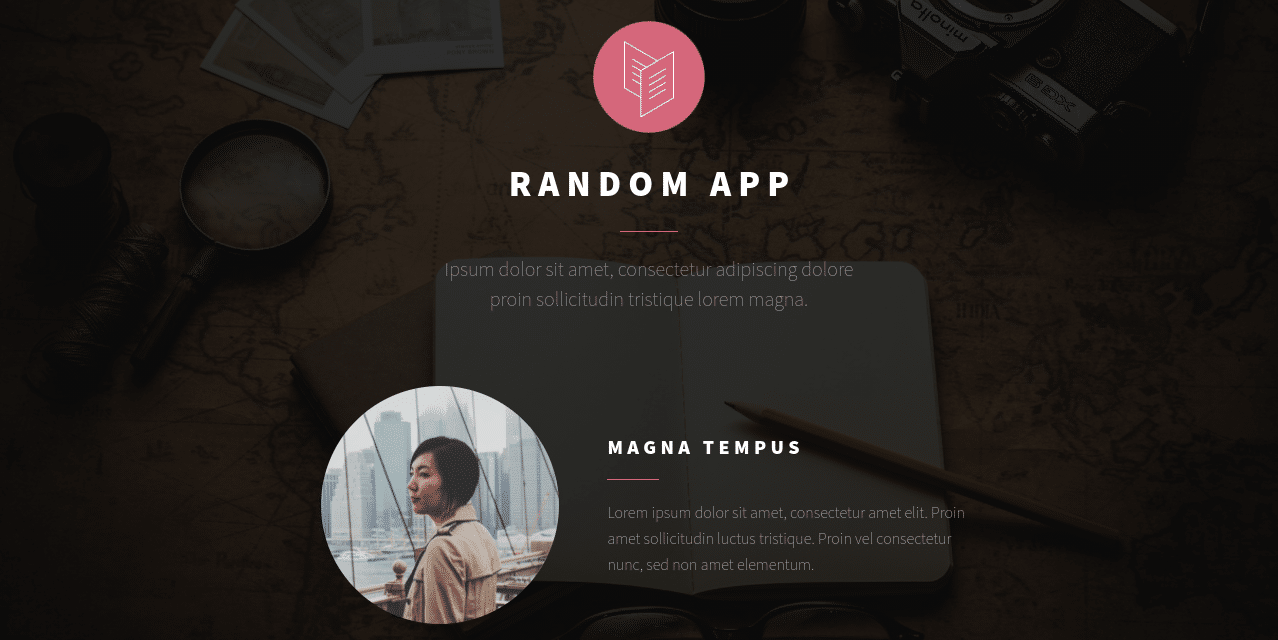 If you're launching an app and business website you can use this builder to create a simple landing page. Here you can showcase app features, testimonials, and more.
You can finish off the page by including a link where users can download the app.
Business card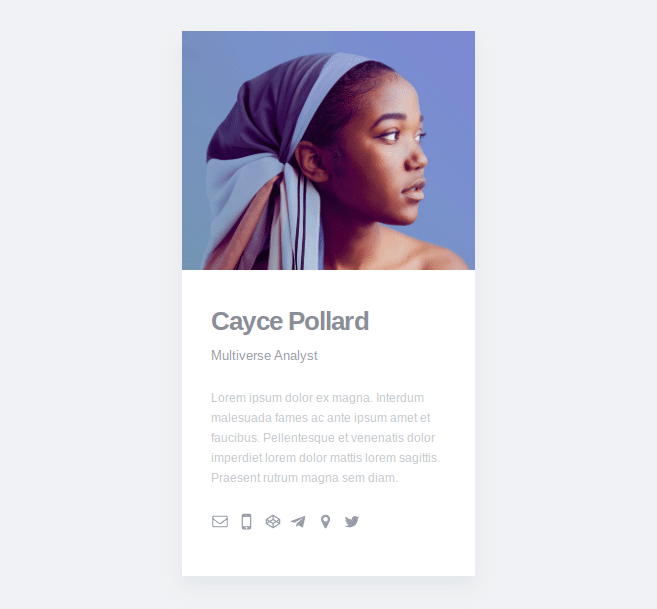 You can create a virtual business card. Include your name, an image, a brief description of what you do, plus links to other social media profiles and other online platforms, like LinkedIn.
Landing page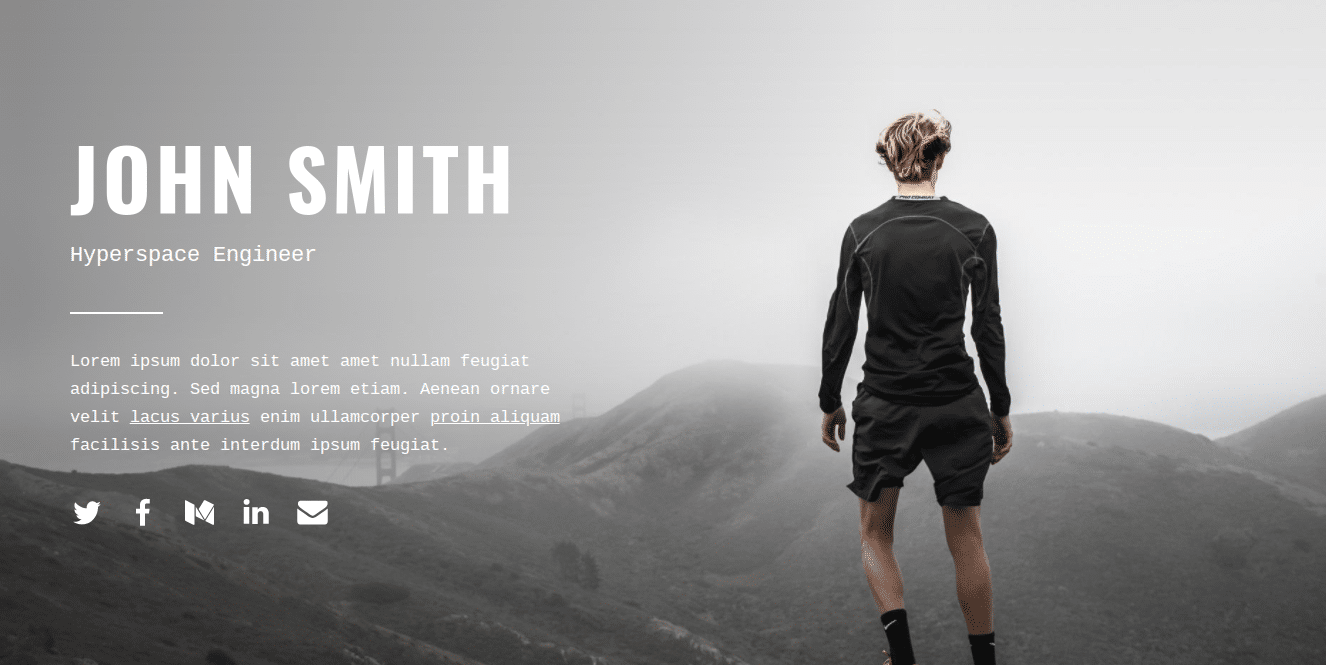 Similar to creating a virtual business card, you can create your very own landing page that describes the work you do and what you offer to the world.
You have complete control over your images, colors, text, and links you choose to include.
How does the Carrd builder work?
If you couldn't guess, getting started with Carrd is incredibly simple. You don't even need to create an account to start building your first website.
All you have to do is click the big 'Choose a Starting Point' button on the homepage and you'll be taken to the template dashboard. You also have the option to start with a blank template if you want to create a unique website (a feature like this is usually only available with premium website builders).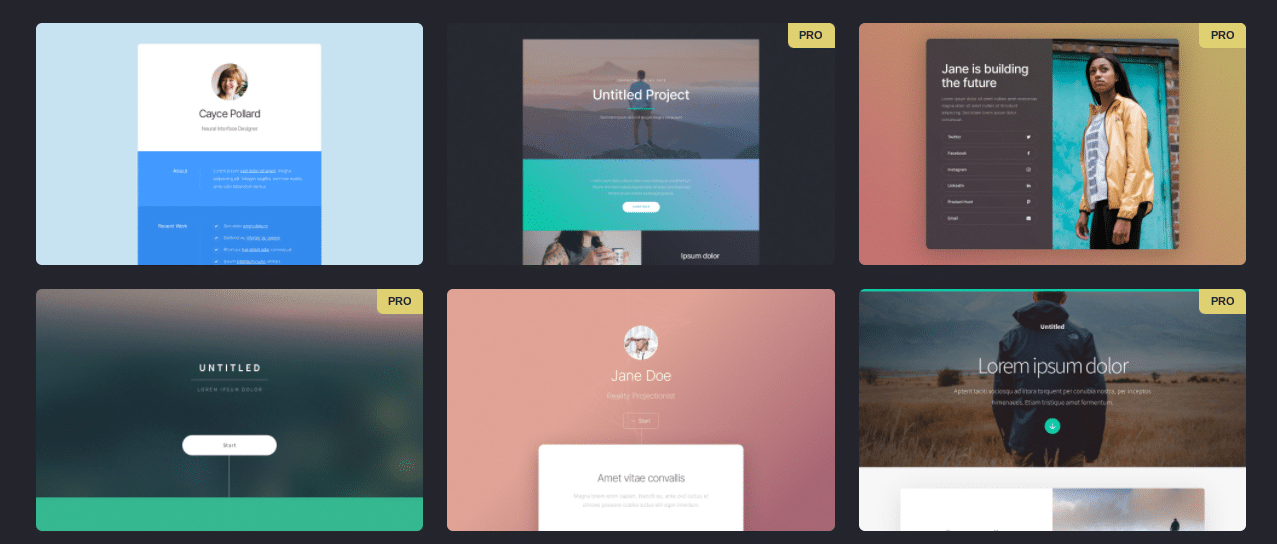 Once you've chosen your template you'll be taken to a useful education screen, which shows you how to use the tool, and which buttons do what.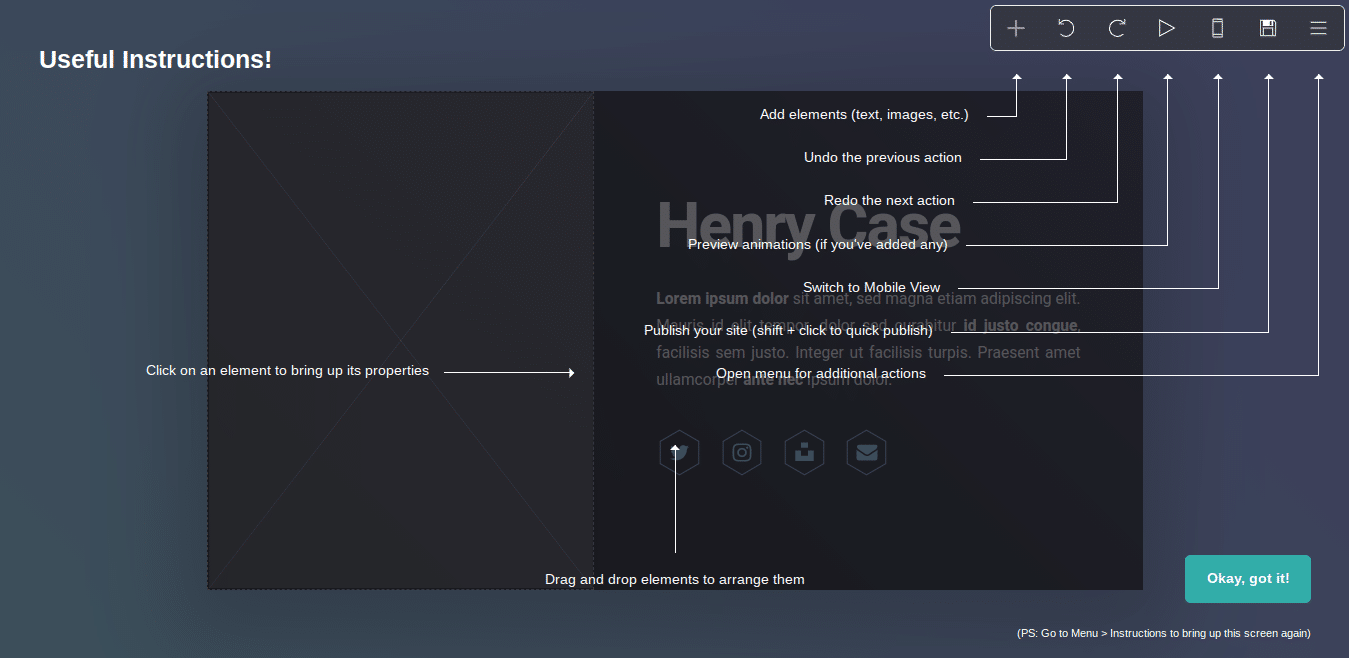 This is very useful if it's your first time using a web-based application to build your site. Just follow the steps, no need to spend hours watching tutorials to learn how to use the tool.
Editing your site
After you select your theme you'll automatically be in editing mode. The exact changes you're able to make will depend on the template you choose, but the actual editing process remains the same.
All you have to do is click on an element of your site, and the options panel will slide out, which shows you the edits you can make.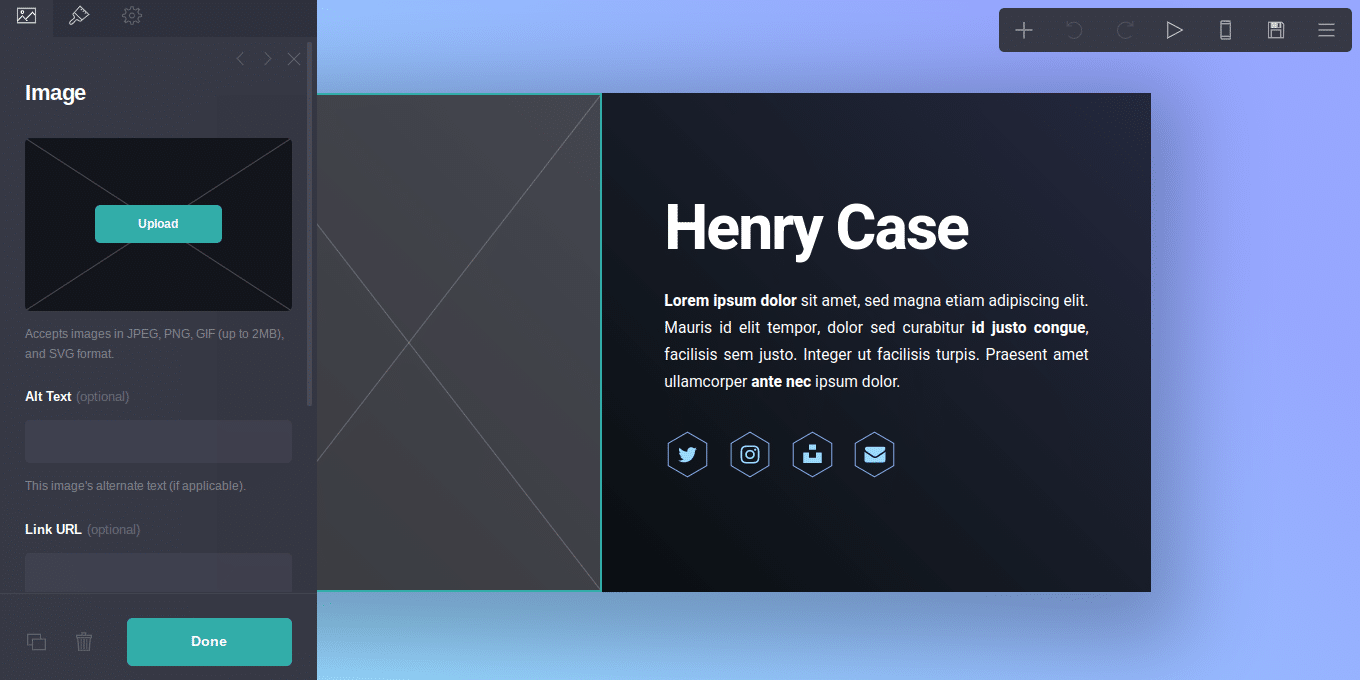 In the image above you can change things like font, color, size, and more. The customization options you're presented with will change based upon the site element you click.
You can also add new elements to your website. There are a lot of different options you can choose, including:
Text

Video

Audio

Images

Image Gallery

Widget Section

List 

Buttons

And much more
You can also drag and rearrange any existing site elements as you would any other drag and drop website builder.  
Integrations available
There are a variety of third-party apps that integrate with Carrd. This will help you add more features to your site, including eCommerce, plus integrating this builder with your current marketing toolkit.  
Here are a few of the most popular integrations:
Stripe

.

Add a Stripe checkout button to your website. 

Gumroad

.

Add a Gumroad buy button to your site. 

Facebook

.

Add a Facebook like button to your site. 

PayPal

.

Add a PayPal buy button to your website. 

Typeform

.

Capture and store user surveys and form responses. 

Mailchimp

.

Let subscribers join your list and manage them via this tool.

Google Analytics

.

Record and analyze your website traffic and onsite data.

Cloudflare

.

Speed up your website by integrating it with a CDN.

reCAPTCHA

.

Secure your sign up forms and surveys and protect against spam.

Zapier

.

Build forms that integrate with this automation tool.
Beyond the supported integrations above, there are also a handful of other tools that have created their own integrations and plugins.
For example, Elfsight has created a wide range of integrations that range from adding reviews to your site, embedding Vimeo videos, adding a site visitor count, and much more.
Pricing
The most basic plan offered is the free plan. With this plan, you can create a pretty decent website, but you won't be able to have a custom URL or access some of the more advanced features. But, it is great you can get a basic website online with zero money down.
The pro plans will get you access to even more features like:
Support for multiple websites

Support for a custom domain name

Add contact forms and email sign-up forms to your site

Remove the Carrd branding from the footer

Access to favicons

Access to the widget section (includes eCommerce checkout buttons)

Integrate your site with Google Analytics
Here's how the pricing breaks down for the three Pro plans: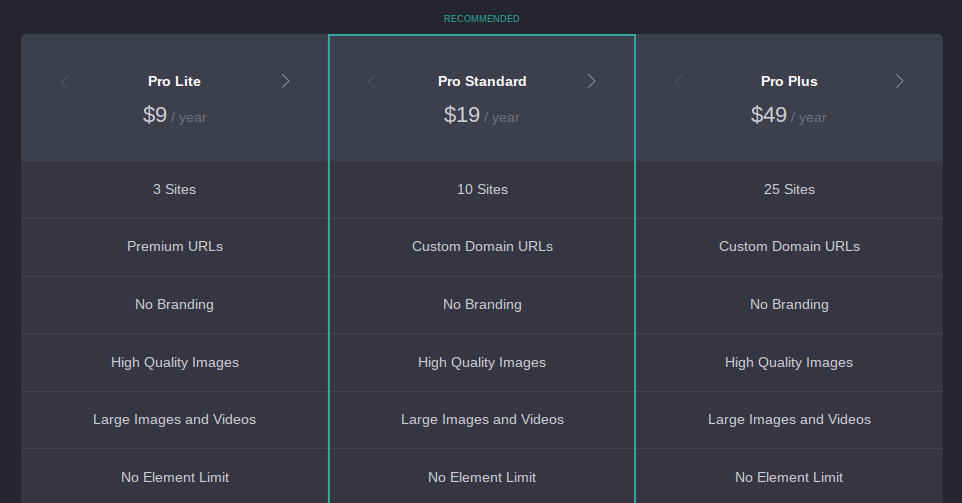 Pro Lite

.

$9 per year.

Pro Standard

.

$19 per year.

Pro Plus

.

$45 per year.
You can also take advantage of the 7-day free trial of the Pro plan if you're not sure that you're ready to upgrade your account. This gives you access to all of the Pro features without having to enter your credit card information.
Customer support
If you run into trouble setting up your website you can rely on the massive library of tutorials and setup documentation. Since the builder is relatively straightforward to use, this should be able to help you resolve most issues.
However, you can also reach out to the customer support team via email, to have them assist you with any problems. The response isn't instant, but most requests will be handled within a couple of hours.