99designs brings together creative designers and businesses that are in need of design services. The platform acts as a middleman for businesses to hire design professionals, exchange ideas and work output, and process payments. Projects range in size from something as simple as a one-off logo design, to more complex, like designing marketing collateral for major corporate events.
The talent pool on 99 designs includes beginners who are just getting started in the field of design and willing to work for lower wages in exchange for experience, as well as professionals who command the best prices in the industry. 99designs works well for individuals with minuscule budgets, small and medium businesses, and large-scale enterprises.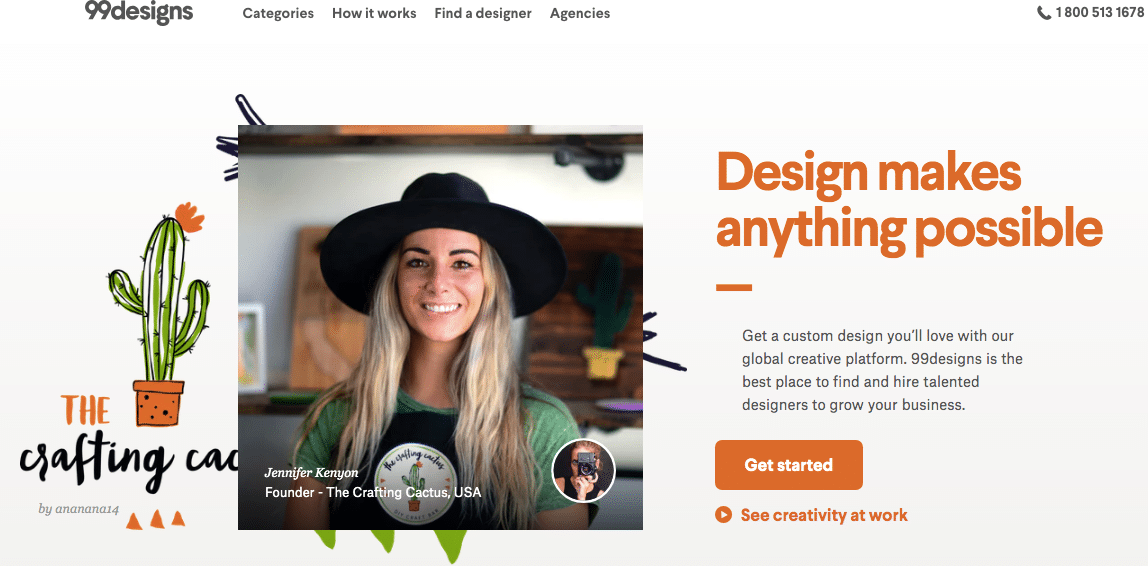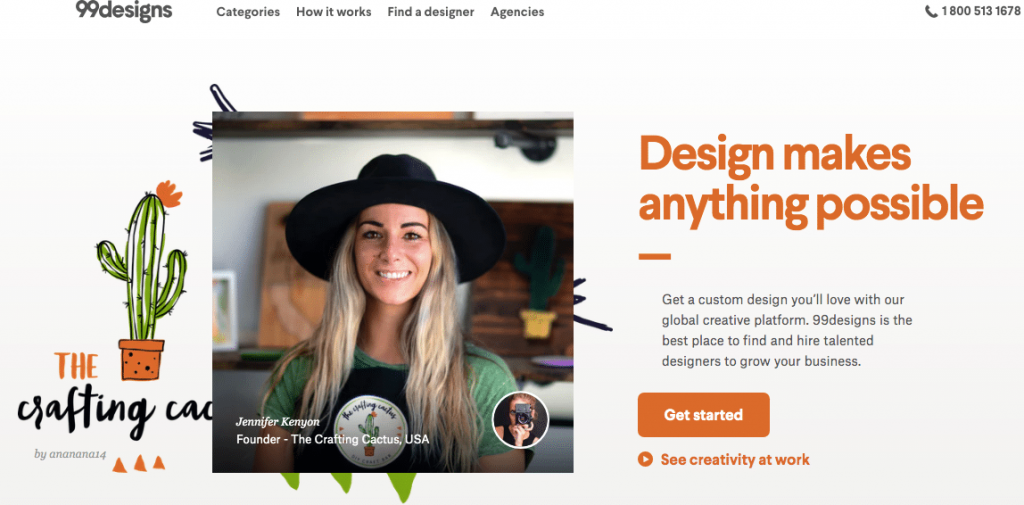 99designs pricing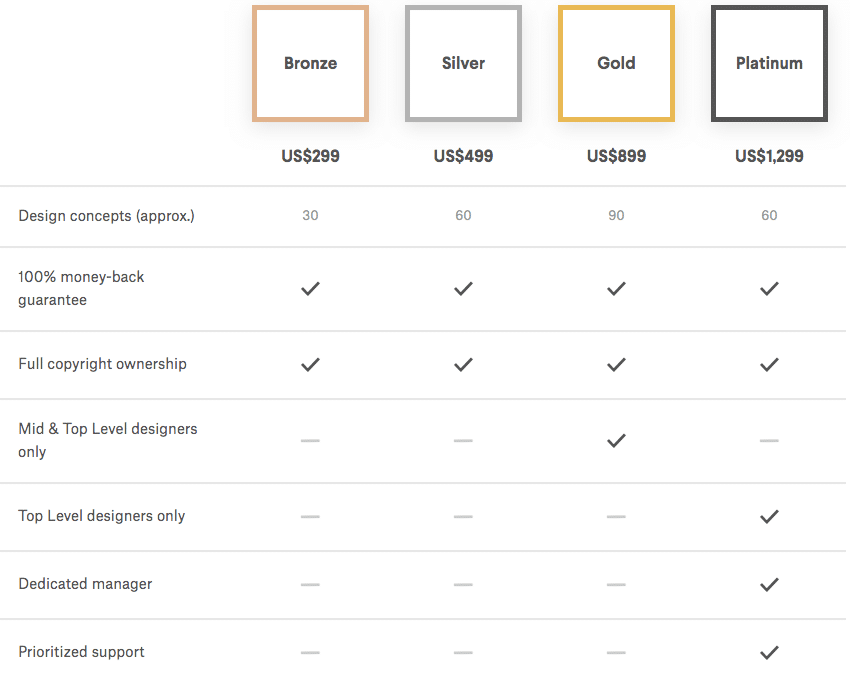 Signing up with 99designs isn't free, and there are four pricing packages for design contests:
Bronze

– For $299/month, businesses will receive 30 design concepts, with guaranteed full copyright ownership of designs purchased, and 100% money back on failed contests.
Silver – $499/month for 60 design concepts
Gold – For $899/month, businesses will receive 90 design concepts from only mid-to-top level designers
Platinum – For $1299/month, businesses will receive 60 design concepts from top-level designers, a dedicated account manager, and priority service
Apart from these contest packages, there are a wide array of fixed price ranges for different types of design projects like book covers, menus, logos, and stationery.  
99designs customer support
99designs provides excellent customer support via training videos and a constantly updated FAQ section, as well as phone, email, and chat support. Unhelpful back and forth crops up every now and then, but overall, customer service reps get it right most of the time and also engage with both clients and designers on social media and other design forums.
99designs usability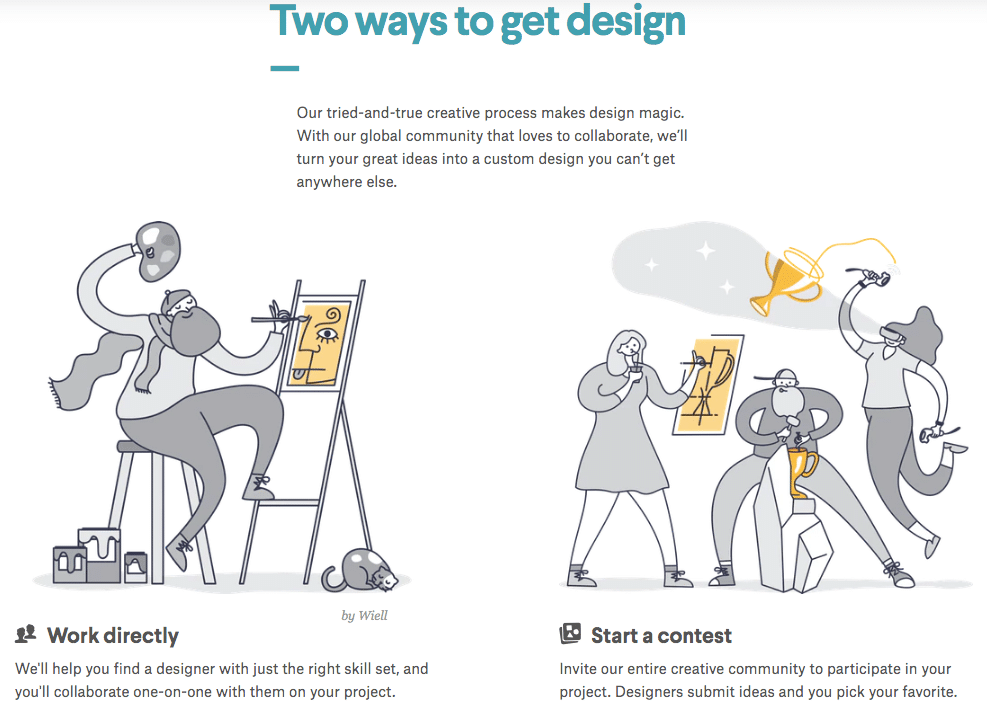 99designs is easy to use. There are plenty of features to help buyer's host contests, choose winners, and process payments. It's also easy to create customized projects with a set price. The only cumbersome part is writing a brief to ensure that the creative vision is properly articulated.
Pros
Simple design and a well-organized UI make the site very easy to use

Facilitates collaboration between designers, and allows multiple freelancers to work on the same project remotely

Money back guarantee if designs don't meet the mark
Cons
Difficult to establish long-term relationships with freelancers who truly understand brand requirements if deciding on designs through the contest option

A global marketplace full of designers who are not proficient in English, which makes getting ideas across and communicating vision a challenge at times

Top professionals usually do not participate in contests or submit their work without the guarantee of being paid. As a result, some contests end up with design entries that lack a professional and creative touch.
Rating breakdown
Overall Rating:

4.6

Features:

4.5

Price:

4.5

Ease of Use:

4.5

Customer Service:

5