Student debt is an enormous burden; not just for young Americans, but the American economy as whole. It has surpassed both auto loan and credit card debt to become the second highest source of consumer debt – being beaten out only by mortgage loans. While the average interest rate for a student loan isn't as high as for these other types of debt, the sheer amount of student loan debt is a serious concern.  Increasingly, college students in America are borrowing vast sums against their future in order to finance a college education.
But where is all that debt coming from? Who holds it? Is it still increasing… and what is the future of student loans in the United States? It's an unsustainable trend with the potential for drastic consequences.
To paint a clear picture of the current crisis, we have consolidated the following student loan debt statistics.
How much student debt is owed?
With 60% of all students having some form of debt by graduation–either through private loans issued by financial institutions or direct loans from the government–the sheer amount of debt is staggering.
There is more than $1.5 trillion of student debt owed in the United States.
This debt is owed by 44.5 million people across all demographics.
2 million of those people owe more than $100,000 and 0.5 million of them have a loan for more than $200,000.
In 2017, $106.5 billion was borrowed. That is down, however, from the peak of $125.6 billion in 2010. Tuition costs have continued to rise; the decline is due to fewer people enrolling in college each year.
What is the average U.S. student loan debt?
The average total amount of outstanding student loan debt for a four-year student that graduated in 2016 was $37,102 – a 78% increase from just 10 years earlier.
The average monthly payment on student loans was $393 in 2016, up from $227 in 2005.
To put it in perspective, students graduating today that owe $37,000 could have instead financed: a new Audi A4 or Tesla Model 3, the down payment on your average home, or the bootstrapping of their own small business.
Federal debt
The federal government is the servicer for a vast majority of student loans. Most, however, are managed or guaranteed by a corporation.
According to the Federal Reserve, total federal student loan debt amounts to $1.5 trillion
Total federal student loan borrowers is 44.5 million
Private student loan debt
Private student debt is a relatively minute fraction of the total debt.
Total private student debt amounts to $64.2 billion
The number of borrowers is undisclosed, but private debt accounts for about 7% of all student debt.
Graduate school debt
Increasingly, graduate school is a larger percentage of that debt as more and more students are pushed into graduate programs due to the loss of value on bachelor's degrees.
40% of the total federal student debt is held by those in graduate programs.
Graduate students borrowed $18,210 per year on average during 2015 compared to an undergrad's $5,460.
Master's degrees usually take between 2 and 5 years to complete. The average debt of a master's graduate is $51,000.
The cheapest master's degrees are an MBA. Those with an MBA averaged $42,000 in debt. Meanwhile, the average medical school debt is currently hovering at $194,000.
Who holds student loan debt?
Demographics of loan holders
Surprisingly, it's not just those in younger age groups that struggle with debt.
Of people with student debt, only 37.5% are below the age of 30. The other 62.5% are older than 30.
Unsurprisingly, minorities are disproportionately affected by student debt.
77% of black students took out a federal loan to pay for higher education compared to the 60% national average for all students.
The average debt upon graduation is also higher for black students. In 2012, for example, their average debt was $29,344 compared to the national average of $25,640.
Troubles don't end after successfully securing a job after graduation: among workers with a bachelor's degree or higher, black households still earn 23% less than the median for the overall population.
Examining students that began college in 2003: 50% of black students have ceased student loan repayment  and defaulted on their loans within 12 years due to financial insecurity (compared to a 36% default rate for Hispanic students and 21% for white students).
The problem of debt is especially acute for women.
While women account for 56% of undergraduates nationwide, they hold almost two-thirds of the total student debt ($900 billion).
Not only are women more likely to take on debt, but their average debt is also $2700 greater than a man's.
Women also take longer to repay their debt, resulting in more total interest. This is partially due to the gender pay gap – women make on average 26% less than men, resulting in less discretionary money to pay off debts.
How are student loans repaid?
Slowly… or in many cases, not at all. A sizable chunk of student loans are in limbo – or totally abandoned.
3.3 million borrowers are currently deferring their federal student loans. In this instance, deferment means that interest doesn't accrue.
2.6 million borrowers currently have federal student loans in forbearance. Interest is still piling up for them.
An astounding 4.7 million borrowers have their federal student loans in default. That means that 10% of all people with student loans haven't made student loan payments on their debt in more than 9 months.

Students that left college before completing their degree are more than twice as likely to eventually default on their loans compared to students that graduated.
More than half of all defaulted debts are on loans that amount to less than $10,000.
Types of repayment plans
Fortunately, there are a multitude of methods to repay student debt that are conscious of the burden it imposes on graduates. Only a small fraction of all borrowers are on such a plan, however.
6.73 million federal loan borrowers are on an income-driven repayment plan.
Broken down by type of plan:
2.9 million federal loan borrowers are on an income-based repayment plan. On this plan, payment is capped at 10% of total income and payment is made for 20 years.
630,000 federal loan borrowers are on an income-contingent repayment plan. On this plan, the borrower pays the lesser of 20% of discretionary income (with a 25-year term) or the equivalent of a 12 year fixed plan.
1 million federal loan borrowers are on the Pay As You Earn plan. On this plan, payment is 10% of total income for a 20-year term, but it can never exceed the estimated payment of a standard repayment plan.
2 million federal loan borrowers are on the Revised Pay As You Earn plan. On this plan, payment is capped at 10% of discretionary income and undergraduate loan terms are extended to 20 years (grad loan terms extended to 25 years).
The advantage to these federal repayment plans is that, if the balance is not entirely paid by the end of the term, the remaining debt is forgiven.
The disadvantage is obvious: the standard federal student loan has a repayment term of 10 years. Doubling that exponentially increases the amount of interest owed and the lifetime cost of the debt.
Loan forgiveness statistics
There are two primary federal student loan forgiveness programs offered by the U.S. Department of Education.
Public Service Loan Forgiveness – Is intended to be for eligible federal, state, and local government employees as well as employees at 501 (c) (3) non-profits. After exactly 10 years of on-time payments, the remainder of the debt is to be forgiven. However, as of September 2018, only 96 out of the 30,000 applicants have been accepted to the program and forgiven. Don't count on this one.
Teacher Loan Forgiveness Program – Teachers that teach 5 consecutive years in a qualified low-income school can be forgiven between $5,000 and $17,500 of their debt. About 40,000 teachers received aid from this program in 2017.
FAFSA statistics
FAFSA, the Free Application for Federal Student Aid, is an effort by the US government to help finance higher education for students that are determined to be eligible. It's meant to be updated and submitted yearly. Federal loans and grants are calculated from the results of the FAFSA.
36% of the high school students that graduated in 2017 didn't apply to FAFSA (although that includes students that didn't plan to attend college immediately).
49% of high school students that graduated in 2017 were eligible for the Pell Grant (which doesn't need to be repaid).
The average award to Pell Grant recipients was $3,583, so a grand total of $2.3 billion in free money went unclaimed in 2017.
The impact of student debt
NerdWallet conducted a poll on students graduating with a 4-year degree in 2018. The results are unsurprisingly bleak, but there's a ray of hope. With savvy saving and a thrifty mindset, the American dream is still achievable… if further than ever.
45% of students that graduated in 2018 have student debt.
Their projected retirement age is a creaking 72 years old (compared to the average retirement age of 66 in 2018). 11% of graduates don't believe they'll ever have the opportunity to retire.
Assuming they secure a competitive job right out of college, it might be possible to pay off their loans and save a 20% down payment on a house by age 36.
Average student loan debt by state: how have the numbers changed over five years?
For the past decade, we've been hearing about the United State's massive student loan bubble, with some experts saying the $1.5 trillion in total student loan debt that Americans owe spells doom for the economy, while others declare the fear to be overblown.
With so much emphasis placed on the jaw-dropping nationwide numbers, statistics on how much recent graduates owe state-by-state (along with the percentage of students that graduate with debt on average in each state) are often overlooked. This is too bad, though, because the variance in graduate debt by state, and how those numbers have shifted through the years, is one of the more interesting facets of the student loan issue in America.
We looked at the Institute for College Access and Success annual student debt reports — the definitive compilation of student loan data — from 2017 (the latest available) and 2012 for a closer examination on how the average debt amassed by graduates in each state (save for Hawaii and North Dakota, for which data is incomplete) has fluctuated over the years.
Examining the data, we find an intriguing contradiction: while the average amount of college graduate debt has increased by a double-digit percentage in over half of the 50 states, over 80% of states witnessed no increase or a reduction in the proportion of recent graduates with debt.
How do we make sense of this? Well, tuition costs continue to rise, which explains why students would be compelled to take out larger loans, but the latter figure is something of a mystery. Fewer students are borrowing, yet the ones that do borrow are borrowing more.
Perhaps those that have no alternative must borrow funds to cover the full cost of tuition and other college expenses while others, chastened by the ongoing student loan crisis, are finding alternative means of paying, such as accepting money from their parents, working part-time while in school, or a combination of both.
Let's take a look at the map: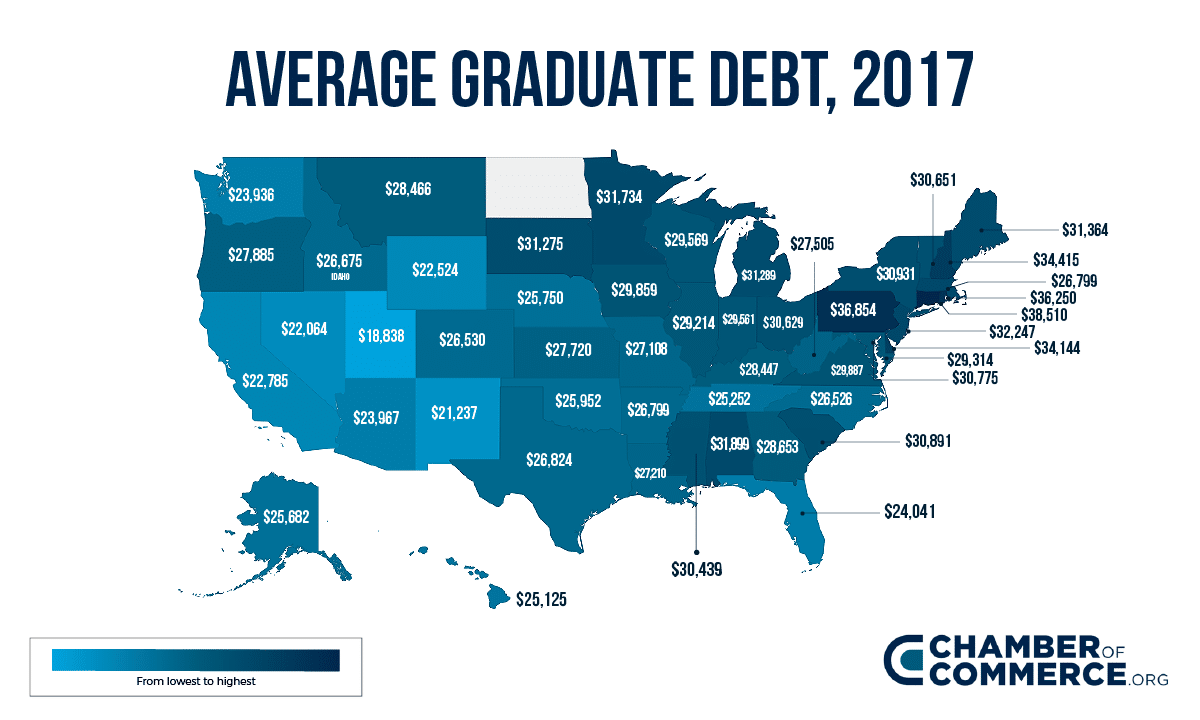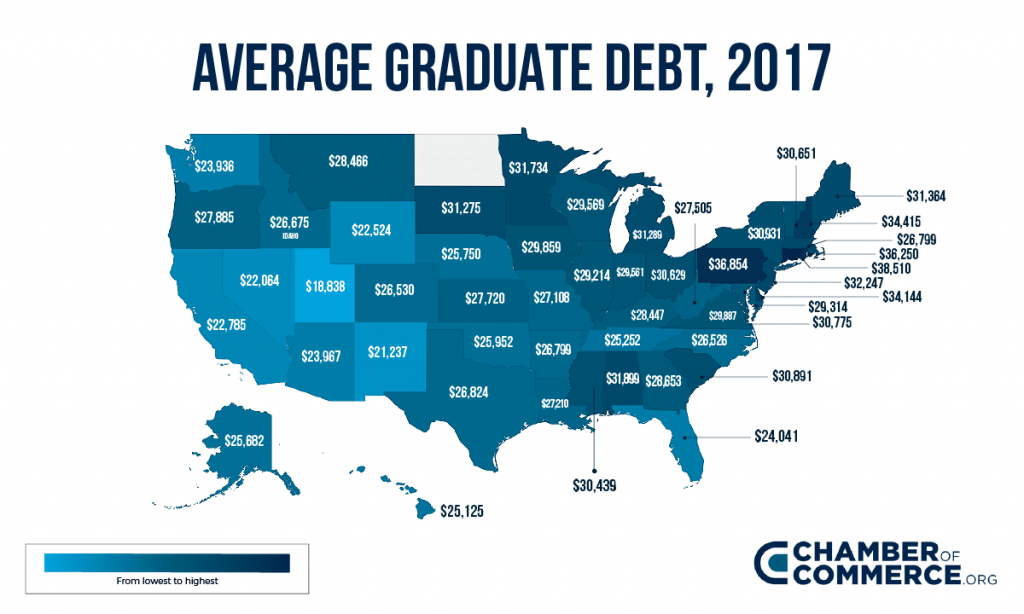 Average graduate debt, 2017
| State | Average Graduate Debt 2017 |
| --- | --- |
| North Dakota | N/A |
| Connecticut | $38,510 |
| Pennsylvania | $36,854 |
| Rhode Island | $36,250 |
| New Hampshire | $34,415 |
| Delaware | $34,144 |
| New Jersey | $32,247 |
| Massachusetts | $32,065 |
| Alabama | $31,899 |
| Minnesota | $31,734 |
| Maine | $31,364 |
| Michigan | $31,289 |
| South Dakota | $31,275 |
| New York | $30,931 |
| South Carolina | $30,891 |
| District of Columbia | $30,775 |
| Vermont | $30,651 |
| Ohio | $30,629 |
| Mississippi | $30,439 |
| Virginia | $29,887 |
| Iowa | $29,859 |
| Wisconsin | $29,569 |
| Indiana | $29,561 |
| Maryland | $29,314 |
| Illinois | $29,214 |
| Georgia | $28,653 |
| Montana | $28,466 |
| Kentucky | $28,447 |
| Oregon | $27,885 |
| Kansas | $27,720 |
| West Virginia | $27,505 |
| Louisiana | $27,210 |
| Missouri | $27,108 |
| Texas | $26,824 |
| Arkansas | $26,799 |
| Idaho | $26,675 |
| Colorado | $26,530 |
| North Carolina | $26,526 |
| Oklahoma | $25,952 |
| Nebraska | $25,750 |
| Alaska | $25,682 |
| Tennessee | $25,252 |
| Hawaii | $25,125 |
| Florida | $24,041 |
| Arizona | $23,967 |
| Washington | $23,936 |
| California | $22,785 |
| Wyoming | $22,524 |
| Nevada | $22,064 |
| New Mexico | $21,237 |
| Utah | $18,838 |
Looking at the recent figures
Connecticut leads the pack with the highest average loan debt for recent graduates with $38,510, nearly $2,000 higher than #2 Pennsylvania ($36,854). The two are followed by #3 Rhode Island ($36,250).
Utah graduates owe the least amount on average, posting the only average graduate debt number under $20K ($18,838), which is over $2,000 less on average than #2 New Mexico graduates, who owe $21,237 on average. Interestingly, the two states are trailed by #3 Nevada (average debt: $22,064), another western state.
The median amount owed by recent graduates, averaging each state number, is $28,560.
New Hampshire, South Dakota, and West Virginia all have the highest proportion of graduates leaving school with debt with 74% each. They are followed by #4 Minnesota (68%) and #5 Pennsylvania (67%).
In addition to having the lowest average graduate debt, Utah also has the lowest proportion of students with debt at 38%, followed by #2 District of Columbia and Alaska (46%), #4 Wyoming (47%), and #5 Louisiana (48%).
The median proportion of graduates with debt for all states is 57%.
Comparing 2017 and 2012 student loan debt numbers, by state
In total, 27 states (or territories) witnessed a double-digit percentage increase in average graduate debt from 2012-2017, while five states witnessed a 1% increase (comparable to inflation), no significant change, or a decrease.
The District of Columbia, though not a state, had the highest percentage increase between 2012 and 2017, going from $22,106 to $30,775 for a 39% increase.
Tellingly, the state with the highest average student debt in 2017, Connecticut, also had the highest percentage increase in average student debt, going from $27,816 to $38,510 for a whopping 38% increase.
Utah again fares well in the statistics, with the greatest percentage reduction in average graduate debt, dropping $2,682 for a 14% decrease.
Utah is followed by #2 Alaska, which witnessed an 11% decrease over the five years and #3 Nebraska, whose average debt amount dropped by 3%.
It's in the change in the proportion of graduates with debt where states showed the most improvement: just 7 showed an increase in the proportion of graduates with debt, while 42 witnessed no change or a reduction in the proportion of graduates with debt.
Utah is back again with the greatest reduction of the proportion of graduates with debt, with a 12% decrease, followed by #2 Maine and #3 District of Columbia, with 11% and 10% decreases, respectively.
West Virginia had a 20% increase in the proportion of graduates leaving school with debt, with #2 Nevada witnessing an 8% increase, and #3 Delaware charting a 6% increase.
Overall, there was a median 3% decrease in the proportion of graduates with debt from 2012 to 2017.