Many small business owners love the challenges that come with running their company, but HR and payroll are rarely among them. With complicated requirements, confusing forms, and tight deadlines, running payroll can be a headache for even the most devoted small business owner. Payroll services reduce the burdens of this important business function, leaving entrepreneurs with more time to focus on what they do best.
Payroll services help business owners and managers understand the payroll process, provide them access to important forms, manage information, ensure deductions are carried out correctly, and ensure their employees are paid right. That said, it's not always easy finding the right payroll service.
Trinet overview
Like its rival Justworks, TriNet is a PEO (Professional Employer Organization) rather than an online payroll software provider or specialist service. Small businesses can outsource their human resources to TriNet – including payroll – in exchange for payment.
PEOs like TriNet are good options if your small business needs a payroll service and other benefits like employee onboarding, group rates for insurance, and employee self-service.
Trinet features
PEOs like TriNet aren't just a payroll service. If you join TriNet, your employees will technically work for them, too. This might seem unusual to small business managers or owners new to PEOs, but there are real upsides to this system
One of the biggest advantages to small employers of this system is TriNet's ability to use its size to get great deals on various benefits on behalf of your employees. Having so many employees on the books means TriNet can secure excellent deals with insurance companies and other partners.
Offering benefits at good rates, even if it's through a PEO, reflects well on you as an employer and has been shown to improve recruitment, staff retention, productivity, and wellbeing.
TriNet's features cover payroll services, too. With TriNet, you can manage your payroll entirely online, with access to the following features:
Online payroll processing

Direct deposit and debiting

Paperless payroll administration

E-pay stubs

Electronic W-2 preparation and delivery

Invoice estimates with automatic updates

Time-off tracking

Employee self-service
 The online interface is simple but effective, with key information important to small business owners and HR managers visible at a glance.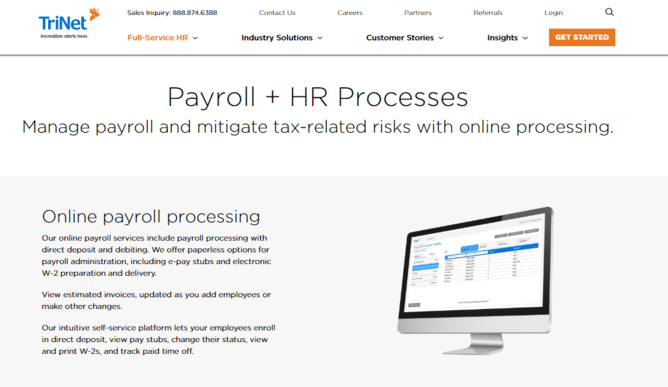 A survey of existing reviews suggests that most users find the customer support from TriNet extremely helpful. The contact details are easy to find and agents are willing to talk through processes in detail with TriNet clients. However, as of 2019 you can only reach them on weekdays.
TriNet pricing and packages
As with other PEOs, TriNet's pricing varies based on several factors such as your company's size and location. Overall though, TriNet usually comes out at least 50% more expensive than their rival PEO Justworks.
Since TriNet's prices are based on your requirements and company, getting an idea of how much you pay requires you to hand over a certain amount of information about your company before getting a quote.
While prices vary based upon location, you can expect to pay between $125 and $155 per employee.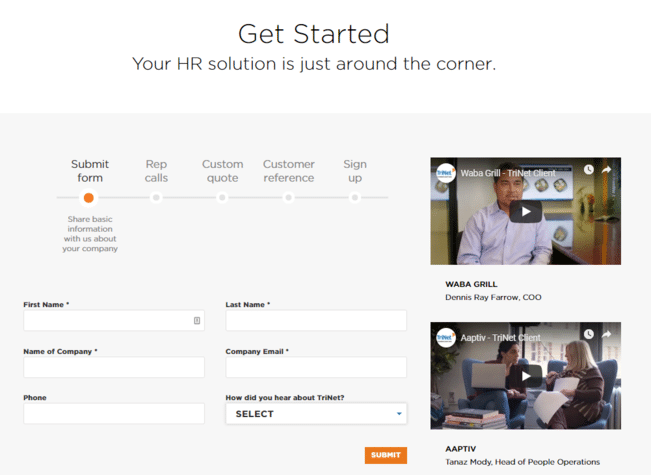 Alternatives to TriNet
TriNet is expensive compared to other PEOs such as Justworks. For that reason, if you're looking for a hands-off payroll and HR solution it's advisable to speak to both companies and get quotes before deciding.
Other options for companies who are interested in fewer (or no) extra benefits and are purely focussed on Payroll could consider traditional payroll services or online payroll software like Gusta, Paycor, Intuit Payroll, or Patriot Software.
Should small businesses use TriNet?
There are considerable advantages to a Professional Employer Organization (PEO) like TriNet, and their customer experiences suggest that their various features, customer service, and added benefits make their substantial price tag worth the money.
Being able to incorporate all the different areas of HR into a software and service from a single provider, hand over a lot of the detailed work to either TriNet or your employees through self-service, and get access to affordable group plans all have substantial benefits.
While it's easy for small business owners to focus on the high price tag, it's also worth considering the value of the time saved that can be spent on other areas of the company. TriNet is aware of this, and work to make their service worth the money by reducing the amount of input from the employer on a consistent basis.
Having a fully customized solution instead of a one-size-fits-all payroll services filled with tools that you won't use it also attractive to employers.
However, we'd only recommend TriNet for small businesses looking to consolidate their various human resources functions into a single system and who aren't locked into other health plans or benefit arrangements.