Small businesses can be rewarding to start and run, but they come with many challenges. Payroll is an area of business that few small business owners enjoy, yet it's essential to get it right.
Payroll services help by making sure small businesses pay their employees correctly, manage tax withholdings properly, and manage deductions such as benefits and retirement savings. However, it's not always easy to choose between the different competing payroll services. To help, here's our review of Justworks, a PEO that helps small businesses spend less time on admin and operate a robust payroll system.
Justworks overview
Justworks is a Professional Employer Organization (PEO), meaning it's a company that specializes in performing outsourced employment-related tasks for other businesses. Justworks pitches itself as offering payroll, benefits, and HR administration as an all-in-one solution.
In this review, we'll be focusing on Justworks' payroll services for small businesses.
Justworks features
Being a PEO means that Justworks isn't strictly a payroll service. In fact, if you sign up for Justworks, your employees will technically work for both you and Justworks. This may seem strange to those small business owners or managers unfamiliar with PEOs, but there are advantages.
For instance, Justworks is able to leverage the size of their organization to give employees access to a range of benefits such as group healthcare plans in addition to their main HR and payroll services.
In this area, Justworks offers:
Access to their major health partners like Aetna and MetLife

401k partners

Commuter benefits

HSAs

FSAs

Disability insurance

Workers' compensation insurance

Life insurance

Accidental death and injury insurance
This list is non-exhaustive, and employers interested in Justworks' range of benefits and partnerships should check their website to stay up-to-date with their current offerings.
Another advantage of Justworks is the strong customer support they offer as a core feature. As of 2019, you may contact a real person directly via online chat or over the phone between the hours of 9:30 am and 6:30 pm EST. This range will soon increase to 8 am and 8 pm EST. However, it's worth noting that other companies like ADP offer 24/7 support.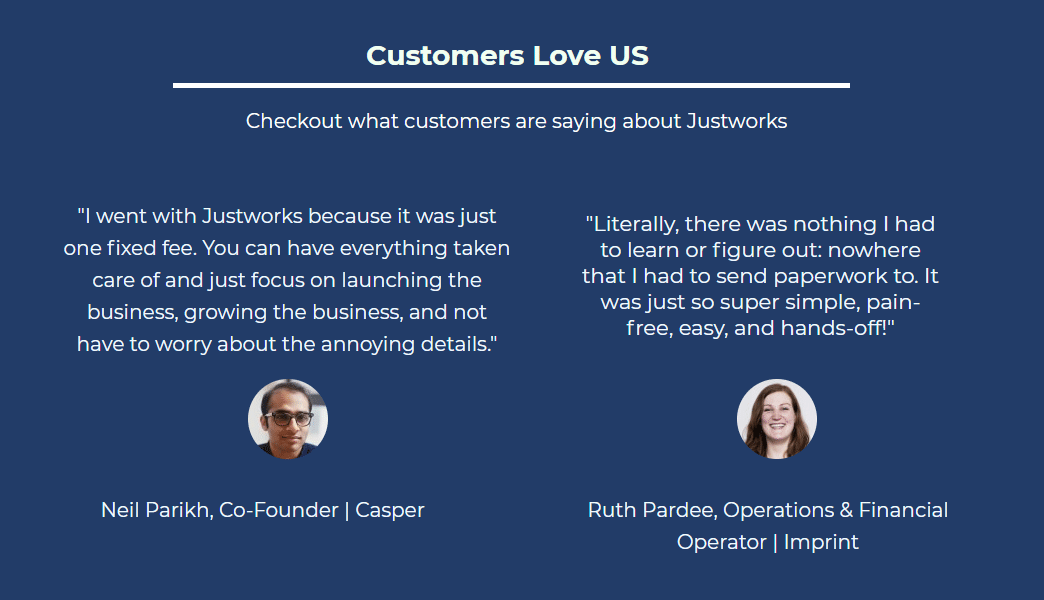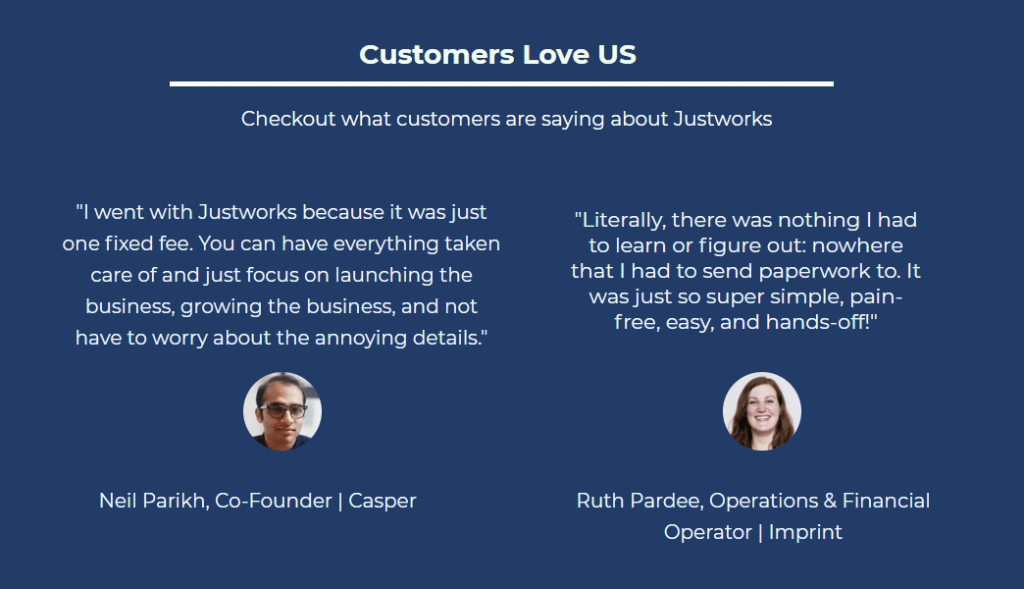 Justworks pricing and packages 
Justworks arrange their offerings into two different packages; Basic and Plus. The prices for each vary according to the size of your small business. Prices are structured on a per-employee basis. Let's take a look at each of the Justworks packages and prices.
Justworks Basic
Justworks basic is the cheaper of their two packages and is for startups and small businesses who are mainly concerned with compliance across a range of HR areas, including payroll.
Justworks Basic includes the following useful features:
Payments and payroll management and support

Compliance assistance

HR support and consultation

Reporting tools

Contractor and vendor management
The cost of the Justworks Basic package is structured the following way:
| | | | |
| --- | --- | --- | --- |
| | 1-4 Employees | 5-24 Employees | 25-99 Employees |
| Billed annually | $79 per employee, per month | $49 per employee, per month | $39 per employee, per month |
| Billed monthly | $99 | $59 | $39 |
The price structure here was a little confusing, however, the cost per employee per month means that if your employee count changes throughout the year, your number of employees in each month is used to calculate your cost per employee for the entire year, which is then billed on an annual basis.
Although this pricing system may seem weighted against small businesses, note that larger businesses still end up paying more as the lower cost per employee is outweighed by their higher employee count.
Justworks Plus
Justworks Plus includes all of the features of Justworks Basic, but with access to affordable, high-quality benefits.
Justworks list the features of their Plus package as:
Medical, dental, and vision

Ancillary benefits

401k

Health and wellness perks

Payments and payroll

Compliance

HR support and consultation

Reporting tools

Contractor and vendor payments
Note that for small businesses of 1-4 employees, the price for Justworks Basics and Justworks Plus is the same.
The price of Justworks Plus is structured in a similar way to Justworks Basic:
1-25 Employees
25-99 Employees
100-174 Employees
Billed annually

$49 per employee, per month

$99 

per employee, per month 

$39 per employee, per month

Billed monthly

$99

$89 

per employee, per month 

$79 per employee, per month
Alternatives to Justworks
Small businesses who like the range of benefits offered by Justworks are unlikely to find anything quite as extensive with a regular payroll service. However, other companies offer a similarly broad range of features. ADP is one such company.
Small business owners looking for a more affordable option might consider Paycor, Gusto, Intuit Payroll, or Patriot Software. While the majority of these don't offer access to employee benefits, they are often more affordable for businesses primarily interested in a simple payroll service.
Should small businesses use Justworks?
If your small business needs full HR support and not just a payroll service, Justworks is a sensible option at a reasonable rate that scales depending on the size of your company. However, if you're more interested in a simple, standalone payroll service then other options may make more sense.