Small businesses can be rewarding enterprises for their owners, but they come with some big challenges. Running payroll with a small or non-existent HR department can be tough, especially when you have thousands of other tasks to complete. Payroll services can make it much easier for small businesses to take care of wages and pay their staff.
Payroll services help make sure your small business pays employees accurately, manages tax withholdings properly, and take care of deductions for things like benefits and retirement savings. But which payroll service should small businesses use? Here's our review of Intuit Payroll, a popular system known for its integration with Intuit Quickbooks.
Intuit Payroll overview
Intuit Payroll is the most popular payroll service among online reviewers, many of whom use it themselves. We'll take a look at the features of Intuit Payroll, its price packages, optional extras, and alternatives, before giving our final verdict on whether Intuit Payroll is the smart choice for small businesses.
Intuit Payroll features
Intuit Payroll offers a range of features to help small businesses manage their payroll digitally. Here are the features you can expect if you sign up for Intuit Payroll:
The ability to integrate seamlessly with Quickbooks, while still having a full-service if you choose not to

Do your company payroll from your iPhone, iPad, or Android mobile device or tablet

Assistance setting up your payroll

Automated tax calculations

An anti-tax penalty guarantee

Free direct deposit

Completed state and federal forms

File and pay your taxes online, including W-2's.

Immediate paychecks for W-2 employees.
We found that Intuit Payroll was easy to use, which a quick search of online customer feedback suggests is a common experience. Our reviewers found that the customizability of the interface particularly helpful and found the online version user-friendly with easy navigation.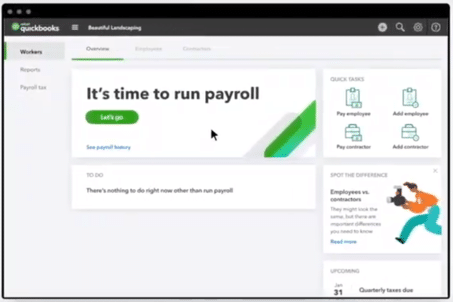 Reviewers of Intuit Payroll also appreciated the ease of creating W-2 paychecks, the integration with Quickbooks – which was particularly popular among online businesses with remote workers – and the automatic tax calculations.
However, other reviewers found inaccuracies when using Intuit Payroll's manual tax filing system. They allege that this resulted in them having to pay penalties. However, we didn't encounter these issues in our own review process and the vast majority of feedback from our own reviewers was positive.
Using the online payroll system from a mobile device or tablet is also convenient, and can help small business owners or HR managers save even more time by letting them work on payroll at convenient moments.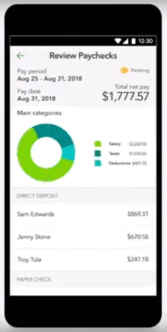 Intuit Payroll pricing and packages
While other reviewers found Intuit Payroll a little pricey compared to other payroll services, we feel that the combination of features justifies the price tag. There are also multiple packages at different price points. Sales and promotions are also frequent, and at the time of writing a30-dayy trial was available for new signups.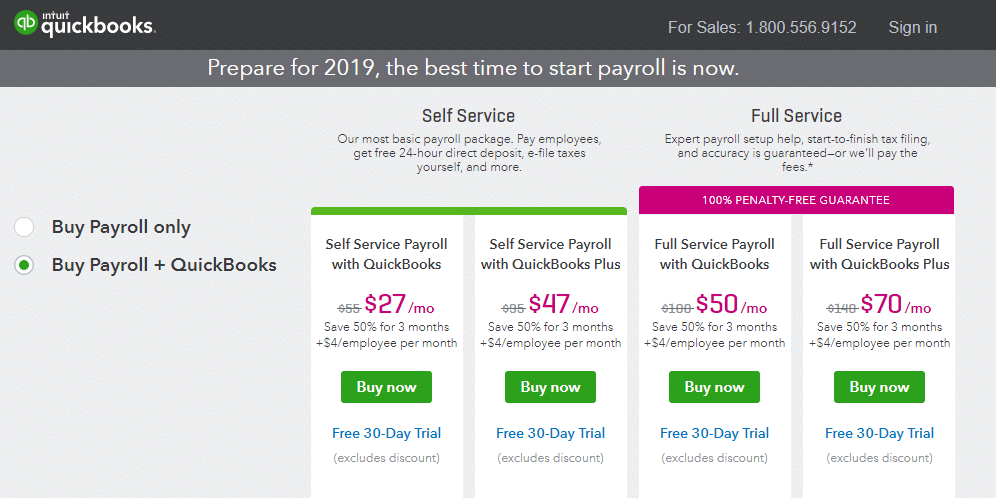 First, let's take a look at Intuit Payroll pricing and packages without Quickbooks. As of 2019, Intuit Payroll is available in two versions; Self Service Payroll and Full Service Payroll.
Intuit Payroll Self Service
Intuit Payroll Self Service usually costs $35 per month. Small businesses who sign up now can get it for $17.50 per month for the first three months and a 30-day free trial.
With this version, small businesses get access to:
24-hour direct deposit

Employee paycheck calculation

Calculation and filing of end-of-year forms

Fast and unlimited payroll runs
Considering the lower cost, this may be a good plan for new businesses just starting out with limited funds.
Intuit Payroll Full Service
Normally costing $80 per month, Intuit Payroll Full Service (without Quickbooks) is also currently available at 50% off for the first three months with the same 30-day free trial available.
As you'd expect, Intuit Payroll Full Service is considerably more feature rich than the cheaper option. Users receive all the features of the self service version, plus:
Done-for-you payroll taxes

Same day direct deposit

Free filing and sending of W-2's

Assistance setting up payroll

Help from experts in the US

No-penalty guarantee
When choosing between these two packages, it's worth considering how much time the full service version could save you and what else you'd be able to do. Of these two non-Quickbooks packages, we therefore recommend Intuit Payroll Full Service for all but the most cash-restricted small businesses.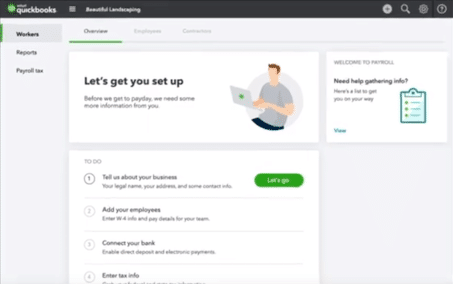 However, you may want to consider if Intuit Payroll with Quickbooks makes sense for your small business. The packages including Quickbooks are also divided into self service and full service, but both also feature enhanced versions labelled 'plus.' The price structures for these when not on sale are:
| | |
| --- | --- |
| Self Service Payroll with Quickbooks | $55/mo |
| Self Service Payroll with Quickbooks Plus | $95/mo |
| Full Service Payroll with Quickbooks | $100/mo |
| Full Service Payroll with Quickbooks Plus | $140/mo |
If your small business requires accounting software as well as payroll services, it might be worth considering one of these packages, as Intuit Payroll integrates well with Intuit Quickbooks.
All the above packages come with an extra fee of $4 per employee per month.
Alternatives to Intuit Payroll
Gusto is as much a software as a service, but it offers many of the handy benefits of Intuit Payroll with a user friendly interface, great tools, and pricing that scales well depending on the size of your small business.

If your small business has 10 or fewer employees, we also recommend trying Paycor. Their pricing structure means that for businesses of this size, Paycor is excellent value for money. 

Scaling your business is also made easy with Paycor, as you can add extra features as your business grows.
Should small businesses use Intuit Payroll?
Intuit Payroll stands out in a crowded market as among the best payroll services available to small businesses. We especially recommend Intuit Full Service Payroll with Quickbooks, as those who already use Intuit Quickbooks accounting software will find the transition much easier. That said, Intuit Payroll Full Service is excellent on its own, with a range of well-made features at prices that a small business can afford.