Payroll services simplify and automate common processes, often eliminating the need for business owner involvement in payroll almost entirely. Payroll services ensure that employees are paid accurately, paperwork is filled in properly, and deductions for benefits, retirement savings, and garnishments are taken care of.
Gusto overview
Gusto is payroll software as much as it is a payroll service, but the value and performance of Gusto has earned it a place among our best payroll services for small businesses. The advantages of Gusto are its accessibility, pricing structure, and an impressive one-size-fits-all approach to HR and payroll. If you're looking for a user-friendly payroll system for your small business, you should at least consider Gusto.
Gusto features
Gusto has three main packages which give access to different levels of features. The different choices are:
Gusto Core

Gusto Complete

Gusto Concierge
With each option you receive a different selection of features. We'll go into what's different about each package in a moment, but first, let's take a look at the extra features included with the lowest cost version of Gusto:
Fast runs of payroll (less than 10 minutes)

The ability to set payroll to run automatically

Employee self-service, which lets employees update their data online

Access to affordable group rate health insurance

Online management of retirement savings, including 401k

Pay-as-you-go workers' compensation
All of the above features are clearly explained on Gusto's website in clear language. Generally speaking, Gusto makes understanding their plans and features simple.
Their website is engaging and includes a chat feature that can connect you to a sales rep if you want to discuss anything related to the features, pricing, or have other questions about Gusto.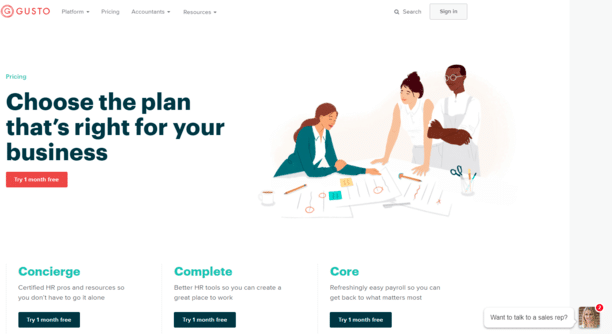 For customer support, you can reach Gusto during their office hours of between 8am and 5pm PST by email or over the phone. HR support is included with the Gusto Core package. If you want a dedicated support team, you'll need the Gusto Concierge package.
Gusto pricing and packages
Gusto has three packages available with costs that scale with the features to which they give you access. 
Gusto Core
Gusto Core is Gusto's basic package, but it still contains some features small businesses will find useful at an extremely reasonable price point. The base cost of Gusto Core is $39 per month with an extra $6 for each employee in your small business. If your business employs 10 people, that means a monthly cost of $99, or $1,188 per year.
For that price, Gusto Core offers you access to the following:
All of their full-service payroll features, with a range of helpful tools for automated adjustments to areas including tip credits

Unlimited payrolls

50 states

Tax filings and payments

State and Federal Unemployment Insurance management

W-2s and 1099s

Garnishments

Multiple pay rates and schedules

Direct deposit

Paid-time-off policy tracking

Accounting integration

Time-tracking integration

State new hire reporting

Payroll reports

Employee self-service features

Employee profiles

Health benefits administration

Workers' Compensation administration

Unlimited phone, email, and chat support
Given these features, it's not unreasonable to conclude that Gusto Core might be sufficient for many small businesses to handle their payroll. However, it's worth considering the other packages offered by Gusto.
Gusto Complete
Gusto complete is the next level up from Gusto Core in terms of prices, features, and service. Gusto Complete features the same $39 per month base cost, but with $12 per month on top for each employee in your business.
Gusto Complete comes with all of the features in Gusto Core, plus the following:
Customizable admin permissions

Online job offer letters

A secure document vault

Custom documents with e-sign

Time management tools, for areas like time tracking, holiday request handling, holiday pay, and calendar syncing

A customizable employee directory

A suite of tools for conducting and analyzing employee surveys
Note that while the above features offer functions that compliment the full-service payroll features of Gusto Core, they broaden Gusto's functions outside of just payroll and into general HR.
Gusto Concierge
Gusto Concierge is Gusto's top package for both price and functionality. It has the highest base cost ($149 per month) plus the same $12 monthly price for each employee as Gusto Complete.
If your small business opts for Gusto Concierge, you'll have access to all the Gusto Core and Gusto Complete features, plus:
Unlimited access to certified human resources professionals who can offer HR compliance help and employee relations advice, among other matters

An HR resources center, including a custom employee handbook, job description templates, HR guides and policy templates, harassment prevention training, and proactive compliance updates

A dedicated support team, with a direct line for phone support
At the time of writing, all of these plans were available for a 1-month free trial. Check Gusto's website for the latest updates, promotions, offers, and prices.
Alternatives to Gusto
Gusto offers considerable value to small businesses when it comes to handling their payroll, but it's not unique.
We recommend taking a look at Intuit Payroll Full Service, which integrates seamlessly with Intuit Quickbooks (already used by many small businesses). The features are comparable, but it's worth seeing if either Gusto or Intuit Payroll has or lacks some feature that is particularly useful to your small business.
Should small businesses use Gusto?
In our view, each of Gusto's package offers good value for money. Our reviewers particularly appreciated the attention paid to customer experience and the broad range of features.
For a payroll service, small businesses will probably find Gusto Core more than adequate, although if you have other HR needs it's worth considering making Gusto your go-to for electronic HR support and services.