The holidays are fast approaching, which means consumers are making lists, buying gifts, and planning parties. This year, experts say holiday spending could hit record highs. Retailers are primed for a big year, especially after COVID-19 deflated sales last year.
To explore holiday spending further, we created a ranking of states based on their anticipated holiday haul. More specifically, we computed the discretionary income for households in each state, which could be used on holiday items. To compute which states spend the most, we used a variety of data points, including household income, household debt, cost of living, and inflation. We're able to compare this year's spending with 2019 too, to see how spending has changed over the course of two years. 
After crunching the numbers, here's a look at how all 50 states rank in holiday spending in 2021 compared to 2019. Inflation is accounted for.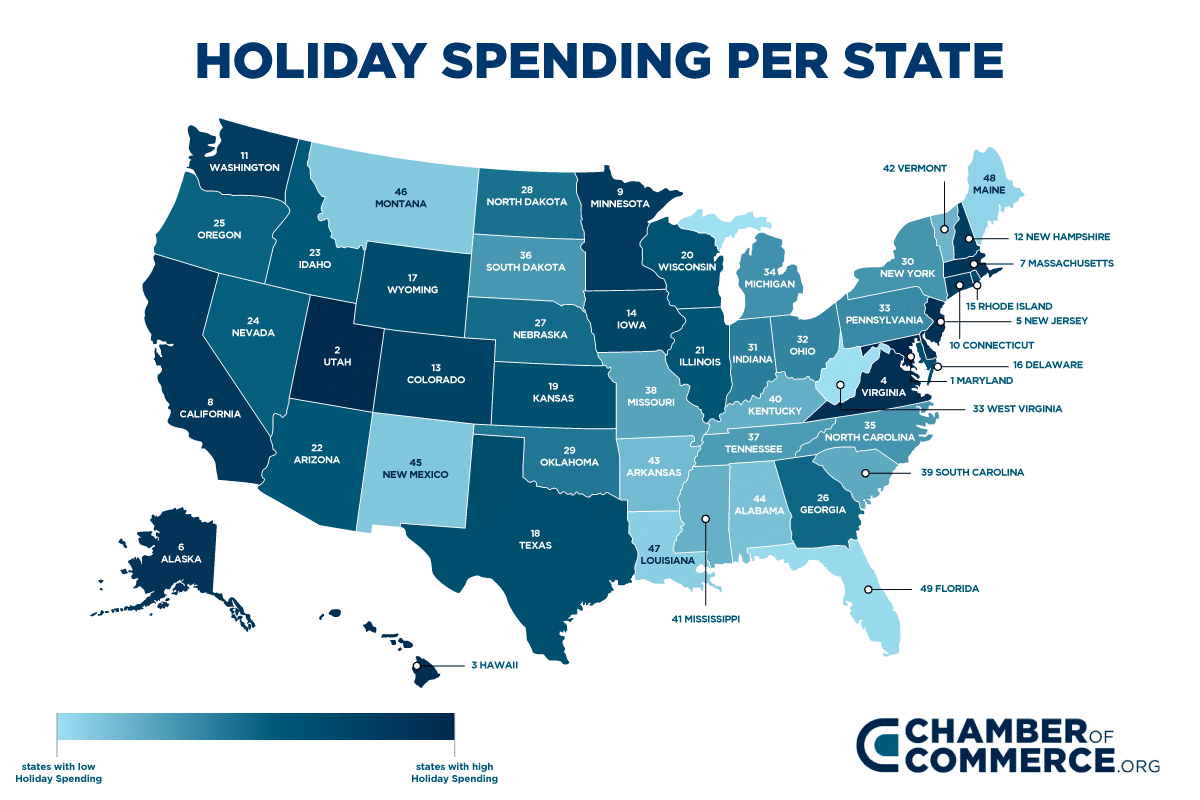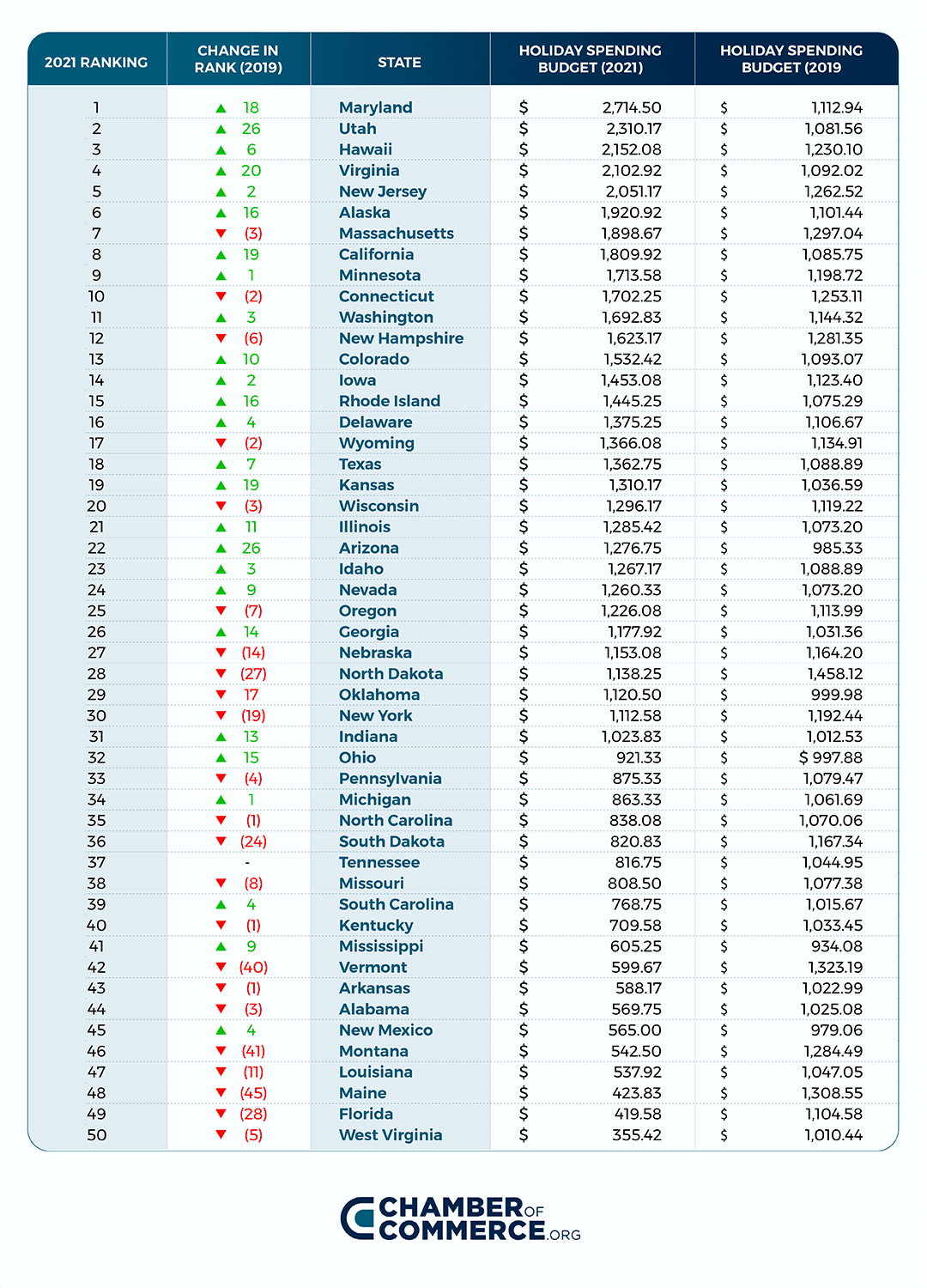 Maryland has the highest holiday spending of all 50 states
Our rankings show Marylanders could spend an average of $2,714.50 this year on the holidays, compared to just over $1,112.94 in 2019. In two years, Marylanders have more than doubled their holiday spending. 
Why are residents of the Old Line State spending so much more? Put simply, residents in Maryland make more money. Maryland has the highest median household income at $84,805, which is well above the national average of $67,521.
It stands to reason that people who make more have more discretionary income to devote to the holidays. 
Utah has the second-highest holiday spending
The Utahns are expected to spend $2,310.17 during the holiday season, which is about $400 less than folks in Maryland. Still, $2,300+ is a good chunk of change to drop at the end of the year. 
Contributing to their high holiday funds could be the state's thriving economy. Utah has the top-rated state economy thanks to its inviting business environment, employment opportunities, and growth potential, according to the U.S. News and World Report.
The strong economic forecast could be one of the factors contributing to consumer confidence and help explain why Uthans could spend 2x more this holiday season than they did two years ago. 
Holiday spending is less this year than two years ago in 21 states
In 21 states, consumers could actually spend less this year than they did two years ago. For some states, like Nebraska, the spending difference is minimal. Nebraskans could spend $11.12 less this year than in 2019. However, the difference is drastic in other states like West Virginia, Florida, and Maine, where spending is less than half of what it was in 2021. 
In Maine, for example, spending went from $1,308 in 2019 to $423, which is about a 67% drop in spending. It's a similar story in West Virginia where spending went from $1,010 in 2019 to $355 in 2021; a 65% decrease. Florida also dropped by 62%, down to $419 this year.
Additional states that are spending less this year include: North Dakota, New York, Ohio, Michigan, North Carolina, South Dakota, Tennessee, Missouri, South Carolina, Mississippi, Vermont, Arkansas, Alabama, New Mexico, and Louisiana. 
What's causing consumers to pull back the reins on holiday spending? It's likely a combination of things. Some state economies took a hit during COVID. Unemployment rates remain high in states like New York, New Mexico, and Louisiana, according to the U.S. Bureau of Labor Statistics. Plus, inflation remains a problem for Americans across the nation. While our rankings do take inflation into account, headline after headline shows the financial impact that rising inflation has on consumers. 
The average household could spend about $1,200 on the season
On average, consumers could spend $1,210 this season. Twenty-five states could spend more than $1,200, while the other 25 could spend less. 
States that could spend more than $1,200 include:
Maryland

Utah

Hawaii

Virginia

New Jersey

Alaska

Massachusetts

California

Minnesota

Connecticut

Washington

New Hampshire

Colorado

Iowa

Rhode Island

Delaware

Wyoming

Texas

Kansas

Wisconsin 

Illinois

Arizona 

Idaho

Nevada 

Oregon
States that could spend less than $1,200 include: 
Georgia

Nebraska

North Dakota

Oklahoma

New York

Indiana

Ohio

Pennsylvania

Michigan

North Carolina

South Dakota

Tennessee

Missouri

South Carolina

Kentucky

Mississippi

Vermont

Arkansas

Alabama

New Mexico

Montana

Louisiana

Maine 

Florida

West Virginia
Consumers will stretch their dollars as far as possible, using the money to buy everything from gifts and decorations to food and party supplies. For families with kids, the majority of the money spent goes toward gifts, with the rest spent on holiday apparel, groceries, and festive decor. 
West Virginia could spend the least this season
West Virginians could spend $355 on the holiday season, which is about $2360 less than the top-ranked state, Maryland. 
West Virginia isn't the only state that's being a bit more frugal this year. West Virginia is one of nine states with holiday spending that's less than $600. Florida, Maine, Louisiana, Montana, Alabama, New Mexico, Arkansas, and Vermont are all under that threshold. 
The states with tighter purse strings are geographically spread out across the country, but what's causing their conservative spending? Again, there's a lot at play, but some of these states have low household incomes. West Virginia, for example, has a median household income of $46,711, one of the lowest in the nation. Alabama, Arkansas, and Louisiana are in a similar boat with average household incomes hovering at or below $50,000. With little discretionary income, it's hard to set large lump sums aside for the holidays.
For New Mexico, a high unemployment rate could play a role, while states like Florida are battling cost of living increases where things like housing and groceries are more expensive.  
Maine had the biggest drop in rankings
Maine dropped 45 spots in the holiday spending ranks, marking the biggest fall of all states. 
Montana, where shoppers could spend about $542 this year, dropped 41 spots and Vermont fell 40 spots. 
Whether consumers in these states are worried about another winter wave of COVID impacting the economy or they simply want to save more money this season, the reason behind their plummets isn't clear.  
On the flip side, Utah had the biggest gain, moving up the rankings by 26 spots. 
What are holiday shoppers spending money on?
No matter what the budget, you might wonder what shoppers will spend their discretionary funds on. After COVID-19, are shoppers buying more practical gifts? Are tech gifts still all the rage? What about holiday clothing and groceries for a family feast? 
Consumers are expected to prioritize family gifts over friends this year and spend a little less on non-gift items, according to the NRF. A closer breakdown shows people could spend about 65% of their holiday budget on gifts, 23% on food and decorations, and another 12% on ancillary things.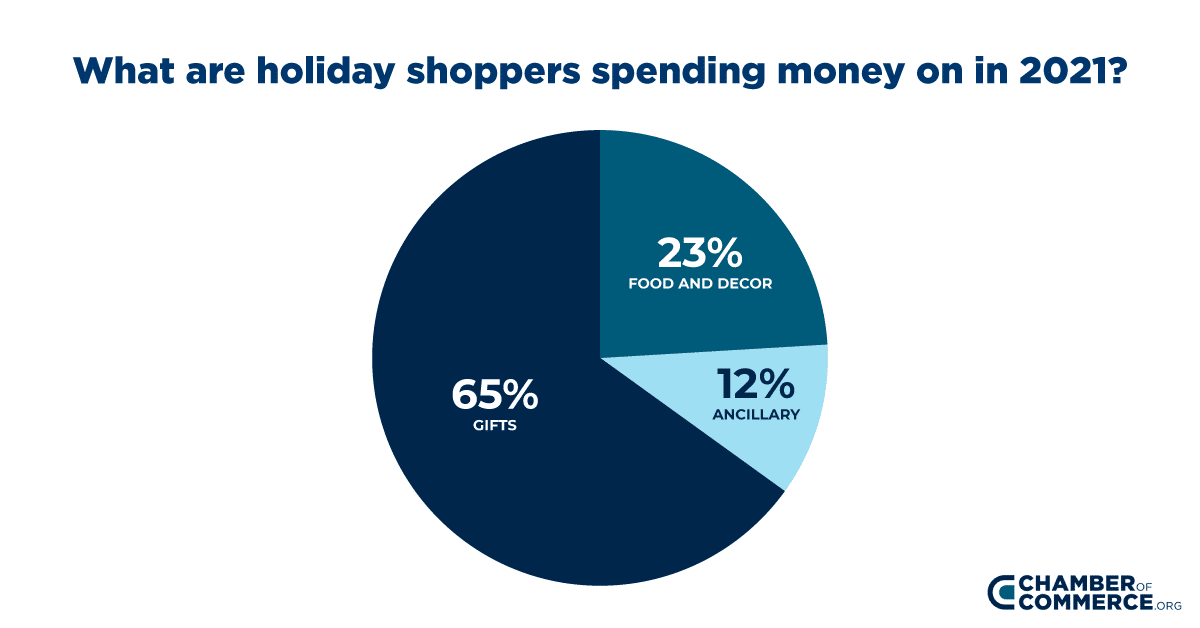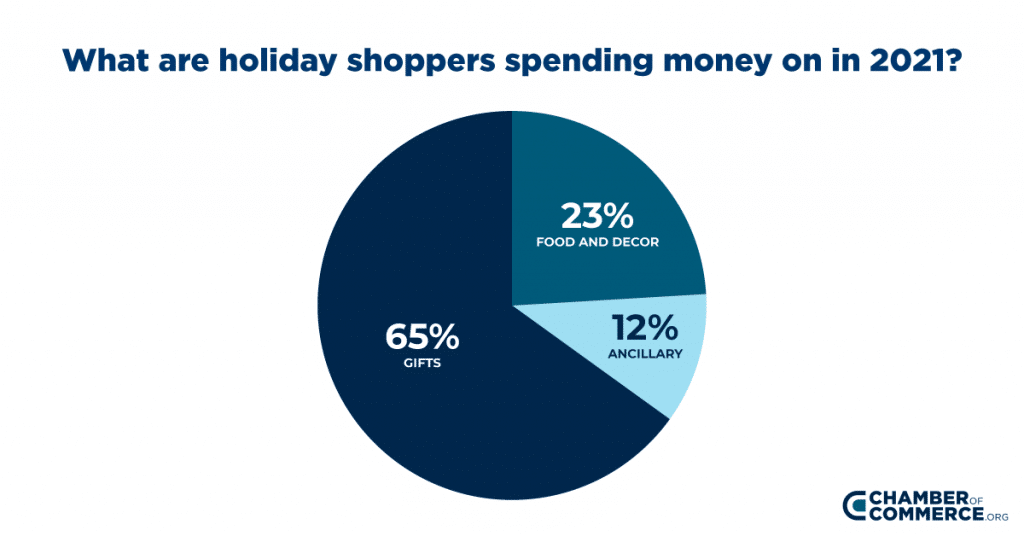 Research also shows that shoppers are buying earlier than ever, with 49% of shoppers starting before November. Likely, the early jump on shopping is due to supply chain problems and longer-than-usual shipping times associated with the pandemic.  
As for what kind of gifts people are buying, it seems to be a combination of tech gifts and useful items like clothes or shoes. Most of the gift guides, like this one from TODAY, highlight everything from new airbuds to the hottest shoe trends. 
Most likely states with a higher holiday budget will trend towards more expensive gifts like tech, while those with more modest budgets might opt for more useful gifts. 
Where are shoppers shopping?
Predictions show more than half of all consumers will shop online for their holiday gifts, according to Statista. In 2021, 57% of shoppers are expected to shop online while 43% are expected to shop in stores. 
Last year, the number of online shoppers was actually higher, with 61% of shoppers buying online. Due to the pandemic, it's likely that more people avoided crowded stores and instead made purchases from the comfort of their homes. 
While the amount of online shoppers is expected to dip a bit this year, it wasn't long ago when the majority of people shopped in stores. In 2016, more shoppers went to stores. In 2018, the scales started to tip in favor of online holiday shopping. 
Wrapping up
Holiday spending varies widely by state. The big spenders this year are Maryland and Utah and the most frugal spenders live in Florida and West Virginia. While there are many factors that weigh into a family's holiday budget, their geographic location does play a role. A state's economy, employment rate, cost of living, and more recently, COVID impacts, all play a role in both finances and consumer confidence. 
Methodology
The objective of our report was to determine how much disposable income each household has that can be used for spending during the holiday season. We ranked the states based on "income available for discretionary" with states having the highest figure ranked #1 and states with the lowest figure ranked #50.
Collected data included: Median household income from each state (Source: Census), Consumption expenditure by state (Source: BEA), Household Debt Statistics by State (Source: The New York Fed), and Cost of living by state (Source: BEA) and Consumer Price Index (CPI) for the rate of Inflation (Source: BLS)