Holiday budgets by state: Residents in Maryland and Utah spend twice the national average
Everyone spends a little extra during the holidays, but consumers in Maryland and Utah spend more – a lot more. The average consumer spends $1,047 on the holidays, but consumers in Maryland spend twice that. Maryland residents have the highest discretionary income to spend during the holidays with $2,241 at their disposal to spend. 
Using our own algorithm that takes into account household income, expenses, debt, cost of living, and savings, we revealed which states have the ability to splurge on the holidays and which states can't.
While the amount of money that Maryland residents shell out for the holidays is impressive, Utah also has a holiday budget that's north of $2,000. Residents of the Salt Lake State spend $2,195 on the holidays.
Rounding out the top five states with the highest spending potential this year is Hawaii, with $1,887 to spend, New Jersey with discretionary income of $1,843, and Virginia with a merry budget of $1,596.
Top 5 states with the largest holiday budget
Maryland

: $2241

Utah

: $2195

Hawaii

: $1887

New Jersey

: $1843

Virginia

: $1596
Why do Marylanders have so much discretionary income to spend during the holidays?
Marylanders splurge on the holidays, but why? There are several aspects that contribute to the high spending potential in this state, which include:
Highest household income
The most compelling reason for Maryland consumers spending more during the holidays is fairly straightforward – they make more money. Maryland has the highest median household income in the U.S., standing at $80,776.
The median household income in the U.S. is $61,937, according to the U.S. Census Bureau.
Maryland households generate almost $20,000 more in income every year than average households do across the nation.
Top-ranking state economy
Maryland's economy is thriving and was recently ranked in the top ten of state economies in the nation, according to USA Today. Strong economies tend to encourage consumer spending.
States with the smallest holiday budget
Holiday spending isn't sky-high in every state. In fact, some states have a dismal amount of discretionary income to spend during the holiday season. West Virginia, for example, has an estimated $60 in discretionary income for the holidays.
Vermont isn't far behind, with $111 in discretionary income. 
Montana, Louisiana, and New Mexico round out the five states with the lowest discretionary income for the season.
Top 5 states with the smallest holiday budget
West Virginia

: $60

Vermont

: $111

Montana

: $328

Louisiana

: $342

New Mexico

: $373
Why do West Virginians have so little discretionary income to spend during the holidays?
Lowest household income
It's not surprising that the state with the lowest holiday budget also has the lowest median household income. The median household income in West Virginia is $44,097, according to the U.S. Census Bureau. West Virginians make about half of what Marylanders do.
High poverty rate
Another reason behind the lack of holiday funds is West Virginia's poverty rate. An estimated 19.1% of West Virginians live in poverty. There are three states with higher poverty rates (Louisiana, New Mexico, and Mississippi), but West Virginia's poverty rate is only 0.07% lower than Mississippi, which has the highest number of people living in poverty, according to World Population Review. 
The state economy is weak
In addition to low income and high poverty, West Virginia's economy was ranked the fifth-worst economy in the U.S., behind Hawaii, Mississippi, Louisiana, and Alaska. A sluggish economy doesn't encourage spending. 
Holiday budgets across the U.S.
There's a lot of middle ground in between Maryland's discretionary income for the holiday season and West Virginians'. Wondering how your state stacks up? Here's a look at the amount of discretionary income each state has to spend on everything from gifts to holiday décor.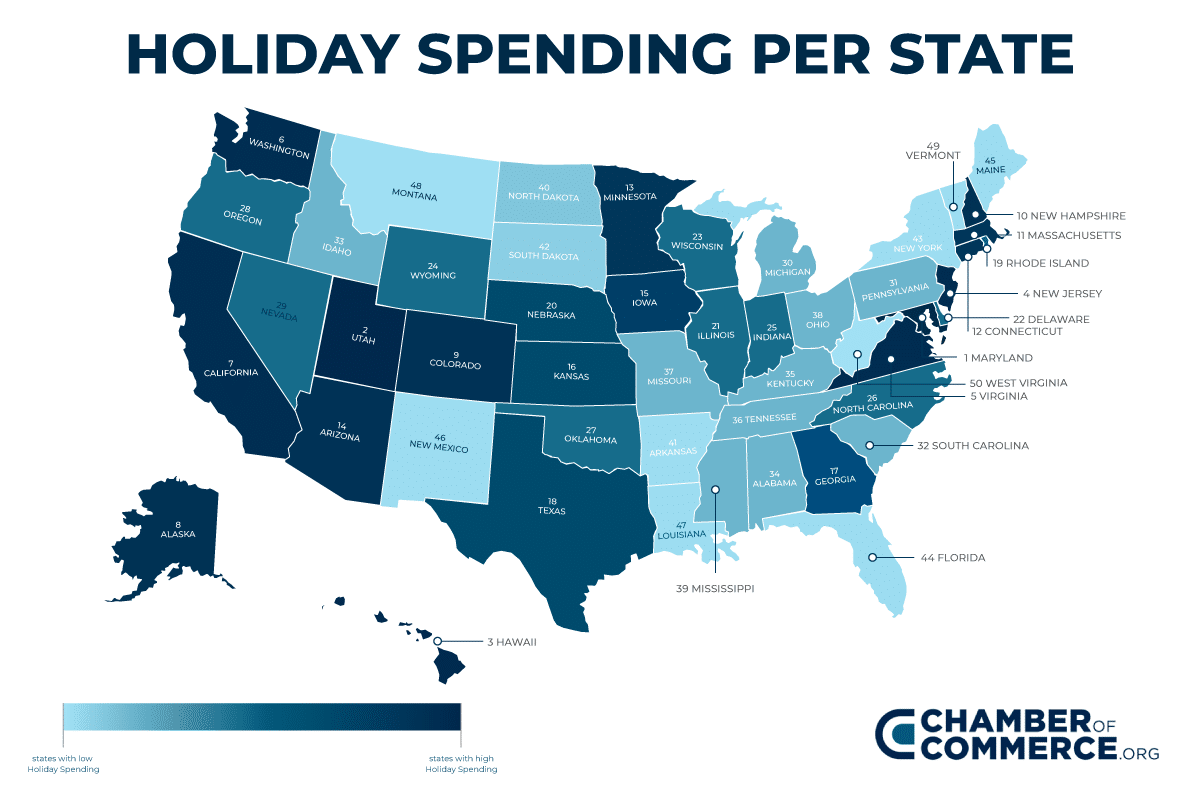 Budgets by state vary, but here are a few fun facts:
Consumers in 35 states have less to spend than the national average
The average consumer is expected to spend $1,047 this year, but our statistics show that residents of very few states actually have that to spend.
Shoppers in 35 states have a holiday budget that's less than that. Put differently, 70% of American shoppers don't have the discretionary income to spend what's usually spent during this time of year.
The states that have less than $1,047 in discretionary income are:
Kansas

Georgia

Texas

Rhode Island

Nebraska

Illinois

Delaware

Wisconsin

Wyoming

Indiana

North Carolina

Oklahoma

Oregon

Nevada

Michigan

Pennsylvania

South Carolina

Idaho

Alabama

Kentucky

Tennessee

Missouri

Ohio

Mississippi

North Dakota

Arkansas

South Dakota

New York

Florida

Main

New Mexico

Louisiana

Montana

Vermont

West Virginia
Consumers in 15 states have more to spend than the national average
There are only 15 states that have discretionary income that suppresses $1,047. Put differently, just 30% of American shoppers actually have enough discretionary income to spend what's typically spent during the season.
The states with more than $1,047 in discretionary income are:
   

Maryland

   

Utah

   

Hawaii

   

New Jersey

   

Virginia

   

Washington

   

California

   

Alaska

   

Colorado

   

New Hampshire

   

Massachusetts

   

Connecticut

   

Minnesota

   

Arizona

   

Iowa
What are holiday shoppers spending money on?
Whether shoppers are spending big in Maryland or watching their budget more closely in West Virginia, there are certain items that every shopper – no matter the budget – will buy during the holiday season. 
Holiday shoppers tend to spend the most money on holiday gifts, but the amount spent on food and the occasional personal gift can add up too.
Holiday shoppers spend about 60% of their holiday budget on gifts for their family. This year, that number is expected to crack $500, hitting $501, according to the National Retail Federation. Consumers are expected to spend a little less than $100 on gifts for friends this year.
An estimated 20% of the money spent during the season will go towards non-gift related items like food, candy, decorations, flowers, greeting cards, and postage. An estimated $227 will go into this "non-gift" category this year, says NRF.
The last piece of the holiday pie goes toward personal gifts that get scooped up when shoppers find a deal that's too good to pass up. Usually, these purchases are impulse buys, which is why they're in a category of their own. The NRF says shoppers will spend $162 on themselves this year.
For consumers in Maryland and states with higher discretionary income, this spending forecast is likely accurate and can be taken right out of their checking or savings account without accruing debt.
For states like West Virginia, consumers likely modify the amount spent in each category and may rely on credit cards to fund their holidays. Research shows West Virginians carry a credit card balance that's rough 17% of their income, which is one of the highest rates of all 50 states.
Where are holiday shoppers shopping?
With Maryland residents able to spend the most, shoppers in that state might expect stores, malls, and boutiques to be especially busy. The state has about 68,283 retail establishments, but experts say these stores will actually be less crowded this year.
A growing number of shoppers are now buying online, which means fewer frantic shoppers in the stores.
Last year shopping methods were split, with 50% of shoppers preferring online stores and the other 50% opting for a traditional in-store experience. This year marks the first year that online shopping is more popular than gift hunting in a department store.
Online shopping isn't just for the younger generations either. Research shows that online shopping is growing in every generation. At least half of Generation Z, Millennials, Generation X, and Baby Boomers say they prefer online shopping over in-store shopping, according to Deloitte research. 
Shopping has officially gone digital – and mobile. Research shows the number of people placing online holiday orders via a laptop or tablet has flatlined, but orders placed by smartphones is climbing.
Wrap up
The holidays are always an expensive time of year. Between gifts, meals, decorations, travel – the cost can add up. However, consumers in some states spend a lot more than others. Residents in Maryland and Utah can outspend the rest of the nation. Meanwhile, West Virginians have very little discretionary income to spend around the holidays.
Budgets aside, research shows most holiday shopping will be done online. For the first time, online holiday sales will beat in-store sales. Despite the shift towards online shopping and varying budget sizes, consumers in every state have to decide what kind of holiday budget is best for them. 
Methodology
The objective of our report was to determine how much disposable income each household has that can be used for spending during the holiday season. We ranked the states based on the "Income available for discretionary" with states having the highest figure ranked #1 and state with the lowest figure ranked #50. Collected data included: Median household income from each state (Source: Census), Consumption expenditure by state (Source: BEA), Household Debt Statistics by State (Source: The New York Fed), and Implicit Price Deflator (IPD) as an indicator of Cost of living by state (Source: BEA).