The United States is home to 30.2 million small businesses. From restaurant owners and local plumbers to tech-startups and online retailers, the diversity of businesses is vast. While the variety of businesses is impressive, the economic importance of small businesses is even more so.
Small businesses employ 47.5% of the nation's employees and consistently create more jobs annually than larger, private firms.
Small businesses drive the U.S economy, but selecting a city to do business can be a challenge. A small business has to consider many factors including state taxes, real estate costs, labor force, population growth, consumer incomes, commercial leasing prices, foot traffic – the list goes on and on.
To help budding entrepreneurs weigh their options, we've created a list of the best cities for small businesses. Taking into account many of the factors listed above, we will reveal a list of the best cities for small businesses. In some cases, the cities might include a surrounding area or county.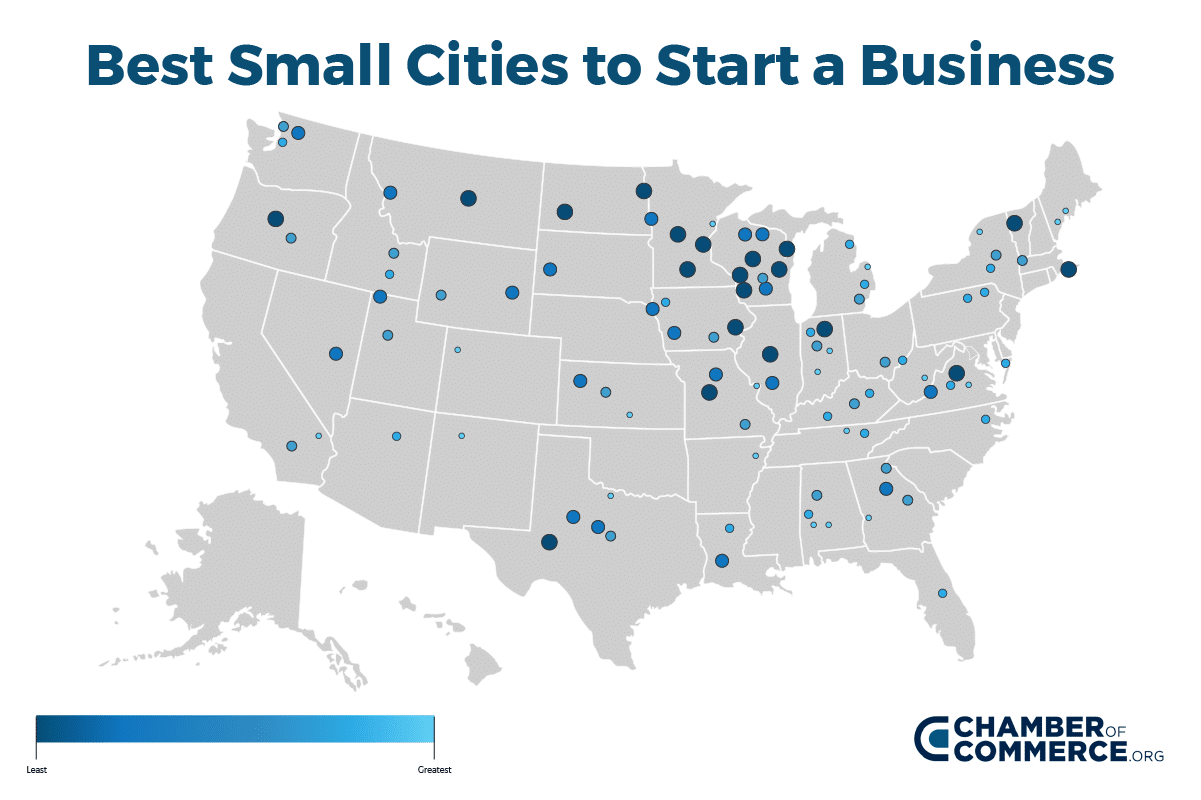 Best cities for small businesses
When it comes to doing business, small businesses tend to thrive in these five cities:
1. Appleton, WI
Appleton, Wisconsin is ranked as the best city for small businesses. This city, just south of Green Bay, has a growing population of about 75,000 people. Combine that with a low cost of living, steady income rates, low unemployment, and a good housing selection, and it's easy to see why businesses are thriving in this city.
Commercial construction in the area is booming, with the highest rates the city has seen in more than a decade, according to the Appleton Growth Report.
2. Fargo, ND
In the race for best cities for small businesses, Fargo, North Dakota comes in a close second. Just a fraction of a point separates it from Appleton, WI.
In this case, Fargo, ND also includes a stretch of land that reaches into its Minnesota borders.
The area is experiencing growth both residentially and commercially. The midwestern city of 245,000 residents grew by 3,000+ people in 2017 and is currently experiencing a real estate boom. Home values have climbed 74% between 2012 and 2017, according to MinnPost.
The state's economy is strong, job growth is high, and a steady stream of younger people are settling into the state, all of which make for an excellent business climate.
3. Midland, TX
Located in the Western part of Texas, Midland was put on the map as an oil town. In recent years, the city has diversified its businesses and drawn entrepreneurs to its borders with its tax-free plans. There are no corporate or state taxes in Texas.
The desert town of 144,000 is growing and has a healthy employment rate. Housing availability and costs do present a challenge for some, but the city is ripe for new opportunities.
4. Bismarck, ND
Bismarck, North Dakota comes in at number four on our list. This Midwest city, which sits just three hours west of second-seated Fargo, ND, is experiencing a rise in both population and median household income, which translates to more customers and more revenue for small business owners.
In addition, the economy is strong in Bismarck. It holds the rank of top overall economic growth performer since 2000, by the US Chamber of Commerce, and offers the best entrepreneurial environment in the nation, according to the University of Nebraska-Lincoln, according to the city's website.
5. Rochester, MN
Sitting an hour and a half south of the Twin Cities, Rochester, Minnesota, is ranked as the fifth-best city in the nation for small businesses. While the city is often known as the home of the renowned Mayo Clinic, the city's business growth is generating a lot of buzz.
Known as a place with big-city amenities and a small-town feel, Rochester boasts a strong economy, a diversifying population, and a skilled labor force, according to Livability; all of which bolster the environment for small businesses.
Midwest ranks as the most business-friendly region
Out of 100 cities, 39 of the best cities for small businesses are in the Midwest. In other words, about 40% of the best cities for small businesses are in this region.
Why are entrepreneurs flocking to this area? Inc. says several reasons include:
Millennials are moving to the Midwest to work for startups and emerging tech companies. Madison, Wisconsin, for example, has one of the highest concentrations of software publishing and IT development jobs. In addition, the city boasts its access to venture capital, according to Inc.
The region has a relatively low cost of living. Research shows Midwest residents save an average of $3,098 on rent and $4,454 on mortgage costs annually, compared to the rest of the U.S., according to Yahoo! Finance.
The midwest has an educated labor force. The number of people in the workforce with a high school degree or an associate's degree surpasses the nation's averages by 9.3%, according to StatisticalAtlas.
Many midwestern states have enacted business-friendly laws that minimize taxes, ease zoning regulations, or reduce costs, like offering affordable health insurance plans for small companies.
Wisconsin has the most enticing cities for small businesses
Nine of the cities on our list are in Wisconsin. What does The Badger State have going for it? A strong state economy and a growing population are among the reasons, but the state also offers a lot of support to small businesses by way of development centers.
What makes a small city great for business?
More specifically, what attributes do the small cities on our list share in common? While cities in the Northeastern, Southern California and Bay Area regions have a reputation as economic powerhouses and centers of business in many industries, they are conspicuously absent here. This is likely due to larger cities in these areas swallowing up most of the business, but high prices in coastal cities also play a role.
Small cities in the central-western and midwestern states fared the best in the ranking. Despite being some of the most sparsely populated states in the country, aka "flyover states", they account for over a quarter of the top 20 best small cities for business. Cities in these states are bolstered by low unemployment and high job creation numbers, and this data is indicative of one shift in industry in the United States, away from the former manufacturing hubs of the Mid-Atlantic to western states currently in the midst of an oil boom.
Overall, the ranking presents some surprising findings that ought to have you reconsider your notions of where businesses thrive in the U.S.
Wrap up
Starting a small business has always been part of the American Dream, but it's not an easy endeavor. Small business owners work a lot of hours, juggle many tasks, and risk a lot to become successful. To give entrepreneurs the best chance possible, it's important to find the right location to set up shop. While the Midwest is an optimum area, there are cities in every region that are great for small businesses. The rankings above can provide some guidance for owners looking to start, relocate, or expand a business.
Wondering where your city lands on the list? Here's the full list of cities that offer the best climate for small businesses.
[table id=11 /]
Methodology
To compile the list of the best cities for small businesses, we looked at population, college education, employment, labor force participation, unemployment rate, median income, GDP per capita, regional price parity, job creation rate, and the number of firms with 100 or fewer employees in each city.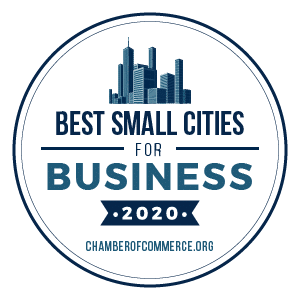 Share this Image On Your Site!