With stunning national parks such as Grand Teton and Yellowstone and very few people, Wyoming is a state for those who love nature and don't mind peace and tranquility. The state's communities are small, but contain plenty of employment opportunity and are always a short distance away from outdoor bliss. Read up on our picks for Wyoming's five best cities for more info.
1. Sheridan
Sheridan, a historic western town, is Wyoming's best city to live in. The city's proximity to stunning mountain ranges, popular rodeos, and many historic buildings make it a tourist hotspot. Sheridan's strong economy is focused on energy, health care, and education.
2. Laramie
Ranking second is Laramie, a city of 30,000 nestled within two mountain ranges in Albany County. The city is home to three institutes of higher learning, including the University of Wyoming, which are principal employers in the community.
3. Cheyenne
#3 Cheyenne is Wyoming's capital and largest city. The scenic city offers plenty of opportunities for outdoor recreation and is home to the Greater Cheyenne Greenway, a wide concrete, car-free path that connects many of the city's communities and parks.
4. Casper
Located along the North Platte River and the foothills of several mountains is Casper, our choice for Wyoming's #4 most liveable city. The city has a storied history as an oil boomtown and remains a great place to raise a family.
5. Rock Springs
Closing out Wyoming's top five is Rock Springs, a small city with a storied coal mine past that celebrates its colorful history with a variety of festivals and events throughout the year.
[table id=116 /]
Did your city make the list? Share the good news!
Feel free to share this badge of recognition. Please include attribution to https://www.chamberofcommerce.org/.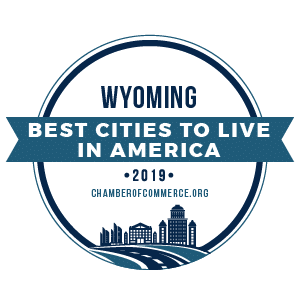 Methodology
We ranked a total of 2,509 qualified cities (those with populations above 25,000 and enough data for analysis) by five factors: employment (number of establishments, median earnings); housing (owner-occupied housing with a mortgage, monthly housing costs); quality of life (work commute, poverty levels); education (percentage with a bachelor's degree or higher); and health (obesity ratios).