With amazing national parks, plenty of job opportunities, and great, affordable universities, Washington is one of the best states in the nation in terms of liveability. The Evergreen State is both a mecca for nature lovers and home to some great, modern urban environments. Scope our rundown of Washington's top five best cities to live in for an idea of where to establish yourself in the state, four of five of which are located in affluent King County.
1. Pullman
Washington's top city to live in is Pullman, a city in the southeast part of the state with lush natural surroundings and a strong agricultural tradition. As home to the international headquarters of Schweitzer Engineering Laboratories and Washington State University, Pullman boasts an affluent and well-educated populace.
2. Redmond
#2 Redmond, a suburb of Seattle in King County, is considered the "Bicycle Capital of the Northwest" thanks to its 59 miles of scenic public trails running through hills and along rivers. The city's economy is equally notable: it is home to Nintendo of America and Microsoft, which brings tens of thousands of tech jobs to the community.
3. Issaquah
Nearby Issaquah is third on the list. The fast-growing city has grown by around 30% since 2010 thanks to expanding economic opportunity in the area. Issaquah is also an outdoor recreation lover's dream, as it is nestled within the "Issaquah Alps" mountain range.
4. Sammamish
#4 Sammamish is an idyllic suburb of Seattle with an affluent, well-educated populace, a slew of lush public parks and a great school system. With Seattle just a short bus ride away, Sammamish is an excellent city to commute from for those working in Washington's biggest city.
5. Kirkland
The rapidly growing King County city of Kirkland fills the #5 spot on the list. Kirkland's prime location on Lake Washington and hip waterfront district make it a prime tourist destination for visitors from all over the state.
[table id=113 /]
Did your city make the list? Share the good news!
Feel free to share this badge of recognition. Please include attribution to https://www.chamberofcommerce.org/.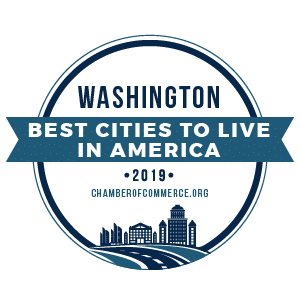 Methodology
We ranked a total of 2,509 qualified cities (those with populations above 25,000 and enough data for analysis) by five factors: employment (number of establishments, median earnings); housing (owner-occupied housing with a mortgage, monthly housing costs); quality of life (work commute, poverty levels); education (percentage with a bachelor's degree or higher); and health (obesity ratios).