Texans are famously prideful of their home state, and rightfully so: the Lone Star State is home to some of the best food and beer in the country, a vast and varied landscape, a great football tradition, and a ton of cities, each with their own unique character and distinct qualities. As the communities of Texas boast a surprising amount of variety, you're best advised to read through our overview of the state's five best cities to live in for advice on where to settle down.
1. Flower Mound
Flower Mound, known as "Flo Mo" by residents, is Texas' best city to live in. The affluent suburb in the Dallas-Fort Worth area boasts a strong economy driven by its retail sector and the introduction of light industry in recent years. The advantages to moving to Flower Mound are high, and a large percentage of its population is originally from outside the state.
2. Houston
Second on the list goes to Houston, Texas' largest city, and the fourth largest in the nation. The city boasts a very strong, diverse economy with significant manufacturing, energy and aeronautics sectors. In fact, the Houston area is home to the fourth most Fortune 500 headquarters of any U.S. metropolitan area, which brings tons of jobs into the city.
3. Richardson
Richardson is a large suburb of Dallas with an affluent, well-educated populace employed at one of the over 5,000 businesses operating within the city, including AT&T, Samsung, and Texas Instruments. The city is also home to the University of Texas at Dallas, which brings additional jobs to the community.
4. Frisco
Another Dallas suburb, Frisco, is #4 on the list. Perhaps the fastest growing city in the United States, Frisco is booming due to considerable development of its retail status and reputation as a great community for those working in Dallas to commute from.
5. Pflugerville
Closing out the top five is the quirkily named Pflugerville, a wealthy, fast-growing suburb of state capital Austin.
[table id=110 /]
Did your city make the list? Share the good news!
Feel free to share this badge of recognition. Please include attribution to https://www.chamberofcommerce.org/.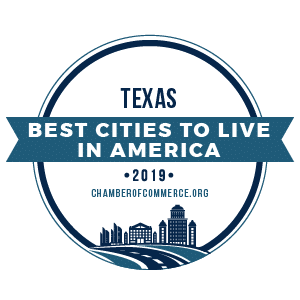 Methodology
We ranked a total of 2,509 qualified cities (those with populations above 25,000 and enough data for analysis) by five factors: employment (number of establishments, median earnings); housing (owner-occupied housing with a mortgage, monthly housing costs); quality of life (work commute, poverty levels); education (percentage with a bachelor's degree or higher); and health (obesity ratios).