There's a lot about South Dakota that you may not be aware of. Surprisingly, the state boasts more miles of shoreline than Florida, and there's a state fossil, which is the triceratops. The combination of astounding geographical features like the Black Hills coupled with peaceful communities and good-natured people make the Mount Rushmore State a great place to live. Check out our overview of South Dakota's five best cities to live in for suggestions on where to settle down in the state.
1. Brookings
Brookings is the fourth largest city in the state and home to South Dakota State University, which is the city's leading employer. The city's economy is also strengthened by the presence of large manufacturers like Daktronics and 3M.
2. Sioux Falls
Sioux Falls, South Dakota's largest city, is its #2 best city to live in. The absence of a state corporate income tax is the reason for many financial companies moving in to the city, strengthening its economy and providing plenty of employment opportunity.  Sioux Falls is particularly green, home to over 70 parks with walking trails, waterfalls, and fishing lakes.
3. Rapid City
Rapid City is a great place to settle for nature lovers as it is located just west of the Black Hills mountain range. Its proximity to the national park is responsible for Rapid City's strong tourist sector, which includes a number of museums devoted to local history and geology.
4. Aberdeen
In the northeast part of the state lies #4 Aberdeen, a city of around 28,000 that is home to Northern State University and Presentation College. True to its reputation as a college town, Aberdeen has a lively arts and culture scene for a city its size and is home to a community theater and four art galleries.
5. Watertown
Watertown, South Dakota's #5 most liveable city, is a great little community that is home to the Bramble Park Zoo and the Redlin Art Center, where visitors can view many of the works of Terry Redlin, one the nation's most renowned wildlife artists.
[table id=108 /]
Did your city make the list? Share the good news!
Feel free to share this badge of recognition. Please include attribution to https://www.chamberofcommerce.org/.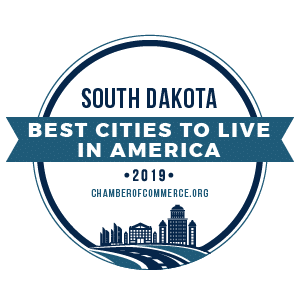 Methodology
We ranked a total of 2,509 qualified cities (those with populations above 25,000 and enough data for analysis) by five factors: employment (number of establishments, median earnings); housing (owner-occupied housing with a mortgage, monthly housing costs); quality of life (work commute, poverty levels); education (percentage with a bachelor's degree or higher); and health (obesity ratios).