With beautiful scenery, affordable cost of living and real estate prices, and friendly, approachable people, South Carolina is a great state to settle down in. The great food is the icing on the cake: mouth-watering BBQ with the famous Carolina-style mustard-based sauce, homemade biscuits, and fresh caught blue crab. Got your ear? Here's a look at The Palmetto State's five best cities to live in for more info.
1. Rock Hill
South Carolina's best city to live in is Rock Hill, a community of 74,000 in the far northern part of the state and part of the Charlotte metropolitan area. Located on the Catawba River, Rock Hill has a beautiful riverfront with restaurants and numerous public parks. The city is also notable for the three colleges within its boundaries, most notably Winthrop University, a liberal arts college with over 130 years of history.
2. Simpsonville
Simpsonville is a modestly sized community in Greenville County known for being part of the Golden Strip, an area of the state with a diverse economy and low unemployment due to the many job opportunities afforded by the high concentration of companies operating in the region.
3. Mount Pleasant
Placing third is Mount Pleasant, a sizable suburb of Charleston with a median household income of over $61,000, which is well above the state average. Residents of Mount Pleasant have many parks to choose from, including Palmetto Islands County Park, a large park that's great for family picnics and outdoor recreation.
4. Greenville
One of the fastest growing cities in the United States, #4 Greenville has a strong economy, bolstered by the presence of the headquarters of major businesses like Michelin and Concentrix. The city is also home to several universities, including Furman University, which employs thousands of people in the community.
5. Greer
Closing out South Carolina's top five is Greer, a suburb of around 30,000 in the Greenville area. The city has many buildings listed on the National Register of Historic Places.
[table id=107 /]
Did your city make the list? Share the good news!
Feel free to share this badge of recognition. Please include attribution to https://www.chamberofcommerce.org/.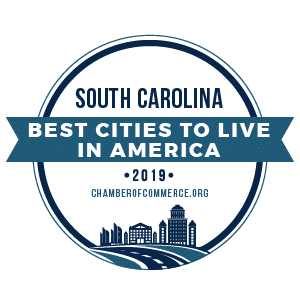 Methodology
We ranked a total of 2,509 qualified cities (those with populations above 25,000 and enough data for analysis) by five factors: employment (number of establishments, median earnings); housing (owner-occupied housing with a mortgage, monthly housing costs); quality of life (work commute, poverty levels); education (percentage with a bachelor's degree or higher); and health (obesity ratios).