With beautiful national forests, a long stretch of scenic coastline, no sales tax, and hip, progressive communities, it's hard to understand why someone wouldn't want to move to Oregon. Scope our list of the Beaver State's top five cities to live for advice on where to settle in the state.
1. Corvallis
Oregon's most liveable city is Corvallis, a city of around 55,000 located in Benton County on the western edge of the state.  The city's top employer is Oregon State University, which has a strong influence on the city's lively arts & culture scene.
2. Lake Oswego
Nature lovers should fall in love with #2 Lake Oswego, a wealthy suburb of Portland located on Oswego Lake. The lake is perfect for swimming and watersports and the surrounding property is expensive and in high demand.
3. Hillsboro
Hillsboro is located in the northwest corner of the state and enjoys a mild year-round climate thanks to its proximity to the Pacific Ocean. The cluster of many tech firms in the city and surrounding area known as the Silicon Forest makes Hillsboro's population one of the most affluent and well-educated in the state.
4. Ashland
Ashland, Oregon's fourth best city to live in, is located just north of the California border in Jackson County. The city's economy is diverse, with tourism and education (Ashland is home to Southern Oregon University) being its strongest sectors.
5. Sherwood
Another pleasant suburb of Portland, Sherwood, is Oregon's #5 most liveable city. The quiet community is a great place to raise a family due to its vast public parks and excellent public school system.
[table id=104 /]
Did your city make the list? Share the good news!
Feel free to share this badge of recognition. Please include attribution to https://www.chamberofcommerce.org/.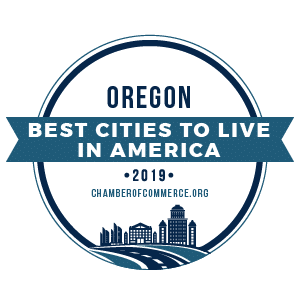 Methodology
We ranked a total of 2,509 qualified cities (those with populations above 25,000 and enough data for analysis) by five factors: employment (number of establishments, median earnings); housing (owner-occupied housing with a mortgage, monthly housing costs); quality of life (work commute, poverty levels); education (percentage with a bachelor's degree or higher); and health (obesity ratios).