While New York will always be best known for the metropolis that shares its name–the country's largest city and culture/commerce capital–it's a big state with lots of other great cities. Read up on New York's five best cities to live in for a fuller picture of The Empire State.
1. New York City
New York's best city to live in is–of course–New York City. Although it's one of the most expensive cities to live in in the United States, most New Yorkers would agree that it's worth it. The Big Apple is a city like no other: a metropolis with the best job opportunities, nightlife, and culture in the world.
2. Ithaca
Ithaca is a small city located in the Finger Lakes region of the state. A long way away from NYC both distance wise and in character, Ithaca is a community you settle in to get away from big city hubbub. As home to both Ithaca College and Cornell University, Ithaca has a hip college town vibe.
3. Pittsford
Ranking third is Pittsford, a pleasant suburb of Rochester with the Erie Canal running through it. Pittsford is distinguished for its excellent public school system, which has won the New York State Governor's Excelsior award.
4. Fairport
Fairport, another cozy suburb of Rochester, calls itself the "Crown Jewel of the Erie Canal", and that characterization certainly isn't far off. The city is home to a large waterfront area where festivals are frequently held and tour boat companies operate trips down the river.
5. Orchard Park
Orchard Park, a suburb of Buffalo, is #5 on the list. The affluent community is most well known for housing New Era Field, where the NFL's Buffalo Bills play.
[table id=101 /]
Did your city make the list? Share the good news!
Feel free to share this badge of recognition. Please include attribution to https://www.chamberofcommerce.org/.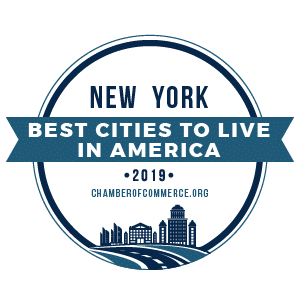 Methodology
We ranked a total of 2,509 qualified cities (those with populations above 25,000 and enough data for analysis) by five factors: employment (number of establishments, median earnings); housing (owner-occupied housing with a mortgage, monthly housing costs); quality of life (work commute, poverty levels); education (percentage with a bachelor's degree or higher); and health (obesity ratios).