If your impression of New Mexico is that of an unremarkable desert state, think again. In fact, New Mexico is one of the most interesting states in the country, boasting a diverse landscape, and a long, fascinating past. Furthermore, the high concentration of research facilities means that there is plenty of employment opportunity for those from a STEM background, and New Mexico actually boasts the most Ph.D. holders per capita in the United States. Take a look at this rundown of New Mexico's best cities to live in for advice on where to hang your hat if you're considering a move to the state.
1. Santa Fe
Santa Fe, New Mexico's capital city, is also the state's best city to live in. The city is a southwestern arts & culture nexus–with one of the hottest gallery scenes in the region and many art museums. Santa Fe is also the principal residential area for scientists working at nearby research centers, including the Los Alamos National Laboratory.  
2. Albuquerque
Albuquerque, situated next to the foothills of the Sandia Mountains with the Rio Grande running through it, is New Mexico's largest city, however, the city moves at a relaxed pace for its size. The city is home to the University of New Mexico and Kirtland Air Force base, which are its principal employers.   
3. Rio Rancho
Third on the list is Rio Rancho of the Albuquerque metropolitan area, which is one of the quickest growing cities in the state.
4. Las Cruces
Near New Mexico's southern border lies #4 Las Cruces, the economic hub of the Mesilla Valley. Las Cruces' strong economy is driven by the presence of New Mexico State University and a number of medical centers in the city.
5. Carlsbad
Rounding out the top 5 is Carlsbad, a tourism mecca next to the Guadalupe Mountains. Visitors and tourists alike flock to the nearby Carlsbad Caverns National Park 20 miles out of the city.
[table id=99 /]
Did your city make the list? Share the good news!
Feel free to share this badge of recognition. Please include attribution to https://www.chamberofcommerce.org/.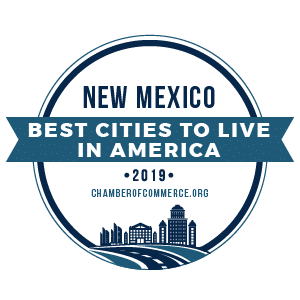 Methodology
We ranked a total of 2,509 qualified cities (those with populations above 25,000 and enough data for analysis) by five factors: employment (number of establishments, median earnings); housing (owner-occupied housing with a mortgage, monthly housing costs); quality of life (work commute, poverty levels); education (percentage with a bachelor's degree or higher); and health (obesity ratios).