If you into quirky state fairs, tailgating hugely attended college football games, and friendly, generous people, then Nebraska is your kind of state. While the state's economy once solely depended on agriculture, Nebraska has recently become a hotbed of tech start-up activity that has investors taking notice. Known as the "Silicon Prairie", this development has brought new life and fresh energy into the once staid economy. Take a look at Nebraska's best five cities to live in to find out the community that's right for you.
1. Papillion
Nebraska's best top city is Papillion, a suburb of Omaha and the county seat of Sarpy County. Named after the creek that runs through the middle of the city (the French word for butterfly), Papillion residents enjoy a higher than average median household income, and many pristine public parks.
2. Columbus
Columbus is a pleasant city in Platte County with a strong economy for a city its size, bolstered by the presence of many manufacturing centers, including those by Cargill, Vishay Intertechnology, and Archer Daniels Midland.
3. Omaha
Nebraska's third best city to live is its largest, Omaha, which has a population of about 466,000 and is located near the Platte River along the Iowa border. Omaha boasts one of the strongest economies in the region, being home to four Fortune 500 companies, including Berkshire Hathaway. In addition to having a great economy with myriad job opportunities, Omaha is also a pleasant place to settle, with many theaters for the performing arts, and the world-renowned Doorly Zoo enough to keep residents busy in their free time.
Filling out Nebraska's top five are #4 Kearney, home to the University of Nebraska at Kearney, and #5 North Platte, an idyllic midwestern suburb that began as a 19th-century railroad town.
[table id=96 /]
Did your city make the list? Share the good news!
Feel free to share this badge of recognition. Please include attribution to https://www.chamberofcommerce.org/.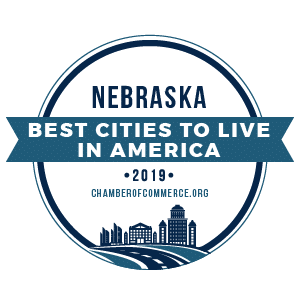 Methodology
We ranked a total of 2,509 qualified cities (those with populations above 25,000 and enough data for analysis) by five factors: employment (number of establishments, median earnings); housing (owner-occupied housing with a mortgage, monthly housing costs); quality of life (work commute, poverty levels); education (percentage with a bachelor's degree or higher); and health (obesity ratios).